A Closer Look: Fender Custom Shop Master Built guitars
Published on 27 February 2019
Since the very beginning of guitarguitar as a company, we have been very visible stockists of Fender Custom Shop guitars. We believe that Fender is the most iconic electric guitar brand in existence and that their Custom Shop make the very best examples of these guitars to be found anywhere on the planet. We've always been proud and excited to bring our customers the most special, interesting and attention-worthy guitars from this most illustrious of stables.
All these years later, nothing has changed! The whole process of spec'ing up a Custom Shop one-off or a short run of thematically linked guitars is something that fills us with child-like glee! It's a great day at the office, so to speak, when those special couriered packages show up at our warehouses, filled with incredible premium, hand-made guitars! Our enthusiasm for Fender and its Custom Shop wizardry matches your own: your delight is our delight.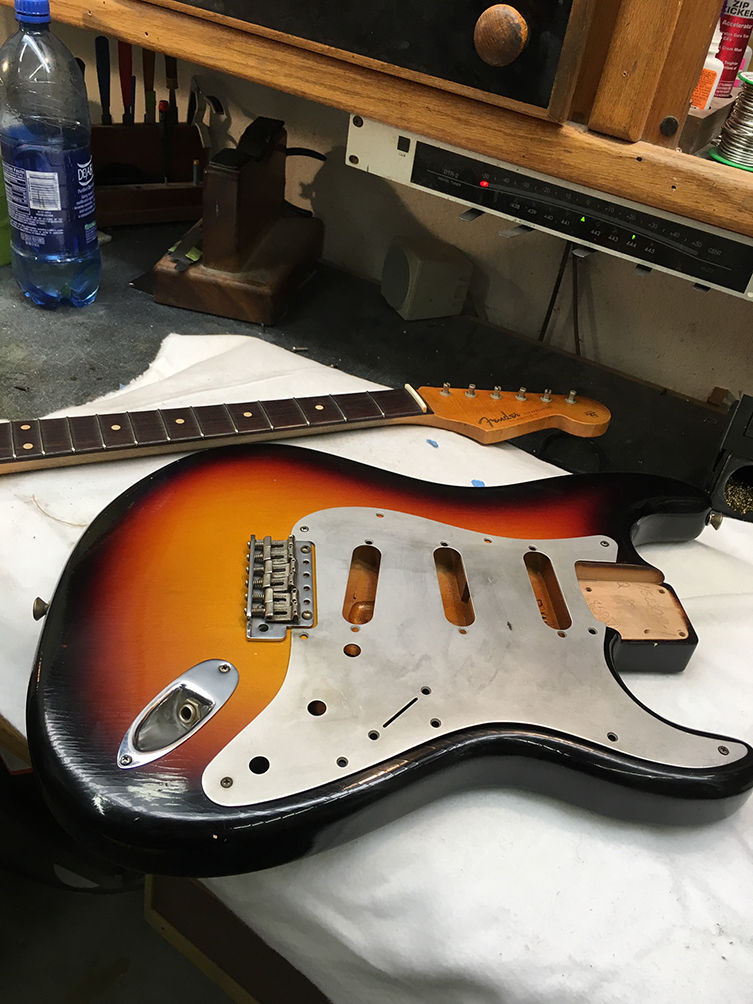 This is even more true of Master Built guitars. Master Builders are Fender's most esteemed guitar makers. These are the very people who, as most of us now know, build guitars for Eric Clapton, David Gilmour and Jeff Beck. Their names are almost as legendary as the artists they build for: Todd Krause, John Cruz, Dale Wilson and Jason Smith are just a few of the names that are no doubt familiar to Fender fans. They are unequalled masters of their craft.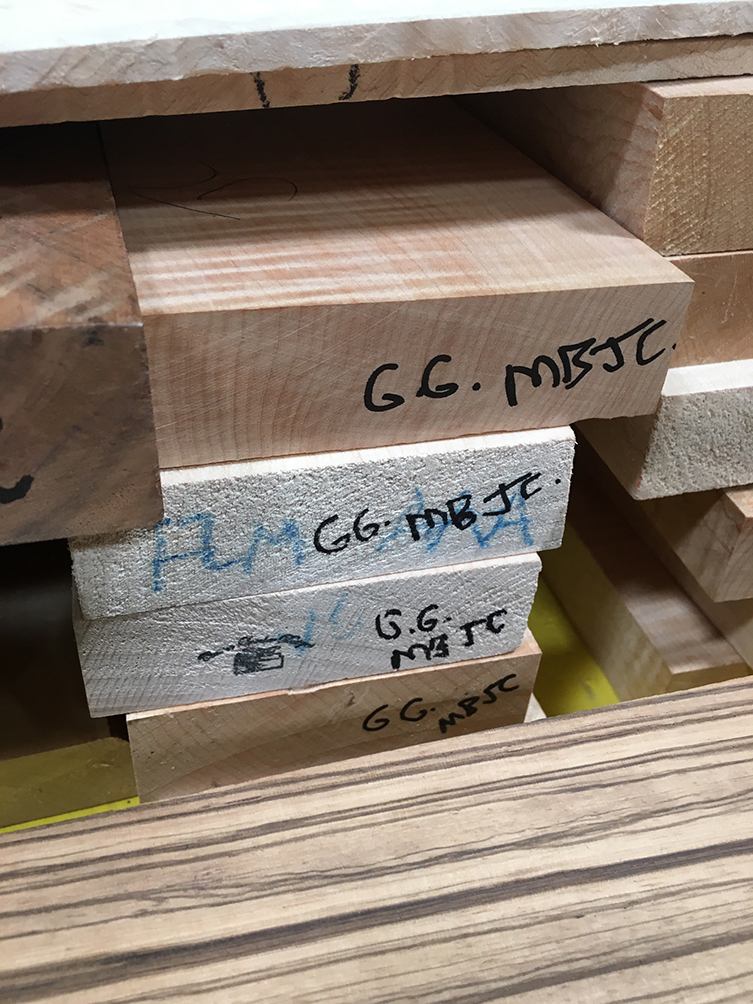 Owning an instrument made by these men is the pinnacle for electric guitar fans. Master Built Fenders represent the very summit of quality, attention to detail and, importantly, individual taste and style. We buy these guitars as much for the details included by the Master Builders as we do for the initial promise of a superb guitar. For instance, fans will notice the way that John Cruz relics a Strat will differ from how Dale Wilson approaches the work. Both are equally artful and legitimate, but different eyes and hands carry out different types of work. These are the kind of levels we are talking about here!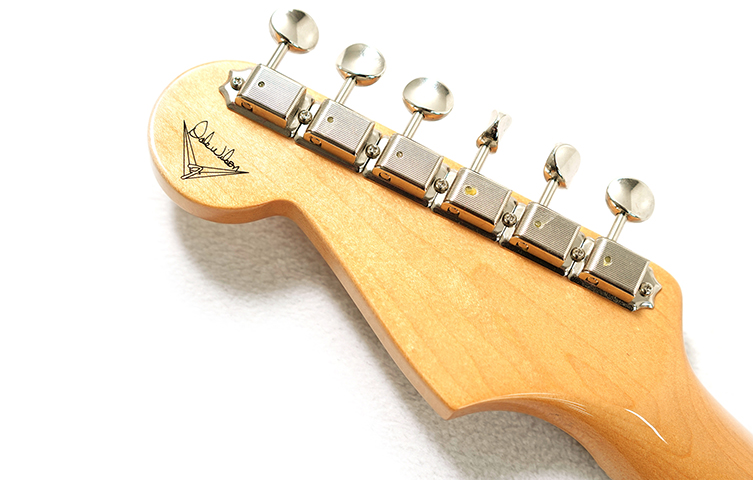 And so, armed with this knowledge, we make our semi-regular trips out West. These visits are all about us collaborating with the Master Builders themselves in order to put together plans for instruments that suit the specific skills of a particular maker, and also to make highly desirable instruments for us to sell. Often, we'll have a specific idea of an overall umbrella theme – like the '57 Stratocasters that we'll be getting to soon – and having a Master Builder - or selection of Master Builders - make their own take on that theme. This means that they can envisage things according to their own interpretation.
For example, Master Builder Jason Smith was very particular about the pieces of Ash he picked out for the bodies of these '57 Strats, and also about the neck profile. The sensibilities and creative preferences of the Master Builder are significant in the build. After all, Jason is one of the greatest Strat builders on the planet! Who better than him to decide these details? This becomes part of the guitar's story, as each one is with the imbued with the creative DNA of each Master Builder.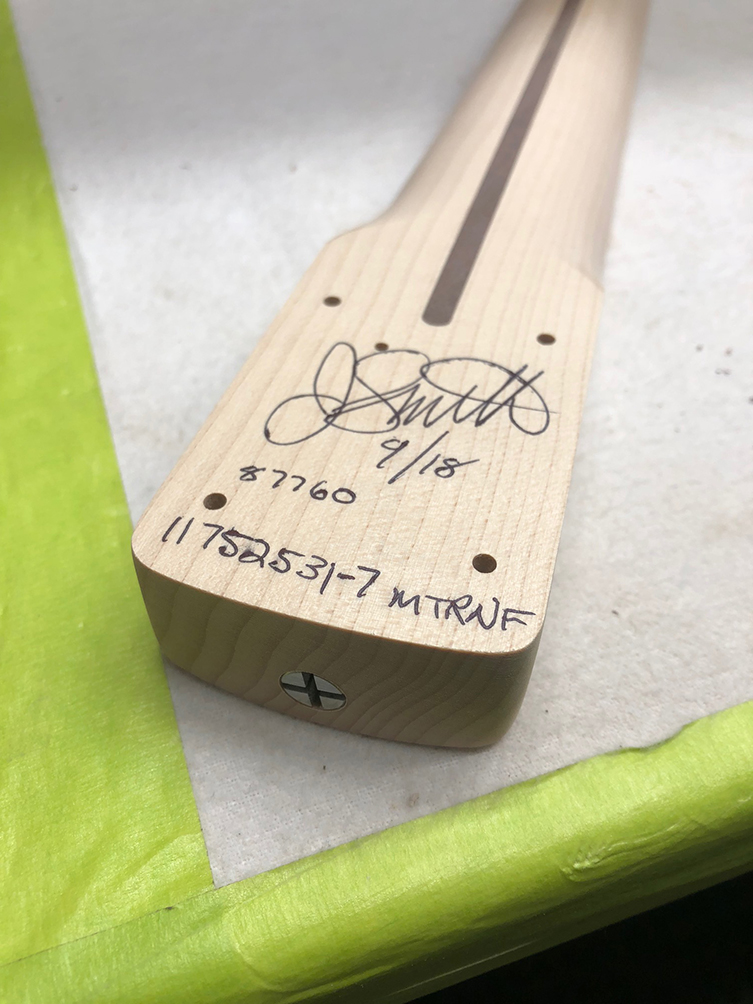 The details are generally sympathetic to the proposed 'era', though, so that customers can approach an instrument with certain expectations fulfilled in advance. In other words, a '62-style Strat is not likely to feature a Maple fingerboard and a '52 Telecaster is unlikely to have a Floyd Rose tremolo!
Most of Fender Custom Shop's Master Builders have waiting lists that stretch into many dozens of months. Does that include the custom orders that we put in? Of course! We have to wait just like everybody else. We are commissioning work from the Best of the Best and are therefore prepared to wait for it. The good news for all of our Fender-loving customers, however, is that these guitars that we've mentioned here (and a great many more besides) were all spec'd up many moons ago: we've done the waiting, we've done the anticipating...and now we have taken delivery! These Master Built guitars are now available to buy! As this blog goes online, you should be seeing some fantastic Heavy Relic Stratocasters from Jason Smith and some delicious NOS Strats from Dale Wilson appearing on our site and indeed up on our store walls. These magnificent Strats are taking pride of place next to our other Master Built creations in each guitarguitar store.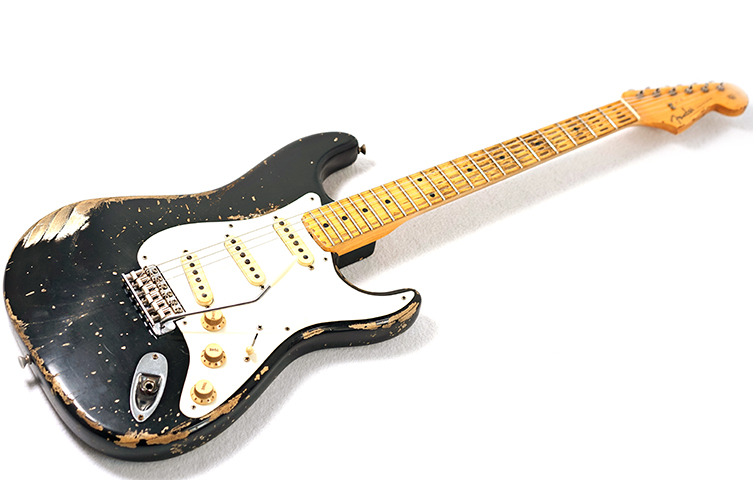 Remember, every one of our Fender Master Built guitars and basses has been the result of a direct collaboration between us and the Master Builder in question. That is true of these Jason Smith Strats, these Dale Wilson Strats and all other Master Builds. If you love what we have on the walls, why wait up to 46 months for a Custom Build? We have an exclusive and exhaustive selection of the best Master Built Fender electric guitars in the world here and now.
So, the guitars we have just taken delivery of are the Jason Smith '57 Strats and the Dale Wilson '59 NOS Stratocasters. These are all good examples of the kind of collaborative process we take part in with the Fender Custom Shop. For instance, Dale's finishing techniques mean that he can make ultra-thin skin finishes that really breathe and resonate. He favours a player-friendly compound radius fingerboard and so by choosing one of these guitars, you also buy the benefit of his particular expertise. Our fresh selection of Dale's creations is available now in various period-correct finishes.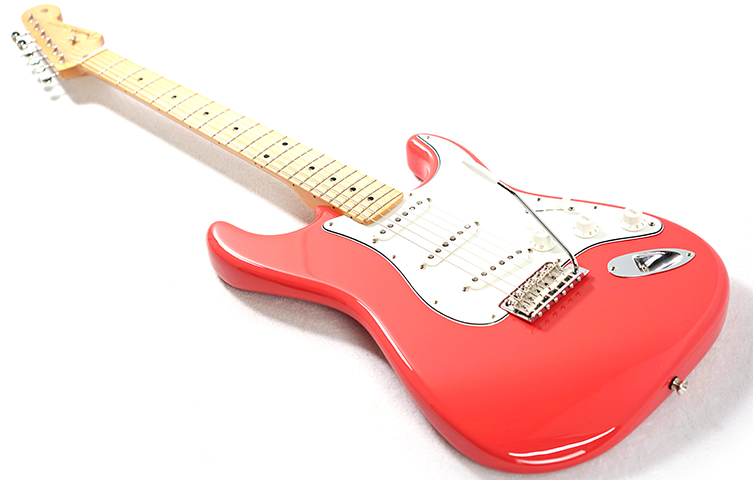 Jason, on the other hand, is superb at relic'ing bodies and working with Ash. You can see obvious evidence here with this 'pre-distressed' image of our stunning Cherry burst Strat's body compared with the finished masterpiece itself! Jason's neck preference is quartersawn Maple with a soft '57 V profile. A hand-rolled fingerboard by Jason will be different to a hand rolled fingerboard by Dale and so on, due to their own techniques and preferences. All of this goes into the magic that is a Master Built Fender.
Jason's expertise in picking timbers really shows in the look, weight and resonance of his Strat builds. We have these Master Built Jason Smith '57 Strats available in a range of amazing finishes.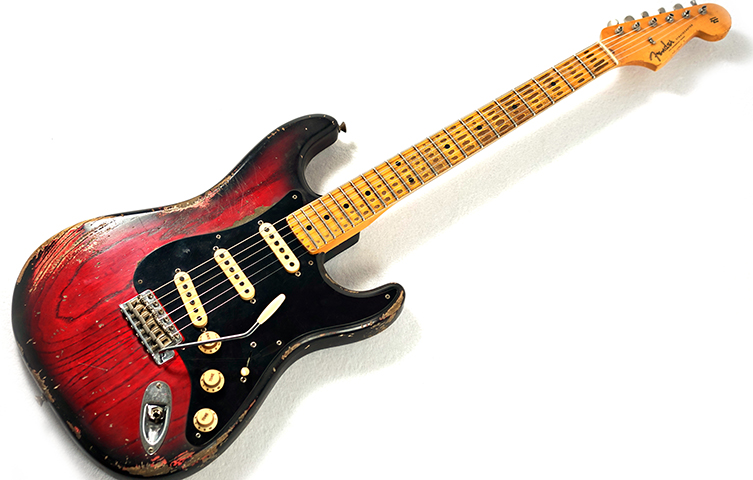 We invite you to peruse our entire selection of fender Custom Shop Master Built guitars. We feel strongly that these are some of the finest guitars in existence. Every store has a superlative selection on display and ready to view and play, not kept away under lock and key! Visit guitarguitar today, where our staff are specially trained to take you through our various collections of high-end instruments. Spend some time with a selection of Fender Custom Shop Master Built guitars and see, feel and hear the difference for yourself!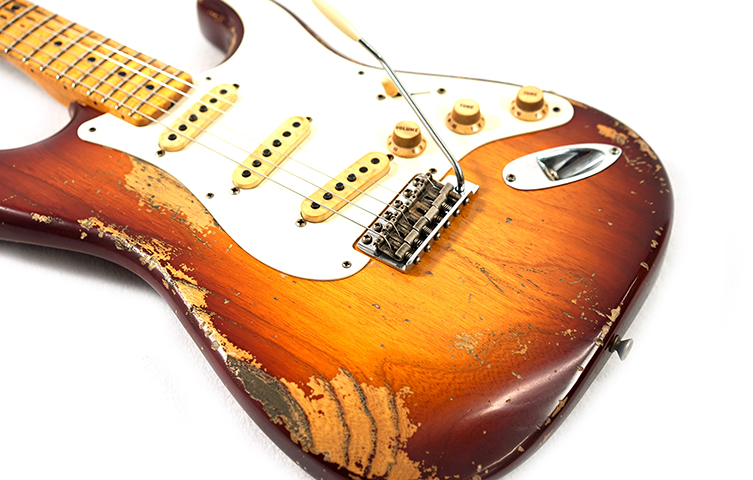 Before we go, we have one last treat in store for you, we are offering a special finance deal. From now until the end of March, you can purchase ANY Master Built guitar or bass and get 24 months' interest free credit! This is a rare opportunity to get your hands on the absolutely top level hand-made Fender guitars, the likes of which you've perhaps written off as being unattainable. This finance option puts these guitars much more firmly into the reach of many more guitarists. We aren't often able to offer these terms so if you are tempted, please think carefully and then take action before it's too late! These guitars are simply too amazing to pass up on!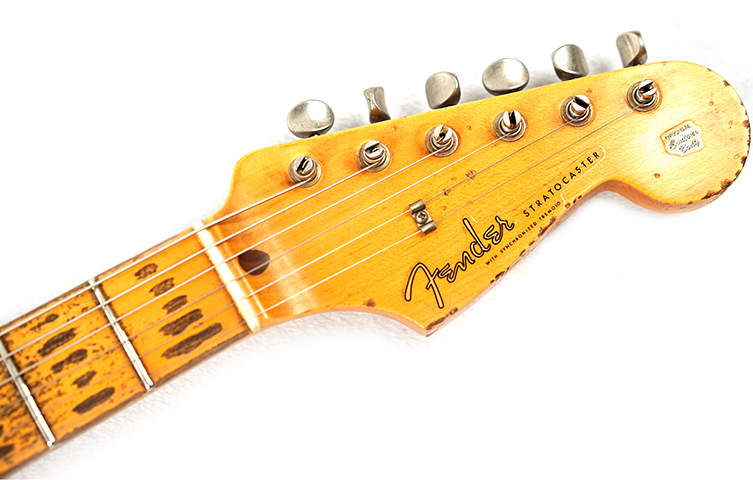 Please get in touch with us in store, by phone on via our Live Chat for more details on this offer. Enjoy having an indulgent stroll through our sublime Fender Master Built selection and see where your thoughts take you: owning the Fender of your dreams is closer now than ever!