The guitarguitar Interview: Roger Sadowsky
Published on 30 August 2019
New York luthier Roger Sadowsky has been making world-class instruments for over forty years. His client list has included Lou Reed, Prince and Marcus Miller. Based in Long Island, Roger is one of the main names in boutique, top-end instruments. His innovative semi-hollow guitars are revered throughout the world, but his basses are perhaps what he is best known for. High profile bassists like Darryl Jones (Rolling Stones) and Jason Newsted (ex-Metallica) have helped pur Sadowsky front and centre in the minds of those looking for a high-end bass.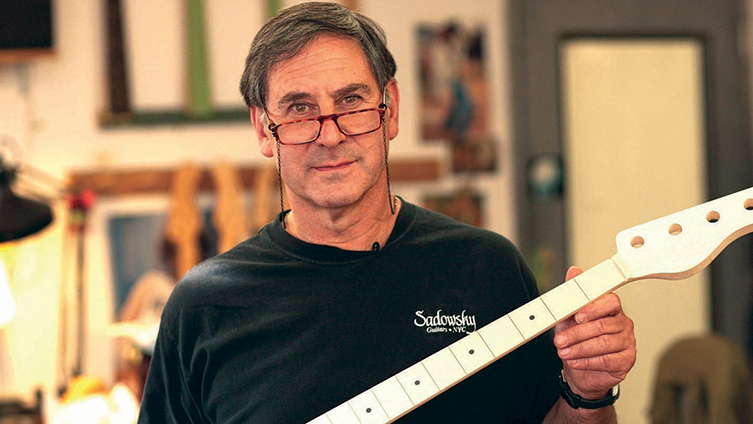 So, why are so many pro players choosing Sadowsky? Quality and innovation seem to be the presiding factors. Roger's designs take the best of Leo Fender's original inspiration and bring them to the next level in terms of build quality, electronics and performance.
At guitarguitar, we are honoured to have had a relationship with Sadowsky for many years. We stock both Sadowsky bass guitars, which we regard as some of the very best instruments we have ever had access to.
As this is 'Bass Week' in our 15th anniversary celebrations, we got in touch with Roger via email, just before he set off on a well deserved vacation, to ask about his business, his basses and his celebrity customers...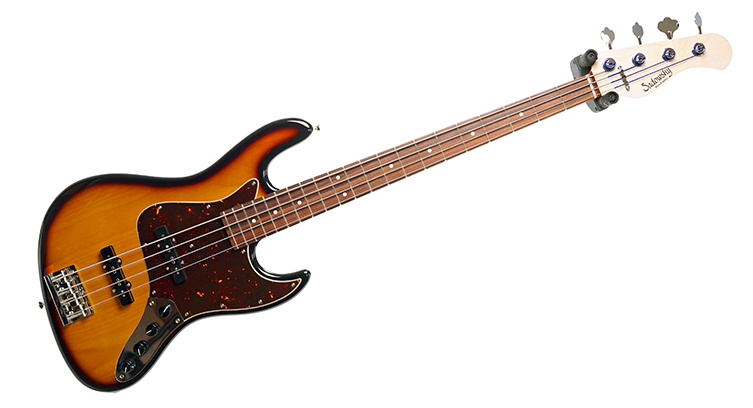 Roger, you are well known for making both high quality basses and guitars. Would you say that basses are when your heart lies?
Honestly, my heart lies with flat top acoustic guitars. That was the passion that led me to guitar making and was what I did from 72-74.. I then spent 5 years developing my skills in repairs, modifications and restorations on all fretted instruments. When I started my business in NYC in 1979, there was virtually no market for hand made acoustic guitars. I started making electric guitars in 1980 and made my first basses in 1982.
Who are your personal favourite bassists?
An impossible question to ask of me.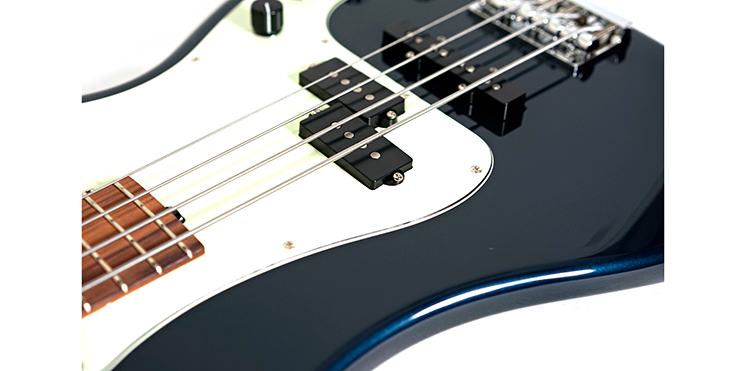 Your bass preamps are famous: are they an important factor in the 'Sadowsky sound'?
Absolutely! I was very early into the active tone circuit game, starting in 1979. The second person I installed an active treble/bass boost circuit for was Marcus Miller. The rest, as we say, is history. The uniqueness of my circuit is that it is based on jfet design, which is the transistor equivalent to tubes. Most circuits are made with op-amps. Although they can do more than the jfet circuit can do (cut as well as boost, variable mid controls, etc), they never can duplicate the tone of the Sadowsky circuit.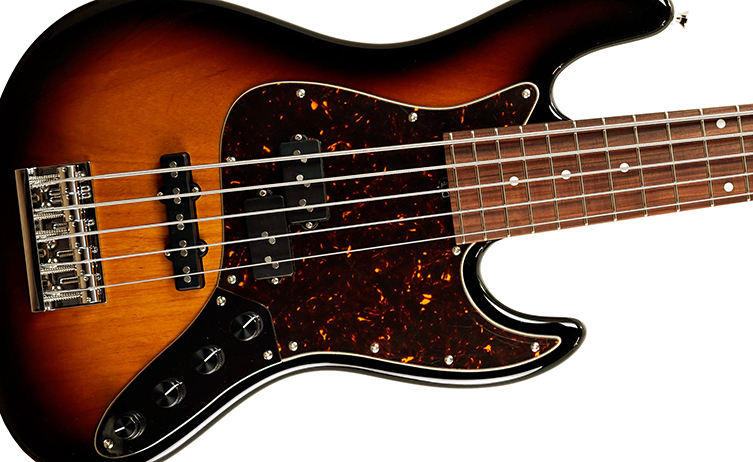 Do you have to alter the sonic properties of the preamps for 5 string basses?
Not at all. I have used the same basic circuit since 1979. We began with a circuit made by Stars Guitars in San Francisco. When they closed shop, we switched to a Bartolini circuit. In 1990, with the help of my friend Alex Aguilar, we designed the Sadowsky circuit in 1990.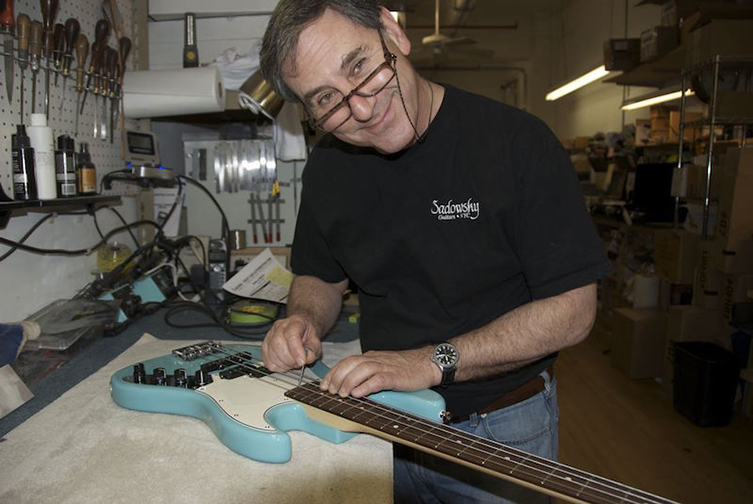 You started out by modding Fender basses and improving them for customers. Your own Sadowsky basses have a Fender influence. In your eyes, what did Fender get right and what needed improving?
Let me begin by saying that in the 1980 NYC Musicians Union directory, there were only two chapters for bass. The first was "Acoustic Bass" and the second was titled "Fender Bass". You could not walk into a recording studio back in those years with anything other than a Fender J or P bass. The next bass to gain some acceptance was the Music Man Stingray bass.
A lot of my early years in NYC was spent modding the Fenders that the session guys had. Everything from shielding the electronics, to reworking fingerboards and refrets, installing better hardware and installing new pickups and active preamp circuits.
When it came to making my own basses, my goal was to make a Fender Style bass and bring to it all of the upgrades and mods I had been doing on the basses I worked on for other players. Many of these guys had late 50s—late 60's Fenders. You could buy a nice early 60's L Series J-bass for $800 in those days. In the mid 80's the vintage market began to take off and I realized the modding work I was doing was "devaluing" these instruments for the vintage market. So at that time, I decided to build more basses of my own, and incorporate all of my improvements.
Leo got so much right from the beginning. I brought a higher level of workmanship and the use of higher quality materials and components to the table. I made minor changes to body size, fingerboard radius, etc, but Leo's spirit lives in every bass I make.


What is the most unusual custom order request you've had? And have you ever had to say 'no' to a customer's idea?
I learned early on that I did not like to take custom orders. That entire process puts a lot of pressure on the customer and on the builder to meet unknown expectations. There is a magic that occurs between a player and an instrument. Sometimes the magic works and sometimes it doesn't. So I decided to design my own models and then offer a range of options for wood choice, finish, hardware color, pickup options, etc. I sell every instrument on 7 day approval and if the customer is not happy, I take the instrument back and give them a refund. Some other person will find that instrument to be the best one they ever played.
One of your many famous clients was Prince. Did you deal directly with him? Can you tell us anything about the experience?
My primary relation was with his guitar tech…Paul Chavarria. Paul was the person to call me in to work on the Prince project. The few times I was in the presence of Prince, he would whisper what he wanted to say to me to his body guard and the guy would then walk a few steps to where I was standing to tell me what Prince said. It was a very weird experience. But the bottom line is I ended up making six guitars for him in 1984 for the Purple Rain tour.
Let's talk about basses. Your MetroLine basses have solid bodies, whereas the NYC line have chambered bodies. What kind of player is best suited to each? What benefits and drawbacks are inherent to chambered-body basses?
From my background in acoustic guitars, I always approached solid body guitars and basses as acoustic instruments. After years of working on great guitars, I came to the personal conclusion that the best electric instruments were lighter in weight and had more acoustic resonance. My first 20 guitars were all chambered bodies. Over the years, the ash and alder I was buying for bodies were coming in heavier than I liked. At that time, you could not find any wood sellers who would sort their material by weight. So I turned to chambering the bodies as a way to reduce weight and increase resonance.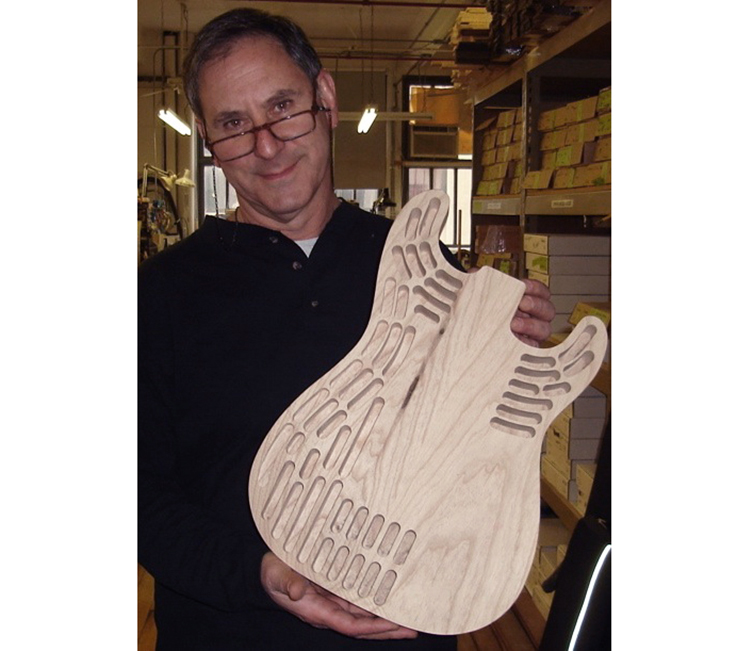 That is still have my preferred approach, but I understand that there are some players who feel that solid bodies have a different mojo that they prefer. So we will still make solid bodies on request.
Regarding my Metroline, my goal was to lower the cost without sacrificing my quality, and the chambered body was not cost effective.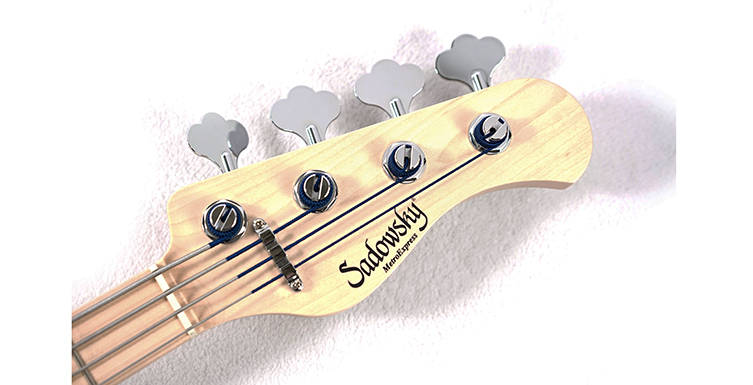 The MetroLine basses are made in Japan. Did you hold back on introducing an overseas range until you had the perfect team available to make basses to your standards?
Absolutely! Back in 1992, a bass maker named Yoshi Kikuchi approached my Japanese distributor to hire him so he could work with me. Yoshi had started the Atelier Z bass company but was so inspired by my work, he sold the company to spend a year working by my side. He then returned to Japan and worked for my distributor and set up the first official Sadowsky Authorized Service Center in Japan. A few years later I let him start building basses under "Sadowsky Tokyo". By 2003 I had so much confidence in him that we agreed to start the Metroline which then used all of my components …preamp, pickups, hardware, etc.
What is the difference between a MetroLine bass and an equivalent MetroExpress bass?
Yoshi began talking to the head of one of the better Japanese factories and challenged him to make a bass that would satisfy our quality control demands. He was up for the challenge and we began to produce our most popular and basic model, The Vintage J 4 and the Vintage J 5. The basses that have been released over the last two years have been of amazing quality for the price. The only issue has been that in order to maintain our quality standards, delivery has been much slower than we hoped. The quality is virtually the same as the MetroLine, but at a lower price point.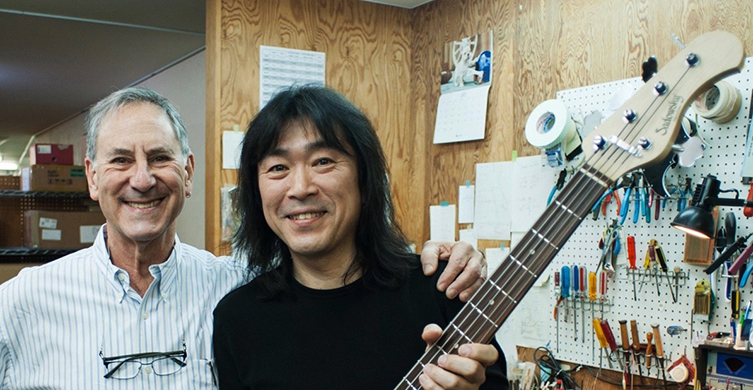 In terms of Sadowsky basses, what's your own preferred model and spec?
This is like asking me who my favorite bassist is! I love all of my children!
Finally, Roger, do you have any exciting future plans that you can share with us?
My plan it to just keep going as long as I can! I turned 70 this year and I have worked 6 days a week for the last 40 years. So I would like to move down to a 5 day work week! I have a great crew…My shop manager Ellis has been with me for 14 years. I am sure we will be able to maintain our little workshop and continue to make the best guitars and basses we know how to do!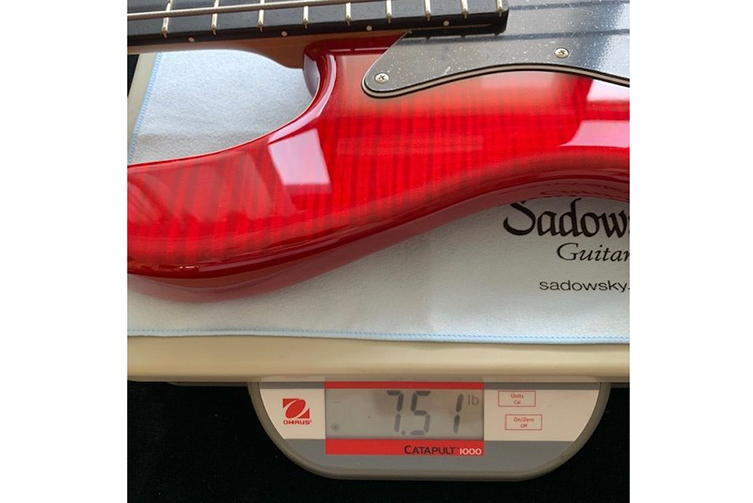 Sounds good to us! Roger's instruments are individual works of art. We invite you to pay us a visit and try them for yourself. Please check out our range of Sadowsky basses here. We'd like to thank Roger for taking some time out of his busy schedule to talk to us!
Ray McClelland