Fryette Power Station: Unleash your Amp's Potential! (Updated for December 2021)
Published on 17 December 2021
You like sounding as good as possible, don't you?
And you like that to be as often as possible, right? Not just key gigs and important recording sessions.
It seems odd to practice your playing so much and then settle for 'okay' tone, doesn't it?
You want quality valve tone with the correct character, response and feel, otherwise it just isn't happening for you, right?
Us, too!
Of course you want to sound great, what else is there? That's the whole point of plugging in a guitar in the first place!
But getting great tone isn't always as simple as plugging a good guitar into a good amp: nature and physics play their part, and this can sometimes lead to frustrating difficulties.
Enter Fryette, the long-respected makers of amps like the Pitbull and the Deliverance. This boutique US brand have brought fantastic sounding valve amps to guitarists for many years. They are more than aware of the struggles we all go through to get our sound, and they have designed a unique box to help us...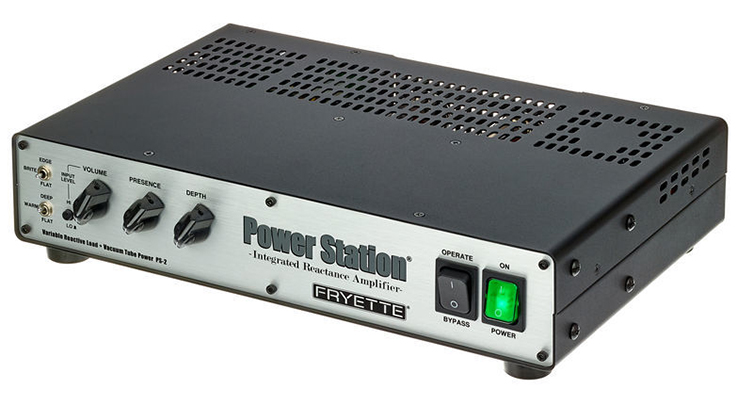 The Fryette Power Station
But what is it?
Is it an attenuator? Yes. Is it a booster? Yes. Will it retain your all-important dynamics and tone at any volume? YES. Can it help you with silent recording? Yes!
Wow! Does it do anything else?
Yes: you can use the Fryette Power Station as an effects loop (after your amp's gain section) if your amp doesn't have one. You can use this as a power amp for your digital modeller. It can also be a power amp for situations where you need one, like when adding 'tube' power to your desktop recording setup, for adding juice to a wet-dry FX set up, and as an on-stage monitor power amp for your modeller to front of house: you can leave your modeller settings as they are and control your power section from the Power Station.
In other words, this is a super-useful power load in a box, suitable for energising and powering your sound in a high-quality, controllable way.

Who Needs a Fryette Power Station?
Here are some examples of players who could really benefit from using a Power Station...
You have a great valve 'lunchbox' amp that doesn't quite have the power to cut it live. Or, you favour a small valve 'tweed' or 'AC' combo, and want to use it live. They need help to compete with the other band members. You like the tone you get and don't want to mess with it.
The have the situation above but want to add more depth, size and body to the tone.
You may have the opposite problem: your monster ginormo-stack is simply too much for the venue you're in, but you don't want to compromise with something smaller, since this big stack gives you your sound. You need an attenuator to bring the volume down, but you have always previously suffered tonal compromises and drawbacks with such devices in the past.
Your sound needs more life, vitality and size.
You want to be able to match any head to any cab.
You love digital technology but still want a traditional cabinet. You want to add extra finesse to the modelled tones.

In short, nearly every guitarist can improve their sound and simplify their lives by using a Fryette Power Station. It's a solution to many of the mysterious tone-problems we face as guitarists. It's a magic box of tricks that provides you with that elusive 'better' quality that you're always on the edge of having.
We think every guitarist who uses valve amps can enjoy a real benefit or three from using the Power Station. It's just one of life's great useful items: it'll become an important part of your setup, whatever your setup may be, and it'll reliably give up the goods time and again.
Do yourself a big favour and check out the Fryette Power Station at your local guitarguitar store.