Events: Reverend Guitars Showcase
Published on 19 February 2020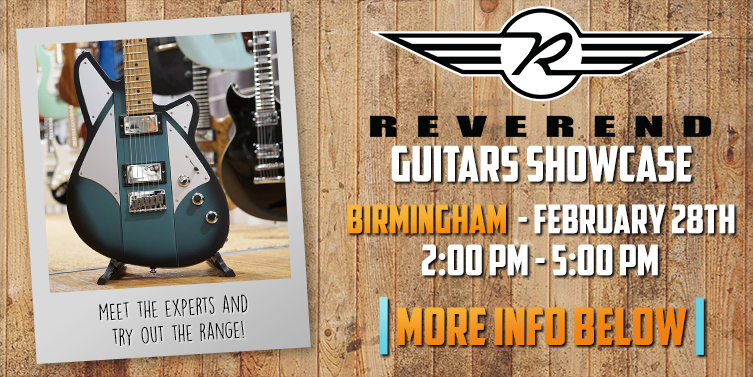 Favoured by everyone from Robin Finck to Billy Corgan, Reverend guitars really are the choice of alt-rock royalty. We've absolutely loved their instruments for years and we're very proud to now not only stock their gear but to have a huge selection of their gorgeous axes, all available for you to pick up and try out. Their guitars are built to a fantastic standard and there are more than a few stunning shapes that show the brand aren't afraid to break the mould. We have nothing but respect for those who dare to do things differently and Reverend tick that box and then some. Totally distinctive and instantly recognisable, these guitars are built to be played loud and we want to give you the chance to take them for a spin.

To kick off our Birmingham store's Birthday celebrations, we're over the moon to welcome Reverend head honcho Ken Haas and expert Zak Ward to guitarguitar on the 28th of February. Discussing their building techniques, the brand's latest runs and their humble beginnings, this is a must for anyone who's a fan of Reverend axes, or even if you're just curious about them! We'll have a dedicated area set up in the store where you can drop in, try out a few guitars and chat to Ken, the owner of the brand. We can't wait to get schooled on these gorgeous axes ourselves, so head down for some big riffs and plenty of gear talk.
There's no need to reserve your space, simply head down to the store and get plugged in!