Competition: 10 Days of Prizes at guitarguitar Birmingham
Published on 25 February 2020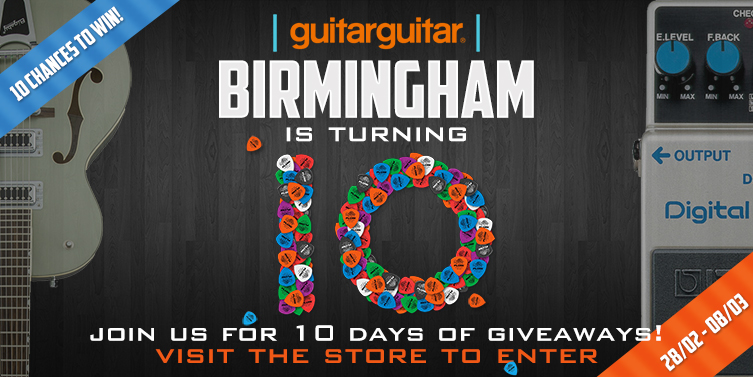 It's official folks, this weekend guitarguitar Birmingham hits double figures. As cliche as it sounds, it feels like yesterday that we first opened the doors and it's a proud moment to reach such a huge milestone. We love what we do but getting the chance to meet so many of you, riff out and chat about all things guitar is sincerely the best part. The past 10 years have been so special and it's all thanks to our amazing customers, so we want to do something to pay you back.
Well folks, as you'll know by now we're hosting a huge Birthday Party weekend but that's not all. We're giving you the chance to win no less than 10 incredible prizes to celebrate every year we've been open. Starting from the 28th, we're giving kicking off 10 days of competitions with an awesome new prize announced every day. At the end of the 10 days... You guessed it - we'll pick 10 winners to take home a shiny new piece of gear - it's as simple as that! All you have to do to get involved is stop by the store between 28/02/20 - 08/03/20 and fill out an entry ticket.
It wouldn't be fair of us to tease you with 10 days of prizes without giving you aaaany details, so we're giving you a look at a few that are kicking things off...
Day 1 - Gretsch G5420T Electromatic

First up for grabs is the unspeakably stylish Gretsch G5420T Electromatic in Aspen Green! That's right guys, the time has come to oil up your hair and get your best rockabilly moves out cause axes don't come much cooler than this. As with all of our 10th Anniversary giveaways, you can enter this competition by submitting an entry ticket in store between 28/02/20 - 08/03/20. Good luck!
Day 2 - BOSS DD-3 Digital Delay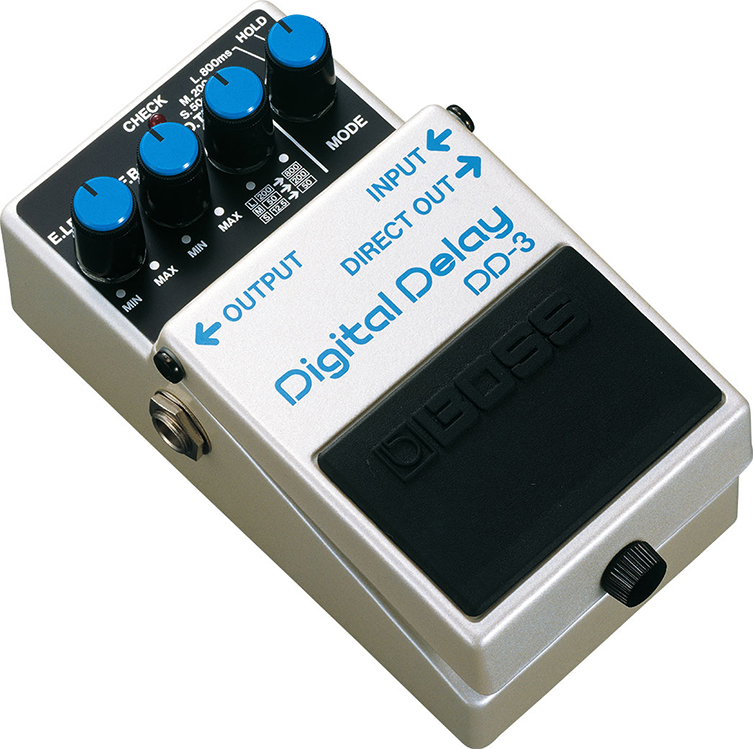 No guitarist is complete without some trusty pedals to back them up and they don't come much more trusty than the legendary BOSS DD-3 Digital Delay. This little stompbox has been churning out hypnotic echos since 1986 and it's not going to stop any time soon. Built to last and extremely user-friendly, this little unit is essential on your board and we're giving two of them away to 2 lucky winners!
Day 3 - Marshall SV20H Studio Vintage Head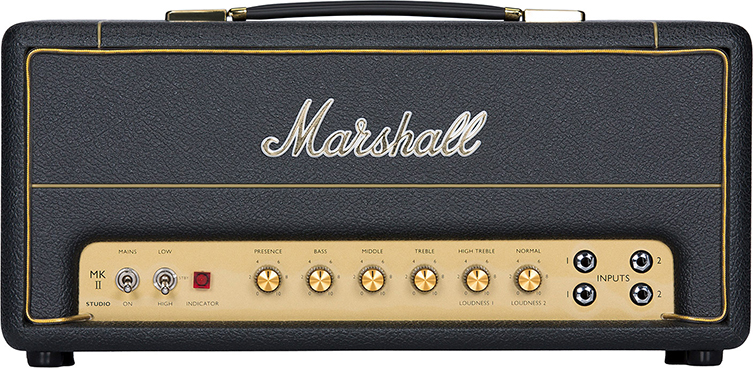 Day 3 marks our Anniversary so we knew that today's giveaway had to be a special one... That's why we're giving away an amp from the biggest name in rock, the roaring Marshall SV20H Studio Vintage Head! Let's face it, we've all wanted a Marshall at one point or another so we thought there was no better way to celebrate our Birthday than to give one of you rockers the chance to bag one for yourself. Stop by the store to indulge in some cake and get entered.
Day 4 - SIGNED MXR Custom Shop Joe Bonamassa FET Driver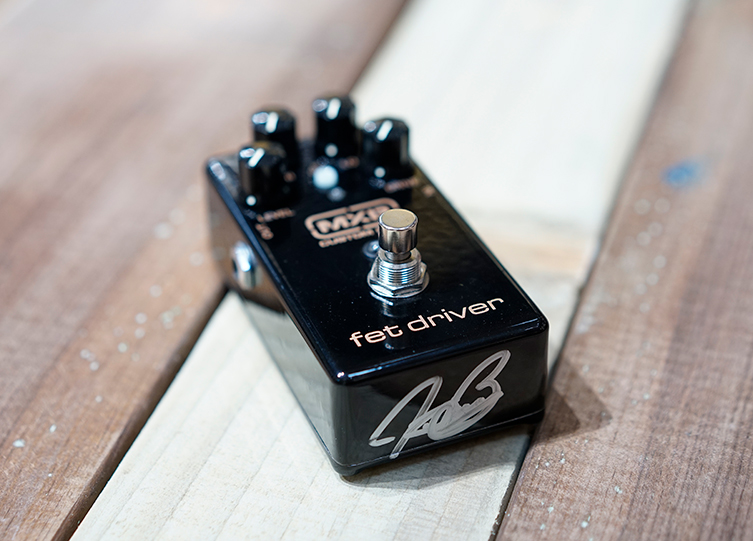 So the Birthday Party is over and we're all feeling a little worse for wear. Well, we're gonna need something to blast those blues away on right? In that case, let's make today's prize the utterly mighty sounding MXR Custom Shop Joe Bonamassa FET Driver SIGNED by the man himself! This is a fantastic prize for any Joe Bo' fans who want to add a little bit of his magic to their board. While it might not give you his skills, it's still a pretty cool little tool to have at your disposal, so drop by the store and fill out an entry ticket - you never know, you might just get lucky!
Day 5 - Laney GH30R-112 signed by James Laney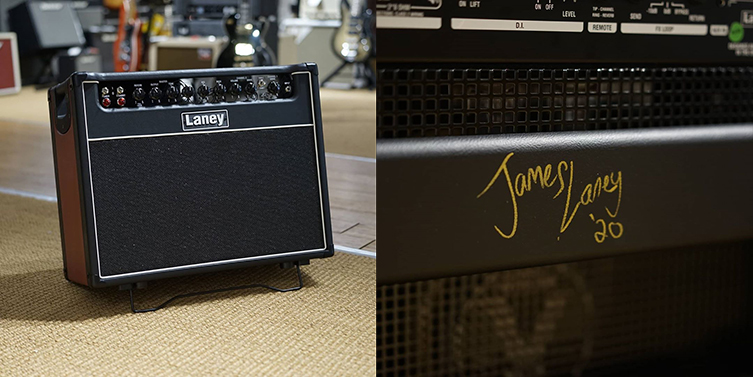 We've had a pretty hard rockin' selection of prizes so far, so maybe we should dial it back and go for something more conservative...? Nah! Instead, let's keep the classic rock dream alive with a Laney GH30R-112 signed by none other than James Laney! This amp sounds absolutely glorious with some huge tones to be tapped into and the vibe to match. With a gorgeous aesthetic, made even more impressive by being blessed by the companies CEO, this is a fantastic prize and since all you have to do to enter is pay us a visit, you can't lose! See you soon rockers...
Day 6 - Suhr Eclipse Overdrive/Distortion Pedal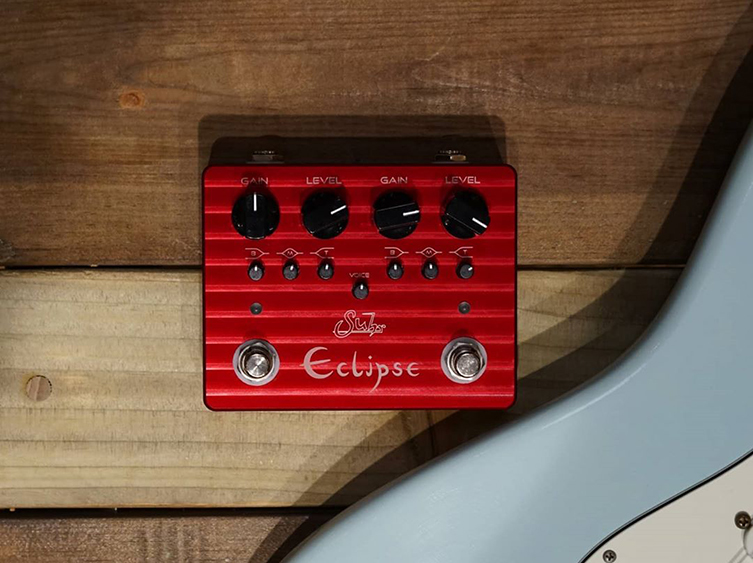 We all need a little drive and distortion for those face-melting moments, don't we? (Pipe down folk players, we're not talking to you!) There's nothing better than stomping on your go-to drive pedal and feeling your sound come alive. So, we reckoned for Day 6, it would only be right to give you guys the chance to bag one of our very favourites - the Suhr Eclipse Overdrive/Distortion pedal! This dual stompbox sounds absolutely divine with a lovely thick sound and a 3 band EQ for each pedal to allow you to dial in your perfect tone. Stop by and pay us a visit to enter... Unless you can't handle the gain that is!
Day 7 - Tourtech 4-B Pedalboard and Tuner Starter Pack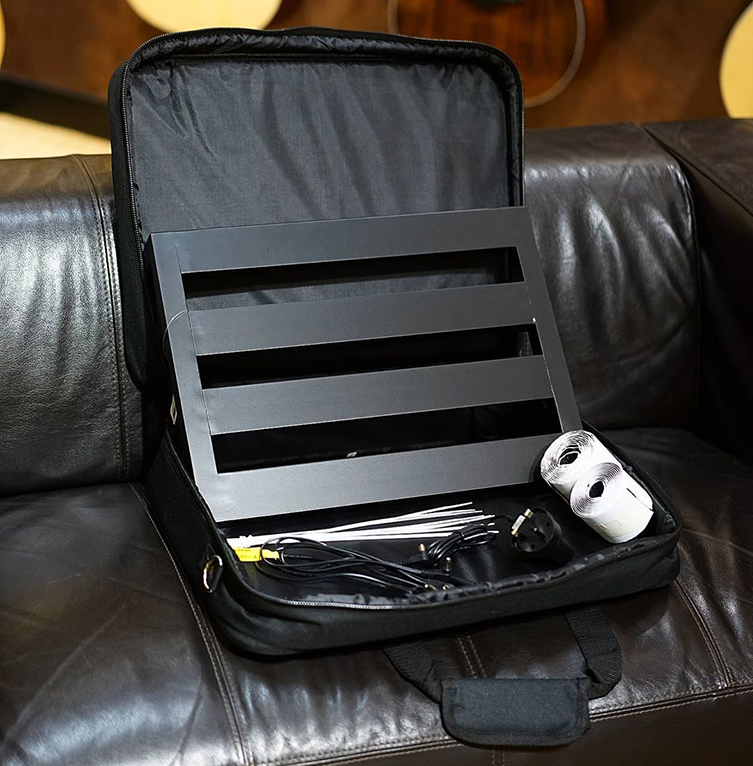 No guitarist is complete without their trusty effects, so for Day 7, we're setting you up with a new Tourtech 4-B Pedalboard and Tuner Starter Pack! This is the perfect setup to either put together your first board, or add some order to the chaos! With a Landlord tuner, a board, PSU and the patch cables to go with it, this prize is a great starting point for your effects. Tourtech boards are bult to last too and will stand up to all the tap dancing you care to do on stage. Pay us a visit and fill out an entry form, you never know, this could be your lucky day!
Day 8 - MXR M78 Custom Badass 78 Distortion Pedal SIGNED by Devin Townsend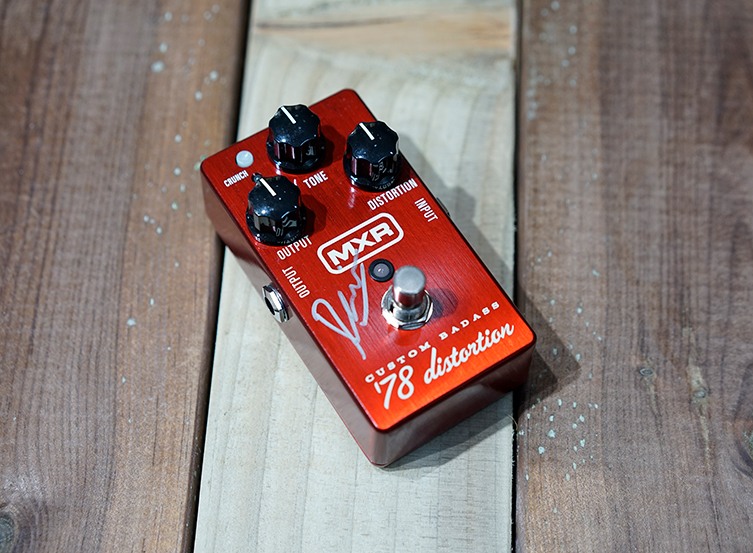 We're keeping up the high gain madness for our 8th prize with a tasty pedal from MXR... But not just any pedal... We have an MXR M78 Custom Badass 78 Distortion Pedal SIGNED by none other than Devin Townsend! If it's heavy enough for Dev, it's heavy enough for you! This pedal sounds amazing and this is a really cool keepsake for any fans. There are only afew days left to enter so don't miss out. Pay us a visit and get those fingers crossed!
Day 9 - Limited Edition Alvarez AF60GD-DARKSTAR Grateful Dead Acoustic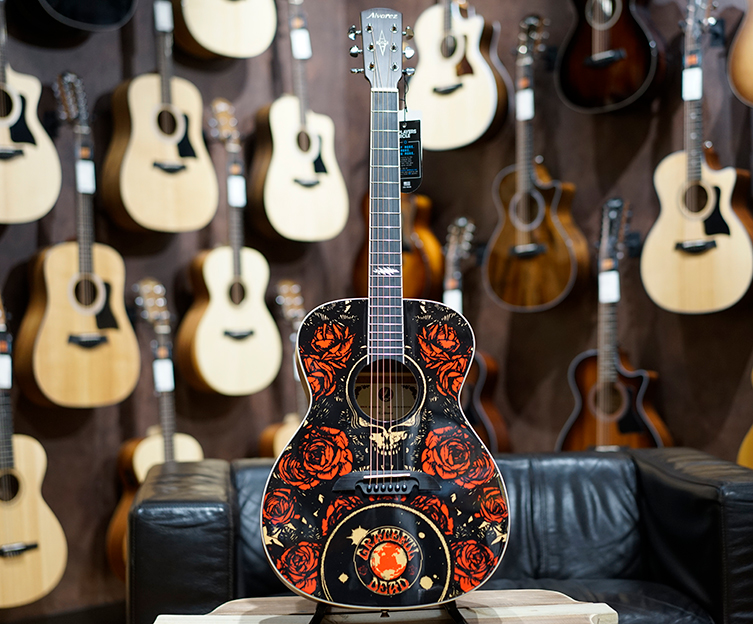 We're nearly on our last day and we've decided to give a nod to all of you Dead Heads out there... Up for grabs in today's competition is the seriously cool Limited Edition Alvarez AF60GD-DARKSTAR Grateful Dead acoustic! With an amazing graphic all of the Grateful Dead vibes you can handle, this is a proper psychedelic and groovy guitar that sounds outstanding. Unfortunately, it doesn't give you the chops of Jerry Garcia but then, only a lifetime on the road ever will! The 10 days of prizes are nearly over so don't miss your chance to enter!
Day 10 - ESP MH-200QM NT

We're ending our Birthday celebrations the way we started, with a brand new axe for one lucky winner to take home! Today's big prize comes courtesy of our friends at ESP, the distinctively devilish MH-200QM NT in See Thru Black Cherry! Despite being a proper riff machine, this guitar has all kinds of style and can handle pretty much anything you'd care to throw at it. With a stunning finish and a great feel to it, rockers will absolutely lovely adore this axe but not only that... THIS IS YOUR LAST DAY TO ENTER! If you like the look of any of the gear we've been posting about for the last 10 days, you really need to come and see us today!
All month (March) - Ibanez AZ224F One of a Kind Swirl Finish
Now, this prize is so special, we've decided to give you the full month of March to win it. Feast your eyes on the Ibanez AZ224F... But not just ANY Ibanez AZ224F, this beast has a one-off finish that's not for sale anywhere else in the world. Playing on Ibanez' legacy of 80s swirl topped guitars, this is a totally unique axe that we're pretty jealous we can't keep for ourselves. Pay attention though cause the rules are a little different to the rest of our prizes...
To win the AZ224F, simply visit our Birmingham store in March and take a photo of yourself with the guitar! Then, post it on Instagram with the hashtag #happybirthdayguitarguitar and tag @guitarguitarbirmingham. It couldn't be easier!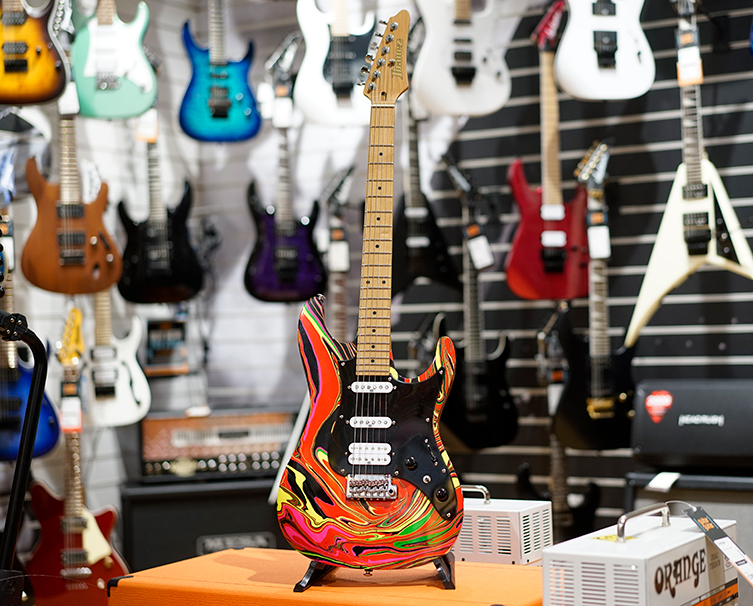 At the end of March, we'll pick the picture we reckon rocks the hardest and the winner will receive this distinctive and totally individual Ibanez.
We can't wait to see your efforts, drop by to get involved!
That's all for now folks, check back for the next prize!