Strandberg: New Delivery!
Published on 30 April 2020
Have you tried a Strandberg guitar yet?
The innovative Swedish brand has been causing a real sensation amongst guitarists over the last few years, with more and more serious payers understanding the benefits to be had by using this highly engineered, contemporary instruments.
It's clear from a casual glance that these are not retro or vintage-tinged guitars. Strandberg are for cutting edge players: people who create music that faces forward and belongs in the now- and in the future.

All Strandberg guitars are headless. They all feature a super ergonomic body that's sculpted to be as useful and comfortable as possible. Most significantly, they offer fanned frets across a multiscale neck that is shaped in a most unorthodox manner. Yes, the Endurneck, invented by company founder Ola Strandberg, takes relatively sharp angles and asymmetry to the profile of the neck, resulting in a shape that actually follows the natural movement of your hand as it climbs the neck. Your left-hand position will always be positioned perfectly for the best fret access and least pain. This means that extended periods of playing are made easier and more comfortable than ever. Great news!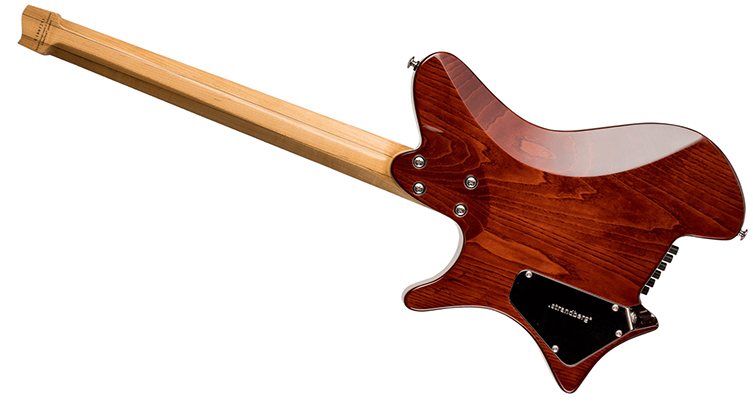 So, these features are true of all Strandberg guitars. In addition, each Strandberg guitar has aerospace-grade, custom-made hardware and highly precise levels of build quality to ensure a playing experience like no other.
Strandberg make a wide range of guitar models, and we've just taken delivery of a fresh new batch! In order to show more of the brand, let's pick out a few and take a slightly closer look...
Boden Original (6, 7 or 8 strings)
This model could be seen as the definitive Strandberg guitar. The Boden shape is the one most often used, and the Swamp Ash body with AAAA Book-matched Flame Maple top is indicative of Strandberg's most famous look.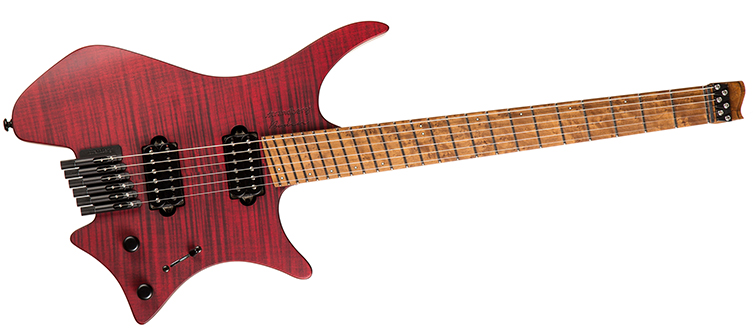 This lovely example has a roasted Maple neck and top-quality Suhr pickups. We've picked a 6-string model here, but the Boden Original is available as a 7 string and 8 string too, in a variety of finishes.
Salen Deluxe Vintage Burst
The Salen stands out in the range due to its reference to a certain 50's T-style guitar! Obviously, this is no copy, but players looking for a single coil tone with those great Swamp Ash resonances will love this!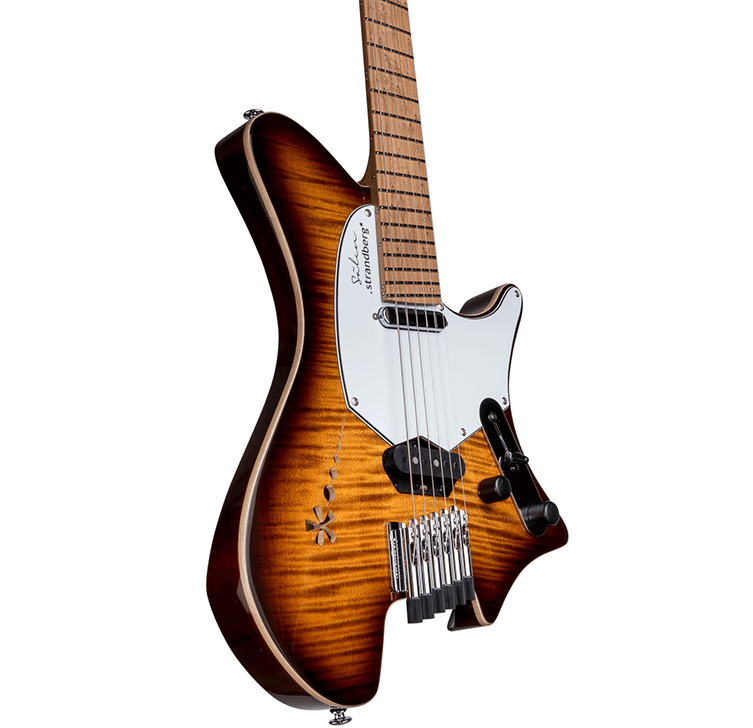 The body is chambered, and the guitar uses more T-appropriate Suhr pickups to get that twang happening! It's a bold concept, but people are really going for it!
Metal 8 String
The Metal model is a no-compromises tone machine for contemporary Metal and Djent players. Strandberg have opted for a Basswood body this time, in accordance with the preference of many Metal players. There's a quarter-inch Maple top, too, so some of its brightness will impart to the tone, too.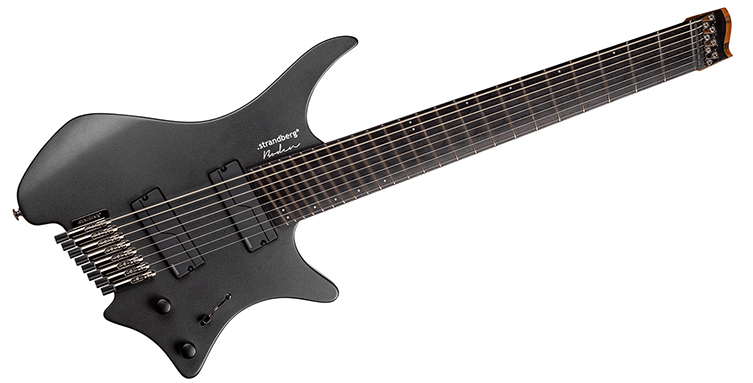 Our Metal 8-string model here has a baritone multiscale of 26.5"-28" over an Ebony fingerboard with 24 stainless steel frets. As a masterstroke, Strandberg have used a set of Fishman Fluence Modern humbuckers here. These pickups are very much the top choice for heavier guitarists at the moment. Their extra tonal options open this somewhat niche guitar up to be more versatile than it may first seem. For heavy players, this guitar is pure champagne!

Plini Signature
Plini, the Australian instrumentalist, has been a Strandberg artist for years and is one of the brand's most visible supporters. We have his signature model back in stock, and it's a beauty!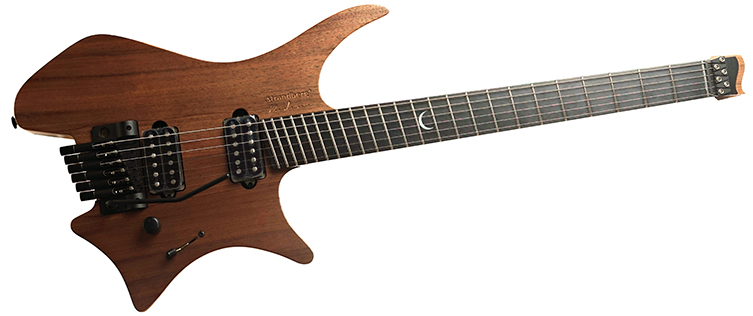 Plini's guitar is also chambered, though he prefers not to have a soundhole. The Ebony fingerboard is inlaid with Plini's Moon logo and the guitar is outfitted with some top notch hardware that includes Suhr pickups and an EGS 5 Pro Tremolo.
Neck Thru 6 Tremolo
This lovely model differs from the rest in it's build style. This time, the roasted Maple neck continues for the length of the body, which itself is made up of two chambered 'wings' of Alder. Lightweight and huge sustain are possible after all!

This neck, like the other Endurnecks, is made from three pieces of Maple and two carbon Fibre rods. Alongside unparalleled upper fret access, you also get Suhr pickups arranged in an H-S-H configuration and a tremolo unit, making this perhaps the most versatile Strandberg model available.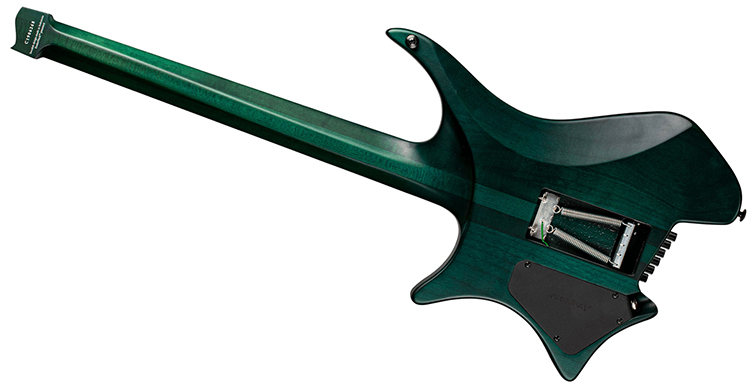 Final Thoughts
These are but a few of the models we currently have in stock: there are many options and finishes to suits the needs and tastes of most players. Retro purists may have reservations about such stark modernity, but we recommend spending some time with one and critically evaluating your playing as you test the guitar. It's amazing what these can do for your technique, and there's an entirely separate headspace available to you too, with none of the cultural baggage that comes with classic electric guitar designs.
Try a Strandberg and see what it does for your playing, your writing and your imagination.