Ibanez PIA and Chrome Boy: New Shred Legends
Published on 25 May 2020
Steve Vai and Joe Satriani are by far the most successful and well-loved shred players in the world.
Both legends came through in the 1980s, building on the blistering trail blazed by Eddie Van Halen and running far off into their own dimensions of music.
'Satch and Vai', as they are often co-named, are distinctly different and yet very complementary musicians. Though their technique is terrifying, their other-worldly sounds head-scratching and their commitment to the instrument inspiring, the real gold for music fans is their dedication to melody, groove and the emotional connection they make through their compositions.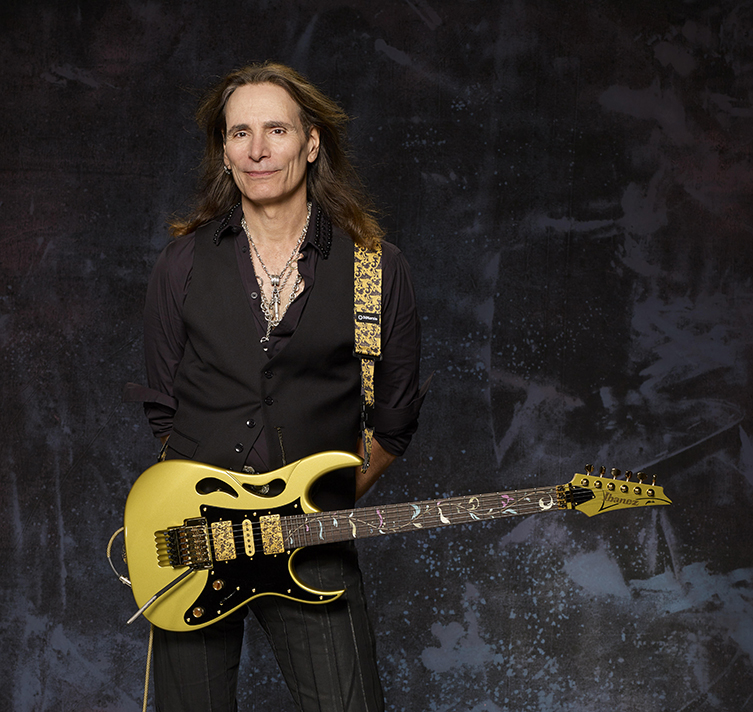 This is what separates these two players from the armies of mindless shredders that clog up YouTube and Instagram. There is some deep stuff going on, here, and listeners can certainly experience that when they take a musical journey with these guys.
In order to create such mind-bending music, standard electric guitars will simply not do! Both Satriani and Vai have colourful, eccentric personalities, and this is represented quite clearly with their signature Ibanez guitars. Again, like the music itself, one could generalise and say that each player's guitar is broadly similar to the other's: a Superstrat, made by Ibanez, featuring custom finishes, locking tremolos and signature DiMarzio pickups. In reality, they are massively different, and say a lot about each player.
This year, both Vai and Satch have brand new signature guitar models. Vai's new guitar is the PIA, an update on his now-iconic JEM. We spoke to Steve exclusively a few months ago about the PIA, and today's article will draw from that wonderful conversation, but it's well worth reading the whole (2-part!) Steve Vai interview for yourself if you haven't already!
Satch's guitar is a revised and renewed version of one of his most famous guitars. As we'll see, the JS1CR Chrome Boy reflects some of the changes Joe has made to his preferences in the 22 years since the original Chrome JS guitars were released.
What's common to them both is their absolutely top-class build quality. These are coming from the workshops of Ibanez's Japanese premises. As we know, Ibanez bring great quality control levels right down the line: even their budget and beginner models are instruments that can be relied upon. The guitars from Japan are absolutely supersonic, ranking amongst the best put-together instruments in the world. If you're goal is to use an instrument that is designed to go further and accommodate any type of technique, then these two models more than measure up!
At the time of writing, we have a number of PIA guitars imminently arriving, and we currently have the Chrome Boy in stock. Therefore, let's begin with him!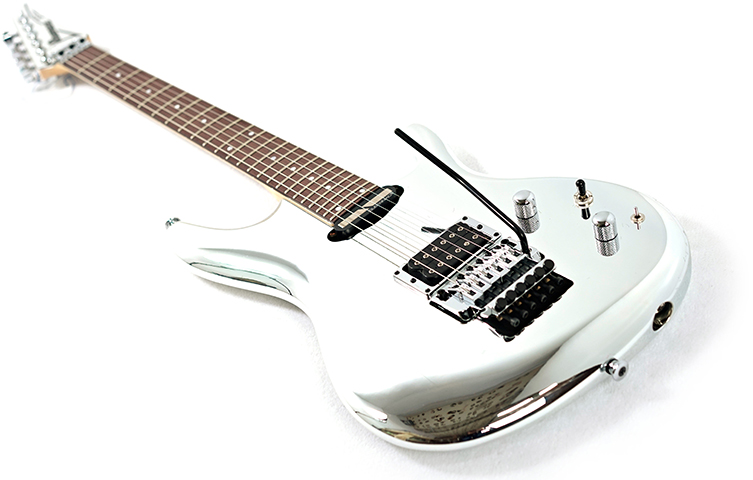 Ibanez JS1CR Chrome Boy
We first caught sight of the original Chrome Boy back in 1998, on the cover of Joe's Crystal Planet album. This has since been regarded as one of his greatest bodies of work, and so the associated images are among the most heavily recognised of Satriani's career.
So, the original Chrome Boy was simply one of Joe's JS guitars with a special Chrome finish. Chroming is a process of covering whatever's been chrome with a layer of chromium via electroplating (passing a current through a bath of acid: we won't pretend to understand...) and so the finish on the guitar was (and still is) truly 'chrome': it's not metallic paint! This finish us understandably tricky to pull off, so this is in fact the fourth time Ibanez have approached it! It looks incredible, frankly, and these pics don't do the work justice: have a look at Joe's short video for Ibanez below to get a better impression of how that chrome catches light and reflection. Wow!
Apart from the incredible finish, there are other reasons to take notice of the JS1CR. In a first for the company, Ibanez have installed a Sustainiac unit into the neck position. As you'll likely know, this device feeds off a 9v battery (the guitar is otherwise passive) and delivers controllable, infinite sustain. You have to switch out a neck pickup for the Sustainiac driver but thankfully it also functions as a great sounding pickup when the circuit is not engaged. There are discreet controls for using the Sustainiac located both within the tone knob (push/pull to turn the unit on) and as a micro switch just beside that for selecting the mode of the Sustainiac. We've used these before and can happily attest to how effective and supernatural they are! A Sustianiac will most definitely take your playing down new roads.

In the other pickup position, Ibanez have installed Joe's most recent collaboration with long-time associates DiMarzio. The Satchur8 pickup gets its name partly from the alnico 8 magnet used to give it it's warm, buttery mids. DiMarzio have this to say: 'The Satchur8™ is smooth yet bright, with plenty of clarity and distinction. It's loaded with dynamics, and notes have weight and authority. Joe says the Satchur8™ is the richest, most complete sounding pickup he's ever used. "I wish we could just say, 'This pickup sounds effing great!'"
Sounds perfect! So, these features were not present on Joe's original 1998-era Chrome Boy and there is one other significant change here, too. 24 frets. Yes, back in the 90s, Joe favoured 22 fret necks with a more vintage profile and almost-vintage radius. He also loved medium frets, which all accumulated to give the Ibanez JS guitars a feel that was definitely more vintage and retro than other 'shred' axes.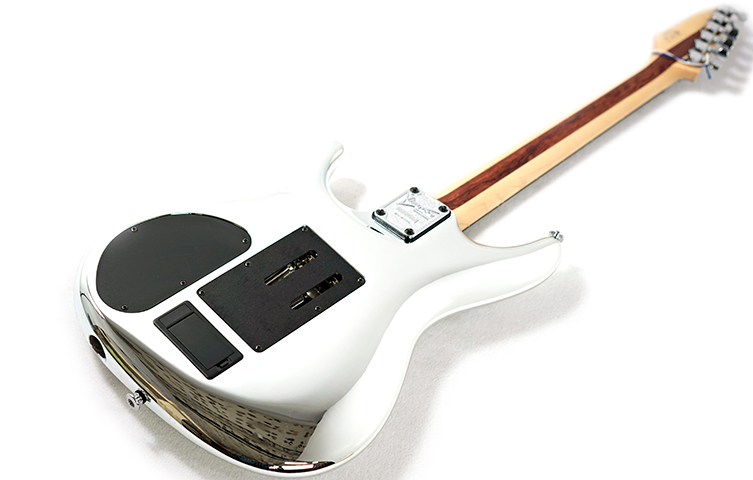 Today, Joe still swears by the vintage profile (now known as the JS profile since it's very much his spec rather than strictly retro) and slightly rounder radius. He has also stuck with the medium frets, which on this example are treated to Ibanez's fabulous Prestige fret treatment to make the ends feel nicely worn in. The only differences are the extra two frets and the Mother of Pearl dot inlays. The JC1CR's neck is a three-piece construction of Maple and Bubinga for greater stability and strength.
The Ibanez JS1CR Chrome Boy is a celebratory model to announce the 30th anniversary of Joe working with Ibanez. The guitar comes with a Certificate of Authenticity hand-signed by Joe himself.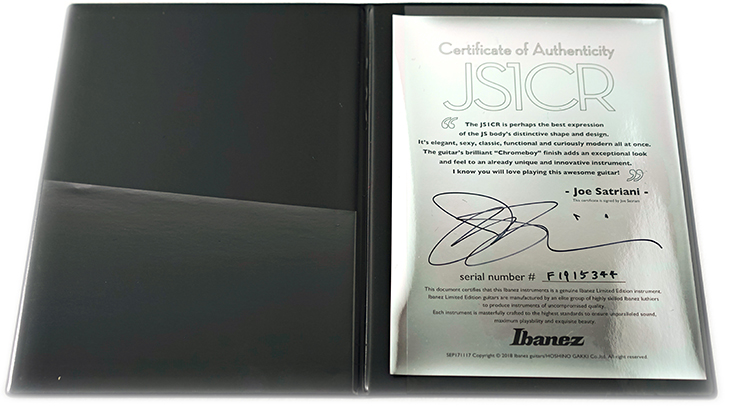 Ibanez PIA
If the Chrome Boy is impressive looking in a minimalistic way, then Steve Vai's PIA impresses in its ostentation. A highly decorative , very 'Vai' guitar, the PIA takes the already-unusual JEM and increases every element! From the Petal handle (replacing the JEM's monkey grip), to the ultra-precise inlay work to the covers of the new DiMarzio UtoPIA humbuckers, all of which carry the flower decoration theme, the PIA is a balanced and considered piece of art.
As with the Chrome Boy, there are innovations and new features aplenty. The overall shape is slightly redrawn from the original JEM blueprint: the outline is slightly more rounded, in keeping with the floral aesthetic. Steve prefers Jumbo frets, and the ones on here are made of stainless steel, for literally decades of wear-free use.
The DiMarzio pickups were designed specifically for the PIA guitar and are mini works of art in themselves. When we spoke to Steve in February, he went into great depth about the painstaking process involves in creating these (edited slightly for context and coherence):
"Those pickups are based on my feedback to DiMarzio of the Evolution. That feedback sounded something like 'I would like the top end to be just a little smoother and the bottom end to be a little tighter, and the mids scooped a little bit. There's a load of numbers associated with this that I have some place. And as far as the output goes, the request there was just a tiny, tiny bit more output than the Evolutions, so I don't really hear that much of a difference. I'd get the five pickguards, and I'd put one in the guitar, then I'd play and record it. Then I'd take that pickguard off, put another pickguard in, play basically the same thing – all different pickup selections, different levels, different amounts of gain – and I would do that for all five pickguards."

"I'd go through and listen back to the same guitar with the same electronics, with the exception of the pickups, and that would give me a pretty good barometer of the difference. You'd be surprised how wildly different these pickups can come in! So, then I picked three out of those...I guess it would be fifteen pickups altogether because five pickguards with prototype neck, middle and bridge position pickups...I had five of each to choose from and I'd choose one of each, make comments on those, send them back and get five more. So, I would go through probably fifteen different pickguards filled with prototype pickups to find the three out of, I guess, fifteen of each position. That's how we came up with those pickups."
This is the kind of dedication we're talking about, here! The same was true of every other element of this guitar's design: the fingerboard inlay, the colours and even the (very clever) magnetic back panel! Steve experimented to make sure the magnetic pull would not interfere with the magnet in the pickups!
The PIA is not replacing the JEM – the JEM is one of Ibanez's best-selling guitars ever – as much as it's sitting alongside the JEM in the catalogue as a more distinct, specific and equally elegant instrument for one of the greatest guitars the instrument has ever seen.

The PIA is initially available in four spectacular finishes, with hardware and pickguard variations to match. Steve's favourite when we spoke was the Green one (he's been partial to Green since his 'Green Meanie' days with Zappa): what's your favourite? Panther Pink? Sun Dew Gold? These guitars have been selling fast on pre-orders, so don't take too long choosing which you prefer!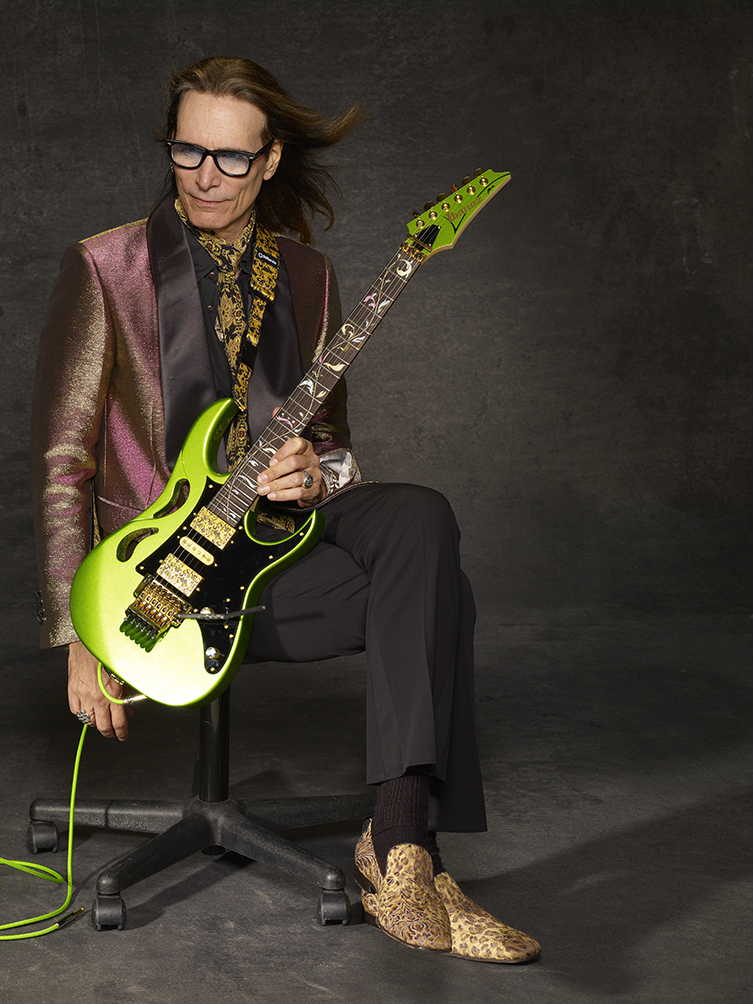 Final Thoughts
Two exceptional guitars for two exceptional talents. There really aren't any artists out there like Steve Vai and Joe Satriani: ascended Masters of their art; tireless sonic explorers travelling out into the neon cosmic wilderness to bring back shards of musical light for us all to enjoy and cherish.
These guitars represent the personal creations of two of the most highly respected guitar players on earth. Both guitars, as we've seen, are massively individual, super-cool and are a testament to the creative spirits of the people behind them. As you continue on your own mystical journey through music, do you not deserve one of these guitars to accompany you?
We think you do.
Thanks for reading.