A Closer Look: Artist Guitars
Published on 08 June 2020
The instrument that an artist plays says a lot about that person's character.
Given that a guitar will always have a body, a neck and strings, there's plenty of room outside of that for individual expression. Shape, colour, hardware and other elements can all go a long way in establishing how and what an artist does on their guitar. It helps them create the musical worlds that we love so much.
Recently, we've seen some pretty special artist signature instruments coming to our stores. Some of these are the same models used by the artist in the studio and on tour, whilst others are tributes to a special time or place, like a commemorative tip of the hat to Rock n Roll history. These guitars come in at a variety of price points, determined by the usual factors: country of manufacture, features, components and finishes. Another factor in this subject would be exclusivity: limited edition instruments, especially those carrying the artist's hand-applied signature, are amongst the highest-priced and most sought after guitars in the world.
Today we'll look at some of the more exclusive, high-end examples of these types of instrument. There are no real guidelines in place, other than they had to be in stock (or available to pre-order, at least!) at the time of writing. There are a great many more on our site than we've featured here, but these are some of our favourites, and some that we feel are the most noteworthy.
We'll talk briefly about each choice, but please remember to click through to the guitar's own specific product page to learn more details, and of course, to buy! Without further ado, we'll begin our trip with the Fab Four...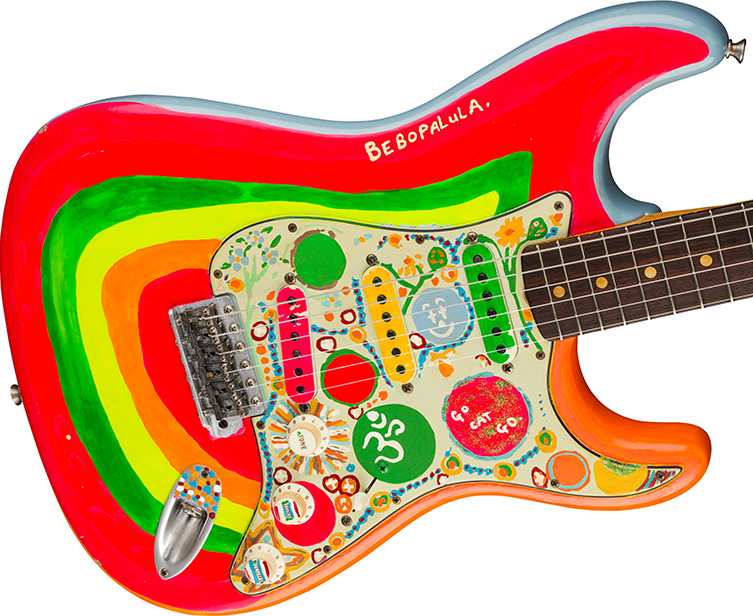 Fender Custom Shop George Harrison Rocky Stratocaster
The all-pervading influence of the Beatles will likely never leave us, such was the seismic changes they brought to modern culture. They were (are?) objectively the most significant group in 20th century music, and fans always want to own ways of commemorating, celebrating and representing their greatness.
Well, how about this Custom Shop Fender Strat? It's instantly recognisable to fans as George Harrison's famous hand-painted 'Rocky' guitar, from the Beatles' most experimental Rubber Soul – Sgt Pepper's phase. Fender's Custom Shop maestro Paul Waller (he builds Telecasters for Keith Richards...) has definitely gotten his geek anorak on here in order to precisely recreate every drop of paint, glitter and text to the body and headstock. The level of detail is stupendous!
Waller hasn't taken the easy route, either: the original guitar's Sonic Blue finish was fully recreated before being relic'd and overpainted. The correct paints and exact colour values were researched and tested to get this Rocky looking as close to the original as is humanly possible. Meticulous is not the word! The rest of the instrument is as vintage-correct as you expect from one of the best Strat builders in the business. Beatles fans: this is the goal!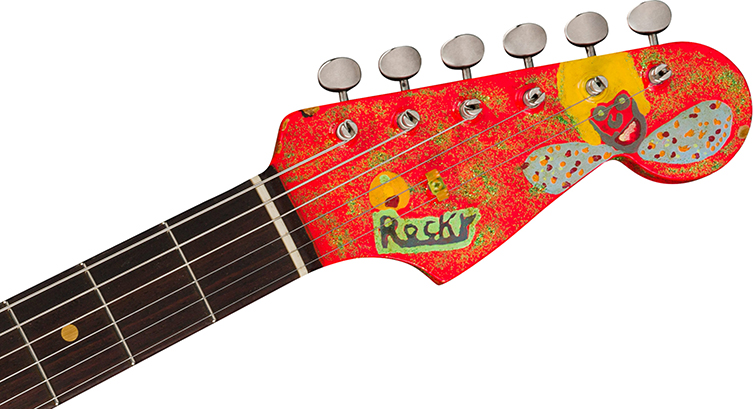 Gibson Tony Iommi Monkey SG
For guitar aficionados whose tastes run to the blatantly heavier, there are no luminaries greater than Black Sabbath's Tony Iommi. His riffs are still amongst the best written, and they were mostly born on his trusty 'Monkey' SG.
Surprising us all by being Cherry Red and featuring a cartoon sticker of a little monkey (not exactly 'Lord Lucifer', is it?), it seems that this indeed was the main weapon used in the crafting of all of those low, portentous, historical riffs. Gibson have shown Iommi the correct respect due by recreating the Monkey SG and offering it as both a right-handed and (is the original is) left-handed model.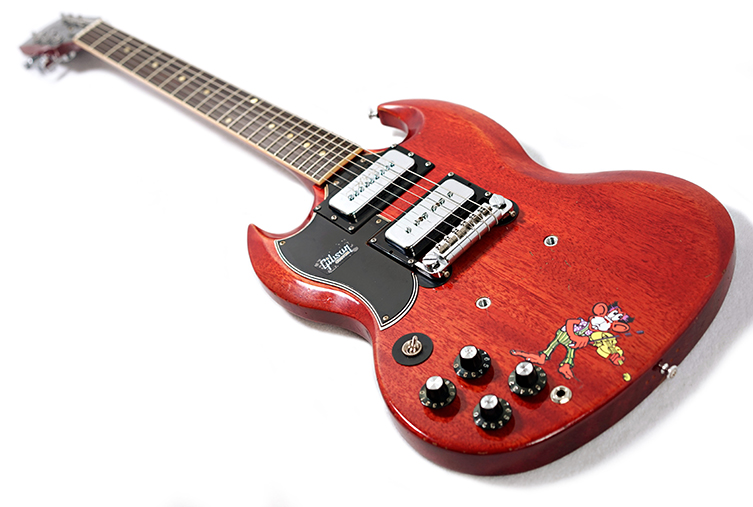 This replica of Iommi's 1964 SG has several distinguishing features that include specially hand-wound pickups, a zero fret, a gloss-lacquered fingerboard and a huge level of attention to detail in the instrument's ageing and finishing. Tony's name is scratched onto the back panel, and the holes from a replaced tailpiece are hear, just as on the original. It's pretty forensic stuff!
There are only 50 of these replicas in total: 25 lefties and 25 right-handed. All are signed by the Rifflord himself, and all come in a special retro hard case containing the guitar, an Iommi guitar strap and, best of all, Tony's trademark silver cross necklace! The necklace even comes in a coffin-shaped gift box! Commitment to the theme! This is what it's all about!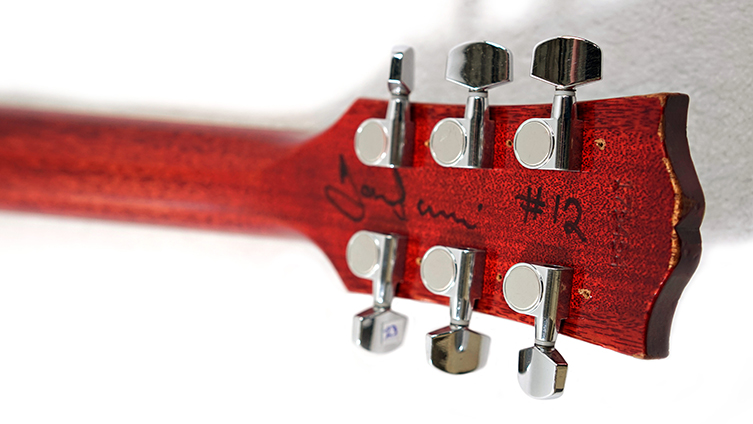 Gibson Slash 1966 ES1295 Doubleneck Replica
Gibson's most visible champion, this side of the British Invasion at least, must be Slash. His top hat, cigarette and low-slung Sunburst Les Paul is one of Rock's most vivid and iconic images.
It's not just Les Pauls that Slash loves, though these current Slash Les Paul models are pretty awesome. No, true G'n'R fans will know that the great man is also partial to some Doubleneck action! Choosing Ebony as his colour, to avoid associations with Stairway to Heaven, Slash brought this amazing ES1295 out during the Use Your Illusion World Tour, making fresh history for this most 'Rock' of Doublenecks.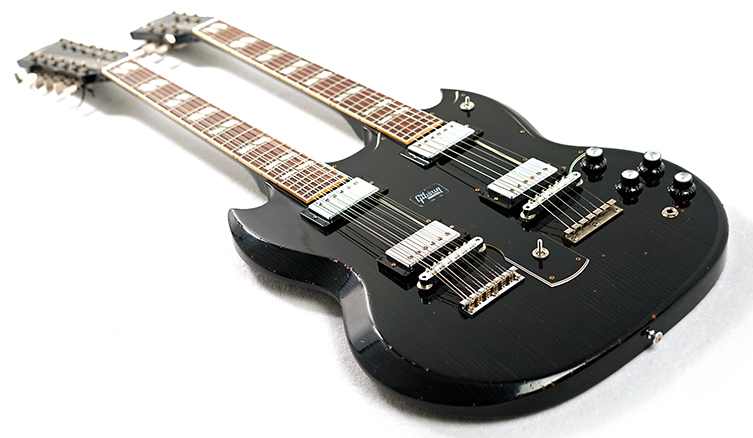 One neck is a 12-string, to add some texture and jangle to the 'business' neck of the ES1295. This replica is hand-signed by Slash and features an aged finish that is so close to the original, even Slash can't tell the original from the replicas! There are only 125 of these in existence. A vintage hardshell case is included, and the package is finished off with a Concho guitar strap and certificate of authenticity.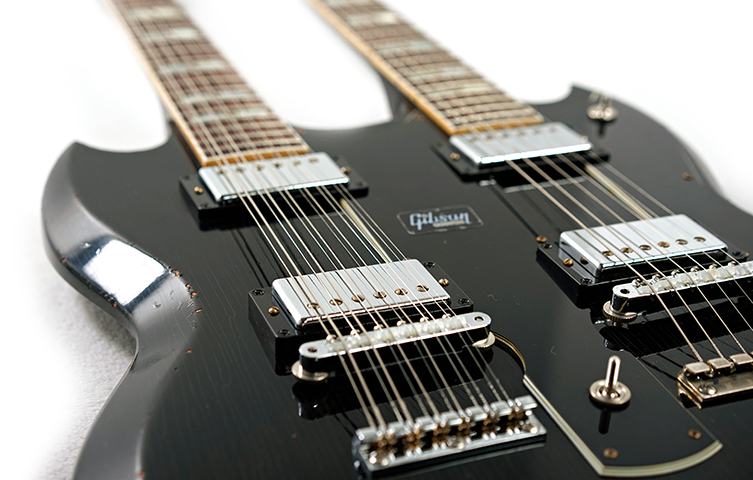 Ibanez PIA
We first heard of this new Steve Vai model at this year's Winter NAMM show in the US. Almost as soon as it was confirmed, the pre-orders with dealers sold out! Nobody gets guitar fans excited like Steve Vai, and a brand-new guitar model is newsworthy in these kinds of circles, to say the least!

The PIA is an ultra-decorative, extroverted extension of Vai's already-eccentric JEM model. With its floral inlays and 'Petal' carrying handle, who else could this guitar belong to but shredmeister Vai? The Pia is available in four bold colours, with new curves, new pickups (the ultra-decorative DiMarzio UtoPIA) and new innovations, such as a back panel that's held on with magnets! It goes without saying that you can fly on this thing, as well as stand admirably out from the crowd!
Steve's newest invention is not for the faint of heart, but if you love what the man does, and need an instrument that's up to the task of performing on an equivalent level, the Ibanez PIA is the guitar to have! Learn all about the Pia in our exclusive Steve Vai interview!

PRS Tremonti Charcoal Contourburst 10 Top
Mark Tremonti is a long-time endorsee of PRS guitars, the Maryland-based guitar makers for Carlos Santana, John Mayer and many other top-grade musicians. Tremonti's signature model uses the company's single-cut shape and adds a tremolo to proceedings, along with Mark's preferred Pattern Thin neck carve. This example has a '10 top', which is PRS's lingo for their most impressive Figured Maple tops. As is befitting a company with a reputation built on prestige, this is one stunning instrument!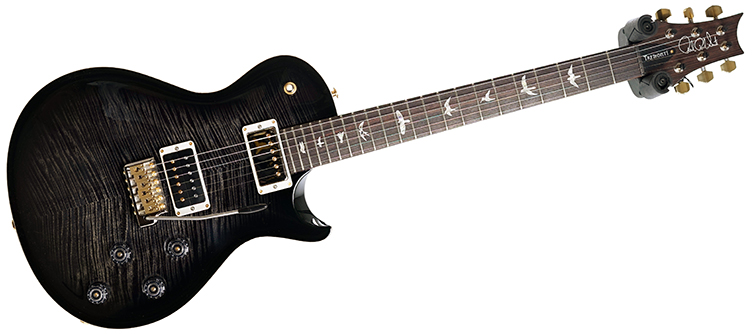 As Mark is a Hard Rocker with considerable chops, this PRS is built to perform! Custom pickups, wound to Tremonti's spec, are used, and the tremolo area is routed out for excellent 'up-bend' potential. This guitar looks like a million bucks and sounds like a neutron bomb! Learn more about Mark and his guitars by clicking through to our exclusive Mark Tremonti interview.
Fender Eric Johnson Virginia Stratocaster Master Built by Carlo Lopez
As the owner of one of the most gorgeous Strat tones in history, it makes sense to pay attention to Eric Johnson's signature Fenders! This Virginia model is the creme de la creme: a fully Master Built instrument, based on Johnson's own 1954 Strat. This was the 'Cliffs of Dover' guitar, after all!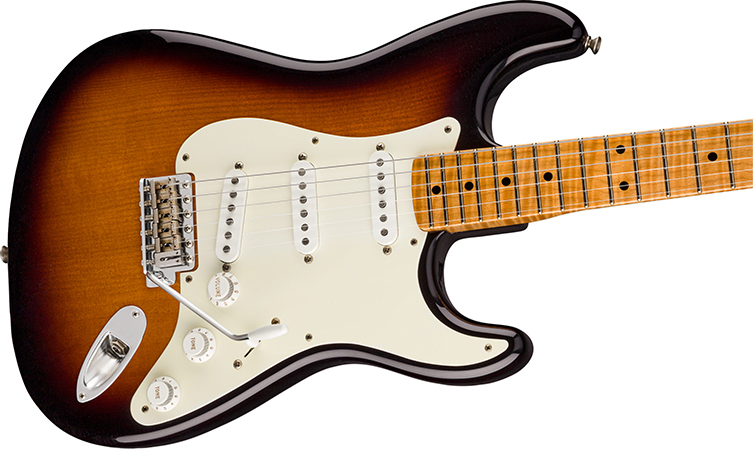 Although based on a vintage Strat, there are lots of extra details to this guitar that make it stand out. First off, the pickups are a mix of custom-wound single coils in the neck and middle position, and a DiMarzio HS-2 pickup at the bridge. 4 tremolo springs are used in the claw, and the back panel is left off completely (there are no holes for one, either!), just as Eric likes it.
The body of the Eric Johnson Virginia is made from 2 pieces of Sassafrass, which influences the tone with a little more in the high end and less in the middle. The spectacular neck is made from AAAA flamed Maple and is carved into a rather excellent 10/56 'V' profile, with a 12' radius fingerboard and a custom cut nut. For guitarists who are as specific and demanding as Eric – who want only the absolute best – this is the Strat to go for!

Jackson PC1 Phil Collen Signature in Claro Walnut
Jackson, one of the original custom shop teams, have honoured Def Leppard axe-slinger – and long-term Jackson user – Phil Collen with this fabulous custom shop take on his PC1 signature model. It's a wonderful mix between functional and fancy, with exquisite woods like Claro Walnut on top of 'caramelized' Mahogany for the body alone! A caramelised (their term for roasted or torrefied) Flame Maple neck is used for the impeccable neck, and matte Gold hardware is used to complement the satin, hand-rubbed, Natural finish. This thing is gorgeous!

The amount of roasted timber here means the guitar is hugely resonant, and Collen's choice of custom DiMarzio 'Suger Chakra' pickups mean the tone is hot, versatile and on point. The neck unit is actually Phil's own PC1 Sustainer Driver, which gives controllable, infinite sustain at any pickup position. Finally, a whopping great gold and chrome Floyd Rose tremolo rounds off the spec of this cutting-edge axe to perfection! Our single word for this guitar is 'Wow'.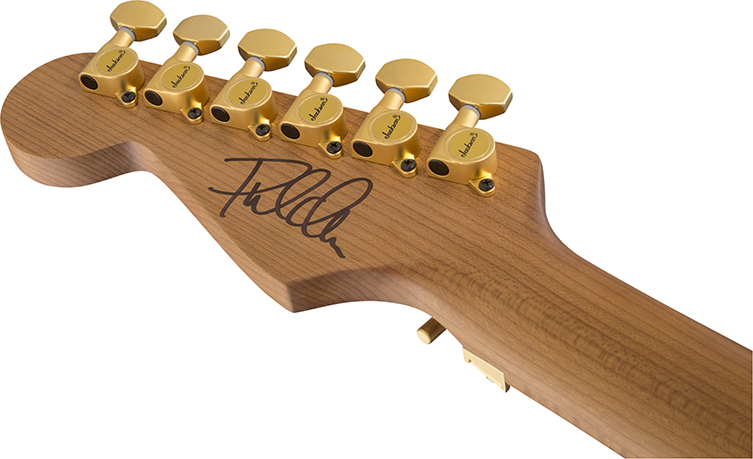 Final Thoughts
The world of top-end Artist Signature electric guitars is exciting, to say the least. There is such breadth of choice, with so many styles and uses catered for. Whether you are interested in historical pieces for your collection, or for the ultimate in performing tools, examples from this article most certainly fit both needs!
These guitars certainly edge towards the 'investment' end of the market, but many have been designed and built to be played for decade upon decade: these are professional musical tools, they are not all museum pieces! The cost of owning some of the best guitars in existence is understandably high, but it is worth considering that in 1956, a Fender Stratocaster cost, in adjusted pounds, around £2100. A Fender American Pro Strat today is well under £1500, and an American Original is just slightly over that. The truth is, guitars have generally never been more affordable!
Affordable guitars are so good these days, compared to the past, but it is worth thinking about what is factored into the price of these high-end guitars. High quality woods and hardware add up, as does the level of workmanship and detail. It's difficult to underestimate the ocean of difference that occurs in the 'fit and finish' of instruments created by artisans at the very top of their game. These special, limited edition Artist models represent the zenith of the craft, and so are understandably priced much higher than most (though not all!) production model guitars.
Some of these guitars have been hand-signed by the artist, which adds almost incalculable value to the item, especially when we are talking about people from world-renowned acts like Guns N Roses and Black Sabbath. You're buying immortal Rock history, here!
If you admire an artist and their music, there is no closer way to them, as a player, than owning their artist signature guitar.
Thanks for reading
Ray McClelland