A Closer Look: The StingRay
Published on 19 June 2020
The Music Man StingRay. A modern, contemporary bass and an enduring design classic, both at the same time.
The StingRay is a legitimate classic, securing its place in bass history alongside the Precision bass, Jazz bass and perhaps the Rickenbacker 4003, as the top few bass designs in the world. A creation of Leo Fender (that guy really had his ideas together), the StingRay offers a specifically different sound, feel and attitude to these other basses, and has long been the go-to choice for professional players.
Recently, we looked at Sterling, the affordable imported sub-brand of Music Man. These instruments are designed to provide a viable and playable platform for musicians on a budget. They feature much of the styling and ideas brought forward by the USA Music Man basses, but in an understandably more economical guise.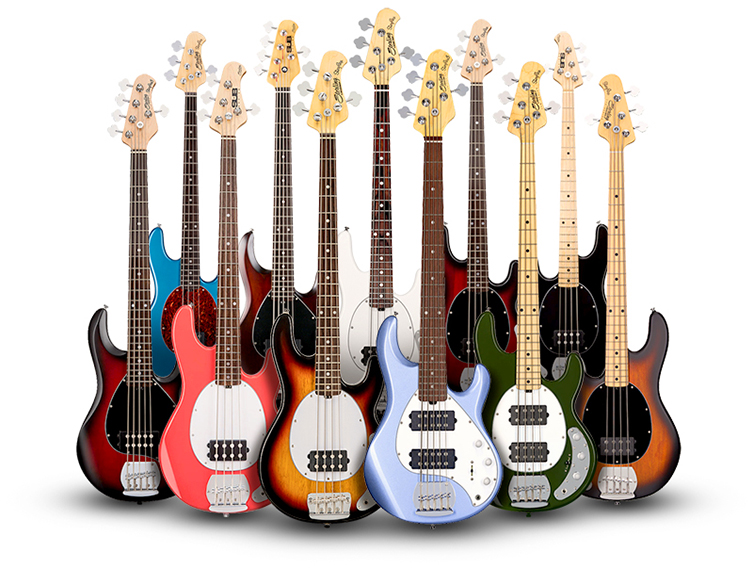 Today we'll have a look at the StingRay and its Sterling brethren. We'll check out what makes this design different, why people love it and which variations on the design you can buy today.
In the Beginning
In between Fender and G&L, Leo Fender was involved with Music Man. The company has been owned by Ernie Ball since the mid-80s, but back in the 70s, this was Leos base for his inventions. Other early innovations included the development of solid-state/tube hybrid amp technology that could offer huge volume with clean headroom. These combos (the 65 is a famous one) made their way onto many of the world's stages, not least The Band's famous Last Waltz performance.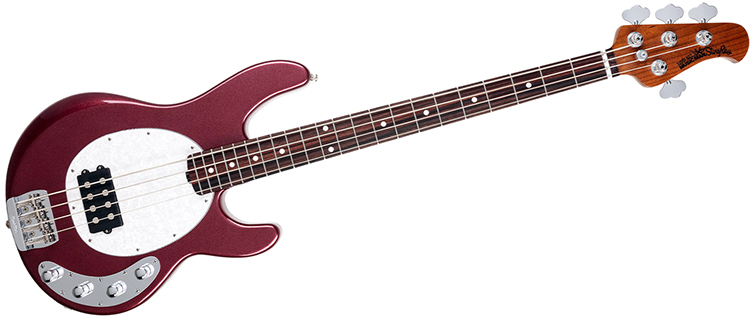 The StingRay bass was unveiled in 1976, with it's highly distinctive 3+1 tuner configuration on the headstock and a highly innovative active circuit. Before we get to the circuit, it's worth noting that the headstock design had a practical (as well as branding) purpose: the division of string tension in this way was supposed to eliminate dead spots on the neck.
The StingRay sported more distinctive features like a circular pickguard, a curved metal control panel and a slightly offset body which echoed the two classic Fender designs but looked like neither.

Innovative Electronics
As we mentioned, the StingRay had some technical magic up it's sleeve. First off, the pickup has a large humbucker model, and it was situated close to, but not quite up at, the bridge. This powerful unit had oversized polepieces and produced a large, confident sound that was quite different to what else was available in the mid 70s. Bassists now had a power like never before, and that wasn't all! There was also an active tone circuit built into the bass that allowed boosting and cutting of the treble and bass frequencies!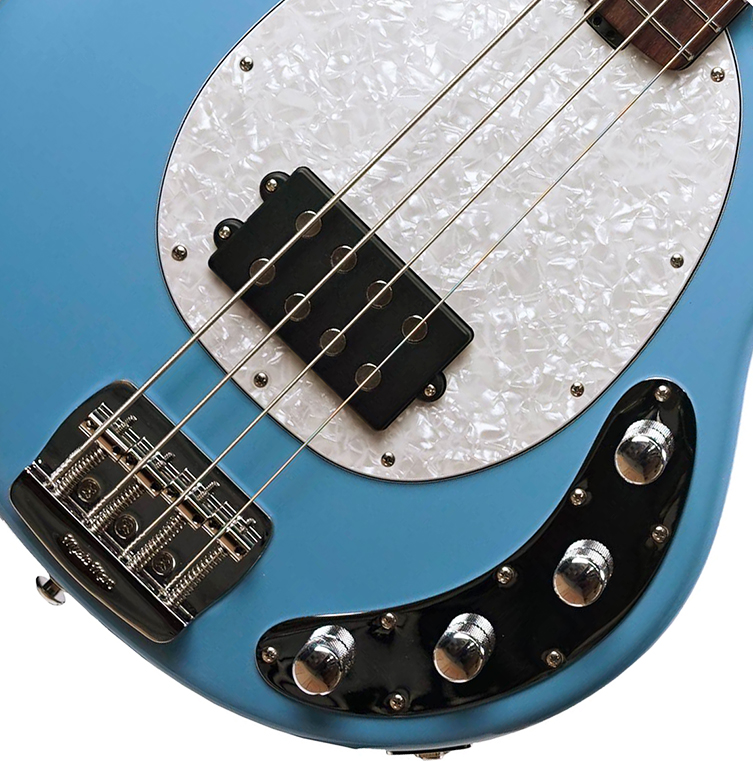 Bassists had never enjoyed this level of command over their sound before, and certainly not directly from the instrument itself. A 9v battery supplied the power to the circuit, accessible from a compartment on the back of the body: no dodgy messing around with screwdrivers! A 3-band EQ circuit (which requires 18v from two PP3 batteries instead of one) came along a little later to allow adjustments to be made to the all-important midrange frequencies. Never had a bassist had so much power and control in their hands.

Active EQ circuits in basses are pretty standard these days, but it was Music Man who started the trend with the StingRay. The 'active sound', so used by producers on every genre of music, has become indispensable to modern music recording and production. You can just 'go further', sculpting and boost your sound to near-infinite perfection.
That Great Feel
A subtle but important innovation was the choice to oil the neck and leave it without a lacquer finish. Again, this has become a relatively well-used process today, but Music Man were the brand who introduced it to a mass market. Their necks – on both basses and guitars- are famously comfortable, and the 'non' finish is as much to do with it as the profile. It's actually something of a trademark for Music Man, as anyone who's played one will readily understand!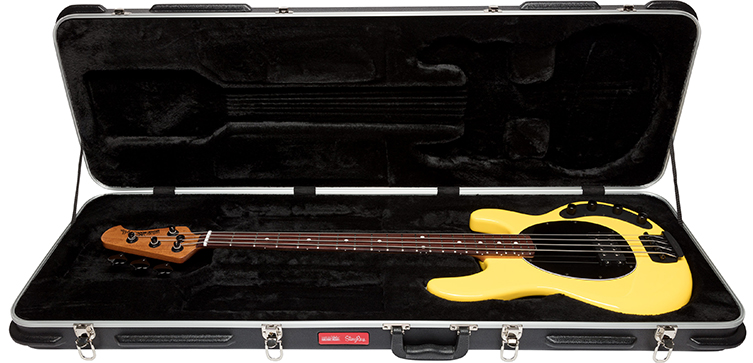 Top players across the world obviously agree. Tony Levin is a long-time fan of the StingRay, as is Flea. The StingRay is also often seen being played by Radiohead, Aerosmtih, Tool and Disturbed, to cherry-pick but a few.
The StingRay Today
In today's market, there are more options for StingRay basses than ever before. All USA-made Music Man instruments (that is, everything that does not carry the 'Sterling' subtitle) are crafted in San Luis Obispo, California, to extremely stringent quality control levels. 4 and 5 string models are available, with 2 and 3 band EQ circuits, as well as 'Classic' models that seek to replicate the original bass models from 1976.
Models with two humbuckers are also available with a 5-way selector blade for a surprising selection of tones. For players of more contemporary styles, this type of StingRay is the first-choice of bass.

As well as the USA models, which Music Man have made their name with, there are also Sterling models, made under licence in the Far East. These are designed to be entry-level to mid-priced basses, and they offer a huge amount of value and performance for the cost.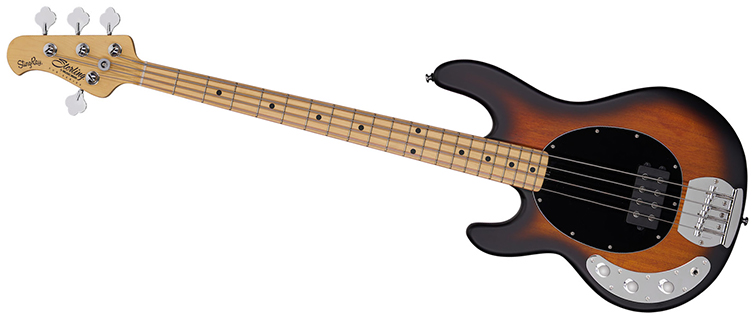 Sterling basses use the StingRay designs and overall vibe, and include active circuitry to approximate and imitate the legendary sound of the Californian basses. Again, multiple models abound, including 5 strings, left-handed models, short-scale basses and limited-edition finishes.

Sterling StingRay basses are perfect for players on a budget, bassists looking for a super-reliable second instrument and for guitarists looking to incorporate a bass into their lives.
For every player of every style at every budget, there is a StingRay bass to suit. If you've never experienced the fun, control and sound of a StingRay, you're missing out! We invite you do try one today, with us.