Meet Your Maker: Martin Factory Trip
Published on 03 July 2020
Nazareth, Pennsylvania.
A name that's familiar across the world to guitar players and fans of all types of music.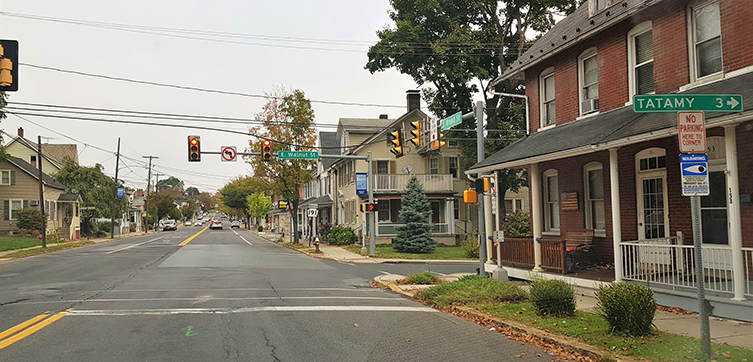 After long hours crossing the Atlantic, and more long hours in hired people-carriers, our intrepid travellers arrive in this most mythical of places: the home of Martin guitars.
Our team on this expedition have come across the ocean on a mission to pick out some wonderful pieces of timber to use in an order of Custom Shop guitars, and to take in a little behind-the-scenes action whilst doing so.
It's a dirty job, but someone's gotta do it...
We were invited over to Martin's factory to help choose out some special 'sinker' wood and other timbers to use in a very small number of custom-made instruments. These are not even a limited run, they are a little group of ultra high-end acoustics, made with woods selected from this trip.
Staff from several of our stores embarked on the journey. Early mornings, airport food and broken sleep are all small prices to pay for the adventure ahead!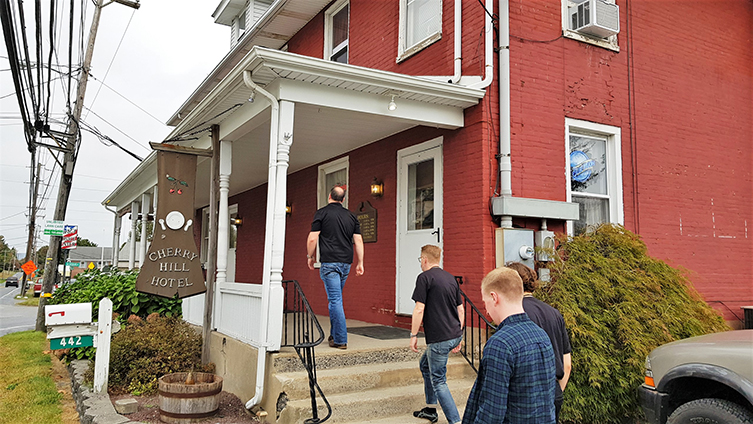 Day One – Interviews
A lovely night's kip in the Cherry Hill Hotel prepared the team for a long and busy day. It was an 8am start at the Martin premises, in order to be able to fit everything in!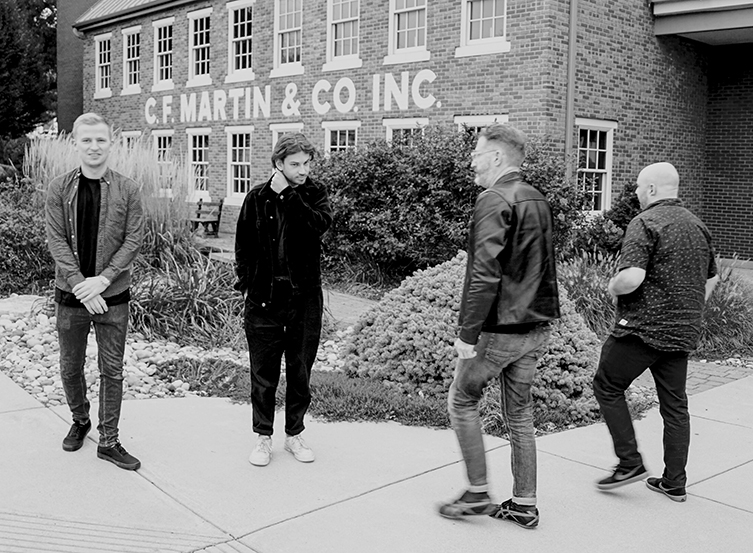 The plan was to get some of the Martin staff in front of the cameras for an informal chat about the company, the process of making guitars, and why Martin are such a special company.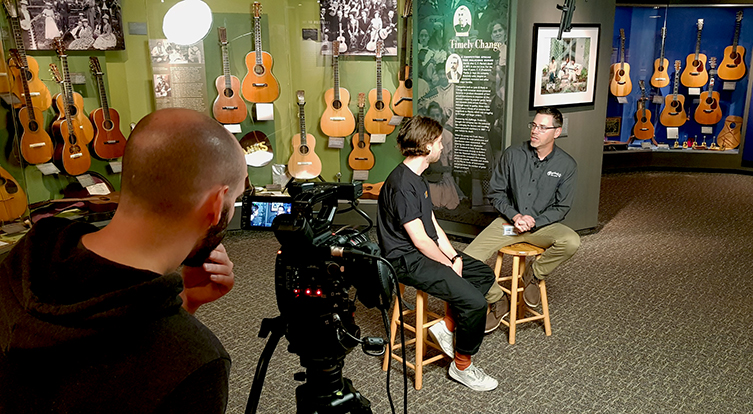 Throughout the day, at non-stop half hour intervals, Martin luminaries such as Matt Sysko, Mike Zehner, Fred Greene, Dave Doll and others showed up to graciously give their time.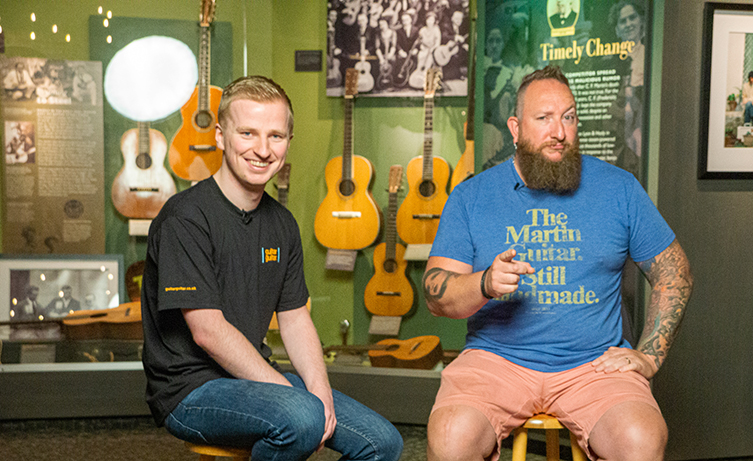 One of our dreams was to be able to get company CEO Chris Martin himself in front of the camera for a short while, but we were under the impression that we would not be available. Imagine our surprise, then, when we entered the room to say hello, take photos with us and sit down for a 5-minute chat!
It's a real privilege to have access to these top people, and lots of fun to hang with them and chat on camera, but it's also a ton of graft! Still, that was partly why our team were there, and hopefully the resulting videos (see them all on a special playlist on our guitarguitar YouTube channel) prove that the efforts were not in vain!
Some midday respite at a local restaurant ensued, with some of the more adventurous/hungry staff daring the 12" Philly Cheesesteak! We recommend those who haven't seen one to google it and see what that mass of meat, cheese, sauce and bread looks like. That's a meal to remember...
After dealing with their dinner plates, the guitarguitar team headed back for round two of the interviews, to find out more about the day to day experiences of working for Martin.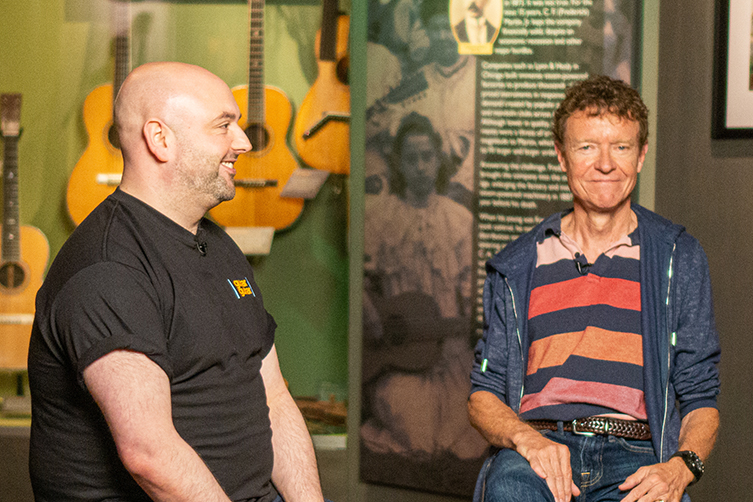 Day Two
Tuesday brought a tour of the Martin Custom Shop and the business of picking out the woods for our Custom order. As the team were shown around the Custom Shop, they witnessed the Martin artisans going about their daily business of creating wonderful acoustic guitars.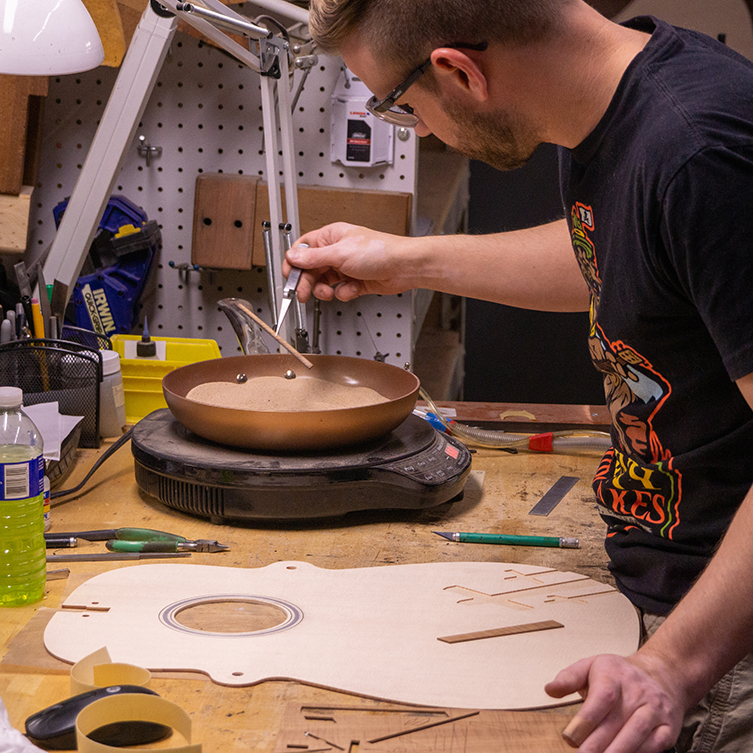 This was a special privilege, because in fact not many people ever get to see the Martin Custom Shop! We were escorted by our guide, and Custom Shop Manager, Jess Allen, who introduced us to the staff and talked us through each particular part of the guitar building process. Occasionally, one guys were allowed to step up and have a shot of some tools themselves! We regret that their handiwork will not be making it to any finished instruments...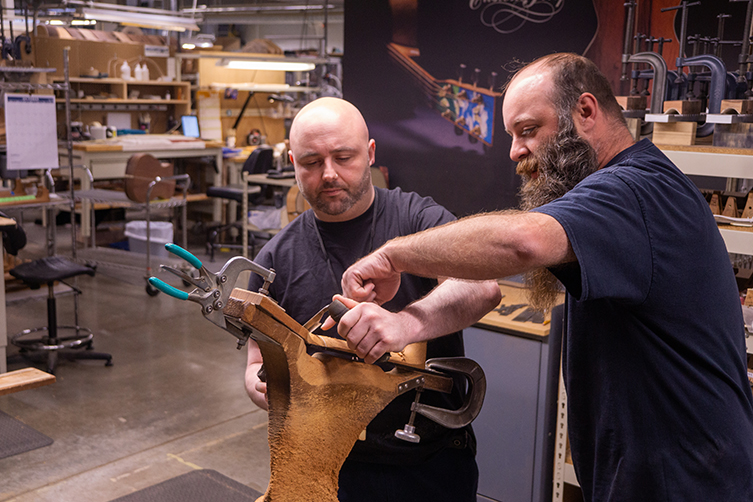 They we shown the construction of a guitar, from the picking of the blanks, to the shaping of the tops...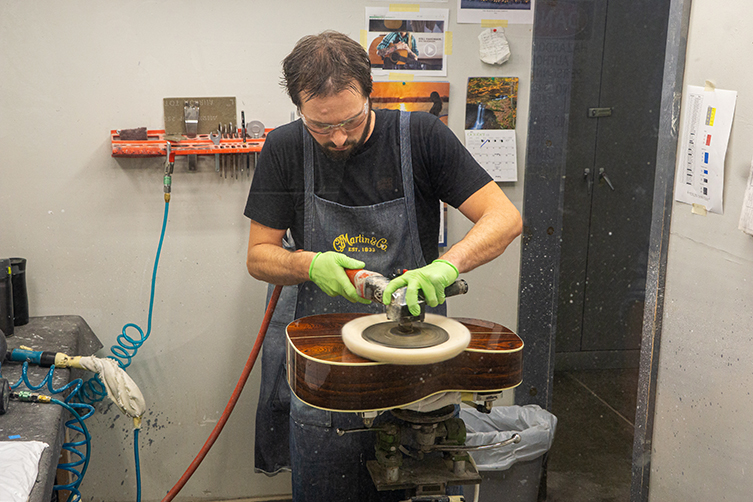 ...the sanding and detailing of the bodies, including things like applying binding and purfling to the bodies...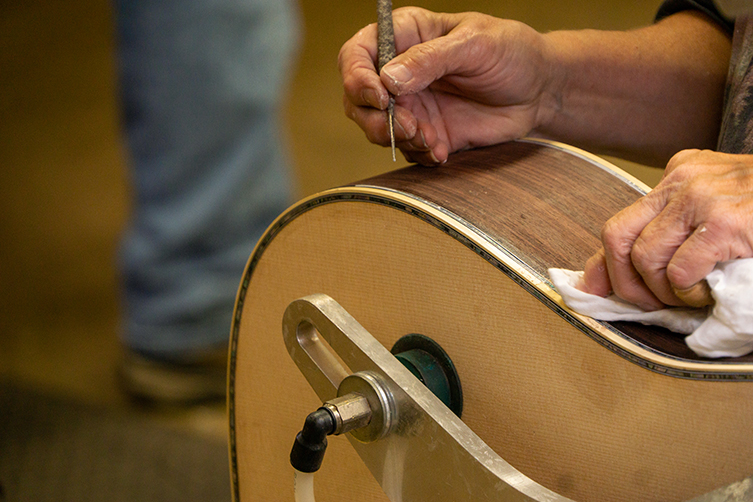 ...and the special work that goes into inlays and other key details. You can see from the photos how hands-on it all is: these are very much handmade masterpieces, with the staff happy for our guys to watch them in practice. This shows pride and confidence, which of course translates through their work.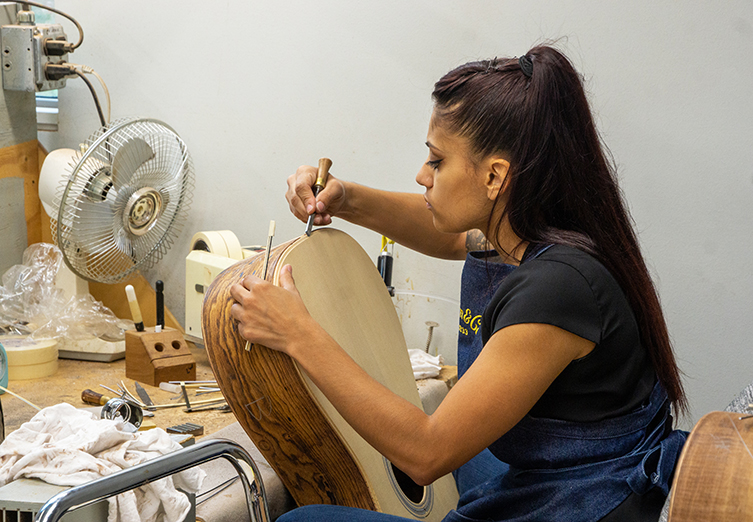 Picking the Wood
In the afternoon, it was finally time to inspect and select our timber. From secret shelves tucked away in the Martin Custom Shop, literally hundreds of wooden blanks were brought out for us.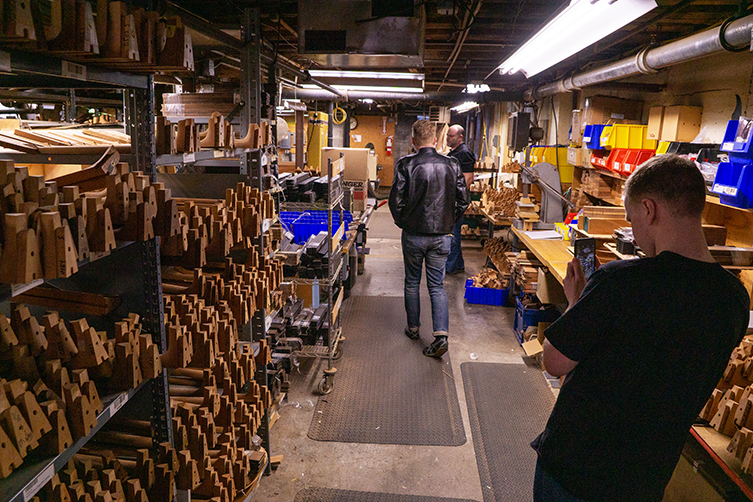 We were after some pretty unique woods, with incredible grain and excellent tonal properties. Wood and construction are everything to the sound of an acoustic guitar, and we wanted to make sure that our Custom orders were going to be exceptional in every way.
We mentioned 'sinker' woods earlier? These are special pieces indeed. Sinker wood is basically logs that have lain submerged in swamps or rivers for sometimes up to a century! These logs were from Belize, and have been traced back in documents to at least the 1930s, meaning of course that they are older!
These ancient logs drink up all of the river's nutrients and become very dense. The ensuing sound, as we know from a previous run of Martin Sinker guitars that we commissioned, is especially rich and detailed. Visually, we hope for some beautiful grain patterns, and indeed that was what the afternoon was all about: sorting the ''great from the 'very good' and making sure we have the most visually striking examples of Mahogany to make the bodies of these guitars.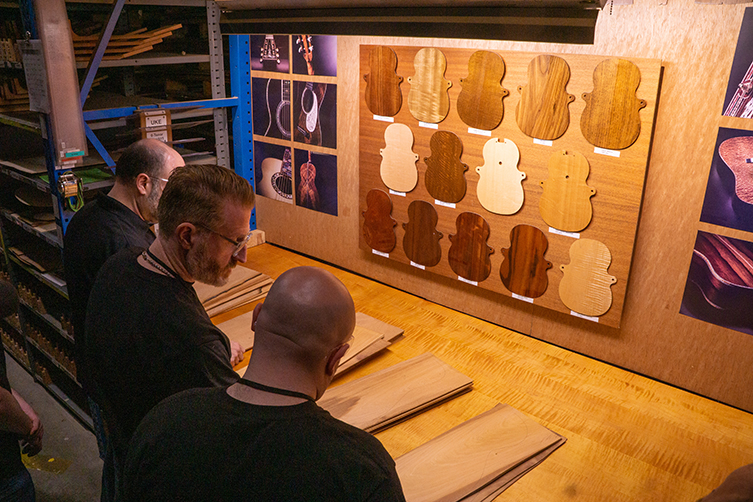 In order to better the the grain of each particular wood blank, some alcohol solution was made available. Pouring this across the timber allowed the pattern of the grain to really show up and display itself, without the integrity of the wood suffering at all.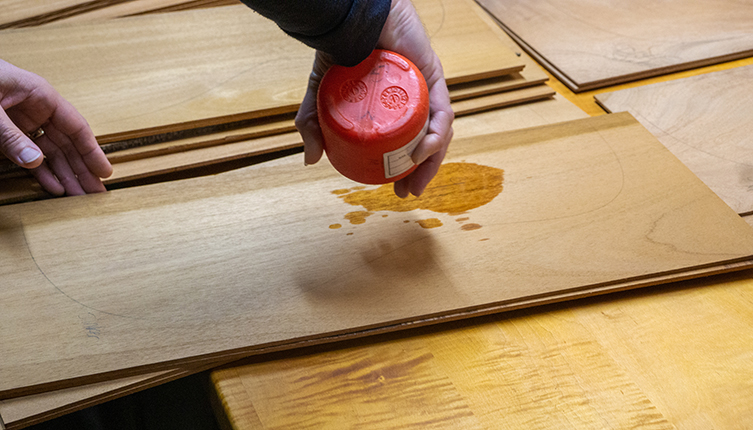 In the end, we found exactly what we wanted. In addition to the Sinker Mahogany, we chose some supremely gorgeous pieces of Wild East Indian Rosewood, exotic Cocobolo and some choice Adirondack and Sitka Spruce. These luxury timbers were going to be used to make a selection of D and 000 Martin guitars, including left-handed models and one or two all-Mahogany instruments!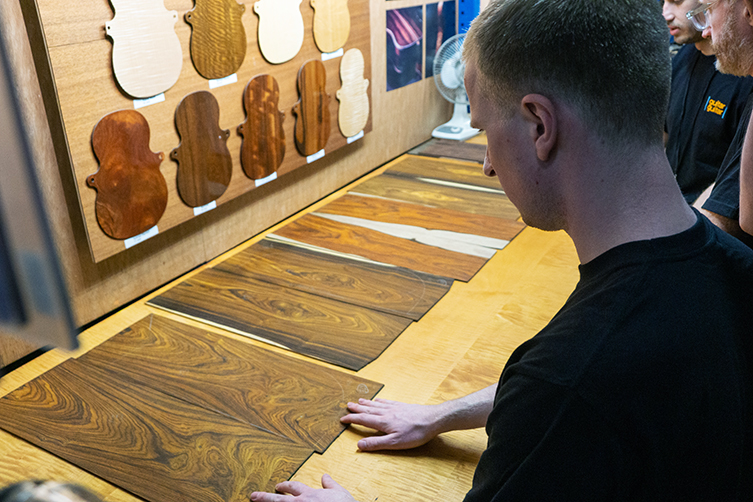 The guitars have now been delivered to us, and as you'll see in our video, the results are breathtaking. Stuart, who was there on the journey, takes us through the models in this video:
These really are some of the very finest Martin guitars in existence.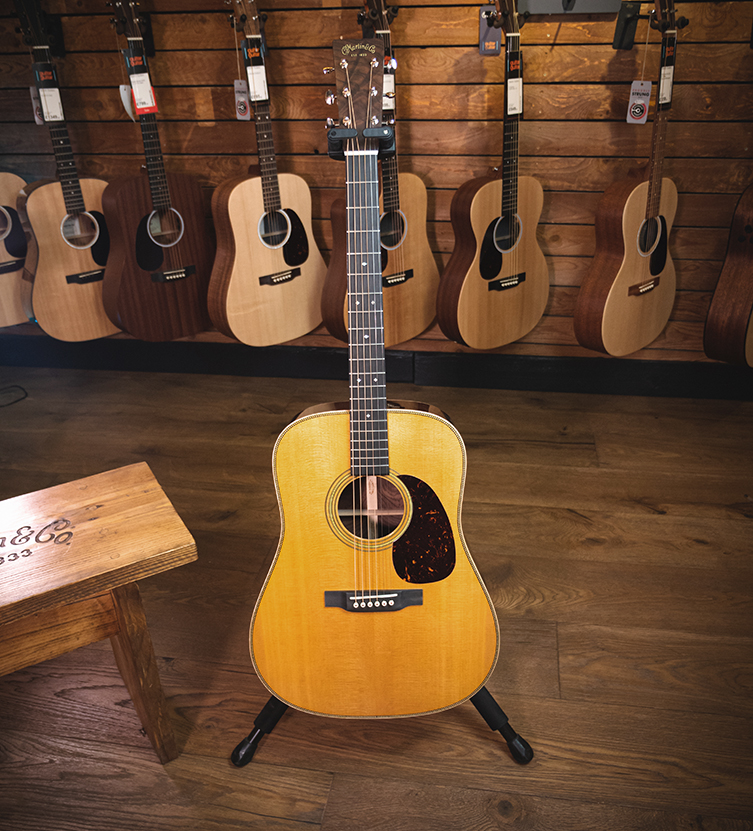 It's been a wonderful journey of discovery, learning and creativity. At the end of it, we are proud to humbly present these incredible, rare Martin acoustic guitars to you. They are some of the finest in the world. Each has been hand-picked by us, hand-made by Martin's Custom Shop and hand-Signed by Chris Martin himself. What you see in the above video is the entire order. If you see something you love, please don't hesitate: these wonderful instruments will certainly find homes very soon!
Thanks to Andy Haldane for his excellent photography.
Thanks for reading
Ray McClelland