A Closer Look: Heritage Standard Series Semis
Published on 06 July 2020
Kalamazoo, Michigan, is a town with Soul.
The soul of Blues, Jazz and Rock n Roll is deeply embedded here in this little town, which lies about halfway between the similarly significant US cities of Chicago and Detroit.
It was here, back in the latter days of the Wild West, that a certain Orville Gibson hitched his wagon, so to speak, and decamped to begin Gibson guitars. This location, on Parsons Street, Kalamazoo, was where Gibson made their guitars right up until the mid 80s, when the company moved production to Nashville and Memphis.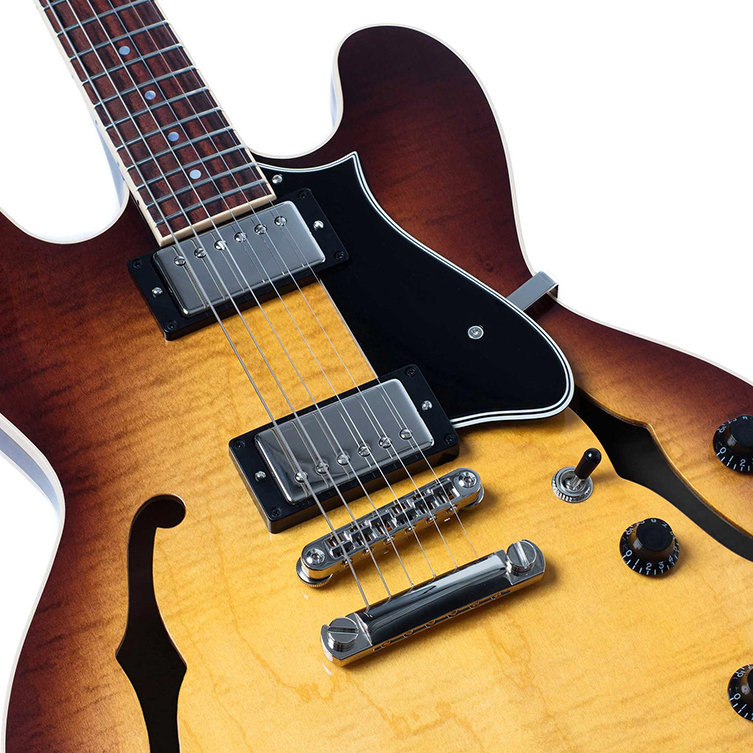 This is where the Heritage Guitars story begins. Many staff members wanted to stay in the historic Kalamazoo premises and continue building from there under their own name. These artisans teamed up and bought the building, including all of the vintage guitar building equipment located within. They wanted to continue to build the types of guitars they knew and loved, in the building that had always been home to them.
The 1985 NAMM show was the debut of Heritage guitars, and they've been going strong ever since, bringing their considerable craft and expertise to the art of guitar making. Heritage guitars are extremely impressive player's guitars, and we are very happy to be able to offer them to you. In particular, their semi-acoustic guitars are stunning examples of the craft, made with passion, precision and lots of hand's on grafting!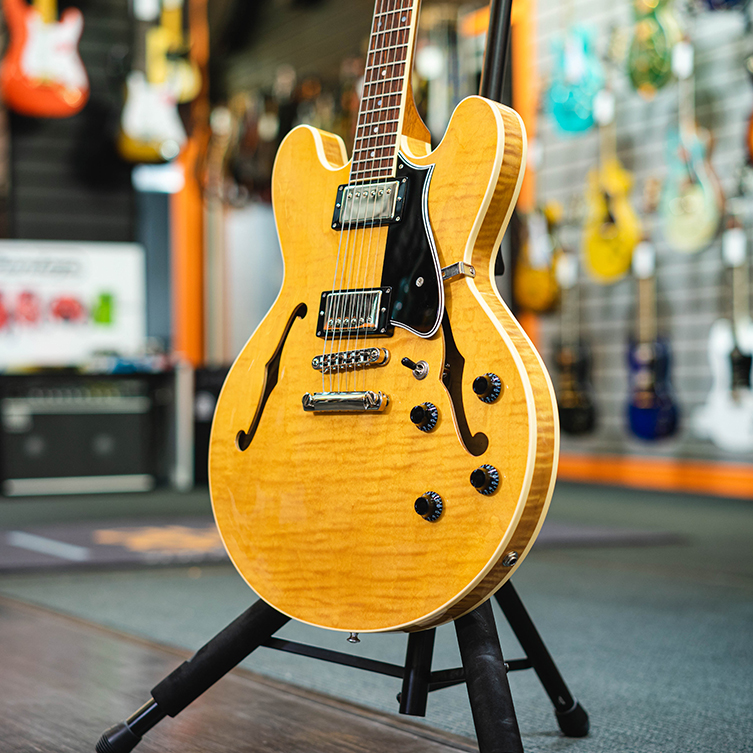 Heritage offer guitar in a couple of ranges: Standard, Artisan Aged and Custom Shop. These are relatively self-explanatory terms, but it's worth noting that the Standard range, from which we take our examples today, are made to impeccably high standards in the USA. These are American originals, through and through! Today, we'll take a brief look at two of these semis, both from Heritage's Standard Series.
Heritage H-535
This beautiful guitar is, of course, Heritage's own take on the esteemed ES-335. Known as a versatile guitar, this style of instrument is at home equally with Jazz, Blues and Rock players, as well as Indie and Fusion players. In really, there is very little in the way of genres that cannot be confidently approached by the Heritage H-535.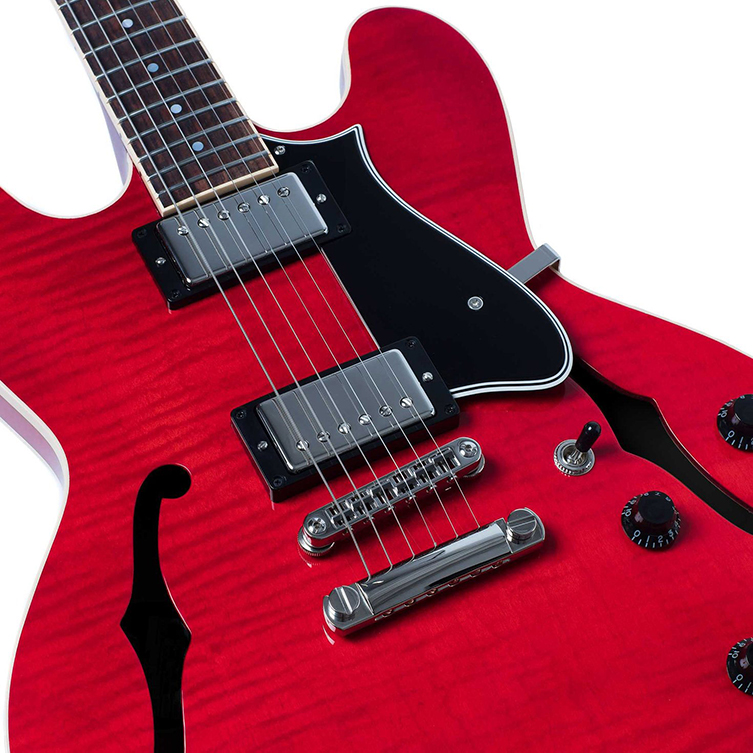 Like its inspiration, the H-535 is made with laminated Maple and has a solid centre-block for sustain. Heritage have used Curly Maple, which adds an extra dimension of movement and beauty to the look of the guitar. Whichever of the four finishes you choose – and you can choose Antique Natural, Original Sunburst, Trans Cherry or Ebony – you'll be getting a guitar rich in classic, traditional good looks.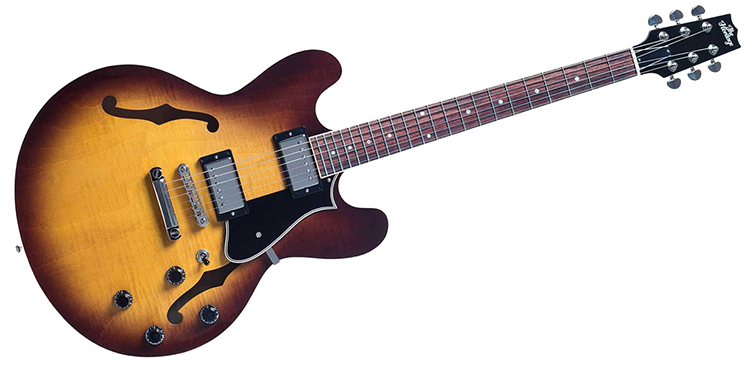 The overall shape is highly recognisable, but not slavishly identical, if you follow us. The guitar's 'ears' are slightly different to the Gibson originals (yes, there are variations there, too...) and Heritage have a distinctly different headstock shape and pickguard design.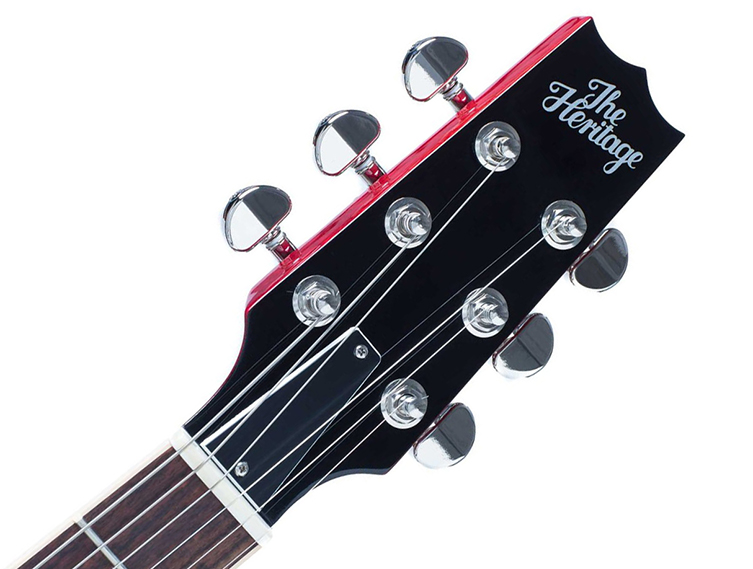 Heritage have, as you'd hope for given the brand name, stuck to tradition in terms of measurements and such. We have 22 frets here, on a 24.75" scale length fingerboard, made of Rosewood, on a Mahogany neck. A 12" radius gives us the playing platform we'd want from this type of guitar, and the neck carve is basically perfect: there is a substance to the profile, without it becoming a self-consciously 'large' neck. Quite the opposite, in fact: it's slim but rounded, fast and familiar.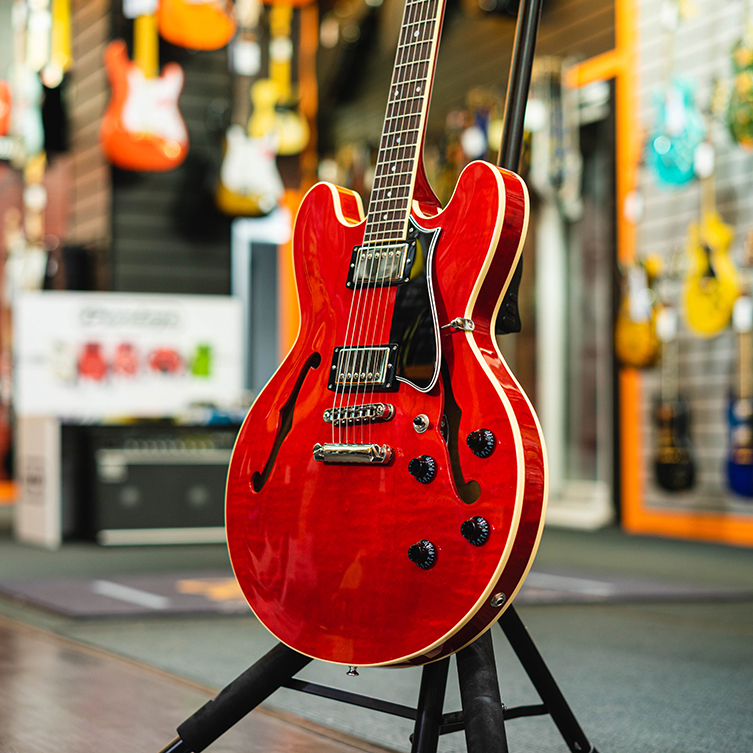 Heritage have chosen top USA pickup builders Seymour Duncan here for the H-535. A balanced pair of '59 humbuckers provides a palette of sweet PAF-style tones with plenty of details and clarity. These are very much the correct choice for a guitar like this: the H-535 will be required and expected to cover a lot of tonal ground, and supplying just the correct amount of output, bite and sustain is key to the instrument functioning in a pleasing, satisfying way. This is very much the case here. That vibrant ring you're looking for is abundant, with that signature semi-hollow 'bloom' to the notes that is relative only to this style of guitar. We are very impressed.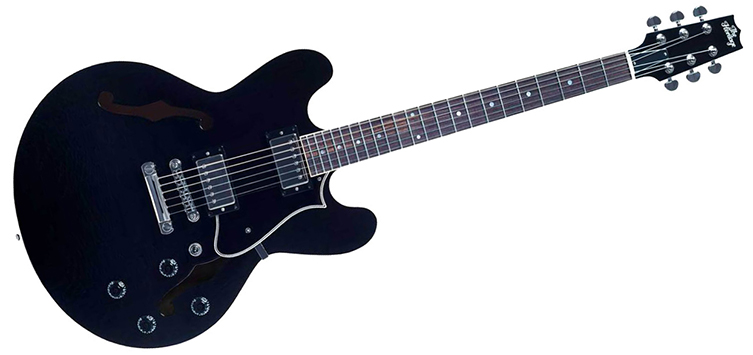 Heritage H-530
Out other Heritage guitar for today is the fully-hollow H-530. This wonderful instrument is this time taking its cue from the Gibson ES-330. Though superficially similar to the H-535, this is in fact a significantly different beast, both in playing experience and in tone.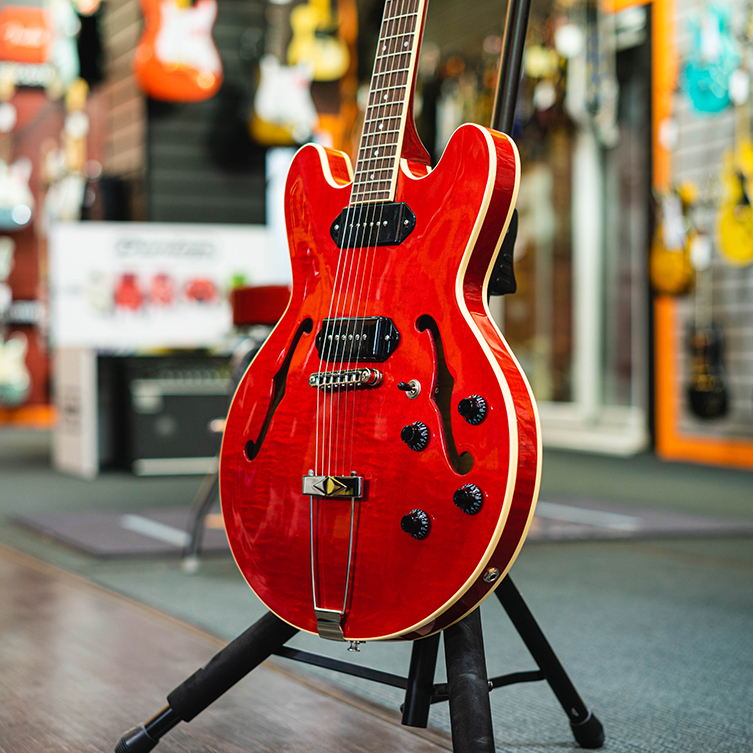 Markedly lighter, due to its lack of a solid centre block, the H-530 has a different attitude altogether. The main differences to this guitar over the H-535 are the hollow body, a trapeze tailpiece and a set of single coil P90 pickups. All of this greatly adds to the 'acoustic' nature of the H-530, both unplugged and when connected to a good amp. There's a snappiness, a percussive punchy quality here, which explains why so many rhythm players love this style.
We think it's equally successful as a lead guitar, though, especially as Heritage have used a 19th -fret neck join, rather than a few frets further in as Gibson do. This brings the guitar its own feel, one which we feel is extremely successful! That extra fret access moves the whole neck a little further away from your body, if you follow us, and so makes for a more 'open' playing experience. The actual neck follows the measurements of the H-535, so we know we are on excellent ground there.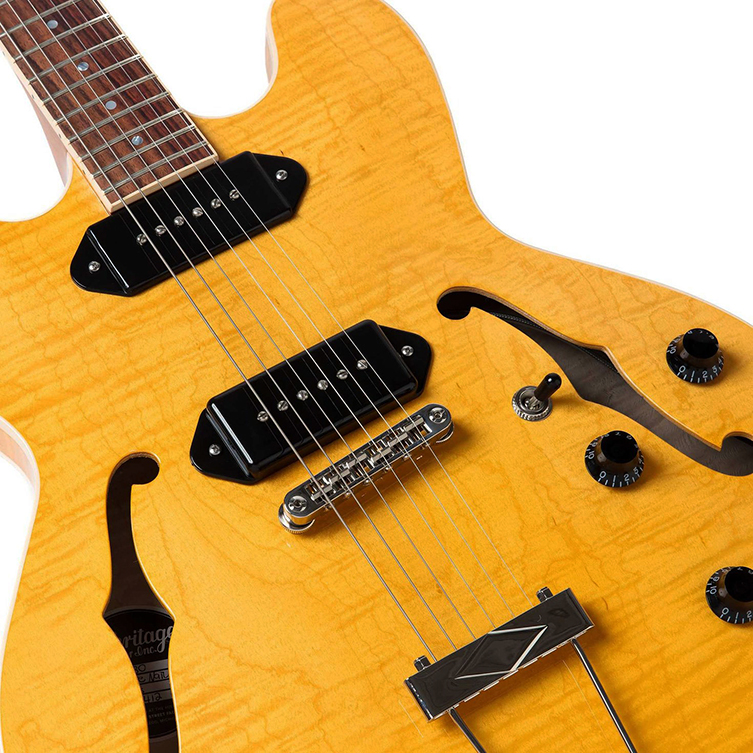 Heritage have used Jason Lollar pickups here, and that speaks volumes to us. Lollar's hand-made pickups are some of the most revered in the industry, especially for fans of traditional, quality tone. This is what Heritage guitars are all about, so the marriage here is one made in Heaven. The Lollar P90's make great use of alnico 5 magnets to provide a voice that is responsive, dynamic and raunchy. Yes, a little sustain is lost due to the nature of the pickup design and the trapeze tailpiece, but that's part of the overall vibe and sonic blueprint of the guitar, so that can hardly be seen as a fault! What you lose in sustain (there is still loads, just less than the H-535), you gain with punch and attitude!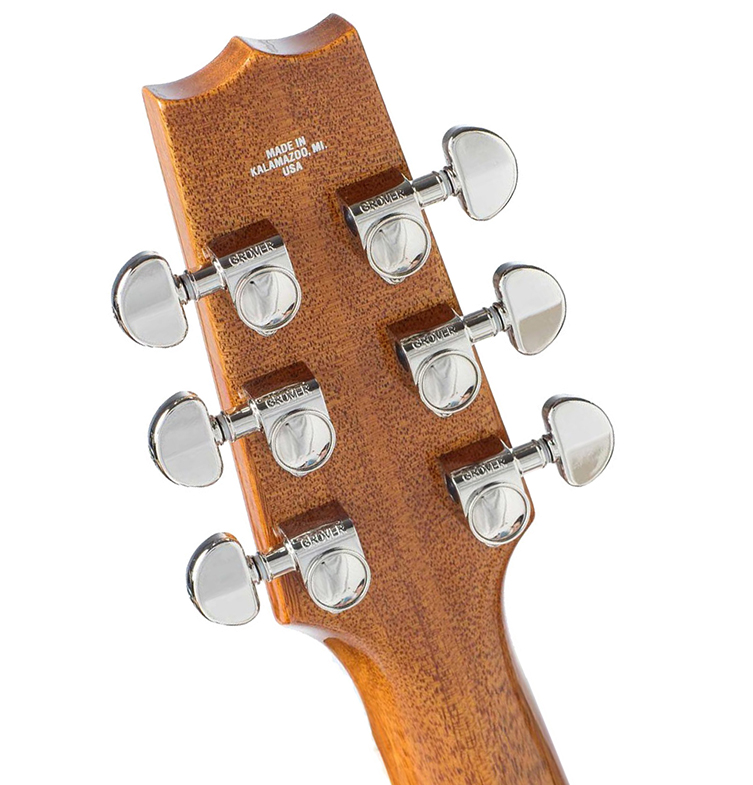 Final Thoughts
Guitarists of all major styles looking to invest in a professional-level tool for their music making will probably already have Heritage guitars on their shortlist. Those who don't are invited to sample some genuine Kalamazoo guitar magic with these wonderful sounding, deliciously playable guitars, and enjoy that magic for themselves.
Thanks for reading.