A Closer Look: Suhr guitarguitar Dealer Select Classic T
Published on 10 July 2020
A black T-style guitar means business.
A black T-style guitar from Suhr means an impeccably crafted instrument with tone, beauty and performance to spare...that also means business.
There's nowhere to hide with a T-style. To paraphrase one of our favourite players, the Reverend Billy F Gibbons, if you can play it on a T-style, you can flat-out play it. We agree, and think it's perhaps one of the reasons we've always been so attracted to the up-front simplicity and function of such guitars. A good example of this style is pretty much all you need to cover any sound at any gig.
Of course, not all T-styles are created equal, and John Suhr's team make some of the best in the world. From their base at Lake Elsinore, California, Suhr put decades of expertise, experience, taste and nuance into each of their instruments. They are some of the best playing, best sounding guitars we've ever come across.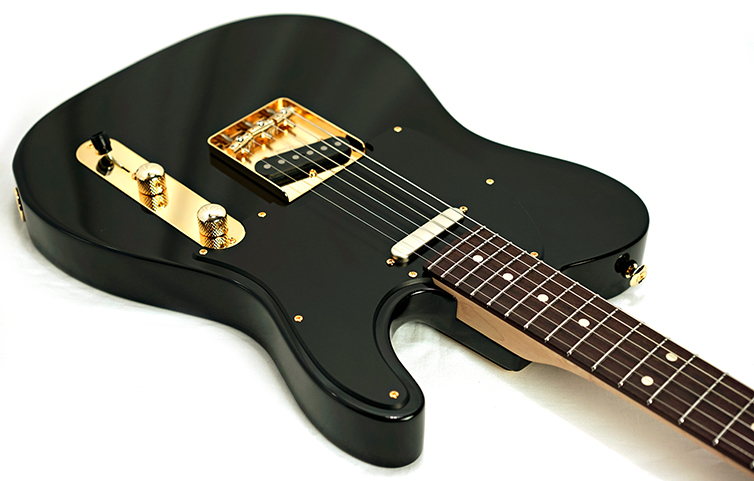 So, it's always exciting when new Suhr Dealer Select guitars arrive!
We've just taken delivery of ten very special Suhr Dealer Select Classic T guitars, and we'd like to show them to you today. But first, what is Dealer Select?
Suhr Dealer Select
Dealer Select is a special term for Suhr guitars that are designed in collaboration with Suhr and dealers like us. Only a very few dealers from across the world are chosen to be a part of this, and we're privileged to be one of those dealers. Our decade and a half's relationship with John and his team has resulted in more than a few spectacular exclusives, and these two new T-Classics are a proud addition to that rarefied group.
Part of the attraction of Suhr guitarguitar Dealer Select instruments is of course their exclusivity, of course, but there's more to it. We've spec'd our guitars to have several special features that would normally result in a significant upcharge if custom ordered from Suhr as a commission. This means that you are, in effect, getting a custom-spec'd Suhr guitar for the price of a 'regular' Classic T. The relative value, therefore, is well worth noting!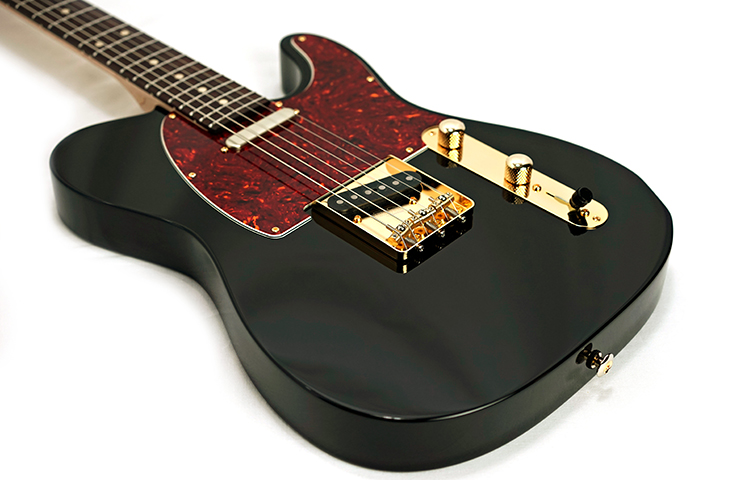 To be clear, each Dealer Select collaboration is only made available to that particular dealer. No dealer can have access to any other dealer's Select designs. We have the only ten guitars like this that will ever be made, and there are no plans to repeat this run. They are unavailable anywhere else. We have 5 guitars each of the black pickguard model and the tortoiseshell model. Apart from the pickguard, the specs are identical.
Would you like to meet our new friends?
Dealer Select Classic T
Black and Gold is a combination that is obviously incredible looking. Found most prevalently on Les Paul Customs, Black and Gold actually looks great on pretty much all guitar styles, as you can evidently tell by our photos here! How great do these Suhrs look?! We're over the moon with them, and think you will be too.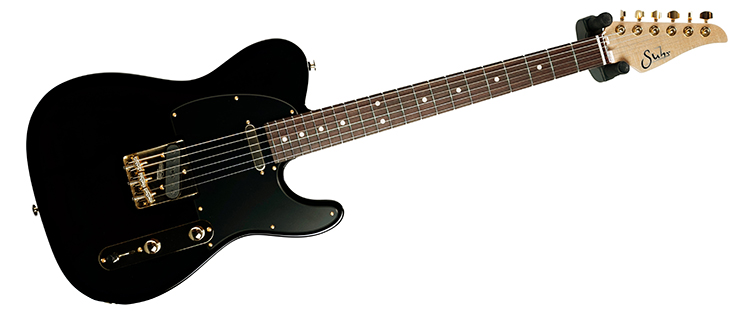 So, what do we have here? Okay, we start with a traditional Alder body and bolted on Maple neck. This is classic stuff, and we think that's for a good reason: it makes for a great-sounding guitar! The neck has Suhr's even-C medium profile, and is topped with a compound radius fingerboard made from premium Indian Rosewood! It's lush, dark and perfect for playing on! The 9-12" radius is what we feel gives the best combo of chording and lead playing, and we've opted for medium sized frets made from stainless steel! These, as you'll no doubt know, are the hardest-wearing frets in the business. They will outlast the apocalypse, frankly.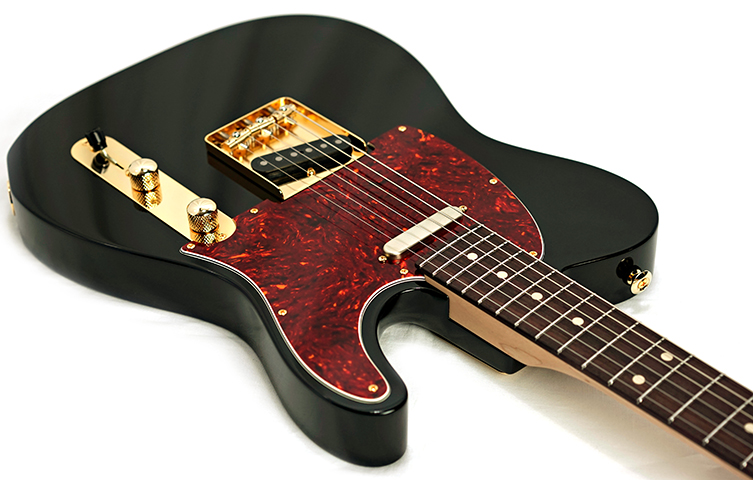 Hardware and pickups
The gold hardware here is all top quality: a Gotoh-made Wilkinson bridge brings the mass for tone and sustain, and Suhr's own locking tuners keep things in check at the business end.
We've opted to pinch the pickups from Country legend Andy Wood's signature Suhr, since we find them to be some of the best examples of that T-style cut and twang available anywhere. They are alnico 5 units and were exhaustively custom wound to Andy's specific preferences by Suhr. These pickups have body to match the cut, and work great with both volume knob changes and gain-stacking via your favourite overdrive pedals. Digging in reaps tonal results, just as backing off brings dynamics and vitality. Only great combinations of materials and workmanship can allow this, no matter how good the player is. This is why people buy Suhr guitars.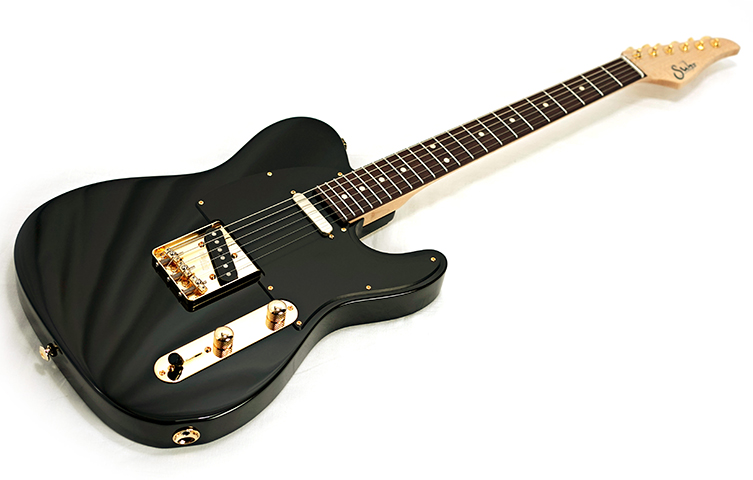 Also included is the ingenuous SSCII system. You may have read about this before, or seen it listed as a feature on many of our Suhr guitars. The SSCII is an entirely passive circuit within the guitar's electronics, which removes background noise and 60-cycle hum. This little addition effectively makes your guitar hum-free, without in any way interfering with the integrity of the instrument's tone. How often have you dreamt of hum-free single coils, only to try some in your guitar and become resolutely disappointed? This system makes those moments history: now you can enjoy your tone as it's supposed to be heard.

Final Thoughts
We knew, going in, that we wanted these T-styles to really nail that classic twang. We knew we wanted that fantastic, utility-meets-opulence look of the black and gold. We knew that Suhr would deliver us some quite brilliant instruments, but we are still taken aback by how much we love these Dealer Select Classic T's! Whether you prefer the Blackguard or Tortoise option, you'll be getting a seriously excellent sounding guitar with a mean, badass look and a feel that is out of this world!
There are 5 of each. Live life without regrets. Get yours today.