5 Reasons to Visit Your Local Store!
Published on 17 July 2020
As the world slowly returns to normal, we couldn't be happier to be back in our stores again and it's been amazing to see so many of you already. There truly is nothing quite as sweet as geeking out with fellow music lovers and as soppy as it sounds, we missed you when we weren't rocking with you. Since we've opened back up we've had a blast hearing about what music you've been working on, what gear you've been craving and pretty much everything else your family is sick of hearing about! Just kidding... but if you've still not had the chance to make it down, then here are 5 reasons you absolutely must visit guitarguitar:
1. An unrivalled selection of guitars await...
We don't like to boast... Okay, we do a little...Wouldn't you though if you had the best selection of guitars in the UK? No matter how long you've been playing, or how niche your tastes are, we can practically guarantee that there's an axe waiting for you at guitarguitar. We search far and wide to not only bring you the biggest brands you already know and love but also to give you the chance to check out custom built one of a kind models alongside gear from smaller boutique builders around the globe. We have absolutely loads of gorgeous acoustics and bass guitars as well as electrics so no matter where your tastes lie, trust us, you'll find your next partner in crime when you pay us a visit. Before you even consider our unparalleled range of amps, FX and other gear, our stores are a pilgrimage worth making for anyone with an interest in guitars, from beginner to collector.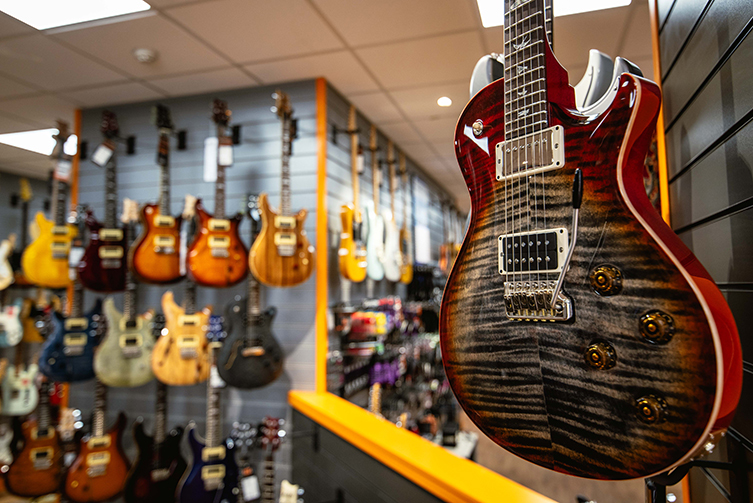 2. Try before you buy
One of the best ways to make your mind up on what guitar, pedal, amp or other pieces of gear are the right fit for you is to try them out. While many players can make their minds up online and use our site to nab their next toy, we know it's not always that simple. We've all been stuck between those two fuzz pedals, listening to demos online and straining to hear the subtle differences... The truth is, in times like these, nothing compares to getting plugged in and experimenting for yourself. We've set up dedicated demo areas in each of our stores so that you can try out gear to your heart's content and when you book up, you can even let us know what you're looking for so we can prepare in advance. That means we can set up a rig similar to the one you use at home and have it ready for you arriving, giving you plenty of time to jam and work out what's the best fit for you. There's nothing quite like getting a hands-on feel for what you're buying so pay us a visit to find your next bit of kit and make sure you get it right.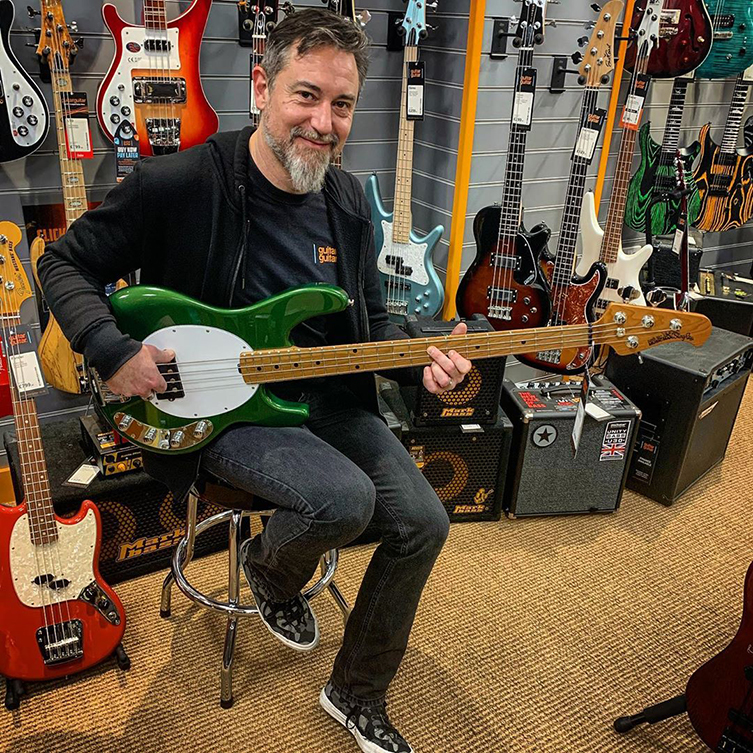 3. Finance your next piece of gear
If you're keen to treat yourself but that holy grail guitar is just out of reach, remember that we offer finance options to make sure you can get rocking right away! Next time you've got your eye on something, stop by and we'll talk you through the options available and can even apply for you in store so that you can take your gear home that very same day. Our staff know all of the ins and outs and can answer any questions you have about the process so don't worry if there's anything you're unsure about.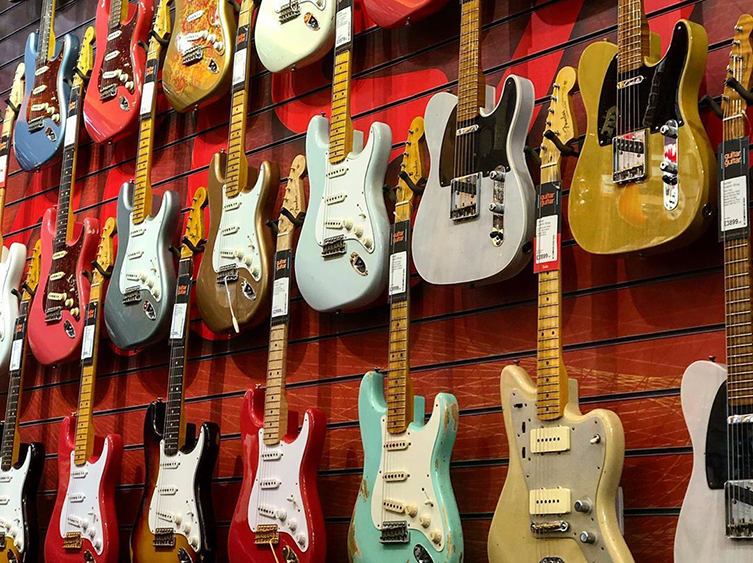 4. Trade-In that guitar you never play for something new
If your guitar is gathering dust in the corner while you dream of something more up to date, why not think about trading it in and treating yourself? Our staff will give you an offer that day and we can either pay money directly into your bank or sort you out with something new from the store! We absolutely love checking out your old gear and would love to see it on our walls for another rocker to get the use out of so instead of fantasising about what you could be playing, drop by and make your vision a reality!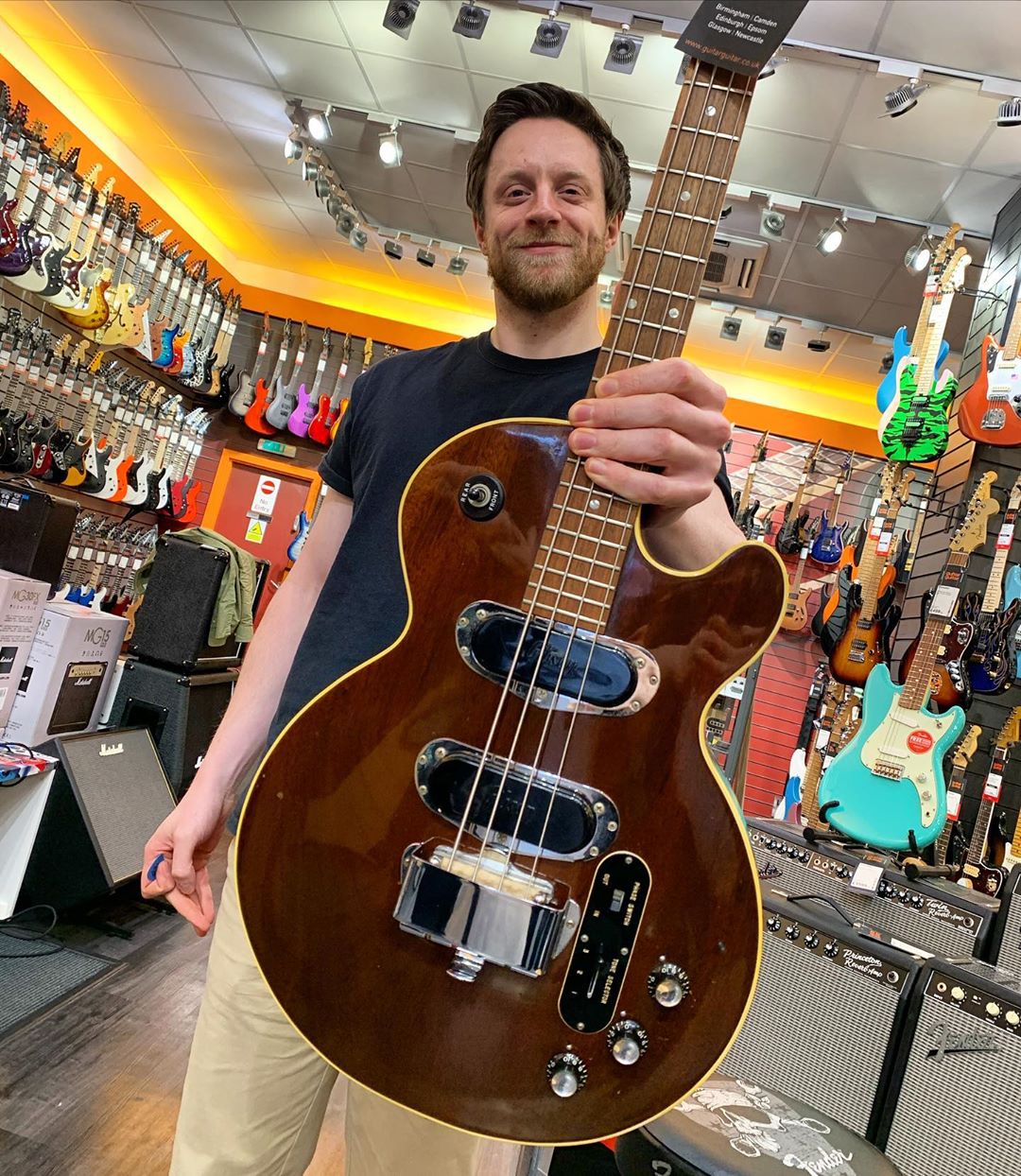 5. Expert advice from our friendly staff
Finally, without a doubt, the best thing about our stores are the teams that keep them going. All of our staff are musicians and guitar heads like yourself who genuinely love speaking with you all about all things music. Making your musical dreams a reality is a special thing and we're blessed to be the ones that help you on your journey. We've seen young would-be rockers grow up to be in touring bands after buying their first guitar from us and seeing their playing develop, tastes change and bands come together is an amazing thing. Loads of us are in bands ourselves so we totally understand how important buying your next guitar is, or making any investment into your music. It's our absolute pleasure to answer any questions you have, chat away and generally vibe out with you over whatever gear you're checking out. No question is too silly and even if it is, we like being a bit silly sometimes, so come and grab one of us for a chat, we've missed ya!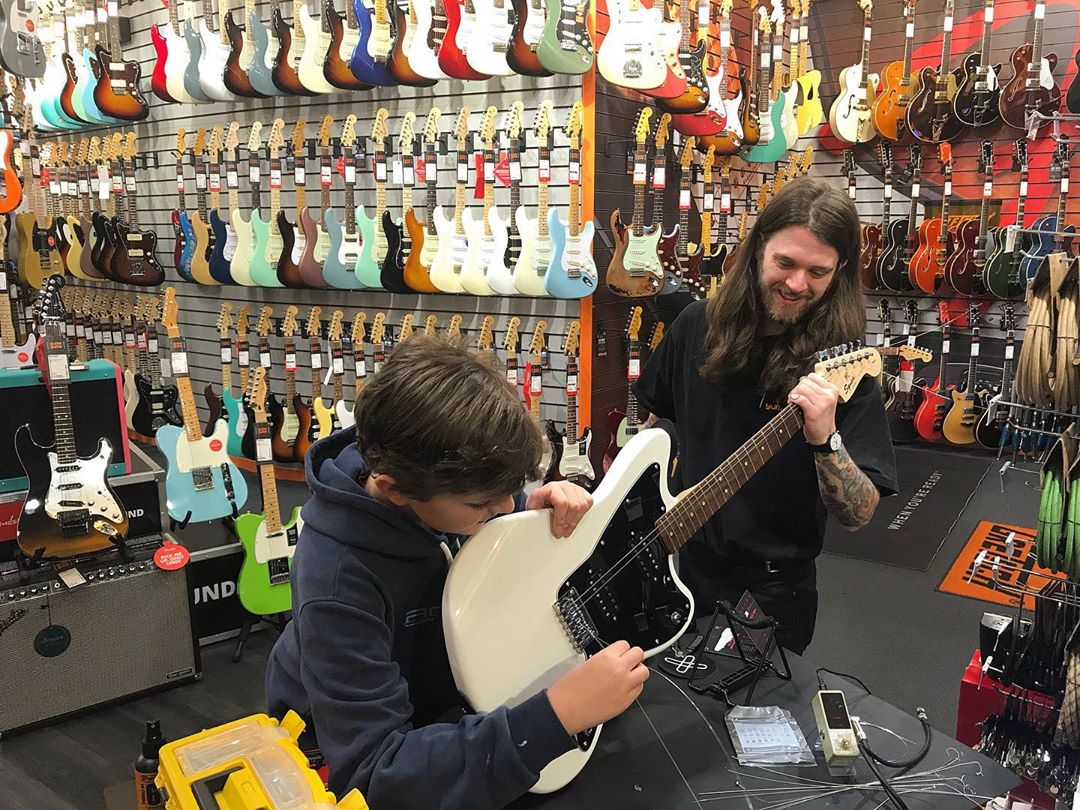 We've changed the way we work for your safety and comfort
With everything that's going on, we're being extra careful and ensuring everything is set up for your comfort and safety. We want you guys to get lost in the music without having to worry about what's going on so we've taken every measure to make sure you can visit us with peace of mind. Let's be honest, trying out a new guitar, or any new piece of gear is a pretty special experience and we want you to focus on that, so rest assured we'll take care of the rest. Click here to check out the changes we've made in more detail.