New Arrivals: Left Handed Fender Traditional 60s Offsets
Published on 04 August 2020
It's tough out there for the lefties, no matter which way you cut it. We have a pretty incredible selection of southpaw models but even with our best efforts, many brand's lefty ranges are limited. Now there may be nothing worse than finding your dream guitar, only to realise that you'd need to play backwards to use it but the one positive of this is that it makes the special models REALLY special. When you come across a southpaw axe that's a bit different or just speaks to you then it's a true gem of a find, there's nothing quite like it. Well folks, we just happened to have unearthed a few amazing Japanese made Traditional models from Fender that had us weak at the knees, check 'em out below:
Fender Traditional 60s Jazzmaster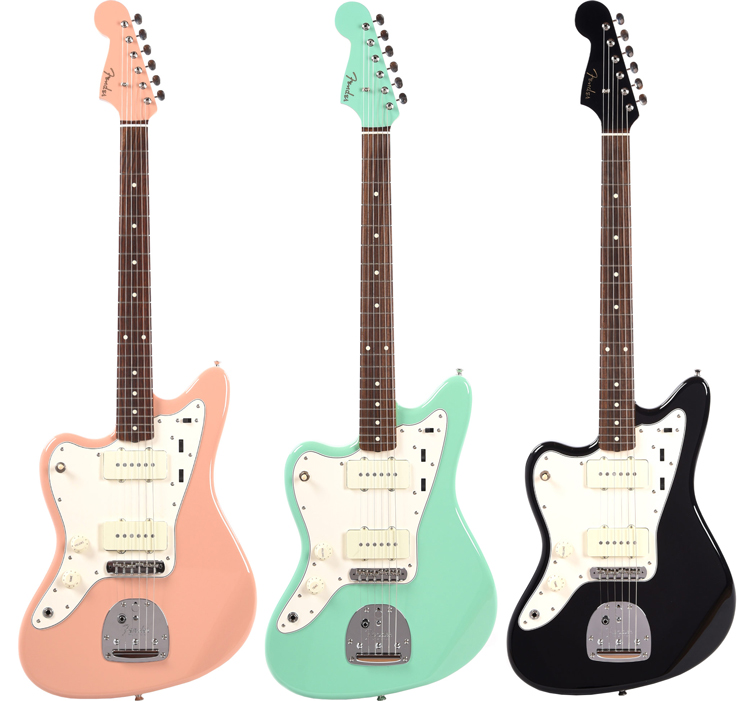 Let's start with a model that indie heads, noise rockers and all you shoegazers out there are going to fall in love with right away, the Traditional 60s Jazzmaster. Available in Flamingo Pink, Sea Foam Green or Black for the less adventurous among us. We absolutely love these finishes and let's face it, for a lefty, Flamingo Pink isn't necessarily an easy find! These axes are just the right amount of flashy without going overboard and the vintage look across parts like the bridge and Chrome Die-Cast tuners just set off the finishes perfectly.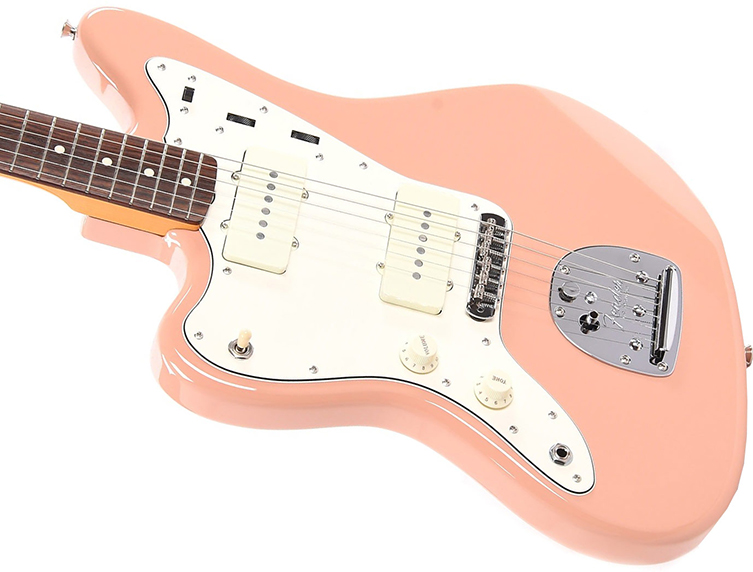 It ain't just about the looks though is it? Well, we're happy to report that the Traditional 60's models have really impressed us since they first arrived too. There's something undeniably cool about playing an instrument that feels vintage without sacrificing on modern features and playability and that's what we love about the range. With some lovely, sparkly sounding single coil Jazzmaster pickups dishing out as much of the iconic Jazzer tone as you can take, alongside all the switches and circuits that make them such interesting and unique instruments, these are definitely worth the attention of any southpaws with their eye on something new.
Fender Traditional 60s Mustang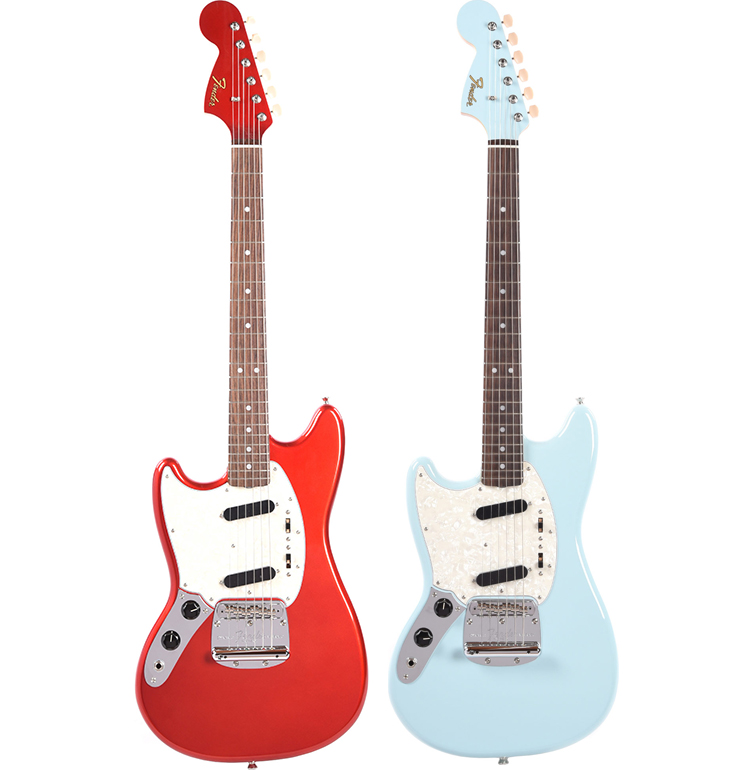 Next up in our lefty offset rundown, is another stunning Traditional 60s axe, this time the humble Mustang! The Candy Apple Red model is a personal favourite and is as tasty as the name suggests with a finish that just lights up and a headstock to match. However, it's Sonic Blue brother is a close second with more than a little bit of a Kurt look to it. C'mon, you already know there ain't much cooler than a Mustang with a matching headstock!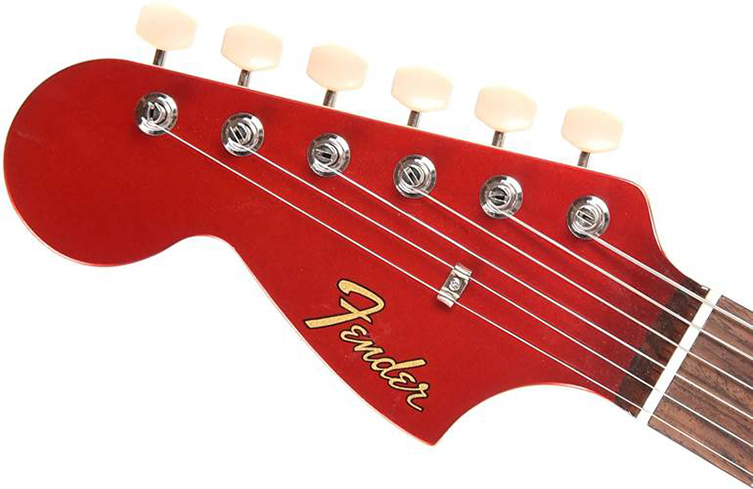 These are again part of Fender's Japanese made Traditional range and are a total throwback to the '65 models, which many see as the glory days of the Mustang. That means aged button "F" tuners, old school knobs and pickguard and of course, the coveted vintage style trem. Again, you've got switches to play with so let there be no debate that these are true, full-fat Mustangs with attitudes! We really love these guitars and since they're perfect for everything from twangy surf sounds to roaring grunge when you dirty them up, they're not to be messed with.
Fender Traditional 60s Jaguar

The offset trifecta is complete people, the Traditional 60s Jaguar has entered the building! Jaguars have always oozed class and style but this gorgeous Arctic White model just takes things a step further. There isn't any other guitar like a Jag and the 60s style of this beast just looks totally lush. This classy axe features a 22 fret short-scale maple neck and a floating trem to give you that distinctive sound and feel. It's Jag single coil pickups sound absolutely lovely with a distinctive, immersive tone that has loads of punch but is plenty dreamy. On top of that, the six saddle bridge totally contributes to the vintage feel of the guitar - it really is like picking up an instrument from the 60s that's been perfectly cared for and updated.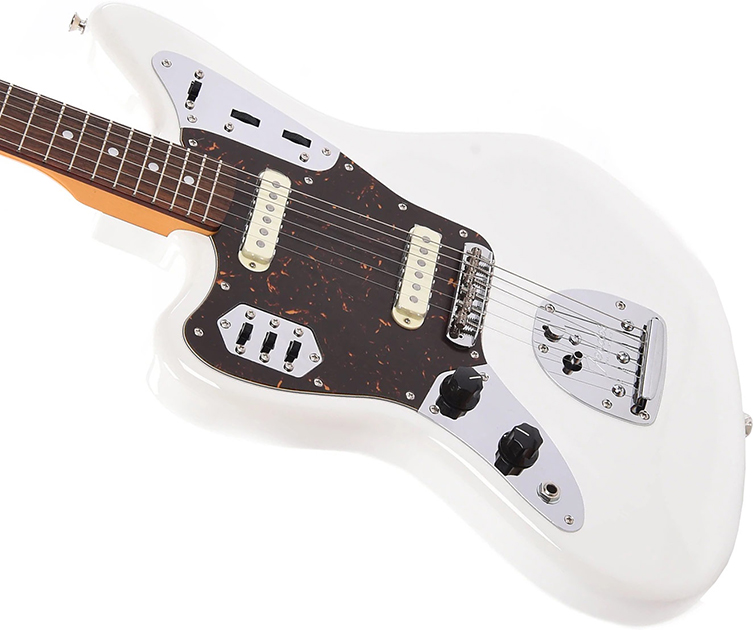 As with the other models we've mentioned, this has all the standard switches and controls for you to experiment with and is such a versatile guitar in terms of what it can do tonally. We love the look of a rosewood fingerboard on a maple neck and once you set eyes on this you won't blame us, this is a gorgeous axe with loads of vibe to it.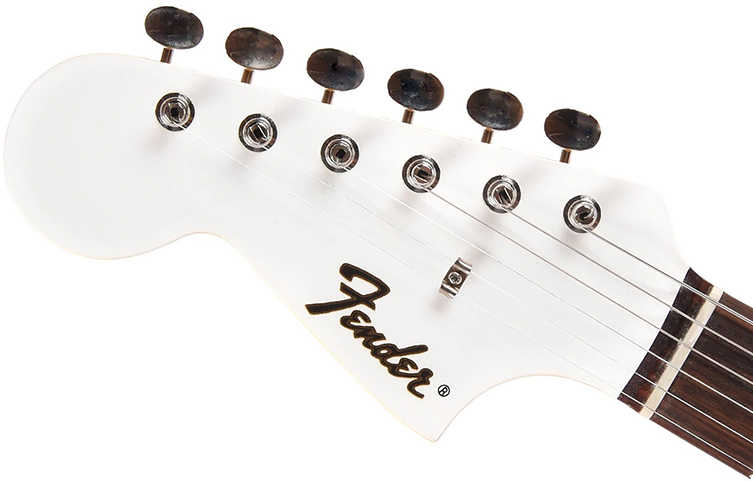 Final Thoughts
So there you have it southpaws, a little bit of eye candy! Each of these guitars boasts fantastic build quality and we've been having a blast trying them out in store. We don't expect them to hang around for too long so make sure you stop by and take them for a spin before they're gone!