A Closer Look: Soldano SLO 30 head
Published on 04 August 2020
Pure, incredible tone.
That's what it's all about really.
The hunt for that perfect, elusive guitar sound with all of the richness and dimension you could possibly ask for.
Have you been hunting for years? Have you tested countless combinations of amps and cabinets?
Well, if you are into gorgeous, expressive distorted tones, we think your tone-hunt can come to a successful end.
You've found it.
Let us present the Soldano SLO 30 head.
Soldano
Soldano's story begins in Seattle with Mike Soldano. A lifelong tone-chaser, Mike learned his trade during his studies to become an Industrial Designer. During his student days, his lack of cash compelled him to learn how to repair his Bassman copy amplifier. As he says himself, "When you don't have money, you can become clever". A good attitude for sure, and one that brought him to the logical point of amp modification and creation.
A home-made amp circuit, named 'Mr Science' became his all-consuming passion. Inspired by Cream's song 'Badge', which had in his opinion the greatest guitar sound of all, he got to work. Mike made three amps from the Mr Science prototype, and when only one prospective buyer came good with the cash, Mike 'went big' and took himself and his amps to LA in order to try and establish himself. This was in the mid-80s, when Sunset Strip ruled supreme and all guitarists wanted that cascading high-gain sound made famous by Eddie Van Halen and his modified Marshalls.
Not much has changed!
After roughing it in LA for a couple of years, and not really making his mark, Mike admitted defeat, and in late 1987 packed up to return to Seattle, a near-bankrupt ruin. It was then, at arguably his lowest point, that a few answering machine messages were left for him, enquiring about his amps. In any circumstances, these would've been encouraging messages to get, but when they were left by Lou Reed, Vivian Campbell and Mike Landau, hope really began to swell for Soldano amps! Some of the biggest names in guitar circles had taken notice of his superior work and wanted a slice of the Soldano pie!
It only took until the following April until Mike's hero Eric Clapton had his own Soldano amp, as did Mark Knopfler. If you're going to talk about who's playing your amps, these two are about as good as it gets! Since then, Soldano has been one of the most prestigious choices for boutique, top-shelf valve tone. Today, we've excited to talk to you about the SLO 30 head, which puts that famous sound into a very practical package. Read on!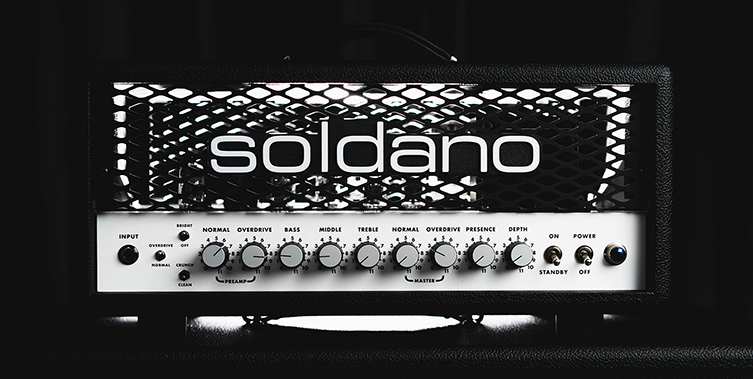 Soldano SLO 30
The Soldano SLO 30 is a 30 watt, completely hand-made, American tube amp. It's all valve, and has two footswitchable channels. It's also disgustingly good sounding, with a range of overdrives that are literally world-class. But we're getting ahead of ourselves...
The SLO part of the amp's name is an acronym for Super Lead Overdrive. This pretty much sums up the emphasis of the design here, but unlike other high gain amps, the clean channel is no afterthought. Even with humbuckers, you get a chiming, pleasant clean tone with clarity and separation. This is something that is often underdeveloped on high-gain amps, and is further proof of Mike Soldano's ongoing quest to scale the summit of epic tones: he is not content to allow the clean channel to be 'good enough'. It has to be exquisite, just like the distorted channel.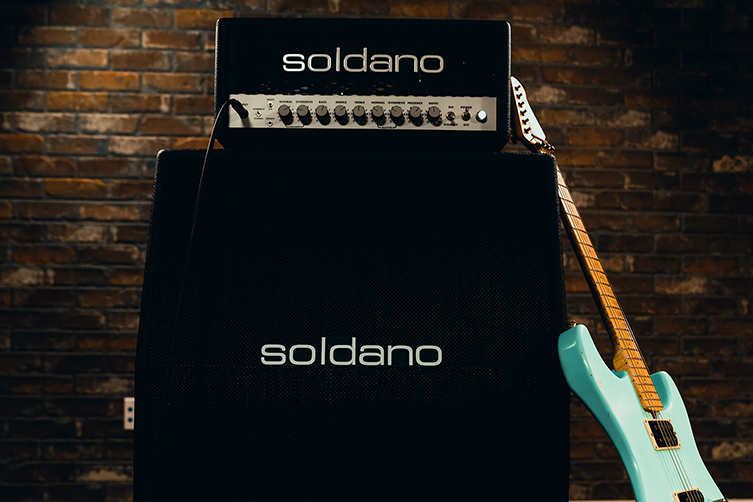 The amp shares its EQ section between both channels, but each channel has it's own pre-amp gain and master volume knobs, making for a tidy front panel. The clean channel also has a 'crunch' switch, which delivers one of the most satisfying mid-gain tones we've had access to in our long history of playing through 'super amps'. It's just delicious sounding, with that really addictive quality that marks out a great tone. You can sit and blast away for hours here, with every tweak of the EQ providing more fun. This amp is truly an instrument, not a forgettable piece of equipment to switch on and leave alone!
The drive channel, though. This amp is where heavy tones go when they die. It's unreal. Rich, chunky, simultaneously smooth and brittle in all the ways you'd want it to be, it's simply a superb sounding amp channel! The EQ is pretty powerful, so you can do some good sculpting, and there are also control knobs for Presence and Depth, which go much further than just 'top end' and 'cab girth'. You can really 'tune in' your cabinet (Soldano make incredible cabinets for the SLO 30, too. Don't discount them as they make a BIG difference) to how you want the amps to not only sound but react. This is a living, breathing thing you're playing through.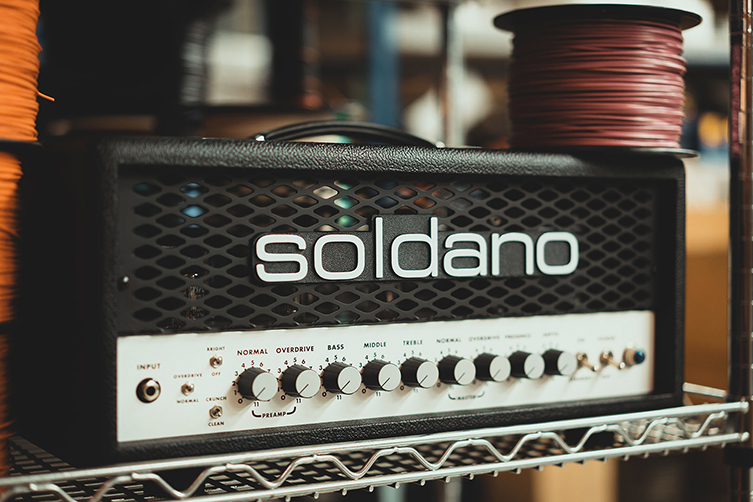 Step Up to the Tone
So who is this amp for? We're tempted of course to simply say 'everyone', since there isn't a guitarist out there who wouldn't get on with the Soldano SLO 30. Whilst it is easily a good shout for modern metal players, the versatility of the EQ and the addition of the 'Crunch' switch means it'll happily provide wonderful, luxurious overdrives to classic Rock, Blues and avant-garde players. Remember, Stevie Ray Vaughan himself commissioned a SLO-100 from Mike in the 80s, so it's about tone, not genre.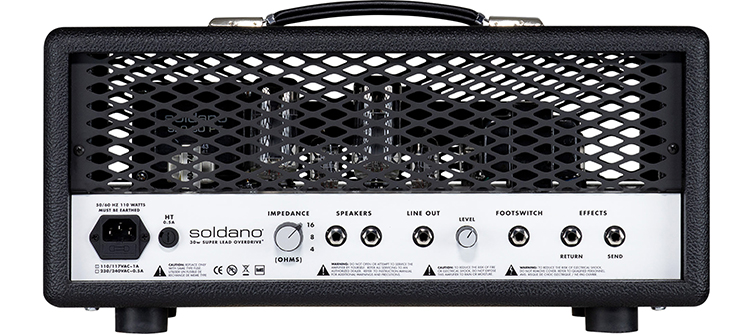 It's obviously a high-end item, with a price that puts it within the sights of only more committed or serious players, but we encourage you to look at the Soldano SLO 30 as very much an instrument in itself. If you are of a mindset that understands investing over £2k for a quality guitar that will elevate your playing and last a lifetime, then you will easily understand the value that this type of amp can bring to your art and your daily musical practice. It keeps giving. It's 30 watt power rating makes it suitable for today's venues and stages (when we can return to them, of course), and still make the most out of the power amp to get those beautiful harmonic overtones happening.
Whilst we love digital modellers and plugins, it's at times like these, when we get to plug into something like this Soldano SLO 30, that we readily accept the fact that there is nothing quite like playing through an exceptional valve amp. This is such an amp. This is hand-made, boutique amplifier building at its best. We invite you to try one out for yourself.