A Closer Look: Martin Authentic Series
Published on 07 August 2020
From one of the most historical guitar makers in the world, comes the most historically accurate acoustic guitars on the planet.
Martin Authentic, straight from Nazareth, Pennsylvania, is proof that yes, they do make 'em like they used to.
We've just had a small selection delivered to us here at guitarguitar, so please join us as we explore just what is meant by 'Martin Authentic' and which lovely instruments we are currently lucky enough to have available.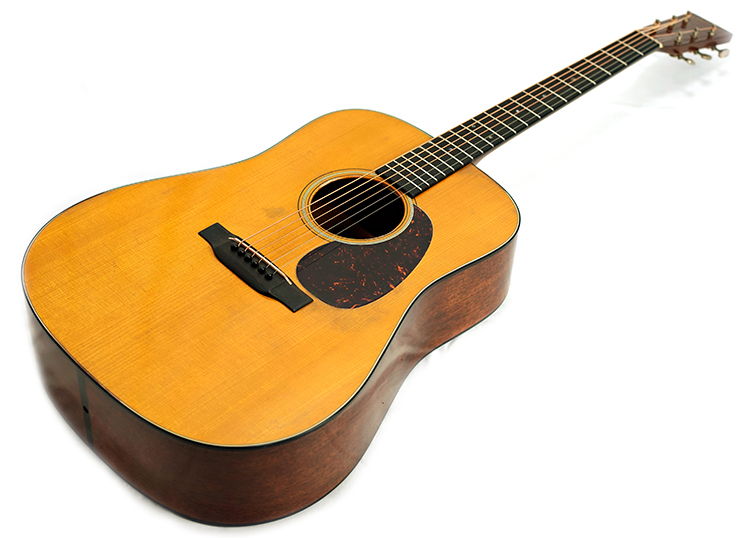 Pre-War Glory
'Pre-War' Martins, referring to the period in the twenties and (particularly) the 30s, are the stuff of myth and legend. Martin aficionados are familiar with these guitars, as they are definitive benchmark blueprints for acoustic guitar making across the world. After the war, Martin changed their designs, but this was rectified in the 70s, when players started to ask for the Pre-War designs that they appreciated more than any other instruments.
These instruments, like D-18s, D-28s, 000s and OMs, are definitive. They are what we think of what we consider Martin as a brand. Each has its own particular sound, character and feel. Moreover, the old guitars from the 1930s also had decade upon decade of playing-in added to them, making their sound more seasoned, strident and clear. If you've ever tried one, you'll know exactly what we are talking about, and a big part of that is the resonation and drying out, over dozens of years, of the timbers. It's also to do with the bracing, the wood choice itself and even the glue used to bind the timbers together. Most acts of creation are collaborative, and guitar making is no different. These wonderful Pre-War guitars amounted to something intangible that was greater than the sum of their considerable parts.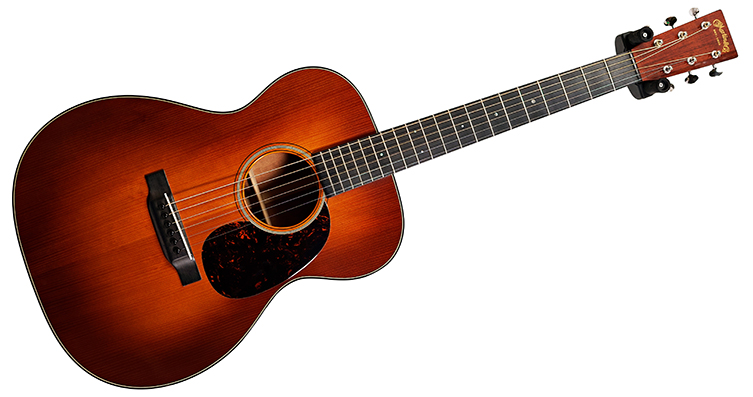 Yes, if you've played one, you'll no doubt agree with us, but Pre-War Martin guitars are not lying gathering dust in every guitar store. We are talking about priceless heirlooms, here. Museum pieces. As it is for the 1959 Les Paul Standard, so it is for the 1939 Martin D-18.
Bringing the Past to Life
As you'll have gathered, the Martin Authentic series is all about bringing players this special, ineffable quality so beloved of historic Martins, but at a price that's at least realistic to serious players. Since 2013, Martin's Custom Shop in Nazareth, PA, have strived to recreate the look, feel and sound of those Pre-War Martins. Each model is created in exhaustive, painstaking detail, with a huge emphasis placed on hand-tooling, selected the correct timbers and constructing the instruments using the correct joins, dimensions and measurements.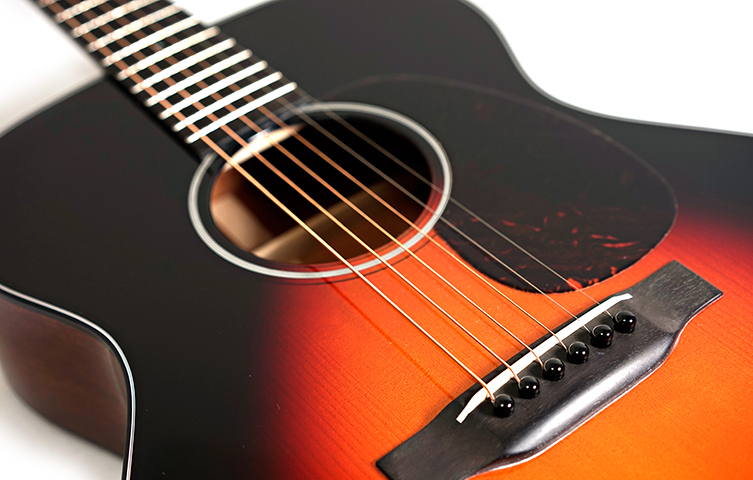 These guitars are made in small numbers. They are entirely Custom Shop made, and state of the art practices are used (CAT scanning vintage instruments etc) to make sure the hand-work is as perfect as possible. Wood is hand-selected. Hide glue is used, as it was in the 30s. This detail is seen as being particularly important to the people making these guitars, especially guitars like these Martins who make use of a dovetail neck joint. The all-important inner bracing is scalloped by hand to ensure of exactly the correct tonal and projection qualities. Each Martin Authentic guitar is a masterpiece and a labour of love.
Vintage Tone System
Martin's Vintage Tone System – VTS for short – is a very important factor in the success of the Authentic series guitars. VTS is based on torrefaction, though there is more to it than just that. Firstly though, for those who are unfamiliar with the process...
Torrefaction is a method of removing all of the moisture from a piece of wood in order to simulate a century's worth of natural ageing and drying. Martin discovered similarities between wood that had been subjected to intense heat (in a controlled atmosphere which crucially had no oxygen) and wood form very old, very appreciated Martin acoustics. The torrefaction process changes the molecular structure of the timber, believe it or not, and when used as a guitar's top, the resulting tone is very close to that of these incredible Pre-War instruments.

Close, but not close enough for Martin! Now, the company are actually a little secretive with the rest of the process, since it's an important selling point for the Authentic series guitars, but they do tell us that they've learned that the torrefaction process itself can be successfully altered to recreate the sound of different 'time periods'. This means that the process for a 1938-era D-28 recreation would differ from the process of creating, say, a 1939 D-18. We are talking relatives here, but this is the level of commitment to detail that makes these instruments special in the first place!
Finally, the finishing process is different with VTS guitars. The VTS Vintage finish is specially formulated and applied to give a satin appearance that is actually nothing like other satin spray finishes out there. Martin, again, won't let on how it's done, but the finishes look has that rare patina of age like no other new guitars.

There are various great Martin models available in the Authentic range. Let's look at two classic dreadnaughts here...
Martin Authentic D-18 1939
This wonderful Dreadnought, the Martin Authentic D-18 1939, features many of the innovations we've just looked at. The Adirondack Spruce top has been treated to the VTS process, and Mahogany back and sides adding strong midrange to the strident clarity of the Spruce. Inside, the hand-scalloped bracing is arranged in a historically correct rearward-shifted location. The neck is a modified V shape, and Ebony is used for the fingerboard and bridge, making this a very classic Martin guitar indeed.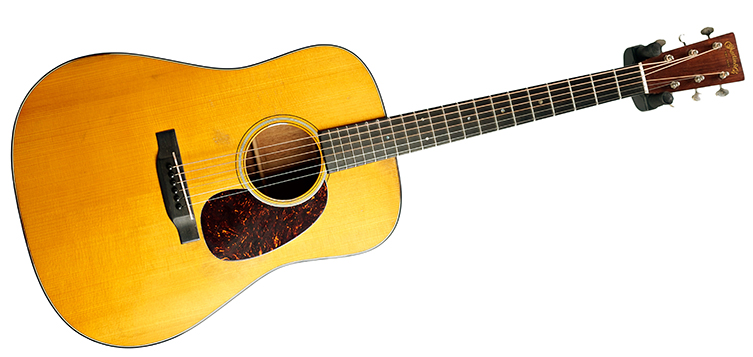 Our current examples are available as Aged and non-aged, with the former choice adding to that Pre-War verisimilitude. Martin's Custom Shop artisans work hard to keep all Ageing work as realistic as possible, with wear and tear being sympathetically applied only to areas inside and outside that would see such wear during the course of a natural life. It just helps to further the goal of recreating a century-old guitar, and is tastefully applied.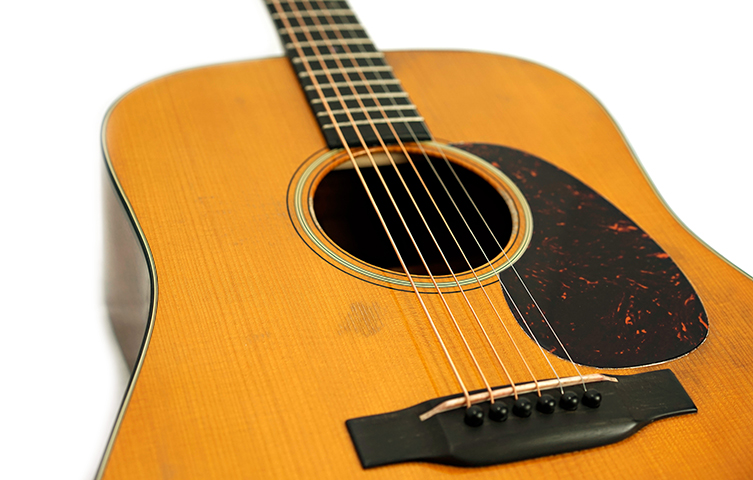 Martin Authentic D-28 1937
The D-28 is perhaps the most iconic Martin acoustic guitar. It's certainly the most influential! The combination of Spruce and Rosewood is what helps make this the classic guitar it truly is. Spruce gives brightness and top, where Rosewood adds bottom end strength, solidity and a scooped mid. Singers love this combination, but it's great for anything! On this Martin Authentic 1937 example, the woods are top grade premium Adirondack Spruce (one again given the VTS treatment, though this time relative to 1937) and Madagascan Rosewood. This combination, along with Hide glue and forward-shifted X bracing, gives tone for days! It's a truly revealing experience to strum a few simple open position chords and here the cohesion of notes, the balance and the definition. It's quite incredible.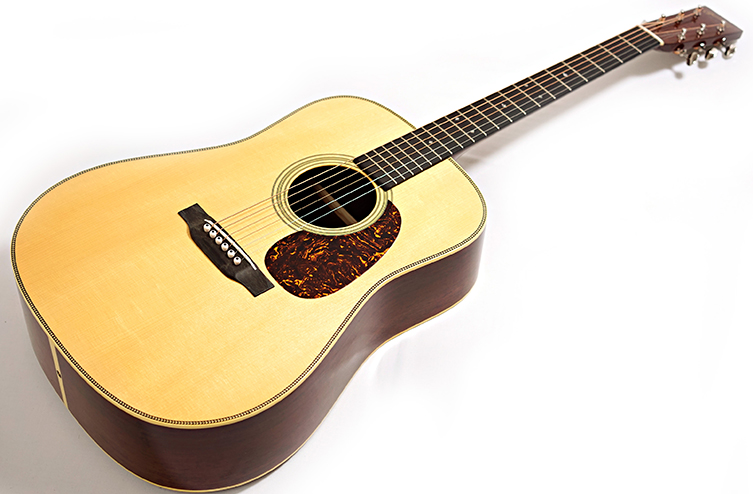 Martin have of course retained the herringbone binding and zigzag purfling, and included diamond inlays on the Ebony fingerboard, making this without doubt the pre-eminent D-28.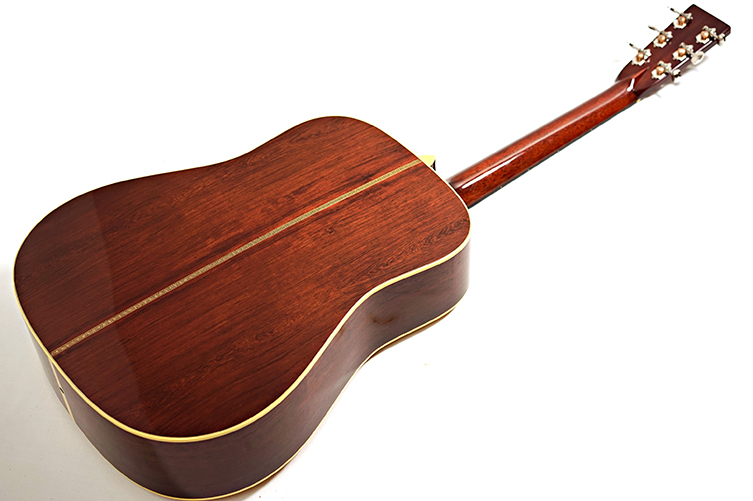 Final Thoughts
What Martin are doing with the Custom Shop Authentic instruments is a respectful and appropriate way to both salute their own celebrated past and also offer players the possibility of enjoying tone form a vintage far beyond any of us were ever born. It takes more than any human lifetime for a guitar to naturally season to this degree. You don't have that long and neither do we! We want to enjoy that incredible sound now: we want it to inspire our playing every day, to make us happy to strum and to propel us to ever higher plateaux of ability. These guitars, available in limited numbers, are here to offer you that very experience today.