A Closer Look: Epiphone Solid Body Electrics
Published on 27 August 2020
Epiphone are making some of our favourite electric guitars right now.
Forget about them being 'affordable Gibsons' (even though that's very much what they are!), the newly redesigned range of Epiphone solid body guitars are making great impressions on us, the solid body ones in particular!
Epiphone have always been about providing good value and coolness to players who want affordable quality and classic styles, but it's like the whole range has just stepped up a notch in feel, sound and vibe. We love them!
New Gibson - New Epiphone
So, Epiphone are Gibson's little brother, basically, and like most little brothers, Epiphone has followed in the footsteps of the elder sibling. Recently, Gibson re-imagined their entire output, focusing on classic guitar designs and creating two subranges – The Original Collection and the Modern Collection – to better separate and distinguish their output. As the titles suggest, one range is truer to tradition and history, where the other is more open to modernity. Extra switches, weight relief and metallic finishes can be found in the Modern collection. Period-referencing hardware, classic burst flame tops and 'full-fat' bodies can be found in the Original collection.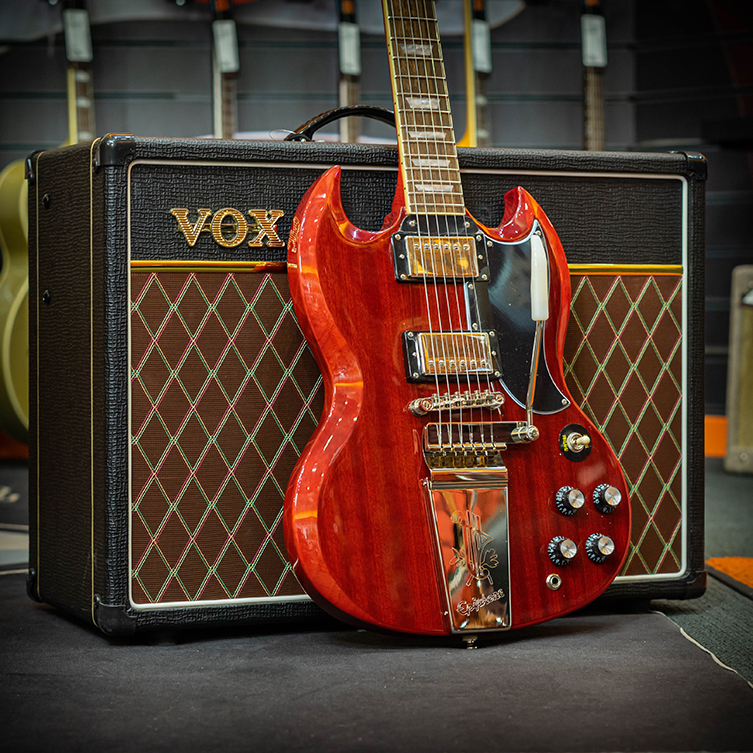 This is similar to the path carved by Epiphone. Instead of the Original and Modern terms being used for separate collections, Epiphone have poured selections from both into a range called 'Inspired by Gibson', plus 'Original', which is home to their archtop designs, amongst other things. It's confusing to have the word 'Original' in each section, but it makes simple sense when you see them...
There are Les Pauls and SGs in both classic and modern varieties within the 'Inspired by Gibson' collection, plus a ton of super cool designs that you'd hope to find there. The finish options for each guitar style are those that are proven to be the peoples' choices, so it's classic stuff like Heritage Cherry, Gold and Vintage Sunburst.
Epiphone have changed their headstock, too. This new design (on all appropriate guitars, so not Explorers, Firebirds and the like) is called the Kalamazoo and it's a step closer to the Gibson one, whilst still being discernible. We like it! There's a lot to like, in fact.
Can we show you a few of our favourites?
Les Paul 50s Vintage Sunburst
The measure of any Epiphone range can be judged by their Les Pauls. These are the most popular models, so are perhaps the most scrutinised, not to mention the fact the Les Pauls in general are amongst the most desirable guitars on the market.
As mentioned, Epiphone have released a rake of Les Paul models in order to satisfy all playing styles and requirements. Our pick, from the Original is their take on the 1950s Les Paul Standard. Of course it is! The late 50s Les Paul 'Sunburst' is the Holy Grail guitar, after all, so any guitar aligning itself with such an icon is bound to be worthy of a closer look!
This Epiphone is a bit of a champion. It has a nice weight, a AAA veneer of Flame Maple on top of the Mahogany body, and a neck that's on the chunky side of a C shape. We're not going to say that it's exactly like a '59 Les Paul neck, but it's in that ballpark!

On top of that, the neck itself has a long tenon – the part you never see that joins into the body when the neck it glued in – for more strength, stability and sustain. This is impressive, since it's normally the sort of feature you only hear about on special edition guitars.
You'll find a set of alnico Pro Bucker humbuckers on this Les Paul, too. Far more than low-cost stock pickups, these are detailed and articulate units that are specially wound for this new range. We'd say they are a little hotter than classic PAF, which puts them firmly in the 'extremely useful tones' category! High quality CTS pots rounds off a fantastically impressive instrument, which is shown here in our favourite Vintage Sunburst finish, one of three finishes for this particular model.
SG '61 with Maestro Vibrola
If it's not a Les Paul, it's gotta be an SG! Gibson's other iconic solid body guitar, the SG has a leaner, tighter sound. This excellently put together Epiphone model holds true to this, with a tone that has brightness and body simultaneously.
This is a tasteful take on an early sixties SG, which is indicated by the smaller pickguard. A large metal tremolo unit – the titular Maestro Vibrola – adds some real retro class to this SG! It's a very psychedelic looking beast indeed, and Epiphone have gotten all the details right, form the engraved tailpiece to the shape of the tremolo bar.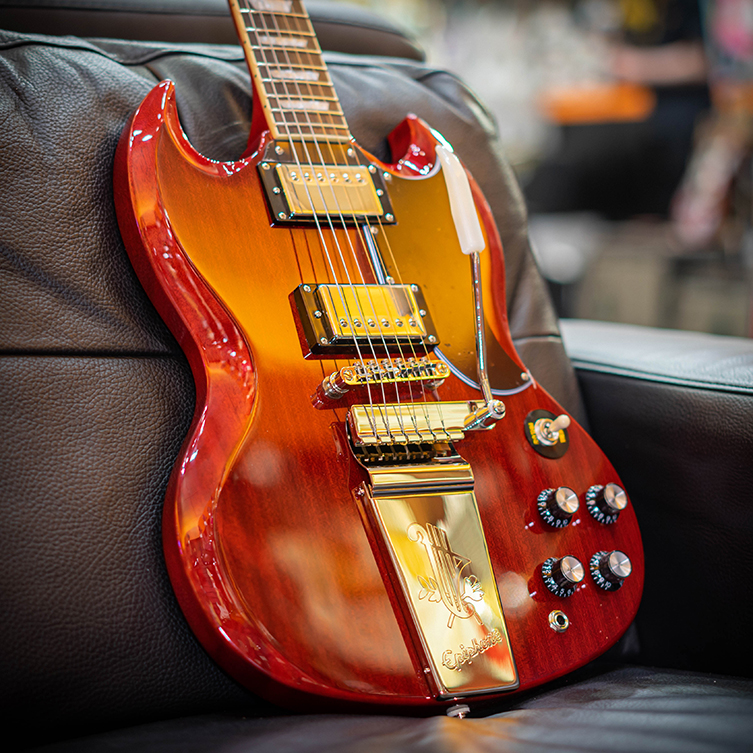 This attention to detail is carried over to the rest of the instrument, too. Check out those old-school tuners (which have a modern 18:1 operational ratio, thankfully!) and black top-hat control knobs! We think this guitar is very charismatic indeed, and sound great too, thanks to the inclusion of those fantastic Pro Bucker pickups. A slim taper neck with binding and trapezoid inlays paints the perfect period-correct picture, especially with the glossy Heritage Cherry finish.
If your band has a singer who thinks he's Jim Morrison, this is your next guitar!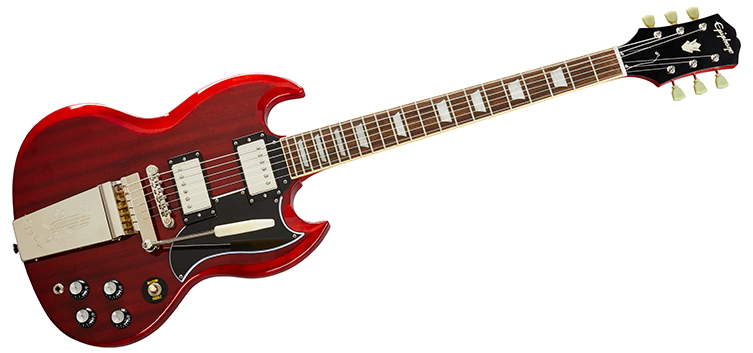 Les Paul Junior in Vintage Sunburst
Mahogany and P90s are a tonal combination we talk about a lot. There's good reason, too, because you get an unbeatable combination of attack, brightness, sustain and depth that no other combination can really muster.
So, it's good news that Epiphone have included a most triumphant Les Paul Junior in their new roster of solid body guitars! The whole point of this guitar is that it's simple and straightforward. Mucking about with extra features defeats it' entire purpose, which is to be an unadulterated, stripped back, tone machine.
Happily, Epiphone more than understand that. This Junior has everything you need and nothing you don't! So, it's a set neck, Mahogany bodied single cutaway with a 'dogear' P90 at the bridge. The bridge itself is a wrapround, in keeping with the ethos of simplicity, as well as staying with tradition for the design. A great 50s profile neck lends this guitar a vibe like no other at this price range. It's addictive stuff, and will happily fit into a wide ranges of genres. Try one!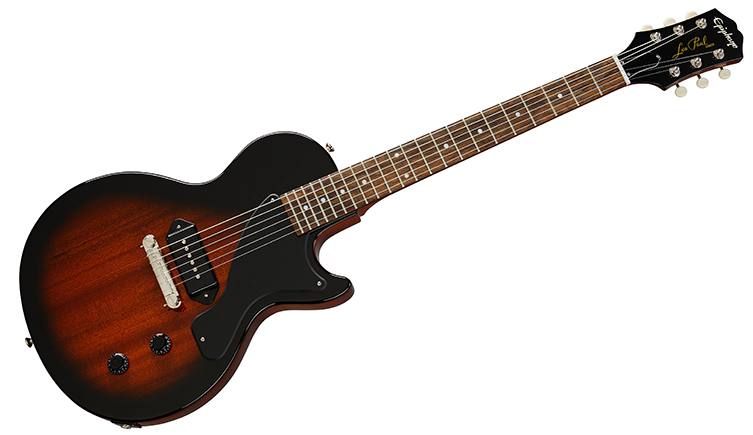 Firebird in Vintage Sunburst
How can you out-cool a Firebird? It's such a 'statement' guitar, and instantly ups the stage presence of anybody playing one.

This Epiphone model does things properly: the construction is proper neck-through, with a 9-piece Mahogany and Walnut neck that you can see through the finish. Lovely stuff! As with tradition, this Firebird sports a pair of mini humbuckers (Pro Bucker variants, specially wound for this instrument).
These units are great for creamy Blues Rock and Indie tones with punch and output that makes them stand out in a mix whilst also cleaning up usefully. This is one of those great guitars you just strap over your shoulder and blast away on! It's big, it's loud and it's pretty proud, so make sure you have your Rockstar swagger fully practised before you step out with this 'bird!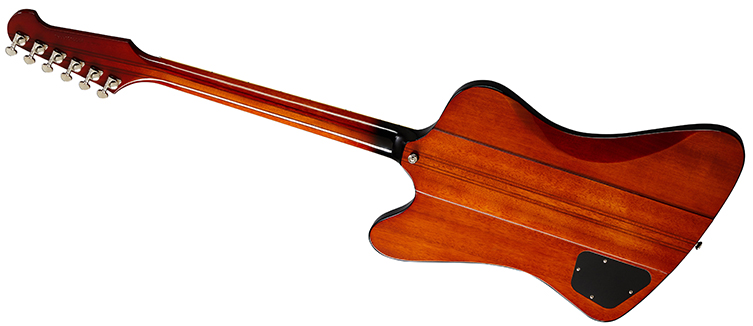 Final Thoughts
This little selection hardly scratches the surface, but it does indicate the kind of fun you can have with Epiphone's new range. These guitars are all about the player on the street, and are meant to be recorded with and gigged live. Construction values are high, sonics are impressive, and the feel of each of these guitars is particularly impressive. They look and sound like a million bucks, but they are far from that in terms of cost! Check out Epiphone's current selection of solid bodies and see what's available for your style and vibe.