Events: Ableton Live Facebook Takeover
Published on 15 September 2020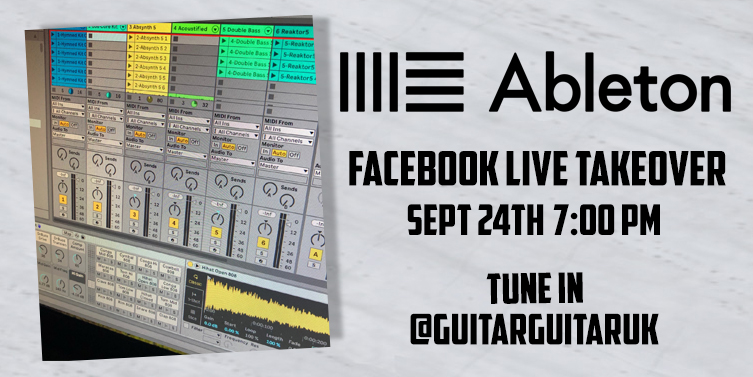 There's nothing quite like having the freedom to record at home. Having the power to produce your own music and lay down ideas in a relaxed environment is an incredible thing for your creativity and a luxury that most musicians couldn't afford until fairly recently. Thankfully, studio gear has come on so much in recent years that loads of us have been able to put together home recording setups and learn the art of recording. However, it does take a bit of work to get your head around it at times!
The first time you open up a DAW it can be a little mind-boggling and it does require time and patience to get used to using the platform. Take it from us, it does get much easier but that doesn't mean those first steps aren't tricky. With so many taking an interest in recording over the last few months, we've been keen to do everything we can to help you, so we've arranged for a bit of a masterclass from the guys at Ableton, read on for all the details.
The Details
On Thursday the 24th of September at 7:00 PM, we invite you to join us as Ableton expert Simon Lyon takes over our Facebook Live Stream to break down the basics of home recording using Ableton Live. This is one of the most popular and widely used pieces of recording software on the market and one of our favourites for recording and performance. So, if you've been sitting at home struggling to get your ideas down, make sure you tune in and learn a few new tricks. Simon will be discussing recording your first guitar track, using automation, using arrangement mode and pretty much everything in between. He's a total Ableton aficionado who's worked with the software for years, so this is a great opportunity to ask any questions you have in the comments too. We're absolutely buzzing to geek out over all things home recording, make sure you don't miss this one, it's going to be an awesome night!
Don't have Ableton at home yet? Not to worry, loads of our interfaces come with Ableton Lite and from 14/09/20 - 12/10/20 if you upgrade to Ableton Live or Suite from Lite, you'll have access to a one on one lesson from Simon where he'll answer any questions you have and help you get started. Click here for more details and to check out our range of interfaces.
Click HERE to visit our Facebook page now.