A Closer Look: G&L Custom Shop Hand-Painted Doheny Hula and Mermaid
Published on 22 September 2020
What's better than owning a great American guitar?
A great hand-made American guitar?
A great hand-made American guitar built in Leo Fender's old factory on Fender Road, Fullerton, California?
How about a great hand-made American guitar build in Leo's old Fullerton factory, with a custom, hand-painted graphic on the finish?
That would be pretty awesome, wouldn't it?
Well, you can now find out for yourself, because that's exactly what we have for you today!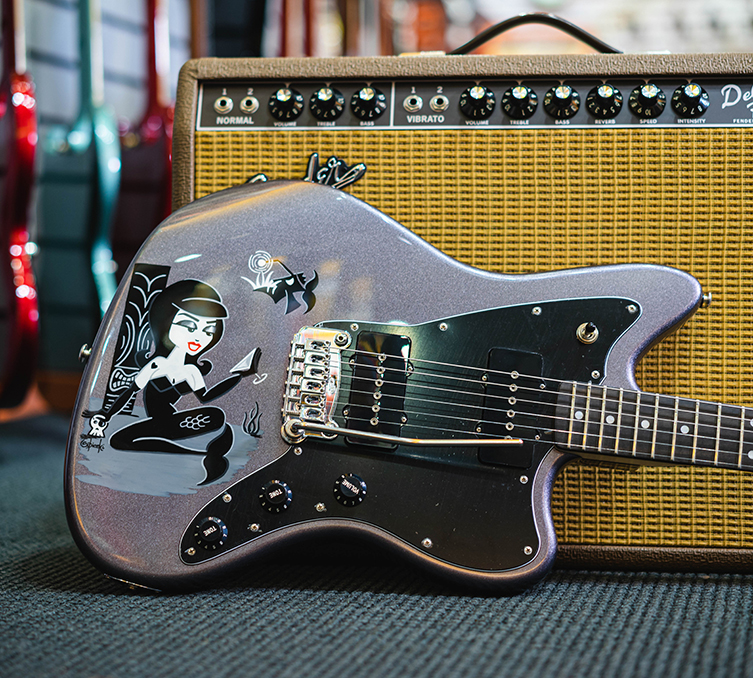 G&L Custom Shop
We've got a couple of pretty special G&L's here for you, straight from that Custom Shop on Fender Road! G&L's Custom Shop use the best woods, the best workmanship and the keenest attention to detail in order to bring you the finest instruments that American hand-built guitar making can offer! From Leo Fender's old factory floor, using some of his most-improved and refined designs, come modern classics like the offset Doheny we are showing you here today.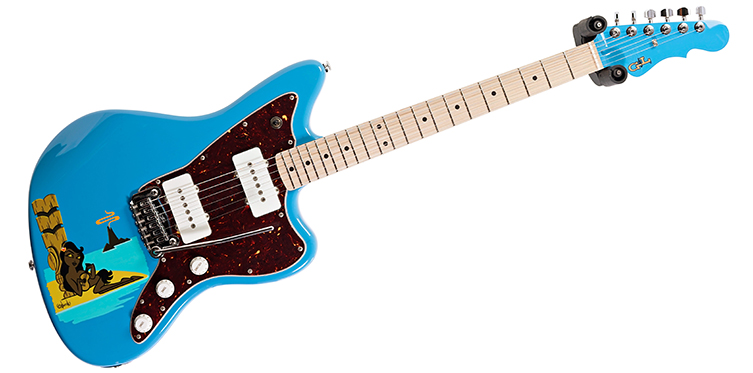 The G&L Custom Shop is revered throughout the industry. Building on legendary foundations but pointing towards the future in terms of utilising innovations, the guitars that emerge blinking into the Californian sun are artisan pieces without compare. Built with love by players for players, these exceptional instruments will be your primary playing, gigging and recording choice for decades.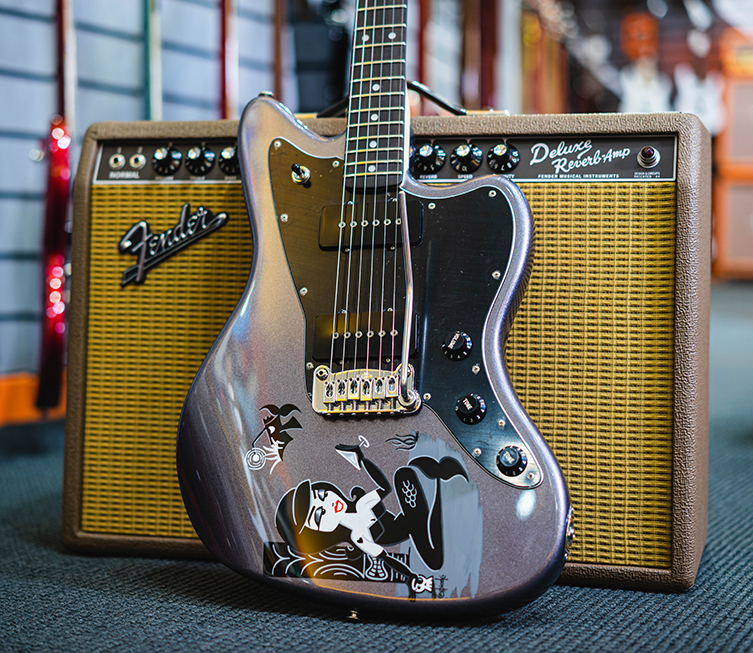 Tiki Culture
It's full-on California surf/tiki vibes here with these limited edition Doheny models. Tiki culture comes from the mythology and traditions of Hawaii and the Polynesian islands of the South Pacific. It's exotic, fun and colourful, and has had a lasting impact on both beach and bar culture. The palm trees, hula girls, tiki masks and totem poles, elaborately invented drinks and more cultural identifiers all come from this most ancient of themes.
Tiki, the identity of the effigy used in ceremonial masks and statues throughout Polynesia, is himself a version of an old Mauri god, but Tiki culture means as much to 'Rat Rod' car-modding culture and surf companies as it does to Pacific traditions. After all, it's something of a stretch to relate a cocktail dressed up like a smoking volcano with the cultural practices of a proud and wise indigenous culture! But the references are there, taken in a much more free-spirited and jovial way.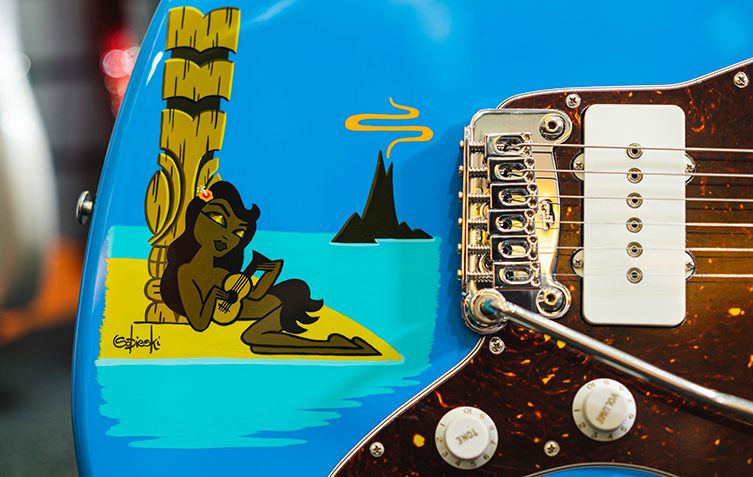 Doheny
Given that that Doheny is a surf-tastic offset guitar, it seems only appropriate that it is this model above all that gets the Tiki treatment! Before we get to the awesome graphics, let's first briefly check out the instrument itself! Each Doheny has the same Alder body and hardware. There are two styles of graphic here but, apart from the fingerboard, the spec is the same for both.
This means you get a pair of G&L's hand-made Wide Bobbin MFD single coil pickups, featuring Leo Fenders' innovations. IN short, MFD pickups place the magnet under the pickups' coil, and use adjustable polepieces to basically bring you a very loud, yet very clean tone. If you're talking about surf-style twang and tremolo picking techniques, these are the perfect pickups!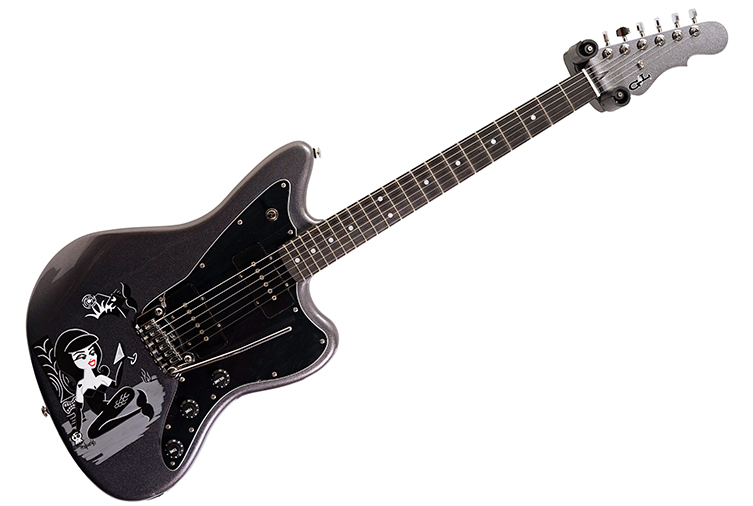 Another great G&L invention present on these Doheny guitars is the PTB tone circuit. The Passive Treble and Bass system puts a treble roll-off into one of the tone controls and a bass roll-off onto the other. Sounds simple, definitely, but the amount of shaping you can do with your sound really opens up! It's remarkable just how much you'll use your tone controls when they prove to be as useful as they do here!
Anyway, suffice to say, there's plenty of player-based innovation to be enjoyed and employed. Now, onto the graphics!
CLee Sobieski
Clee Sobieski (See-Lee So-Bee-Ess-Ski) is a fantastic graphic artist who specialises in Tiki and Hot Rod culture. Originally from Hawaii, CLee now hails from Palm Springs, and his art can be seen of the walls of collectors and galleries across the world.
G&L commissioned CLee to lend his signature style to some original, HAND-PAINTED finishes on each of these Custom Shop Dohenys. That's right: it's not a printed graphic, nor is it a decal. Each one of these guitars has been individually hand-painted on by CLee! He picked two designs – a Hula Girl and a Mermaid – and, though each is strikingly similar, you'll notice tiny differences from guitar to guitar, a natural feature given that every single Doheny is painted one at a time. How cool is that?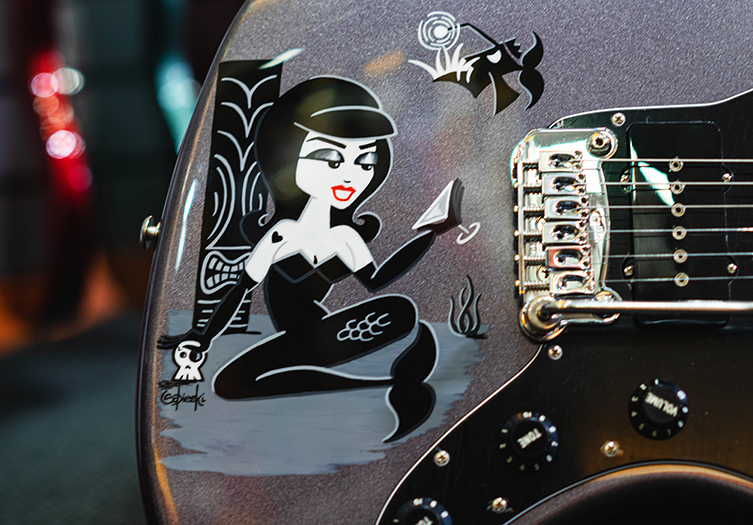 You can really appreciate Clee's work when it's sitting there on the guitar's finish, staring right up at you! The skill and detailing involved is crazy! It's so stylish and well-applied, and elevates G&L's master-crafted instruments into one-off works of art!
Choose the Miami Blue finish with a Maple fingerboard if you want the Hula Girl, and Graphite Metallic with an Ebony fingerboard if you prefer the Mermaid. Both girls are taking it easy and relaxing with either a cocktail or a ukulele. True Tiki style!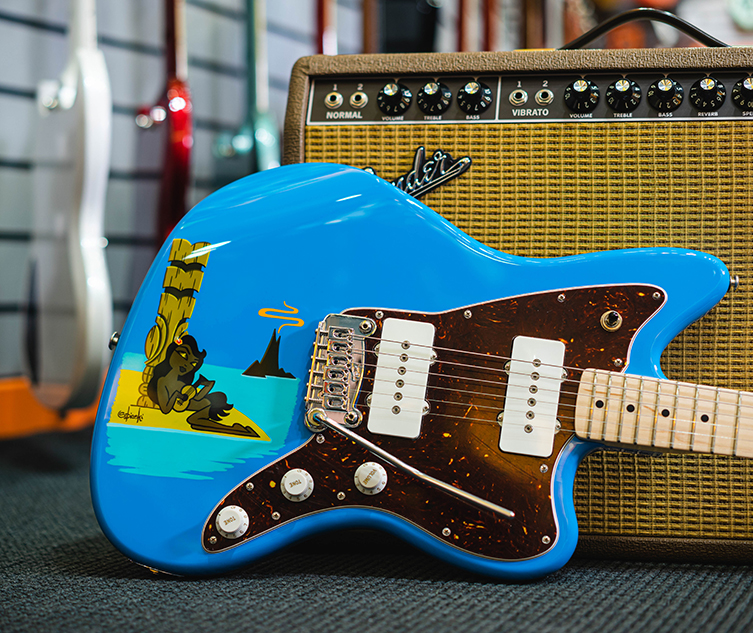 There are only 60 of these guitars being made in total – 30 of each – and there are no plans to make any more, so it's worth getting involved soon if you want yours! Remember, these are custom shop standard, American made guitars from California, spec'd to the max and featuring super-stylish, hand-painted art! How often do you ever see this type of thing, let alone get the opportunity to own one?
We think they represent quite exceptional value for money, too, given the quality, scarcity and provenance involved. These G&Ls are certainly collectors' pieces, but they are phenomenal player's guitars too, so hopefully at least some of these wonderful Tiki Dohenys will appear not in a display case but on a stage! Spread around a little of that easy-going Polynesian vibe with some expert Californian hand-building!