Just Announced: NEW Schecter Omen Elite
Published on 01 October 2020
Beautiful timbers.
Striking finishes.
Performance specs and a hard rockin' attitude.
It can only be Schecter!
Yes, friends, we are more than pleased to be able to exclusively reveal a brand new line of Schecter guitars with you today! Behold, the Schecter Omen Elite!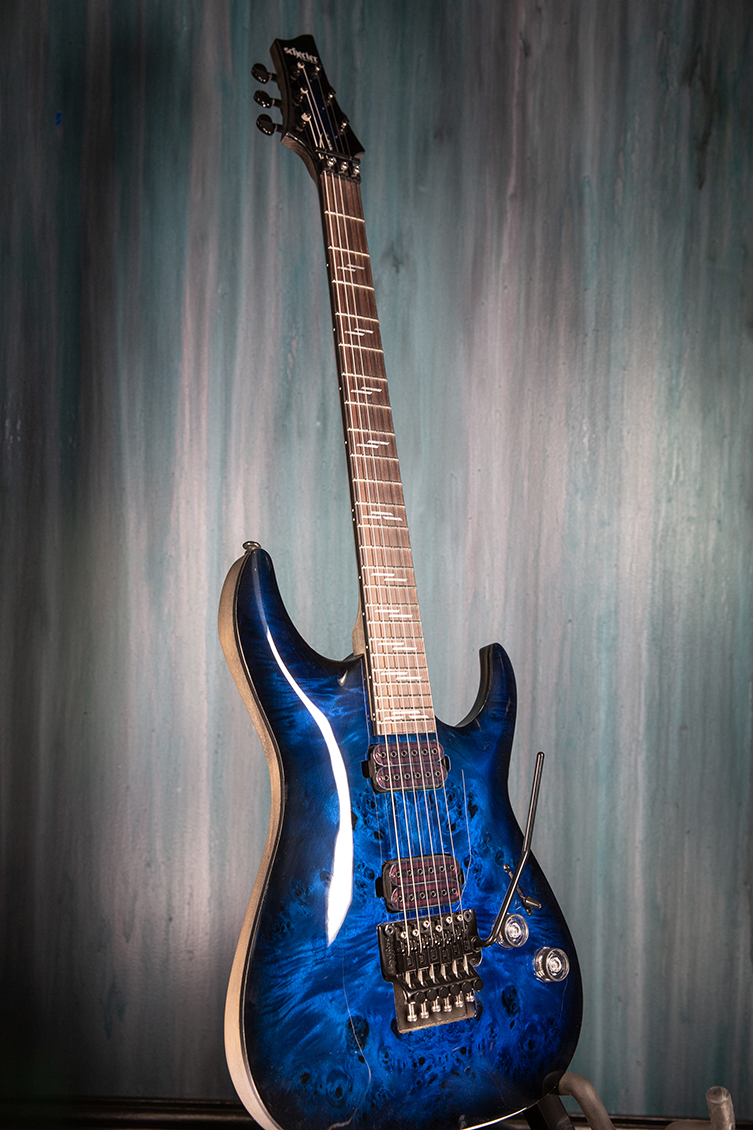 Maximum Attitude, Great Value
Traditionally, the Omen Series is one of the most affordable of Schecter's lines. This new Omen Elite range ups the ante with fantastic looking Poplar Burl arched tops, newly designed pickups and more! These are not replacing the existing Omen range, which is one of Schecter's most popular. More, the Omen Elite range offers a new look and sound.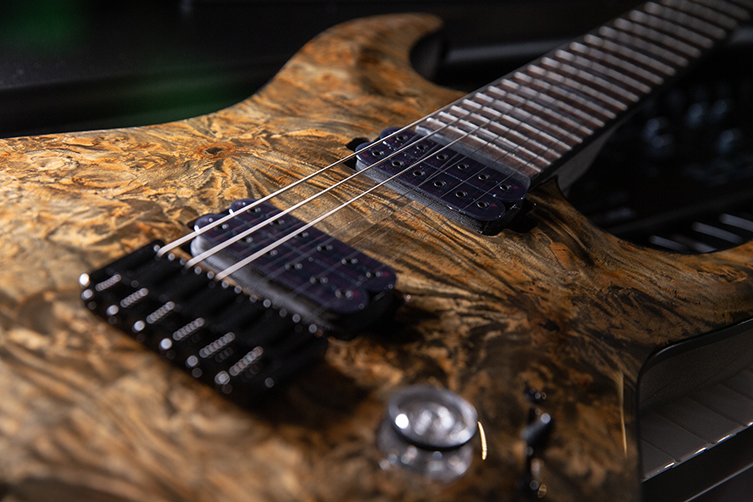 The range comprises a 6-string hard tail model, a 6-string with a Floyd Rose Special 'Hot Rod' tremolo (exclusive to Schecter!) and a 7-string Hard Tail model.
That stunning slice of Poplar Burl sits atop a Mahogany body, and is met by a typically excellent Schecter neck. We're taking about a Thin C Maple bolt-on style with a 25.5" scale length (26.5" on the 7-string), 14" radius Rosewood fingerboard and two full octaves' worth of extra jumbo frets! What can't you play with that? Nothing!

New pickups
This new range features brand new pickups, developed by Schecter. Called Diamond Heretics, these open coil beasts are aggressive sounding units that play well with all manner of harder styles.
So what makes them different, then? Well, they are a variation on the innovative Schecter Apocalypse pickups, which use a unique tri-field design. This time out, Schecter have used two Ceramic-8 magnets to surround an Alnico V magnet within each pickup, so you get high output and a hard edge but with tone, too.The 6 and 7-string variants are all sonically well balanced, so low, detuned riffing is as articulate as soaring, high-pitched melodies.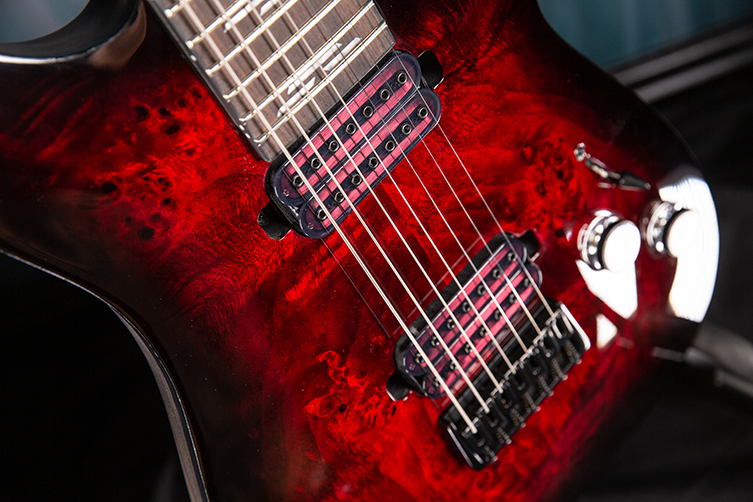 Interestingly, all of these Omen Elites are fitted with a 5-way pickup selector, so you'll be able to easily coax a diverse range of tones from each model. Here is how the switch works: Position 1 is bridge humbucker; position 2 is a classic single coil bridge/neck; position 3 is bridge/neck full humbucker; position 4 is neck in parallel humbucker; position 5 is neck series humbucker.
These mean and effective units are housed in translucent 'black smoke' bobbins, so you can see the coils inside. It's all about details here! Talking of details...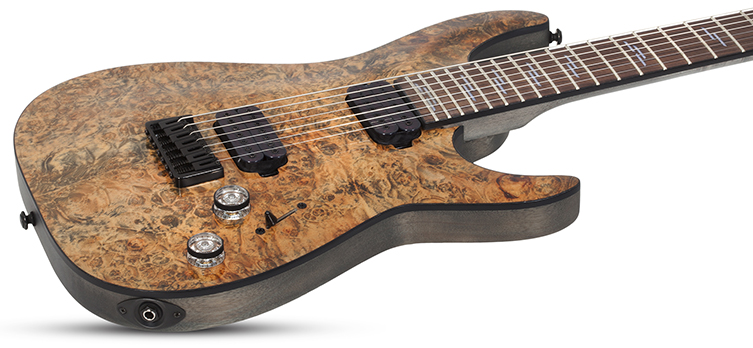 Boutique-style Finishing
How incredible do these guitars look?! Schecter are offering up three finishes, and each one is gorgeous. Choose from Black Cherry Burst, Charcoal (it looks more like Natural but with a lovely dark tint...) and See-Thru Blue Burst. Each finish is available for all three models.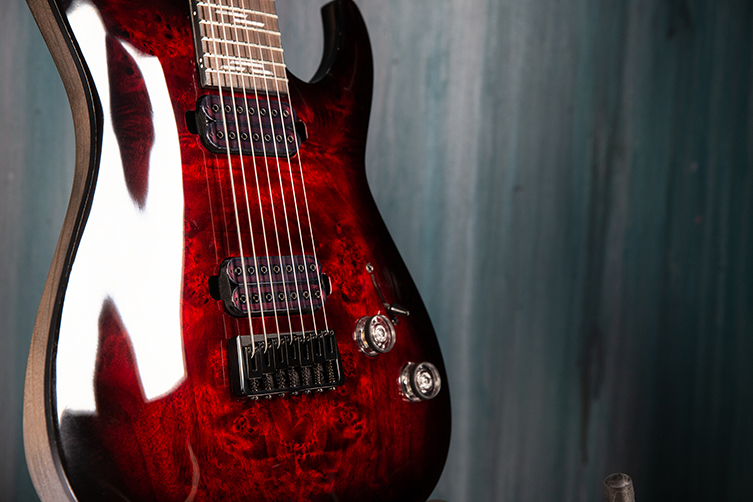 The tops of each guitar have a wonderful gloss finish, whilst the back and sides – including, therefore the neck – have a satin finish. We've seen this a fair bit recently, and it's a stunning way to finish a guitar: it gives them a real 'boutique' look that suggests a far higher price than each model actually is. Win!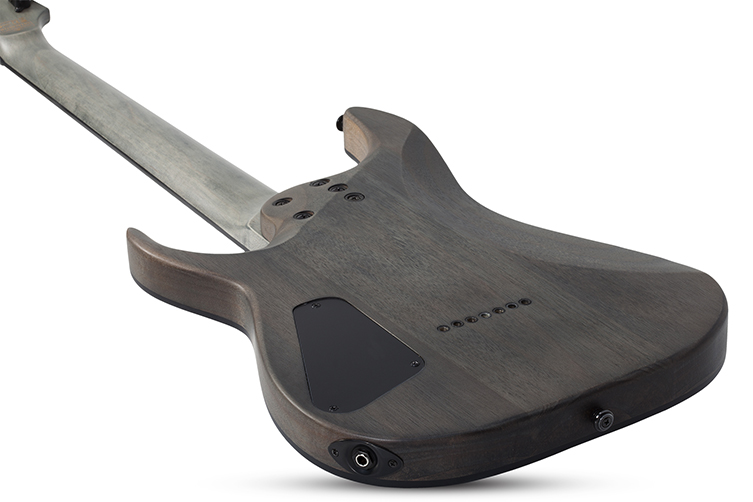 Details and Features
Hard Tail Omen Elite models have custom Schecter hard tail bridges, whilst the tremolo models have the aforementioned 'Hot Rod' locking bridge. This is quite a coup actually, because the Floyd Rose Special Hot Rod tremolo is partly made out stainless steel: all of the parts that traditionally either rust up or eventually break on standard Floyds will simply not do so with the Hot Rod! With this tremolo system, the player can enjoy years of problem-free divebombs!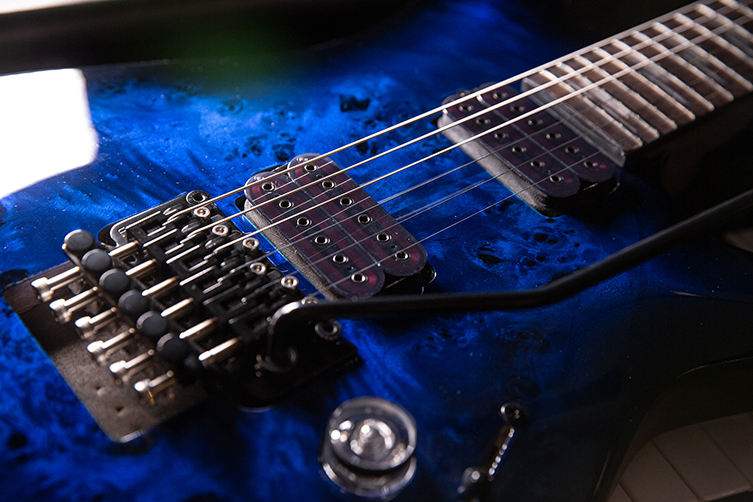 On top of that, you see other lovely distinguishing features like new Pearloid 'Line' fingerboard inlays (trust Schecter to be inventive with the inlay work!) and clear-coloured speed knobs as well as black binding on the body, fingerboard and headstock. Even the headstock gets its own veneer of Poplar burl, to complement the body! These guitars are just lovely!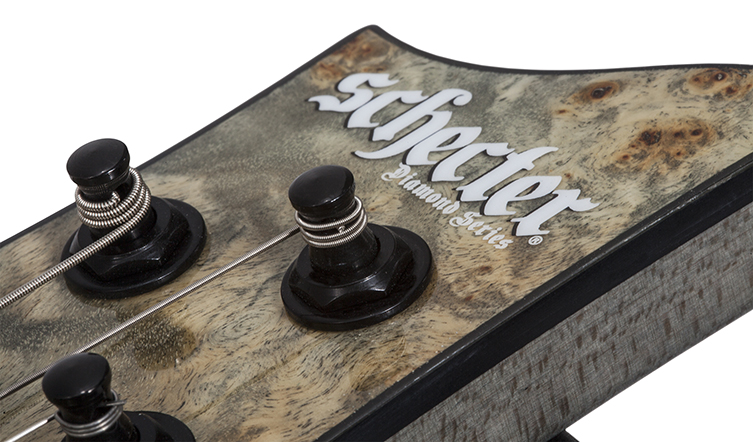 Whether you want a soulful six string with a hard tail or an upgraded Floyd Rose, or you want a seven string that offers wonderful value, good looks and a cutting edge tone, there is definitely something in the new Schecter Omen Elite range for you! Visit us today to try one out, and click through below to browse our online stock.