JHS 3 Series Pedals: Updated for Nov 2021 with NEW ADDITIONS!
Published on 26 November 2021
New pedals!
Made in the USA!
Under a hundred quid each!
What more do you need to know?
Oh, okay then... It's pretty exciting stuff, so we just didn't want to hold you back from clicking through and ordering a bunch of sweet new JHS pedals, that's all.
Since you've elected to remain with us (thank you!), let's look at what JHS have been up to, and why this range may be the most significant pedal release of the year...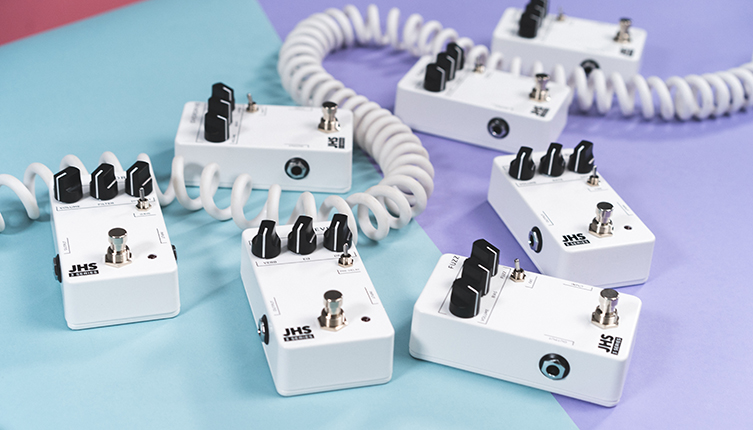 JHS Pedals
So yes, this is an entirely new range of stompers from Kansas City's own JHS pedals. JHS are the company behind Andy Timmons' favourite drive pedal, the Angry Charlie (they've since honoured him with his own AT+ signature pedal) and the BOSS collab effort, the amazing Angry Driver!
This indeed is the company behind one of the world's greatest double pedal gain boxes, the Sweet Tea, now in its 3rd iteration! These guys really know gain, and tone. JHS aren't just good, they are one of the very best pedal makers out there, folks. When they release a new pedal, it's an event! So, to release a whole new range of pedals, and for them to be priced at only £99 each, well, that's some pretty staggering stuff.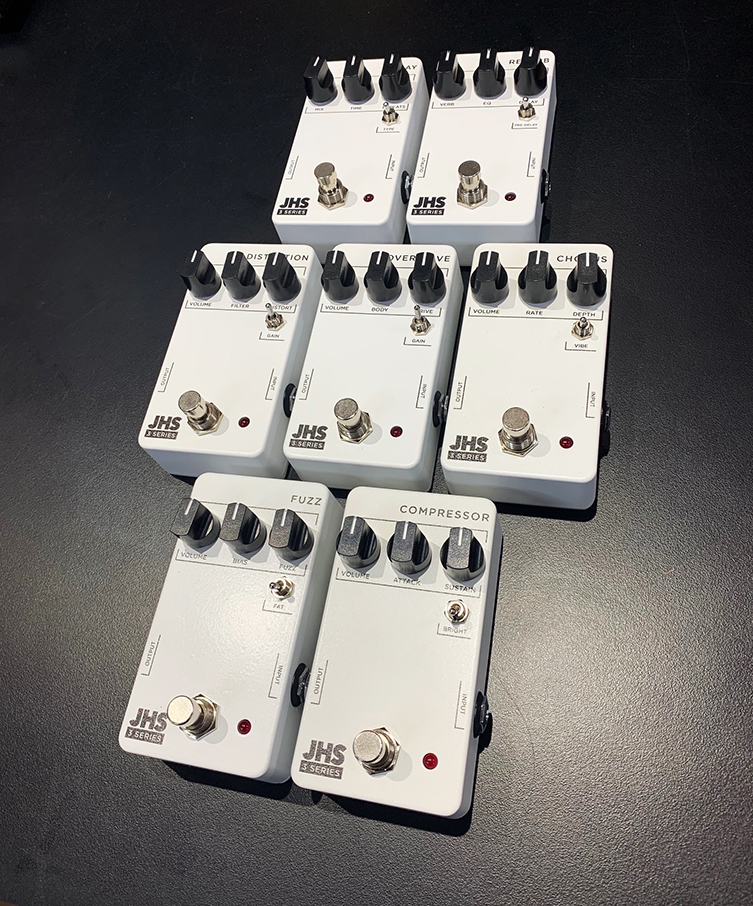 The 3 Series
There are seven pedals in the 3 Series range. Why '3' then? Well, each pedal in encased in exactly the same white metal housing, and therefore each pedal has the same layout of 3 knobs and a toggle switch. The idea behind the range is to offer a line of simple, straightforward, high quality effects that any player can quickly and easily get to grips with. There are no fancy graphics or clever names: just quality, USA-made effects pedals that sound excellent. It's a good idea!
The range consists of the following effects:
These are your meat-and-potatoes essential effect choices, which is sensible given the premise. The effects chosen are the ones most of us need, the most often. Not every player needs a ring modulator or polyphonic pitch-shifter, we reluctantly concede...

Each JHS 3 Series pedal can be powered via either battery or centre-negative 9v adaptor, just as you'd expect. The housings are gig-worthy, and the switches & knobs are high quality. Each housing is painted the same shade of white, and there is a red staus LED to the right of the footswitch.
Yes, it's fair to say that those who elect to buy all seven may get a little confused by the near-identical looks, but we'd suggest that JHS expect people to use these to fill in missing gaps in their collection, or to base a pedal set up around, so you would maybe only choose two or three from the range. Having said that, the chassis are ripe for 'personalisation', and at the very least, a piece of silver gaffer tape and Sharpie writing would be enough to avoid confusion! Most of us do this with our pedals anyway, marking settings and so on, so this just makes it easier!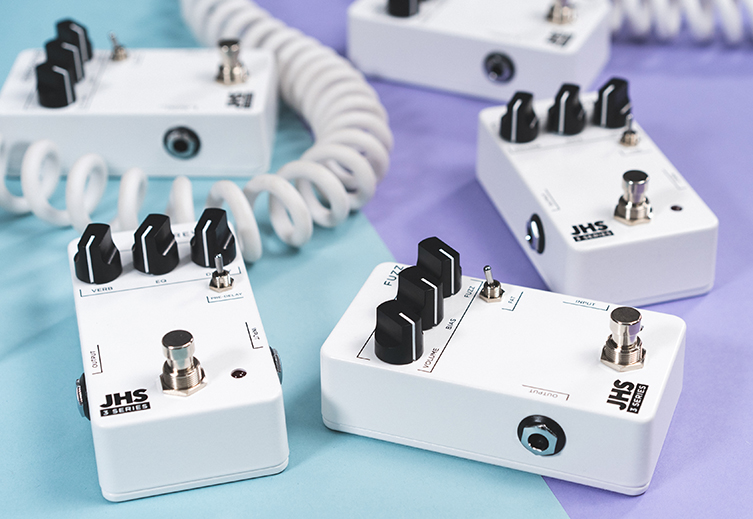 All seven JHS 3 Series pedals are worthy of your attention, but we've selected three today to have a slightly closer look at. Join us!
Distortion
The JHS 3 Series Distortion pedal will be one of the most scrutinised, given how important the effect is to most players. Happily, this sounds pretty awesome.
It's always quite crunchy, but you can dial in gain levels that travel from relatively polite to pretty heavy, with a fuzz-like edge on the higher settings that reminds us of a certain 'rodent' effect! The Filter control in place of a tone control doesn't do much to change our minds here, either! It works brilliantly, though, and it's a great sound indeed, which we think most flavours of rock will be well-served by. The toggle switch here alters the gain response, from a more open sound to a more saturated and compressed tone for harder rocking.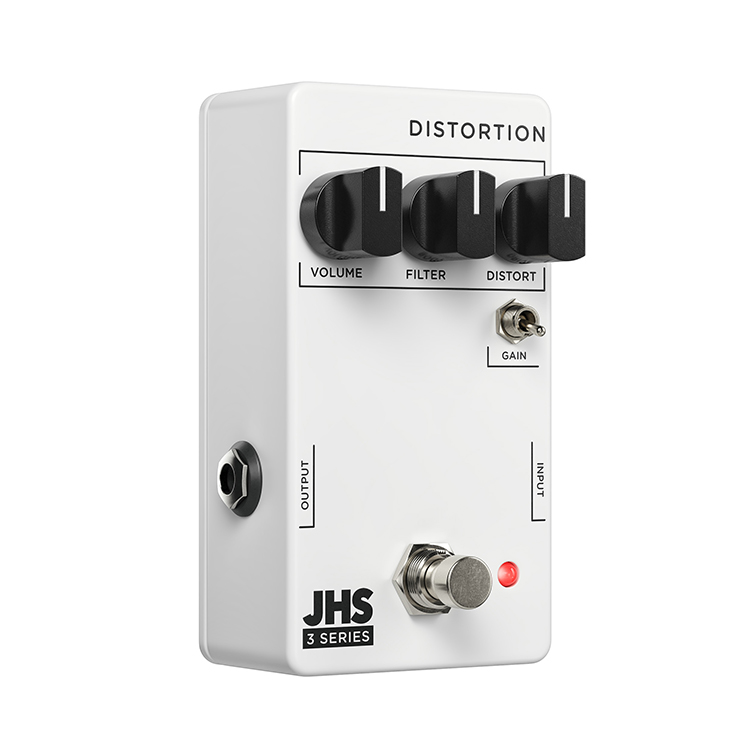 Reverb
Reverb pedals can be quite complicated beasts these days. JHS have cut to the chase here and refined lots of choices down to the most useful and effective, meaning you'll still get tons of mileage from this lovely sounding pedal, despite its simplicity. Our kinda stompbox!
In terms of the effect itself, you can go from a small room-type reverb so a massive, near-infinite ambient atmosphere, just by adjusting the Verb knob. The EQ is useful for determining texture, as it'll brighten or darken the tonality of the reverb according to your settings. Have your ambience lurking in the background or eating up your notes, as you wish. The Pre-Delay toggle adds some short slapback-style quirk for more specific reverb effects. All in all, this is super-impressive, especially for the spend.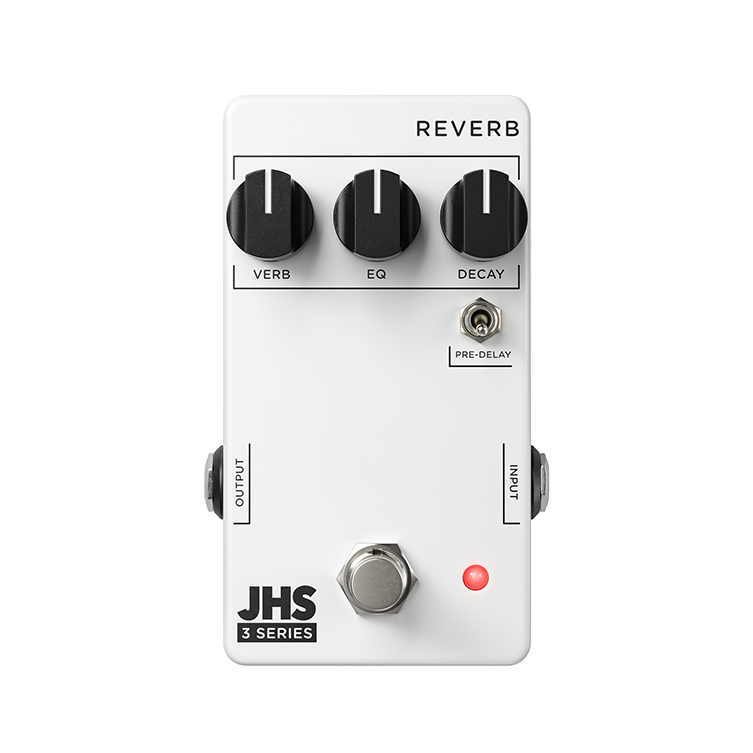 Delay
Again, simplicity is key here. JHS have kept to the brief and delivered an effect with lots of potential, without going mad with controls and options. Dial up a delay from 80 milliseconds right up to 800, and then choose with the Type toggle whether your repeats have analog-like warmth or digital clarity.
Delay is often the type of effect musicians use multiples of, and we'd say that this JHS 3 series Delay more than makes a convincing case for your cash and pedalboard space.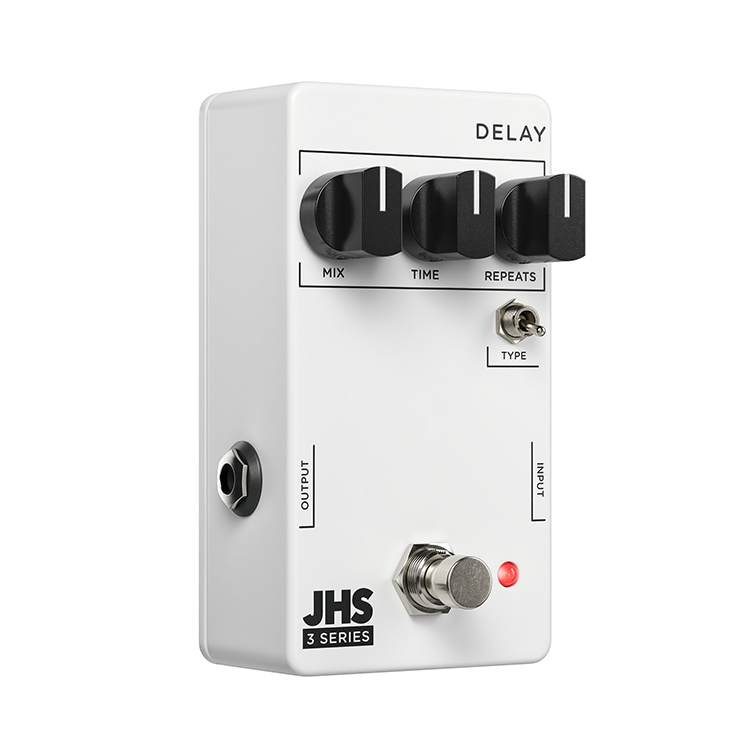 NEW for 2021! Hall Reverb, Flanger and Phaser!
More great news from JHS: they've expanded the 3 Series with three new pedals! These are all still built in Kansas, like the rest of the JHS range, and all feature three control knobs and a switch. Accompanying the existing models are now the following: a Hall Reverb, a Flanger and a Phaser.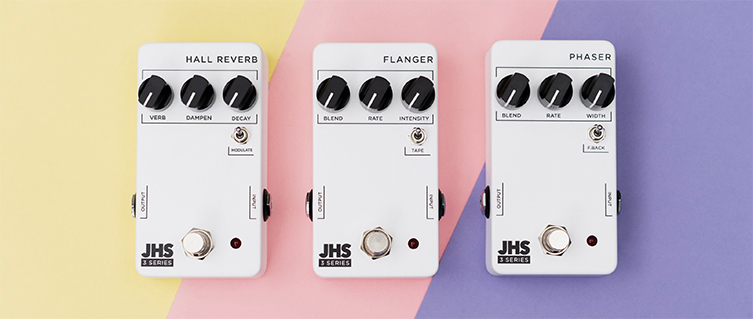 The JHS 3-Series Hall Reverb gives you control over Verb, Dampen and Decay, with the switch adding in a preset modulation circuit. This Hall Reverb is for those who crave much bigger, almost endless amounts of ambience. We're talking 'cathedrals of sound' here, in the best Shoegaze tradition! If you're looking to be more creative and epic with your reverbs, this is the option to choose over the other 3-Series Reverb, which is more of an 'everyday' effect.
The JHS 3-Series Flanger takes its inspiration from famed whoosh-machines like the EHX Electric Mistress, the MXR 117 Flanger and even the semi-mythical Tycobrahe Pedalflanger. These are lofty comparisons that JHS are making, but we have it on good evidence that they know their tonal distinctions better than nearly anyone! The switch function here is to add a 'tape' element to the sound, mimicking genuine tape flanging techniques (the sound was originally achieved in studios by manually slowing down running tapes with one's hands) and adding even more depth to the pedal.
The last new model, the JHS 3-Series Phaser, is a 6-stage phaser (phasers generally have 4,6, or 12 'stages' the sound moves through to complete a cycle) that bases its thick tone on vintage phasor units from the 70s. Often, phaser pedals have very limited controls, so the Blend, Rate and Width controls here actually give a ton of control normally absent on such effects. In addition, the switch operates a feedback feature for more pronounced sounds.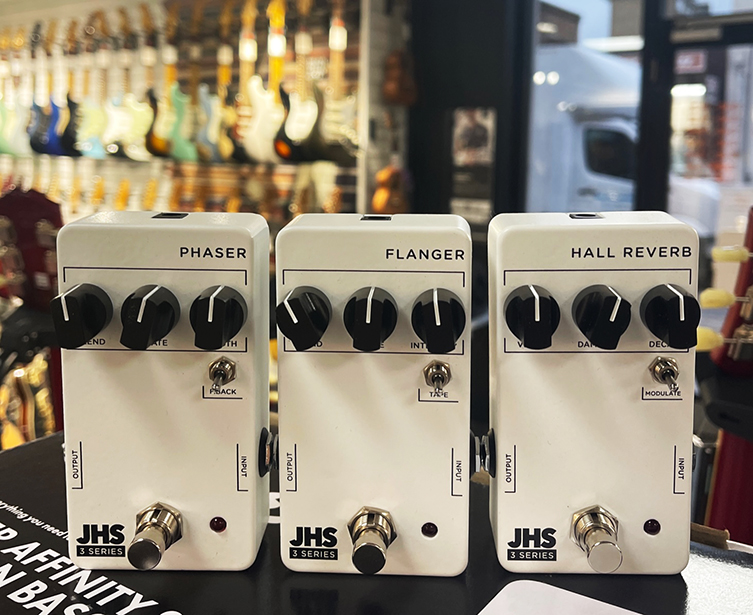 These new pedals are great additions to a range which is of interest to every guitarist, regardless of their tastes or playing level. JHS knowhow, USA build quality and fantastic sounds? More please!
Final Thoughts
The JHS 3 Series are genuine, boutique, US-made pedals. They are available for the same price charged by many 'standard' pedal makers (if there is such a thing). They are professional quality, are laser-focused on the task at hand and sound excellent. Silk-screened graphics of robots and unicorns are certainly fun, but we're happy to do without those if we can have this level of quality at this price point. Thanks to JHS, we can! And now, there are even more pedals in the range to choose from! Bliss! Dive in, friends. Hopefully JHS will make loads of them...