A Closer Look: BRAND NEW Fender American Professional II Stratocaster
Published on 27 October 2020
A design classic for over 60 years.
An icon of popular music since the dawn of rock 'n' roll.
Entirely functional and enduringly beautiful.
How can Fender really improve on the American Stratocaster?
Well, the answer is, as you may expect, by tweaking and refining, rather than starting from a blank page. The Fender American Pro II Stratocaster is a re-assessment, a reconfiguring and a subtle upgrade of what is arguably the world's favourite electric guitar.
Leo Fender got so much right the first time, back in 1954, and Fender certainly understand what their customers want, so the prospect of a newly updated American Professional II series Strat is an exciting one for all of us!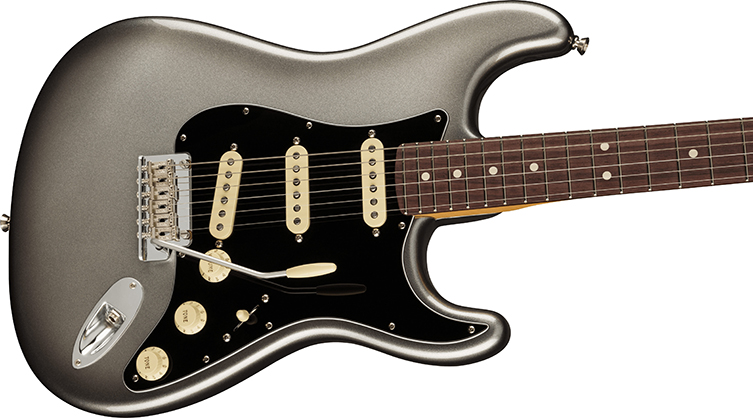 Fender's tagline for the guitar is 'The One. For All.' We're inclined to agree... Let's take a look at what's been done with Fender's flagship model...
Deep C Neck with Rolled Edges
C-shaped profiles have long been considered the best middle ground for contemporary guitar building. C-profiles are typically slim without being a skinny 'shred neck' and are not as divisive as V-shaped necks, which some players find off-putting. In recent years, the trend has moved to slightly more substantial necks, and this is reflected in Fender's choice for an ever so slightly larger 'Deep-C' carve on the American Pro II Strat. We welcome this decision, as, frankly, this is one of the most comfortable and playable necks we've seen come out of Fender's Corona, California premises!
The neck profile fills out slightly as the neck progresses towards the heel, making each hand position comfortable. The edges of the fingerboard (which retains Fender's standard 9.5" radius) have been hand 'rolled', so that the edge of the board is rounded and smooth, as if it's been played-in for decades.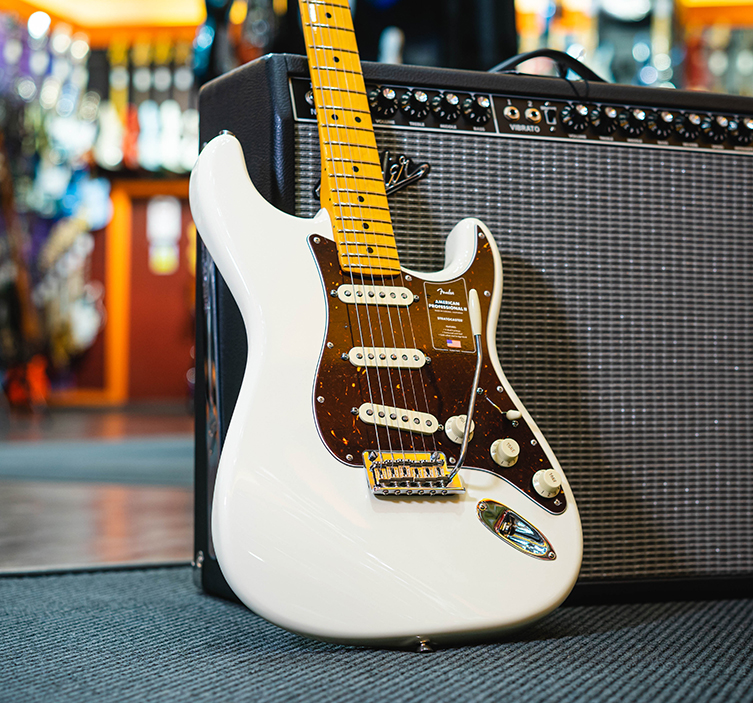 V-Mod II Pickups
This second iteration of pickup guru Tim Shaw's excellent V-Mod pickups picks up where the first set left off. The pickups are actually built using a combination of different magnets from model to model and indeed position to position! With a Stratocaster, the 'quack' tones from the 'in between' positions (2 and 4 on the 5-way selector) are as important as the full-on sounds, so delicate balancing and testing has been performed to make sure that these sounds have been as successfully captured as the more classic, glassy Strat tones.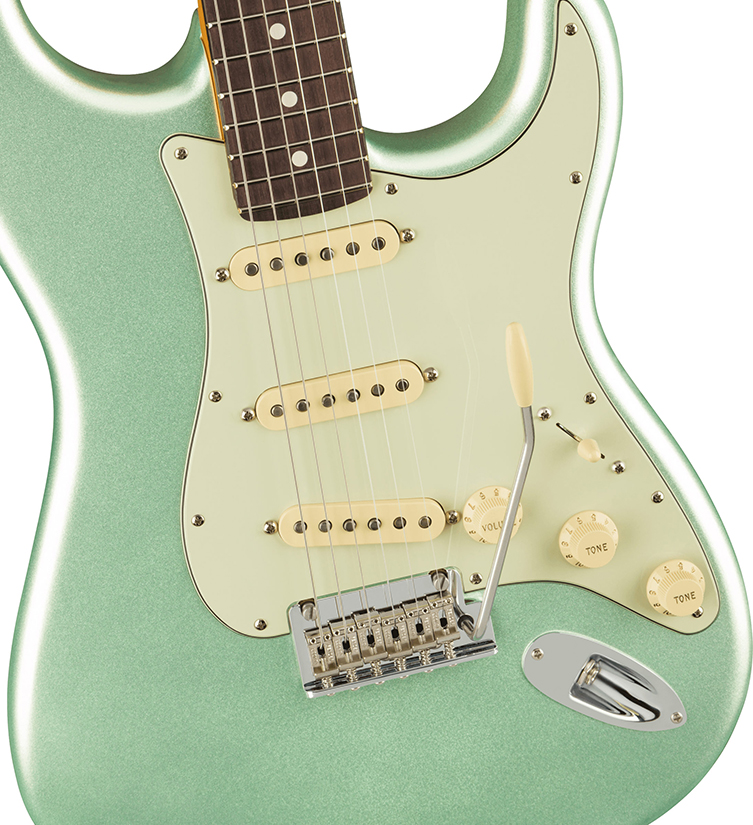 This goes for the HSS models too, where another great Tim Shaw innovation resides. The Double Tap humbucker, found in all HSS American Pro II Strats, uses alnico 4 magnets to provide a full-throated roar in humbucker mode, and near-silent single coil tones when tapped. In addition, the single coil tones have been designed to represent true Stratocaster sounds, not compromised 'half-humbucker' tones as is often the case with tapped tones. You won't suffer any volume loss when tapping the humbucker either!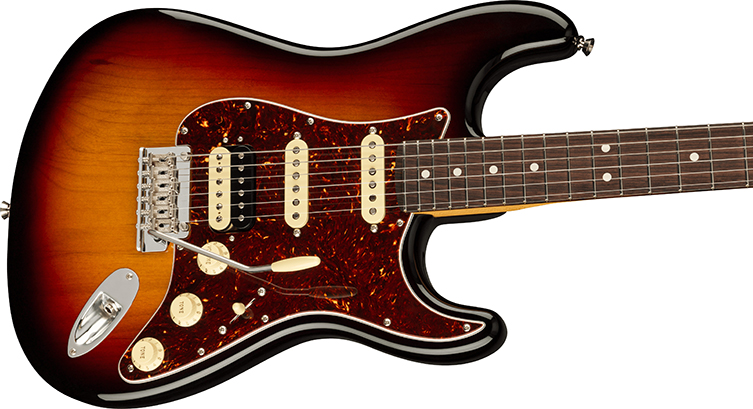 Upgraded Tremolo
Most Strat fans fall into one of two camps when it comes to the bridge: they prefer either a vintage 6-point bridge with bent steel saddles, or a modern 2-point style. In truth, both types of bridge have their plus points and their drawbacks. The answer? How about a new hybrid with a little of both? Seems sensible to us, and to Fender too, because that's exactly what's on the new American Pro II Strats!
These bridges utilise the more accurate and reliable 2-point pivot, so the trem will return more exactly to pitch after use than with the older 6-point join. The saddles, however, are bent steel in the finest vintage style, so hopefully both camps will be appeased. Both form and function have been successfully addressed, resulting in a classic look and a better performance. In addition, the tremolo block is made with cold-rolled steel. This extra mass increases sustain and aids tuning stability, so the bridge is a serious piece of kit!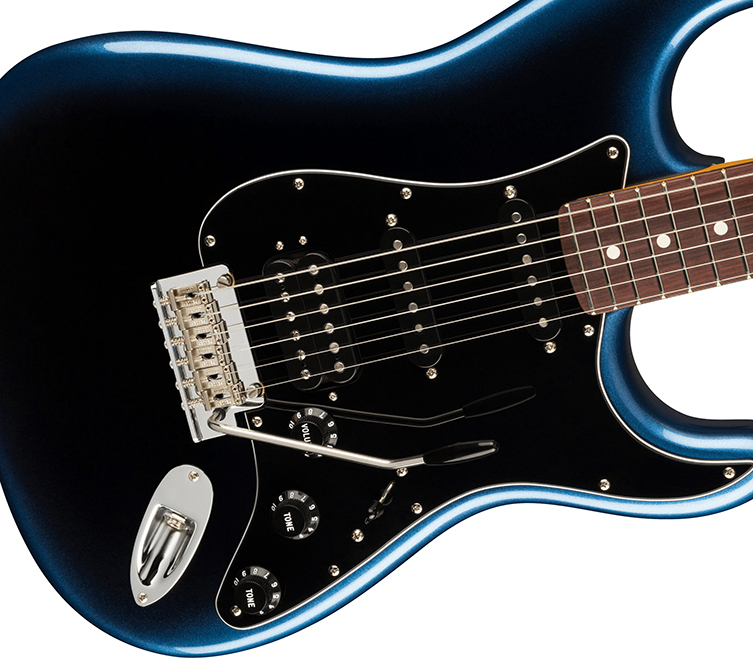 Alder or Pine Body
Alder is the classic timber choice for the Stratocaster, and is indeed available here. Alder gives you the balance of tones and, body and sustain you need for world-class Strat tones. All solid finishes in this range use Alder for the bodies.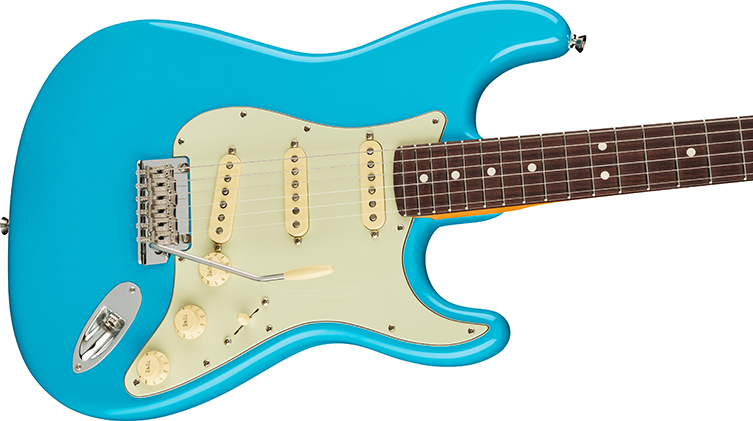 For translucent finishes, though, Fender are now offering Roasted Pine! Pine was one of the very first woods used back in the 50s and so it's a bit of a return to heritage for Fender. Pine looks stunning and is extremely resonant, as well as being very light in weight. The torrefaction process (roasting out the moisture) enhances both of these factors for a very light guitar with a stunning tone.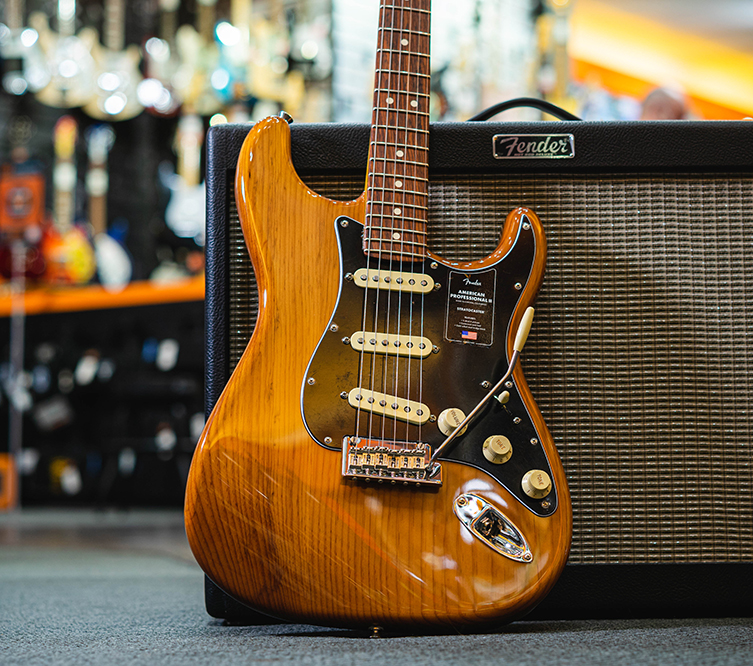 Other Upgrades
There are a host of other upgrades carried out across the instrument, and all of them are designed to make playing the American Pro II Stratocaster a most rewarding, pleasurable experience. First up, the heel has been sculpted to allow the fretting hand greater access to the upper frets. We've seen this on the Fender Ultra Series, so it's good to have that continued here.
The circuitry includes a treble bleed in the volume knob to preserve your top end as you turn back the volume.
Strats with three single coil pickups have a push-push switch to activate the neck pickup at positions 1 and 2 on the selector, meaning you can get even more tones than normal! Very 'Gilmour-esque'! HSS Strats have the coil tap here instead.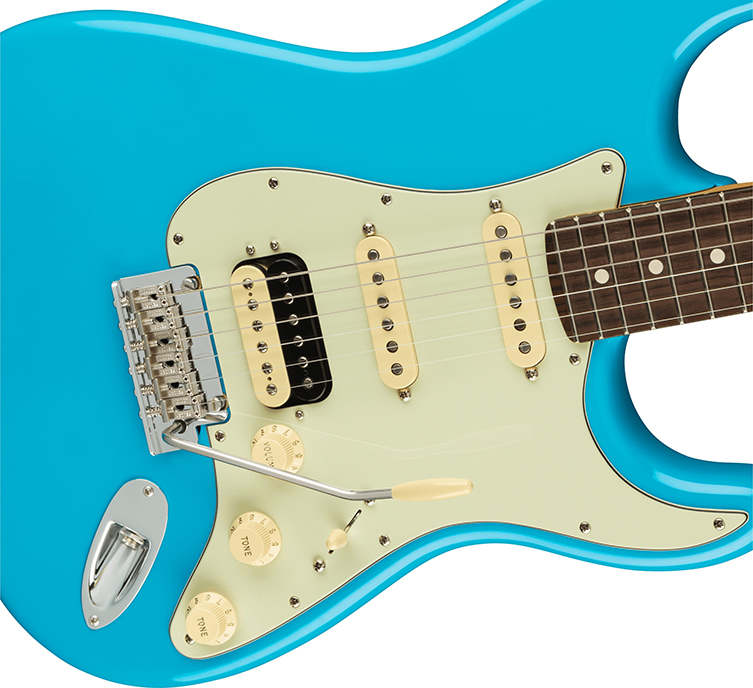 Finishes
The most obvious addition is of course the eye-catching new finishes! Now, you can still go for old faithfuls like 3-Colour Sunburst and Olympic White, but there is a whole new palette of finishes now available to choose from! Four in particular seem to be turning heads: Miami Blue, Dark Night, Mercury and Mystic Surf Green. Which do you like the best? We're having a hard time seeing past Dark Night, ourselves! More like this, Fender!
It's worth noting that not every finish is available in every version of the Strat, so do make sure you double check before you get ordering!
A Strat For Today
Fender have played things just right here: there can be no 'messing around' with such an obviously classic instrument, but as we've seen, there is space and scope to improve elements within that classic context. Guitar players' needs have somewhat changed in the last 60 years, no matter what the vintage market may imply, and Fender have opted to embrace this in a subtle and effective manner.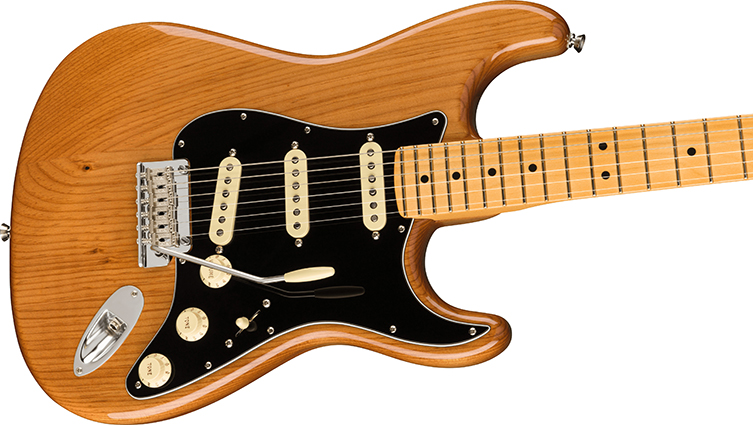 It's the correct way to go, in our opinion. We applaud the new finishes, the roasted Pine and the great sounding pickups. We love the neck dimension, the heel shape and the extra tones. After it all, what remains is a simple fact: we love the Stratocaster. Fender haven't re-invented the wheel, but they've made the ride smoother, more pleasant and with much better scenery.
Bravo, Fender. This new Strat is exceptional.