Roland Cloud and Zenology - The future of Virtual Synthesis
Published on 22 November 2020
We've had a proper fun week experimenting with the Roland Cloud and their awesome new Zenology VST which we reckon are really going to impress you guys. We make no secret of how much we love our synthesizers here at guitarguitar. Great for adding a bit of extra punch and depth to your tracks or for creating full electronic soundscapes, diving into the world of synthesis is as addictive as it is fascinating. With that said, there has been a change in recent years to how a lot of us produce with more of a focus shifting towards virtual synths or VSTs, allowing producers to access some of the most highly regarded synths of all time via their computer.
Now, as attractive as this is, that doesn't mean we're abandoning the hardware by any means. In fact, we firmly believe that combining both sets of tools is the most powerful way to work in a modern studio. However, as we're sure you know, all this equipment doesn't come cheap! Well, fear not noisemakers, Roland have a pretty cool setup that we've been keen to share with you.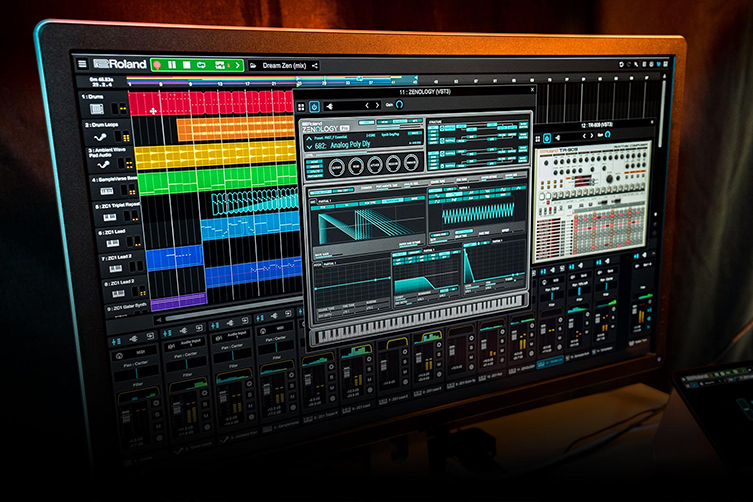 Roland Cloud
Since it was first launched, the Roland Cloud has given musicians around the world access to some of their most iconic synths, samplers and more. It's a cloud-based (as you may have guessed) subscription service where users can pay monthly for access to the very finest of Roland VSTs. If you're a synth geek then signing up feels like getting the keys to the castle as straight away you'll have access to a ton of Roland's most sought after models, from the Jupiter-8 to the TR-909. There's literally a whole world of options awaiting you and with different membership plans, there's something for everyone. What's more, if you own any of their recent releases such as the awesome pint-sized boutique range, they'll hook right up to their VST counterparts, giving you way more control and making setup a doddle. Pretty amazing when you think about it!
What we love about this service is that it's ever-expanding and constantly in development. As it happens, one of the recent additions is quite possibly the most exciting yet so we thought we'd let you guys take a look! Say hello to Zenology, the new Roland super synth that can take your studio from one to a hundred reeeeaally fast!
Introducing Zenology
We were first introduced to Zenology through Roland's Zen-Core system which acted as the brains behind some of our favourite hardware synths such as the Phantom and Jupiter X. Taking this advanced engine and adapting it to a DAW ready VST, Roland have been hard at work behind the scenes creating what is essentially their ultimate VST and take it from us, it's seriously impressive. This was designed to be the most advanced sound engine they've ever made and by using PCM sampling along with virtual analog synthesis, they've come up with something pretty special. The Zenology VST is by no means a one-trick pony either, giving you access to not only a wealth of synth presets but also a ton of drum sounds AND a huge array of effects which can be added to each sound. You can layer up to four voices to create one of a kind sounds and manipulate them through a flexible oscillator, filter, amplifier, dual step-LFOs, and really detailed, professional-sounding effects.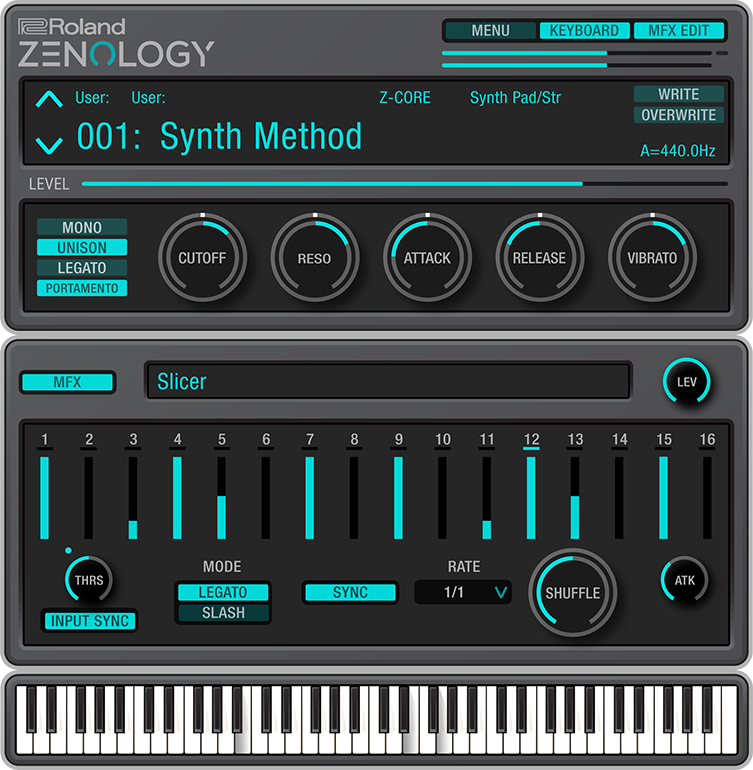 This is all done within the VST which feels extremely user friendly, despite how much it can do. We found it very straightforward to turn presets into unique sounds by using the effect banks and parameters to tweak and edit them before saving them in our own custom banks to use again later. The drum kits are fantastic as well, offering individual control over each element on classic sounds such as 808 and 909s.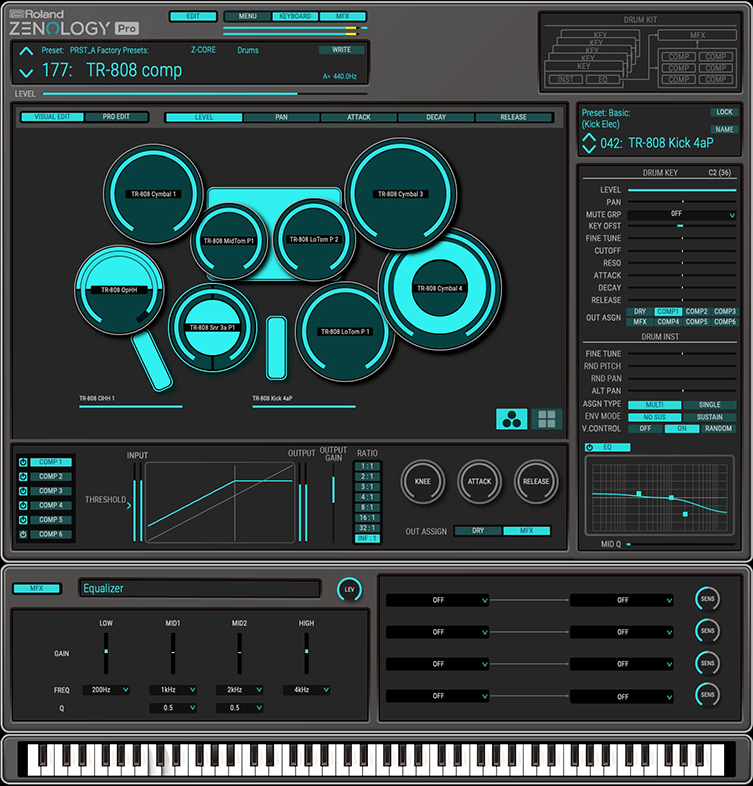 We had a blast digging through the effects too, many of which are based on classic Roland units that would normally be pretty pricey to play with! Don't get us wrong though, as much as we enjoyed getting weird and creating our own unique patches, the built-in ones sound tremendous and will send you on a trip down memory lane with loads of lush presets that are perfect for dance, hip hop, pop music or whatever else you'd think to use them for.
Seamless Hardware Integration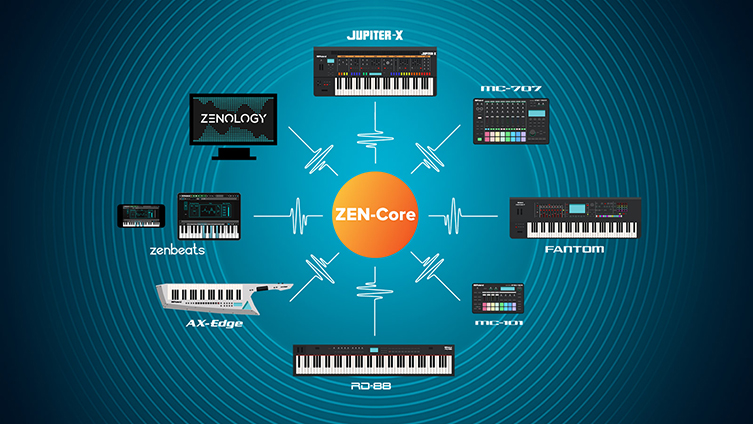 We mentioned earlier that part of what we loved about the Cloud service was its hardware integration and the Zenology VST is no different. This will hook right up to any Zen-Core compatible unit seamlessly so that you can send patches back and forth and connect really easily to the software for advanced sound design and manipulation. That means those sounds you've carefully programmed in and tweaked at home can be taken on the road with you, or indeed if there are certain presets you'd love to develop further you can bring them into your DAW and mess about to your heart's content.
On top of that, the same principles we love about the Roland Cloud apply here - Zenology is ever-expanding and always moving toward something new. Right now Roland are working to bring in even more Model Expansions of their classic synths. They're also working on modelling to replicate the analog feel of their units and promise there's loads more to come.
Final Thoughts
This really feels like a VST for the future and we cannot wait to see how it continues to evolve. As it stands, it's already one of the most all-inclusive, advanced VSTs on the market and the hardware integration just takes it to another level. For a huge amount of classic sounds at your fingertips, dive into the Cloud and Zenology now and spend some time experimenting. Once you're hooked (and you will be hooked...) take it to the next level with some compatible hardware and we can practically guarantee you'll never look back. We had a LOT of fun playing with this and we're sure you will too! Let us know how you get on!
Click here to head to Roland's site and check out the Cloud for yourself