The Return of the Epiphone Casino and Riviera!
Published on 24 November 2020
Did you see our reveal of the new Epiphone ES-335 and 339 guitars?
Pretty impressive stuff, right?
Would you like to see more new Epiphone guitars?
Good, so do we!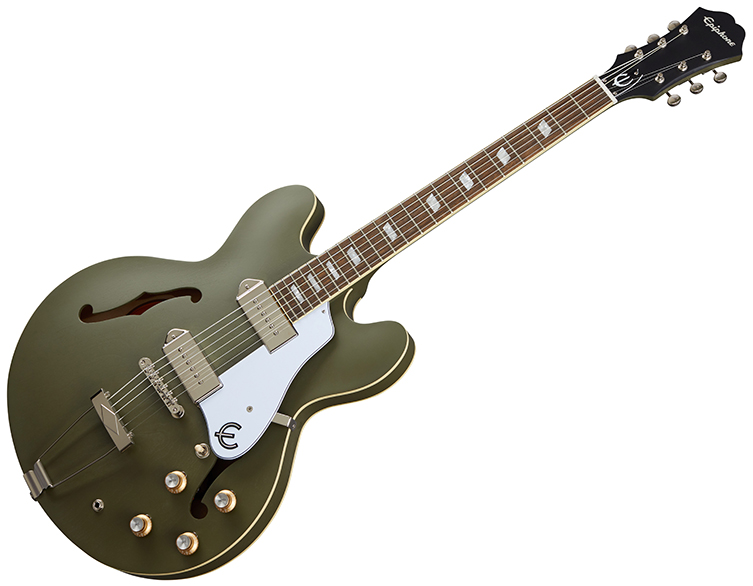 Brand New Epiphone Semis: History in the Making
If last week's exclusive blog (click to read our Epiphone ES-335 blog) whetted your appetite for all things Epiphone, let us indulge you further with some new, hot-off-the-press images of the BRAND NEW Epiphone Casino and Riviera guitars! We've been well-impressed with Epiphone's recent moves and see only further evidence here to prove that they are currently smashing it out of the park! Now, the Casino and the Riviera are relatively specific guitars, so let's have a look and see what Epiphone have been doing with them this time round...

Style Straight from the Sixties
Unlike the 'Inspired by Gibson' 335 and 339 we looked at recently, the Riviera and Casino are not Gibson replicas. They have always been original Epiphone designs, albeit ones that have taken due inspiration from the Gibson ES-335 and 330 models.
Both the Riviera and the Casino have a sensibility that is very 'sixties', whether by association with artists from the period or just the fabulous retro design of each model. We'll take a look at each model in turn, but it's worth noting that both of these are for players of today, not the past. Each Epiphone guitar we're looking at has features and specifications that make them comfortable for contemporary guitarists, with style and attitude from the Golden Age. A perfect blend, in other words!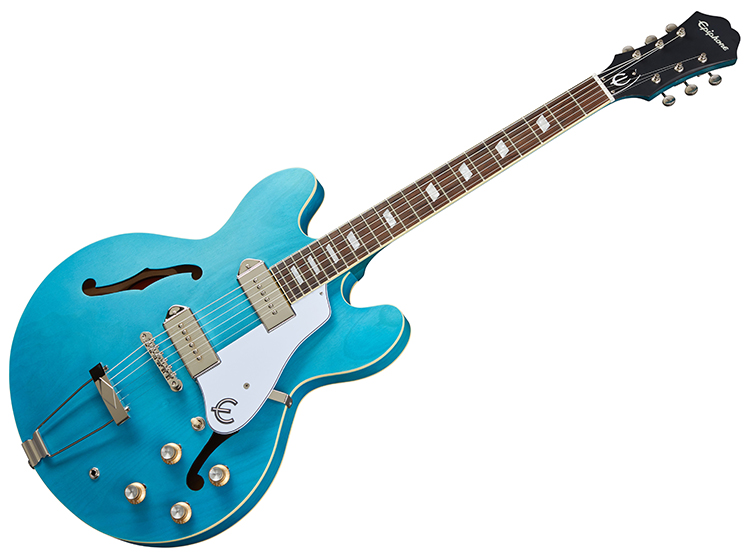 Epiphone Riviera
Let us begin, then, with the new Epiphone Riviera guitar. First off, we're pleased to report that it is very much in keeping with our idea of historical Rivieras: the Frequensator tailpiece and mini humbuckers are fully in place! There are two finishes available – Royal Tan and Sparkling Burgundy – and both look great. The Burgundy one has a very 'early Oasis' vibe to it, so if you're a Gallagher fan, you'll be eyeing this one up already!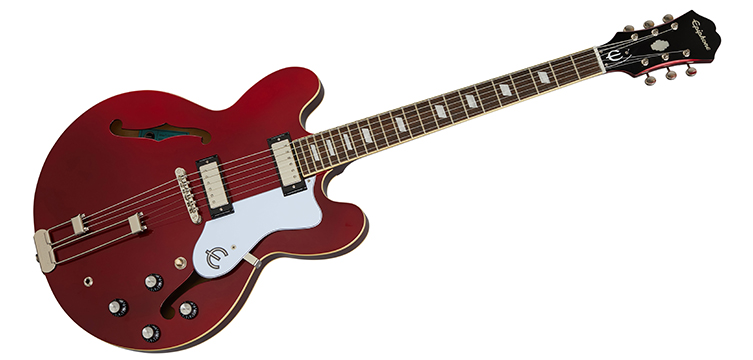 Build-wise, the Riviera is a familiar story to those who know about the ES-335. Layered Maple is used for the body, with a solid Maple centre-block for adding sustain and combating feedback. Those mini humbuckers are more than just cosmetic differences, too: they impart a tighter, more biting tone that works particularly well with 'Texas' tones and lightly overdriven arpeggios. No wonder The Strokes were a fan of the Riviera!
The neck bears 22 medium jumbo frets, making this so much more playable than vintage examples. There are small parallelogram inlays to add a touch of authentic style, and a Graphtech NuBone nut, for modern tuning finesse. It looks vintage, in other words, but it plays like a modern guitar. Perfect!
Epiphone Casino Worn
It's a famous guitar indeed, the Epiphone Casino. Fully hollow, sporting a pair of 'dogear' P90 single coil pickups and loved by everyone from Radiohead to Paul Weller, the Epiphone Casino is a fully original take on the semi-acoustic guitar. In an interesting move, Epiphone have decided, for now at least, to offer the Casino in a trio of 'worn' finishes only. We were expecting the usual Sunburst and Natural (a la John Lennon) finishes, so this has come as a pleasant surprise!
In this context, the term 'worn' finish translates more or less to 'thin satin' finish. Epiphone offer the casino in Worn Olive Drab, Worn Denim and Worn Black. We think these colours are just on the right side of bold, and in fact suit the guitar really well! It's brilliant to be offered something so familiar but just a little bit different at the same time!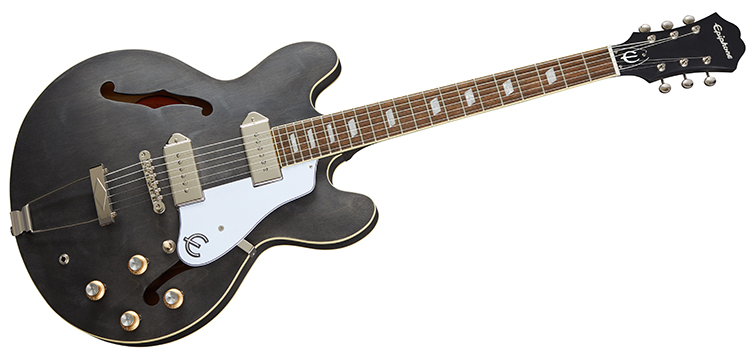 The Casino is known very much as a rhythm instrument. This doesn't mean that rhythm is all you can do in one – far from it - but the Casino's inherently choppy, snappy sound has a breeziness to it that encourages a more rhythmic playing style. Also, the neck being sunk slightly further into the body than other semis means that upper-octave guitar solos are a little trickier to pull off!
Epiphone's new model Casino is, like the original, fully hollow. This makes for a light instrument, thought it hangs fine on a strap. It's a very fun guitar to play, with a comfortable 60s-style C neck and the same medium jumbo frets as the Riviera. Attractive binding is used on the top, bottom and fingerboard to provide context and contrast for those worn finishes.
With its hollow body and dogear P90 Pro pickups, the Epiphone Casino sounds like no other guitar. There is that special airiness to the sound, and a tone that balances jangle with something altogether rawer. If you've spent most of your playing days on a Strat or Les Paul, the Casino will provide you with an entirely new voice, sound and playing experience.
Summing Things Up
Epiphone's latest additions to the new catalogue do not disappoint. Like the previous models we've shown you, the new Riviera and Casino Worn guitars show an understanding and appreciation for the heritage and history of both the models in particular and the brand in general. Epiphone are making smart moves with their model choices. By giving customers largely what they've been asking for, at competitive prices and with higher quality parts & hardware, there isn't a lot here that can go wrong. Dive in, check out the range, and see what a new Epiphone can do for your playing!
Click to View our Newest Epiphone Semi-Acoustic Guitars