A Closer Look: BRAND NEW Epiphone 'Inspired By Gibson' ES-335 and ES-339
Published on 17 November 2020
The 335 is back.
Epiphone's most popular guitar, the Dot ES-335, has been given an overhaul and is better than ever!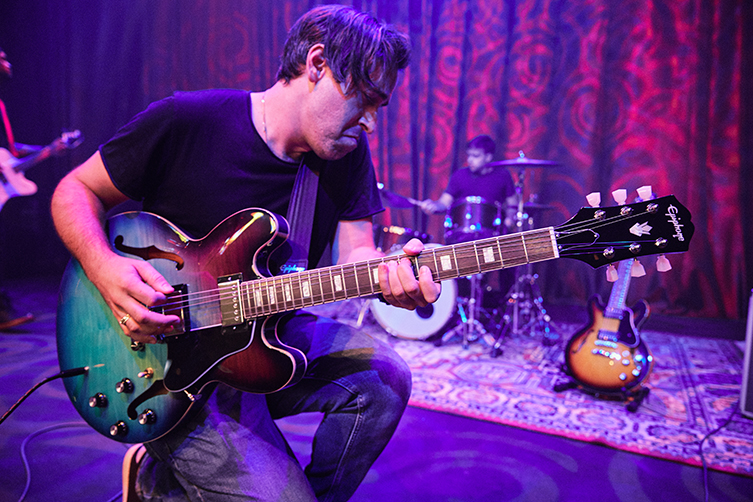 Were you concerned that you'd never see one again?
Fear not! Both the full-sized ES-335 and its smaller cousin, the 339, are back in Epiphone's catalogue as part of their full-range shakeup. We have always had a soft spot for these affordable semis, and it's not only us: players as high-profile as Josh Homme (Queens of the Stone Age) have professed their love for Epiphone's Dot 335, even over and above the USA-made Gibson ES-335.
So, it is with no small excitement that we share this news and these images with you today of not only the 335, but the smaller 339 too! Epiphone seem to have dropped the 'Dot' nickname and gone for the guitars' Sunday name. We think that's a good move. Onwards!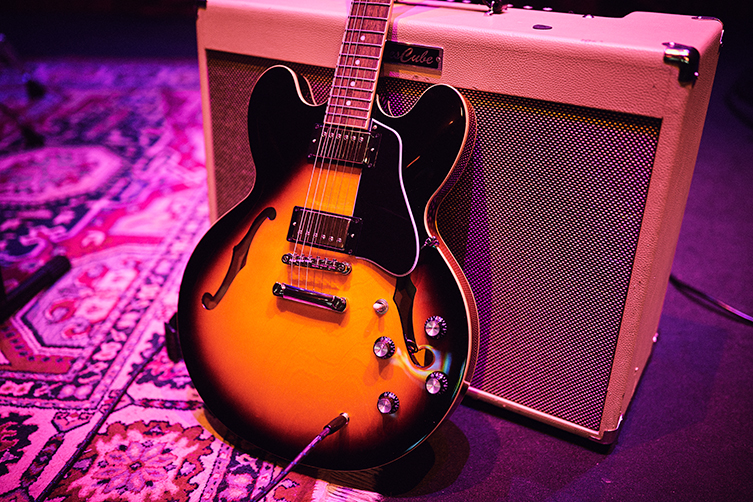 Inspired by Gibson
The new Epiphone ES-335 and 339 models are 'Inspired by Gibson'. You may have seen this tagline used recently for Epiphone's lovely new all-solid acoustic guitars, and it's used here to the same effect. Put simply, Gibson are drawing attention to the fact that they are the parent company of Epiphone, and that these designs are official, licensed models of the ES-335 etc, not 'approximations' as other companies would have to stop at. These are the real deal, albeit made to a specific price point and imported from the Far East rather than built in Nashville. These guitars are to be seen as official, affordable takes on Gibson's finest designs.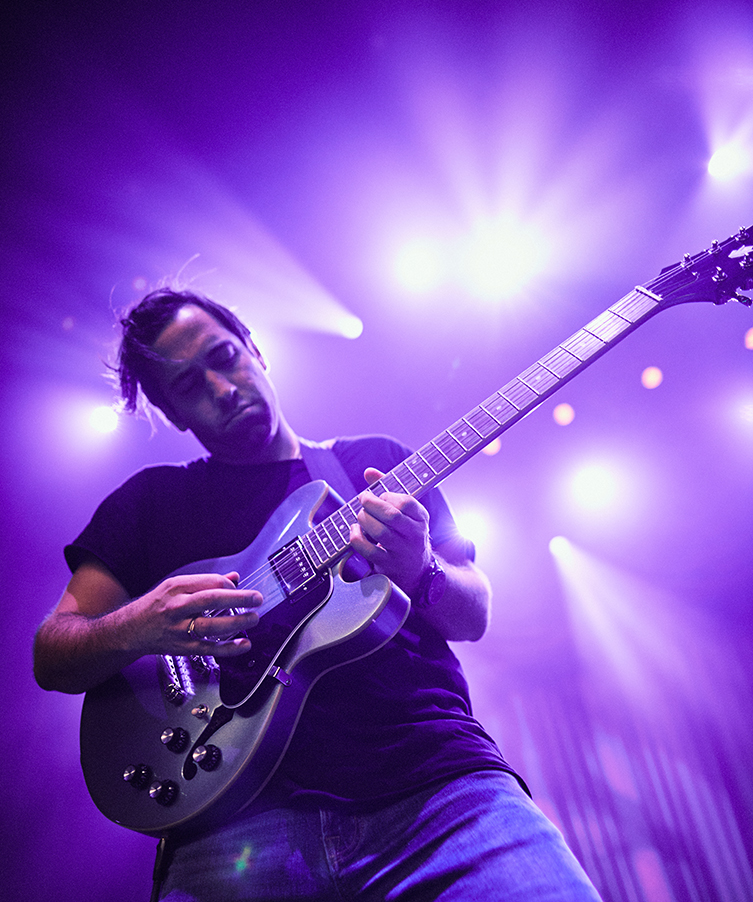 Now, let us look at these two new models and ponder, once and for all: is it 'three-three-five' or 'three-thirty five'...?
Epiphone Inspired by Gibson ES-335 and Figured ES-335
Our first stop is with the 335, which is seen by many as one of the most versatile guitars in the world, second perhaps only to the Fender Stratocaster. Why? Well, the sound of a 335 is thick and sustaining, like a Les Paul, but more open and far less 'brutish', if you like, thanks to the semi-hollow construction and laminated body. There's a difference in attack, note colour and note behaviour that mark the 335's sound as one that seamlessly fits into a great many musical circumstances. Where a Les Paul is sometimes too big and fat for a mix, and a Strat perhaps too skinny, the 335 is just perfect. Rock, Blues, Jazz, whatever: nailed.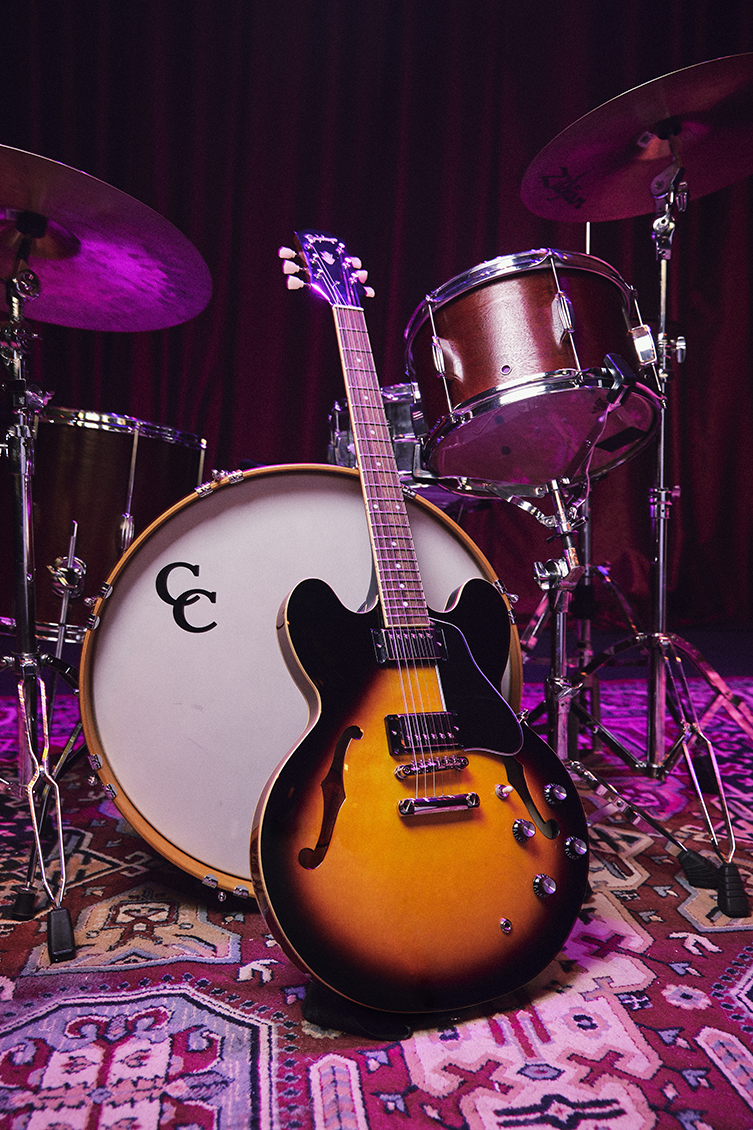 So it is with this new Epiphone Inspired by Gibson ES-335. Made in the same way as the Gibson model, with layers of Maple for the body and a Maple Centre block, the Epiphone ES-335 starts as it means to go on, with authenticity.
The Maple centre block is there to add rich sustain to the timbre of the guitar, and to counteract feedback when played at high volumes. As for the body itself, Epiphone are offering two versions of the 335, one as standard and finished in either Vintage Sunburst or Cherry, and a Figured 335 with a top layer veneer of flamed maple. It won't change the sound by any degree but goodness, it's pretty with that flame top! The Figured ES-335 is available in two finishes too: Raspberry Tea Burst and Blueberry Burst.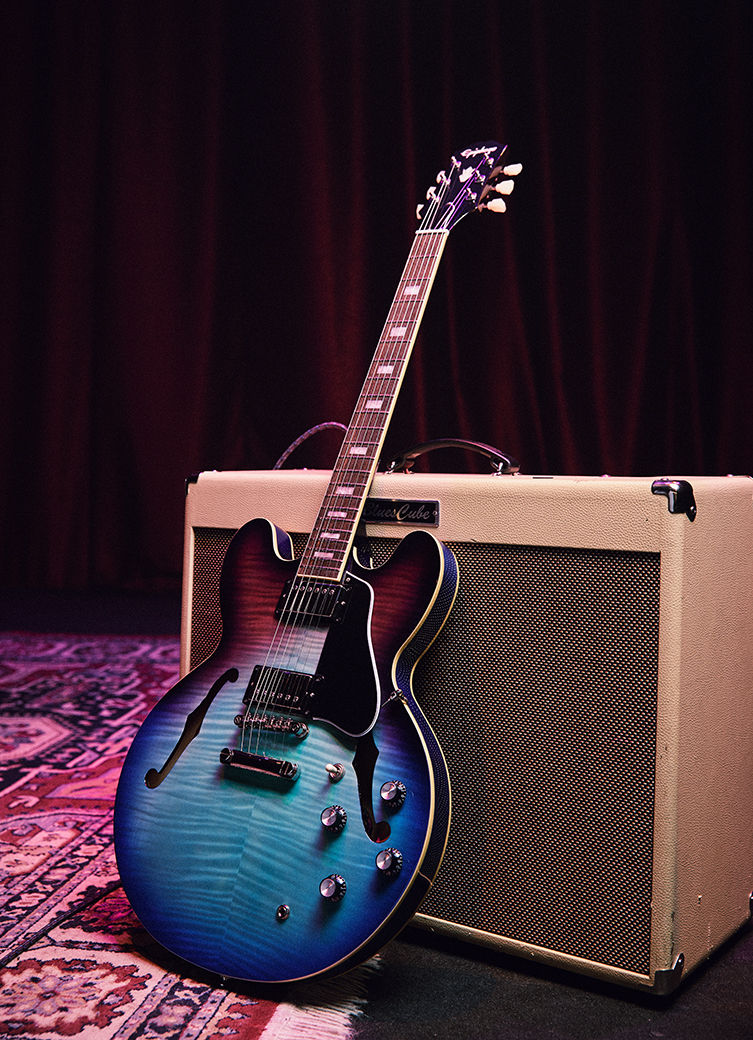 So what else is new here? Well, quite a bit! You'll have taken in the lovely new Kalamazoo headstock, itself a nod the golden era of guitar design. This headstock has both the Epiphone logo and a crown inlay, both made with Mother of Pearl for an instantly classy look. In addition, the tuners are high quality Grover Rotomatics, the industry standard in brand-name tuning stability.
Epiphone's own impressive Alnico Classic Pro pickups are used with both models of ES-335. The goal with these specially designed units was to provide a genuinely PAF-like tone and response for a pickup that could be made under regular factory circumstances. Judging by the warm, detailed and articulate tones we've coaxed from these guitars, we'd say that Epiphone accomplished their goal with aplomb! It's a simple, classic affair here: two covered pickups, two volumes, two tones and a three-way toggle. Nothing more is required.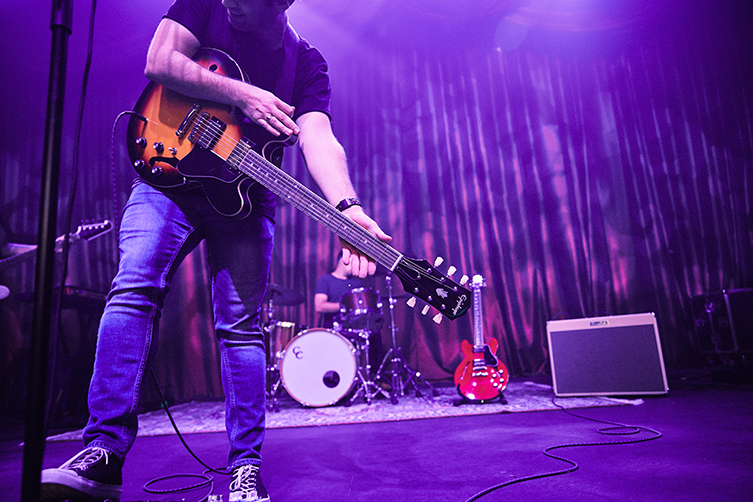 Fans of the Dot, and the more ornate Sheraton, for that matter, will find lots ot love with the 'Inspired By Gibson' ES-335. Whether you choose a Figured or non-Figured model, you'll be buying into the rich heritage of one of the most significant brands in history, at a fraction of the price of a US-made semi acoustic guitar.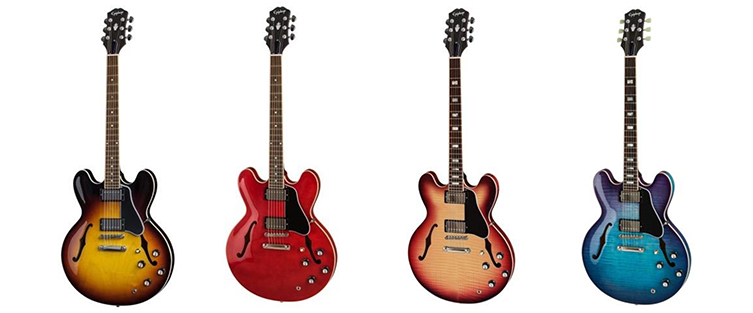 But what if a 335 is just too big for you?
Easy: go for the 339...
Epiphone Inspired by Gibson 339
The ES-335 is a classic, iconic guitar without doubt, but we will accept that it's a little on the large side for some players. The size plays a part on the overall sound, of course, but Gibson did manage to successfully downsize the body into what we know as the ES-339 without compromising on the sound or famous aesthetic. It's not all about players struggling with the 335, either. Some people just like smaller guitars, and that's fine by us! The ES-339 has been with us for the last decade or so, and many players find it's whole 'Les Paul sized 335' vibe to be just what they've always been looking for!
It's good news, then, that Epiphone have kept the model in their new line-up. The Epiphone Inspired By Gibson ES-339 is just like the 335 above, but smaller and lighter. The construction is the same, too: layered Maple with a solid Maple block down the middle. That useful 335 sound, which is a little breezy but still strong and rich, is very similar here, and makes for a distinctly pleasing and playable instrument. Epiphone have used their Rounded C profile for the necks of all of these guitars, which should suit most all players. We get a feel that sits somewhere between vintage and contemporary, and we'd say that fits the bill just right.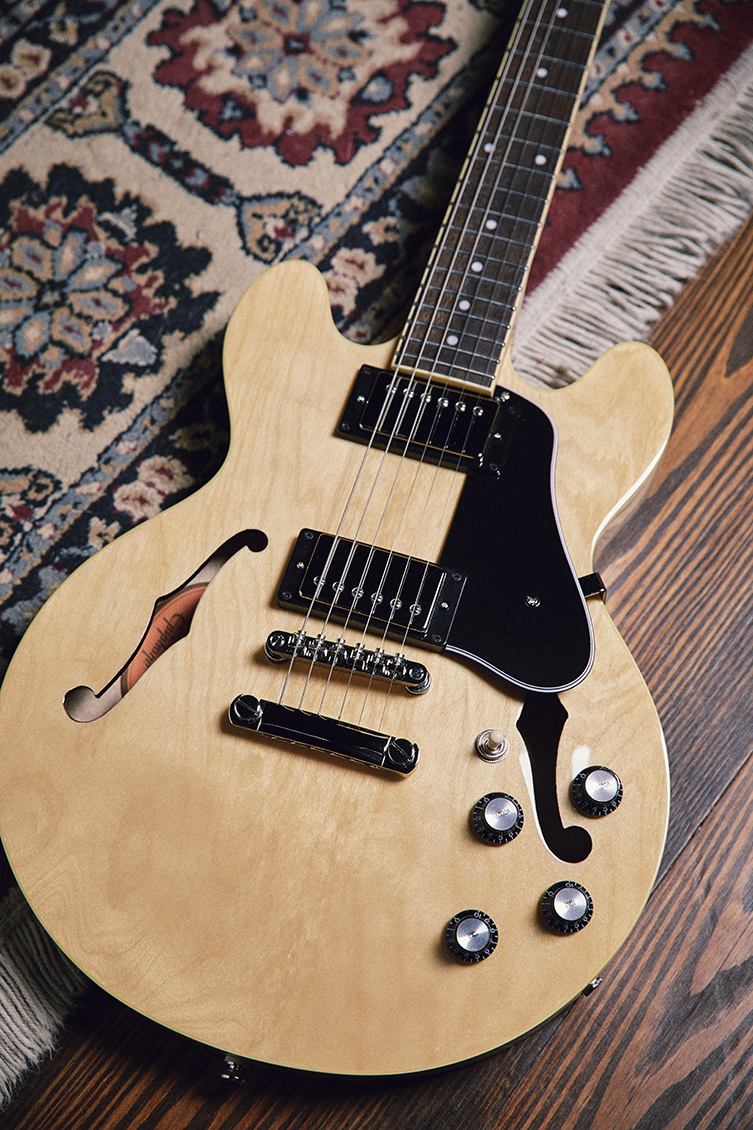 In addition to the Grover tuners, Epiphone have installed their own 'Locktone' TOM-style bridge here, for a more accurate level of intonation than previous Epiphone models. Finally, the Epiphone Inspired By Gibson ES-339 is available in four colours: Pelham Blue, Cherry, Vintage Sunburst and Natural. These finishes are easily the most popular and requested of all the 339 colours in the past, so Epiphone are being smart in giving the players what they want.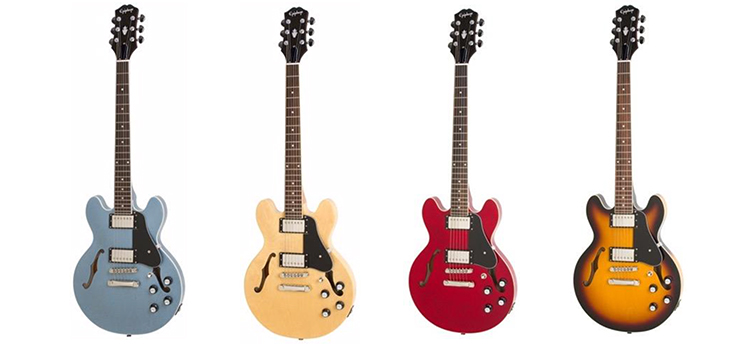 Final Thoughts
We've loved everything we've seen so far from the new Epiphone stable and these additions do nothing to sway us! We are glad to see that they haven't decided to change the recipe too much, and have opted for simple quality over bells and whistles. The models themselves are attractive, well-build, very playable and mature sounding. Any guitarist will be happy to pickup one of these and play, be it at home, in a session or with a view to returning to a stage as soon as possible.
The question of whether to go for the full-sized 335 or smaller 339 is one that we could not propose to answer for every player. We suggest trying both, with the caveat that we find it hard to look past the classic lines of the 335!
Whichever you choose, you'll be onto a winner.
Oh, and for the record, it's 'three-thirty-five'. Glad we sorted that out.