Alister Atkin Facebook Live Takeover
Published on 11 December 2020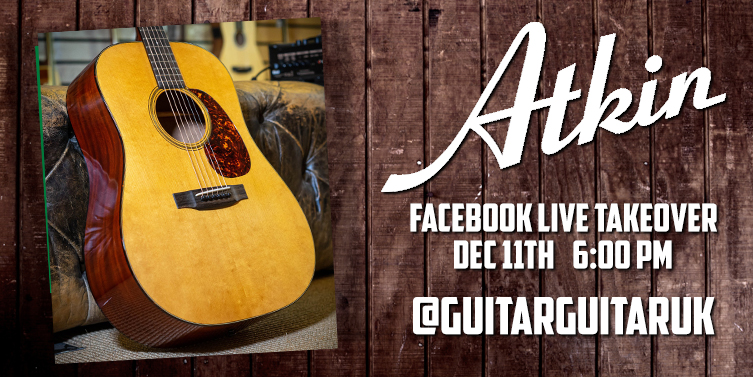 Boasting premium quality and exemplary craftsmanship, Atkin guitars have always set a high standard with their acoustics. A true boutique British guitar maker in every sense, their instruments always speak for themselves and have gathered a loyal army of players who swear they'll never play anything else. The brand originated in 1995, making them relatively new to the acoustic world but they stood out from the competition for their attention to detail and the distinctive, hypnotising sound of each guitar. Their team features 7 workers who produce only 350 guitars a year, very much focusing on quality over quantity. Constantly improving, experimenting and implementing new ideas, we see the Atkin team as real grass roots builders with a passion for what they do. We've been dying to get a closer look at what they do and we're chuffed to share that we have the chance to do exactly that!
The Details
On Friday the 11th of December at 6:00 PM we're over the moon to have Alister Atkin join us on our Facebook live stream for an in-depth interview about the brand's stunning guitars! As the company's founder, Alister has been with Atkin every step of the way and will be discussing everything from the brand's humble beginnings to their latest models, including the gorgeous Anniversary models that recently arrived with us. If you love your acoustics, this is a fantastic chance to learn about some of the most sought after and well-built options on the market. Alister may even throw in a prize or two for those tuning in... Don't miss out!
Click HERE to visit our Facebook page now.