Interviews of the Year: The Best of 2020
Published on 28 December 2020
2020 has been a bit of a strange one, hasn't it?
It's fair to say that we've all faced a range of difficult and worrisome times, to say the least. We sincerely hope you've kept safe and well throughout these unprecedentedly challenging times.
Maybe some of you have taken a few minutes away from the madness and checked in with us to see what's been cooking here on the site? For those of you who did, we thank you for your time!
You may well have come across one or two of our exclusive interview articles, nestled in amongst our news items, guides and competitions. Each of these interviews has been conducted by us – musicians - for you, our fellow musicians, and feature some of the greatest musical minds on the planet!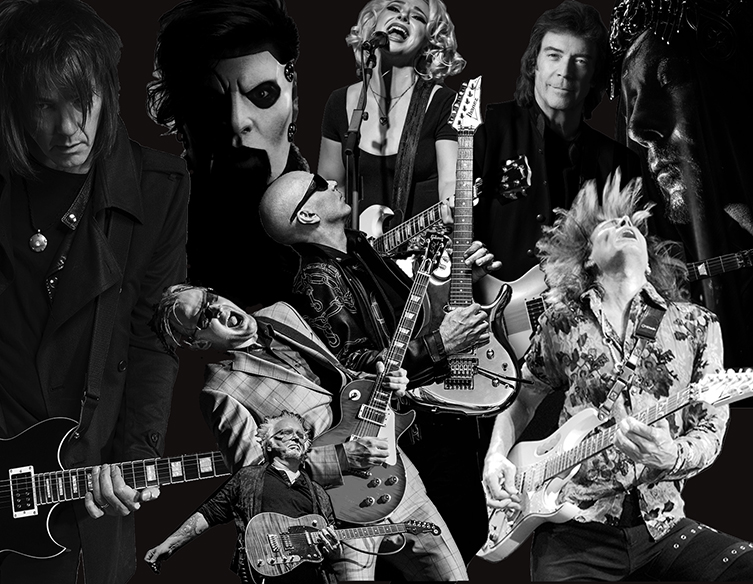 We've been creating these interview articles for a few years now, and Covid has not stopped us in our tracks! It has changed the nature of them, though, from largely in-person conversations to exclusively distanced Zoom or Skype chats instead. Nevertheless, we have spent many hours this year talking to what has amounted to a very interesting and varied collection of guitar-related superstars! We are truly not worthy...
The Top 12 for 2020
Therefore, since this year is now drawing to a close, we thought it would be fun and illuminating to pick out 12 of the best interviews from this year – one for each month – and put them all together here in one place!
There's no particular order here, and we haven't arranged them by genre or chronology, we've just gone for what we think is an interesting flow! So, without further ado, here are three Steves, two Joes, and a host of top tier guitar talent!
Steve Vai
It's easy to run out of superlatives when describing the sheer ability of Steve Vai, who is undoubtedly one of the world's greats. He's the guitarist whom every other guitarist looks up to as the zen master of the instrument. His style, musicality, experimentation and outside-the-box attitude signal him out as a peerless artist. Better still, he's a super-friendly, humble human being who is great at expressing himself articulately and eloquently.
We reached out to Steve back in February, figuring it would be a long shot, but a shot worth taking. We didn't get our hopes up too much, but our fingers were quietly crossed. To our dropped jaws and amazed eyebrows, Steve got back in touch and gave us the thumbs up for a phone call interview! These little moments are what it's all about.
In the end our phone conversation with Steve ran on so long that the office lights went out on us and we couldn't see our question sheet! The resulting conversation, which lasted over an hour and a half, was then faithfully split into two parts, such was its length. In part one, we discuss the evolution (sorry) and painstaking creation of his Ibanez Pia guitar. In part two, we go into depth about not only his Synergy amp modules, but the very nature of creativity and discipline, as well as zeroing in on some of his most famous and hair-raising guitar parts. As rewarding conversations go, this is one we won't forget for a very long time
Click to Read Part One of the guitarguitar Steve Vai Interview
...and please Click Here for Part Two of our Exclusive Steve Vai Interview
Joe Satriani
Steve Vai's teacher, and all-round genius of the electric guitar Joe spoke with us via his home studio in San Francisco. We had lots to talk about, not least his newest album Shapeshifting, his new Ibanez Chrome Boy guitars and the importance of developing opinions on scales and modes. Joe, though very different in personality to Steve, is equally good at communication and equally entertaining to speak to. Both of these players are rightly regarded as Titans of rock guitar, and we were humbled and privileged to be able to sit and chat away like old chinas!
Click to Read the guitarguitar Joe Satriani Interview
Steve Howe
Yes' mastermind Steve Howe is another distinguished and legendary player whom we were very lucky to get on the phone one rainy Tuesday afternoon! Steve had just released his newest solo album, Love Is, and was happy to chat about custom plectrums, the problems of choosing which guitar to play, and the spirituality of what science can and cannot explain. It was a thoroughly interesting and stimulating conversation indeed, and a wonderful glimpse into the mind of one of the men who gave us Close to the Edge and Relayer!
Click to Read the guitarguitar Steve Howe Interview
Jim Root
Similarly influential but for entirely different reasons, Slipknot's Jim Root was a very exciting interviewee indeed! We managed to have a proper sit down with him, in person, back in January when the world was significantly simpler.
Jim proved to be a warm and friendly interview subject: honest and forthright about his answers and clearly enjoying the prospect of donning his famous mask and unleashing brutal riffs later in the evening. How many heavy guitarists have grown up listening to Jim and Mick's iconic double guitar attack? Sitting on a couch and talking about it all was about as memorable as it gets.
Click to Read the guitarguitar Jim Root Interview
Peter Hook
Another hugely influential musician, this time a little closer to home, is the one and only Peter Hook. Considering how much he has contributed to popular music history – he is the co-founder and bassist for Joy Division and New Order, after all - Peter wears his mantle of 'living legend' lightly. On the day we caught him, he was an extremely down to earth, entertaining conversational partner, and was witty and gracious with his answers.
We had cause to interview Peter on the phone after we heard whisperings of a signature Peter Hook bass on the way from Yamaha. In the end it was a further 5 months before that was revealed to the world, but happily, Peter is an old hand at talking to people like us on the phone, and we had a whale of a time chatting about a number of other things. We touched on Ian Curtis, court cases, 12-string basses and synths that cost as much as houses.
Click to Read our Exclusive guitarguitar Peter Hook Interview
Mr Bungle
'Legend' is a status that is easily given out in these hyperbolic times, but we think it's definitely safe to call Mr Bungle cult legends at least. When you add in Dave Lombardo from Slayer and Scott Ian from Anthrax, that 'cult' prefix dissolves, leaving only a legitimate status of 'Legends'!
Mr Bungle have one of the most challenging and rewarding back catalogues in music. The decision to re-record their mythical, ultra-heavy demo from 1986 – The Raging Wrath of the Easter Bunny- was a typically unexpected move for them. The fact that it resulted in one of the best Metal albums of the year is testament to the talent involved!
Trey Spruance and Scott Ian were on hand (separately, a week apart) to discuss the ridiculous levels of dedication and practice required in order to bring these frighteningly crazy songs back into life for the 21st century.
Unlike with Steve Vai, we decided to make this one long epic of a read instead of splitting it up. Despite both working on the same album, these two men have quite different tales to tell, from some very different perspectives. Both men were a real pleasure to speak to.
And yes, we did have to ask Scott Ian about his best riffs ever. Of course we did!
Click to Read our Exclusive guitarguitar Mr Bungle Interview
Samantha Fish
During the Summer, we caught up with Blues-Rock singer and stupendous slide guitarist, Samantha Fish. Samantha gave us some of the most interesting, useful and insightful tips on how to approach the industry as an independent businessperson. On top of that, we talked about choosing guitars, practising and why every single part of your presentation and performance is important.
Great company and easy to talk to, Samantha was a fantastic interviewee.
Click to Read our Exclusive Samantha Fish Interview
Robin Finck
Back in the misty winters of January, we were lucky enough to get hold of none other than Nine Inch Nails' long-time lead guitarist Robin Finck, to learn more about his fabulous new Reverend signature guitar. Down the phoneline from his home in LA, Robin told us about his influences and inspirations, and about his attitude to performance and playing.
It's a rare thing to have Robin speak candidly about guitar playing, and we were thrilled to be on the other end of the phone to hear it. It's interesting to note that this interview took place only a month or so before the world went into lockdown. Here, we catch little glimpses of what could have been, in some other timeline...
Click to Read our Exclusive guitarguitar Interview with Robin Finck
Steve Hackett
One of our greatest musical treasures, Steve Hackett is worlds more than just that great player from Genesis' epic Peter Gabriel years. Since his departure from them, his solo musical journey has been arguably more interesting and rewarding, taking in superlative classical playing, a myriad of exotic World music styles and plenty of melodic hard rock.
We've had the honour of interviewing Steve twice actually, and on this occasion it was to learn more about his just-released autobiography, A Genesis in My Bed. Steve was happy to talk about a huge range of subjects, so we handled the guitar stuff and also moved into the esoteric world of psychics, tarot and the afterlife! It's a wide-ranging, open-minded read indeed, and speaks volumes to the character of the man. Indeed, he generously extended our interview time so we could fit just a little more in. What a guy!
Click to Read our guitarguitar Steve Hackett Interview
Reeves Gabrels
Reeves Gabrels, The Cure's lead guitarist and also the former writing partner and guitarist for David Bowie, gave us one of the year's best interviews for sure. Being a member of two such iconic institutions meant there was a veritable ocean of questions on hand, and Reeves was game for it all!
Over the space of a few Facetime calls, we were able to dive deep into Reeves' musical life. We touched of some great details about his time making the influential Outside album with Bowie, which is celebrating its 25th anniversary this year. We also spoke at length about what the Cure have been up to, what lies in store for the future, and of course tons of chat about guitars!
It's a big, long one, but given the subject, we feel like it wasn't long enough!
Click to Read our Exclusive Reeves Gabrels Interview
Joe Bonamassa
Joe is no stranger to our guitarguitar stores: the Blues Rock superstar is a frequent and very welcome guest to our stores when he's over here touring. This year, of course, all touring was cancelled, so Joe instead organised an amazing pay-per-view performance from Nashville instead. We were able to Zoom him from our kitchen in the UK and chat guitars, the art of entertaining and the benefits of gigging close to home. We also heard some stories behind the making of his new album, Royal Tea.
Joe is always a great raconteur, and this meet-up proved no different!
Click Here for our Exclusive Interview with Joe Bonamassa
Nergal
Nergal is one of the most iconic and celebrated artists in modern metal. Behemoth are not for the faint-hearted, but those who appreciate the power and majestic ferocity of their uncompromising music become passionate fans indeed, as we found out...
We'd spoken to Nergal before via email, but this time we were able to sit in Behemoth's dressing room as he warmed up for their show supporting Slipknot. A confident, charismatic yet friendly character, Adam 'Nergal' Darski was happy to show off his new ESP signature guitar, discuss voice projection techniques and let us take pictures of his Aleister Crowley tattoo!
It was a whirlwind day, from collecting Behemoth from their hotel, taking them to an in-store guitarguitar signing (hundreds and hundreds of fans arrived), to interviewing Jim Root and then catching up with Nergal. Not all shifts are quite as action-packed, we have to say, but as always, the honour and privilege was very much ours.
Click to Read the Exclusive guitarguitar Nergal Interview
What a Year!
Yes, in many ways it was been a particularly tough year, we make no bones about that! However, we'd like to focus on the good parts, and for us, that includes these brief, stolen moments with such exceptional people. Each time we conduct these interviews, we gain a tiny insight into the world of a particular artist who has grafted, suffered and sacrificed to get their work out to a larger audience. Every piece of information we get is presumed useful, and we really hope and strive to make the best of our limited time with them all.
We hope you've enjoyed our adventures in Interview-land this year! Maybe reading some of these has helped take your mind off some of the bad stuff for a while. Perhaps you've been turned on to an artist you hadn't previously heard of, or maybe you've read something that has inspired you to take action with your own music and creativity. If that is the case, even in a very small way, then we are humbled and honoured to have been able to serve in that manner.
There will be many more of these interviews in the new year, and there have already been a great many more besides the few we've chosen today, so please do have a look at our guitarguitar interviews section for previous articles. Share the ones you like with your friends! It's all about sharing!
As ever, thank you for reading, and thank you for supporting guitarguitar. Stay safe out there and we'll be seeing you.
Until then
Ray McClelland