The Ages of David : A Brief Celebration of David Bowie
Published on 10 January 2021
It's funny to think that Ziggy Stardust only ever 'lived' for about a year.
That iconic red hair and kabuki-style makeup that we all associate with David Bowie in the 70s only really happened for a brief moment and then took off again, never to return.
Such could be said of many of Bowie's characters, or alter egos. He seemed to relish the process of creating fresh identities whenever the current ones became stale for him. This often occurred at the height of a character's popularity, too, deepening the mystery of it all.
Eventually, the musical artist David Bowie (itself a creation for the real-life David Jones to hide behind) relented on this side of his art, and seemed to become more transparent in terms of allowing his own discernible personality to permeate. As we'll see, that maybe wasn't the case at all, but let's not get ahead of ourselves!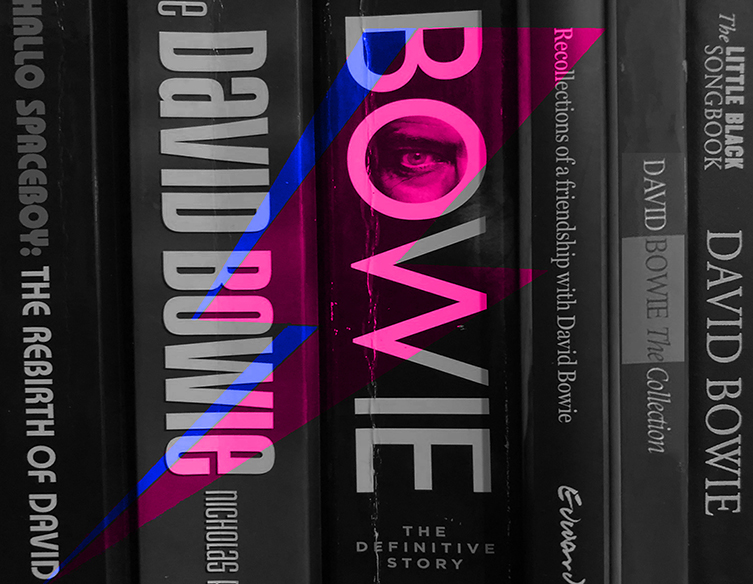 David Bowie died on the 10th January, five years ago now. On this anniversary, we wanted to celebrate the great man's chameleonic nature and select some incredible music from each of his main personas. As with any artist of Bowie's stature, there is just far too much out there for us to be comprehensive about it, so instead, we've opted for his most diverse and wide-reaching moments, songs and characters. This isn't a 'best of', but it does contain some unbelievably good music!
We haven't covered every minute change in Bowie's sartorial or conceptual canon, since some were far less obvious than others. Fans disagree on elements, too, so we're painting with vaguely broad brushstrokes here. It's a vast canvas, whichever way you look at it! How did one man fit so much into one relatively short lifespan? He must've been an alien...Right! Let's go!
The Early Days
Yes, life pre-Ziggy! Pre-Space Oddity, even! It's quite something to consider just how many exceptional songs Bowie gave us, but then you remember that even he had his somewhat regrettable 'little moments' too, like the infamous Laughing Gnome! It's almost a shame to start things off with this bonkers song, but then we suppose it does provide a context in which to view his later successes!
Yes, the Laughing Gnome was one of his first singles released after he changed his name to 'Bowie' (once and for all, it's pronounced to rhyme with 'sew', not 'cow') and initially failed to chart, which must have really ground his gears: imagine putting up with those horrifying sped-up gnome voices and not being rewarded with a chart position?!
All of that changed upon its re-release in 1973, and the song hit the top ten after Bowie had transformed into this guy...
Ziggy Stardust
The stuff of which legends are made. Interestingly, lots of people think of the lightning bolt face as Ziggy, but he came later (more of which in a sec). Ziggy Stardust, with his bold red mullet (anybody else think he looks a bit like Cilla Black?) was the original Space Alien Rock Star, and for many people across the world, Ziggy IS Bowie. The notion of Bowie somehow being not quite of this earth certainly started here, with his character Ziggy coming down from the stars to warn us that we only had 5 years left before the Earth died. Cheerful stuff, but what music! David would expand on the extra-terrestrial mythology in later years, but Ziggy was, and still is, his most potent creation. Talk about surfing the zeitgeist? Ziggy created the zeitgeist, and the world was never the same again.
Aladdin Sane
The Bowie image found on more t-shirts than any other, Aladdin Sane sums up his 'otherness' with simple, bold gestures: the Ziggy hair has become more stylised and specific, and that thunderbolt across the face is an instantly iconic touch.
Aladdin Sane came around right after Ziggy was 'killed off' in a final 1973 performance in London. To be fair, moving from Ziggy to Aladdin Sane, image-wise, wasn't a huge stretch, but it did provide Bowie with a distinct canvas to work from. The accompanying album, also called Aladdin Sane, was a huge step on, though. From the first listen, it was an altogether more diverse, exotic and subversive collection of songs and sounds than the more straightforward glam stomp of the Ziggy album. Bowie was pushing out and testing his artistic boundaries, something that would turn out to be a characteristic of his career.
The Thin White Duke
Bowie, throughout the 1970s, put out an embarrassingly large amount of great music, with styles and genres as wide and diverse as could exist. Listen to something like Life on Mars? (1971), then stick on Moonage Daydream (1972), Lady Grinning Soul (1973) followed by Young Americans (1975) and then Warzsawa (1977). Take in the dramatic shifts in writing and style, and then consider that it was all penned by the same superstar within a six-year period. Let that all sink in.
It's ridiculous, isn't it? Anyway, the mid 70s saw Bowie in LA, sick of his celebrity and battling a 'substance' problem. His movie role in Nicolas Roeg's The Man Who Fell to Earth seemed like it was purposely written for him, such was his fit as Thomas Newton, an alien on earth trying to fit in with humans. This movie required a certain look for Bowie, which he then took forward as his Thin White Duke image. The name comes from a lyric in his peerless song Station to Station (referring to both the Kabbalistic Tree of Life and the Stations of the Cross during Jesus' Crucifixion) and the look itself – slick-back bright orange and yellow hair along with a white shirt and black waistcoat – is one of Bowie's most ineffably cool. Talk about knowing how to dress?
Berlin Era
Though outwardly similar to the Thin White Duke era (bear in mind how quickly all of this happened), David's time in Berlin saw him recede from such an outwardly public persona in order to deal with his demons. The resulting music – a trilogy of records known collectively as the Berlin Trilogy, even though only two of the three were made there – displayed an artist at the peak of his powers. Evocative, daring, experimental and residing almost completely outside the box, Bowie's music on Low, "Heroes" (the quotes were very much on purpose) and Lodger showed a restless mind and an artistic temperament that was desperately mining through Western rock and European avant-garde music to find a new country of sound. The 'character' or persona of this fertile period is often thought to be the first time Bowie was just himself, and not playing through an invented or embellished personality. The jury is out in our opinion, judging by his distinct and very deliberate use of pose, fashion and even the choice of Berlin as a backdrop to his creative energies. Like all true artists, David was always 'on'!
Jareth the Goblin King
Yes, we decided to swiftly dodge Bowie's troublesome early 80s blonde mullet 'pop' era, since even he admitted to regretting his work from then! It's just not up to standard. Given the level he usually operated at, he could be forgiven for throwing out a few duds...
For anyone born in the 1980s, this next 'persona' may well have been your introduction to David Bowie! We could've written an entire blog about Bowie's acting exploits (he played Nikola Tesla, Pontius Pilate and was also in Twin Peaks) but his most memorable role by far was Jareth, the inexplicably human-looking King to some resolutely puppet-like goblins. Despite this anomaly, we can think of no performer better suited to carry the charisma and menace of Labyrinth's dashing baddie than David. He got in on the soundtrack too, not only contributing several original songs, but getting his character to actively sing them to his Goblin subjects throughout the movie! We're not going to mention the tights.
Was Jareth really a persona of Bowie's, given the fact that it was a role in a movie? Well, why not? What else differentiates one from the other? We think Jareth was a legitimate alter ego of his, and the songs made for Labyrinth would support that. So there!
The Renaissance
In the mid-90s, Bowie had gone through Tin Machine (a curious experiment with Bowie being part of a democratic rock band: no deal), the Buddha of Suburbia (he wrote a gorgeous electronic score and added some original songs) and was making waves in the fine art world as an authority on contemporary painting.
Into this world came Outside, an arty, expansive record that looked towards the en-vogue Industrial music of Nine Inch Nails but also referenced his own Diamond Dogs work. The result was a modern-day masterpiece, and the resulting image – spiky hair, dangly earring and eyeliner – suddenly brought Bowie's arty edge back. (Read more about Outside and this period of Bowie's career in our exclusive Reeves Gabrels interview).
He followed this up with Earthling, a ferocious electronic rock album that genuinely flirted with the cutting edge. His iconic Union Jack frock coat (designed by Alexander McQueen) on the album's cover signalled to everyone that The Dame was back, and quite in the lead, as before.
Lazarus
Twenty years on, and Bowie returned from a few years' radio silence with a pair of albums that provided him with a late-career return to form. The Next Day and Blackstar showed him at his playful and mercurial best, revealing much but only after the final trick was revealed...
Little did we all know, as we watched the entirely other-worldly video for Blackstar and Lazarus, that these would be the last we'd ever see of him. Designed as a 'parting gift' to his fans, Bowie managed to stage his own end entirely, saying goodbye in the best way he knew how. Blackstar landed a mere two days before David's death on 10th January 2016. Every song on the record immediately took on a new, rawer resonance. He'd made the music to be his final signing off: an Ascended Master understanding that his time was close and deciding to share one last body of work with the world. He pulled the wool over our eyes and left the planet on his spaceship. How very like David Bowie to do that.
David
There was a story going around, though we can't remember the exact source (was it his long-time pianist Mike Garson?), that told of a strange and creepy encounter. The story went that David had visited a psychic in the 1970s, and had been told the exact age he'd be when he died: a few days over 69. Instead of being upset (well, we presume he still would've been...), he decided instead to see that prediction as a sort of guarantee of a particular amount of time being available to him, and set about filling that time with as much music, art and expression as he could. Now, we aren't necessarily ones for ghost stories (though we do like 'em) but it's something to think about. If we knew our days were literally numbered, would we strive to achieve greater things? Or would we be petrified into inactivity? Either way, we certainly know what David did with his time, and it was time better spent than almost any other artist on the planet.
So, where are Major Tom and Halloween Jack on our list? We know, they aren't here. Would you not say that these guys were really more like cameo roles in the grand scheme of things, though? Hey, if we got it wrong, let us know!
Did David ever really need these personas? Were they even really personas at all, or just facets of the one personality? Did we ever get close to the man behind these rich, jewelled masks? It's hard to say, and the obvious response would be to listen for him in his music. He's all over it, everywhere, immediately obvious. He was never hiding at all, he just liked to have fun and knew he had to be bold with his image in order to get you to hear him.
It worked, didn't it?
Realistically, which artist out there in the 20th and 21st centuries ever changed as much as he did? The Beatles? Elvis? No, not really.
His body is gone but his art lives on. It's been a darker planet these past five years, but remember: we were alive at the same time as David Bowie. Isn't that something?
In fond, loving respect to the memory of David Robert Jones, also known as Ziggy, Aladdin Sane, Jareth, Major Tom and Dave. (January 8th 1947 – January 10th 2016)
Ray McClelland