Martin Classics: The 'Pearl Dreadnoughts'
Published on 03 March 2021
Crosby, Stills & Nash. John Mayer. Neil Young.
These are men of great musical ability and supreme taste in acoustic guitars.
If you are a fan of Martin's beautiful top-end '40' series dreadnoughts, then you are too!
The Martin D-41, D-42 and D-45 models are the most opulent and visually stunning in Martin's 'Standard' catalogue. Of course, there's nothing standard about these guitars and today we aim to celebrate them a little. After all, if each member of Crosby, Stills and Nash leapt out the door as soon as they received their first record deal advance back in 1968 and each bought a D-45, there must be something very special about them! Let's find out...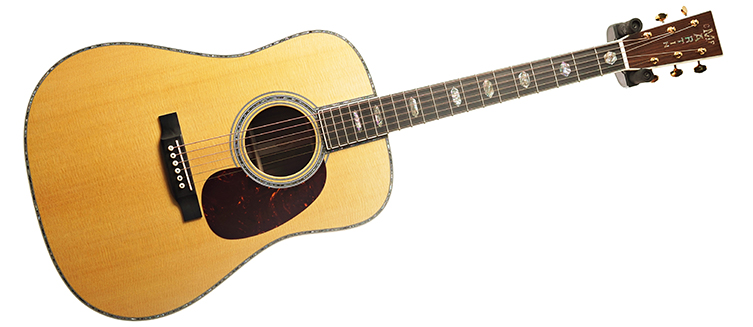 The Martin Dreadnought
It's a subject we've covered pretty extensively in other blogs, so we'll be brief here. The Dreadnought design is the most popular acoustic guitar style in the world. It was invented by Martin in 1916 and has since become the blueprint for how the world regards the term 'acoustic guitar'. The name itself comes from the HMS Dreadnought warship, which at the time was the largest in the world. The dreadnought's wide, full shape made it the biggest and loudest guitar on the market, so the name is not without precedent!
Martin makes a wide range of dreadnought models, all named with a 'D' and a numeric, which indicates the specification. For example, a Martin OM42 will have a different body style to a D42 (it would be an OM, or Orchestral Model, body shape), but the materials used will be the same, as will the level of decoration, as determined by the number.
Central to the differences in the guitars we are looking at today is the amount of abalone decoration used on each model. As the numbers ascend, so does the amount of abalone that's hand-inlaid into the guitar.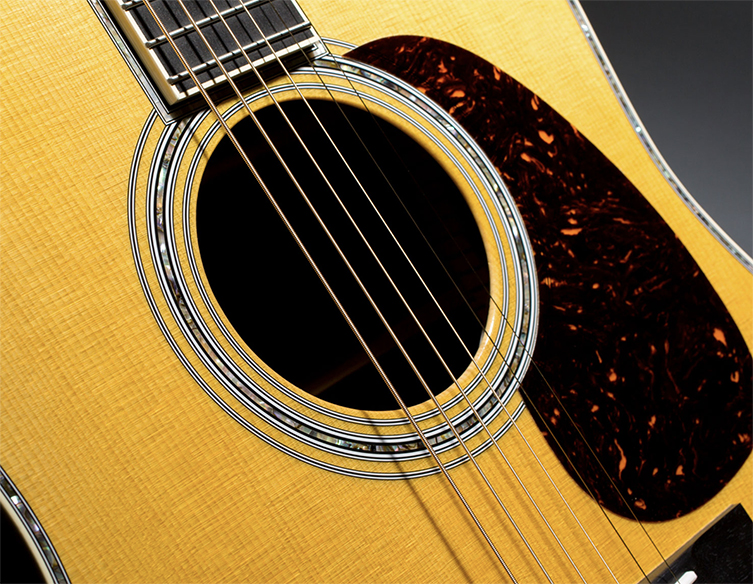 What is Abalone?
Good question! What is abalone? Well, it's a type of shell, from a little maritime snail called an Abalone, or a Paua. These abalone shells are known to have an amazing natural iridescence, which makes them desirable as decorative materials. All of that green and blue colour is completely natural, so no two abalone-clad guitars will be exactly the same.
Martin have used abalone for decorative effects for decades. Interestingly, there was a time during the war and for years afterwards when abalone was considered too expensive and time consuming to obtain (given that WWII was in full swing and free-diving is required to get at 'em) and so Martin stopped making D42 and D45 models altogether!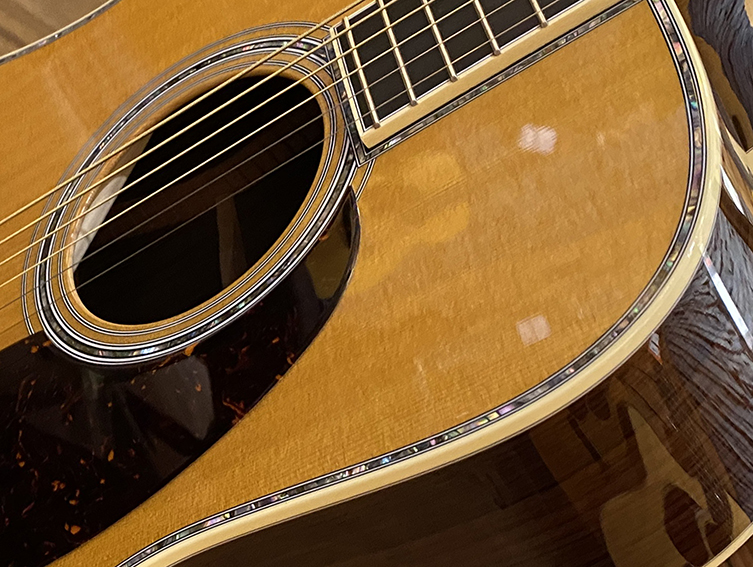 Mike Longworth
Fast forward to the early 60s. Guitar fans at the time remembered the stunning, abalone-clad Martin dreadnoughts from twenty years before. One man, Martin Longworth, actually started to convert Martin D28 guitars from his Chattanooga home into (effectively) D45's, doing all of the decorative inlay work himself, one guitar at a time. Word spread, and eventually Martin noticed lots of prominent artists asking for D28's and talking about taking them to Martin Longworth for an 'upgrade'! Realising a gap in their own history, not to mention marketplace, Martin promptly employed Longworth in 1968 to recreate these prized instruments.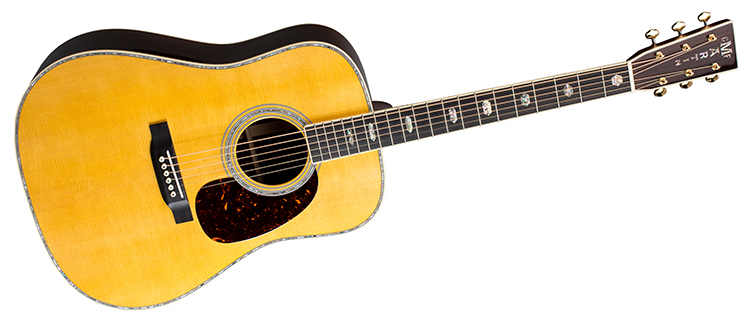 This roughly correlates to the time we mentioned David Crosby, Stephen Stills and Graham Nash taking their record company advances to their local guitar store and each buying their own D45 guitars. They are perhaps the most prominent users of the D45, but John Mayer is a fan, as was Neil Young (check out the cover of his Greatest Hits compilation) and Johnny Cash, who used a D45 in addition to his more often-associated D35.
As for Martin Longworth, as well as resurrecting the D45, Longworth is also credited with creating the D41, and for playing a part in introducing the herringbone binding that you'll find on an HD28. Significant guy!
Working with Abalone
As you may already know, a very large part of the Martin guitar making process is about human beings building and shaping things by hand. This is what you pay for, after all: the touch and scrutiny of a master craftsperson, doing the thing they are the best in the world at doing! Having said that, one or two processes are controlled by machine: the spraying of finishes and toner are carried out by robots (it's the quickest and most efficient way of guaranteeing a perfect, consistent finish) and the final setups are performed by Plek machines. Apart from that, it's pretty much all-hands on deck!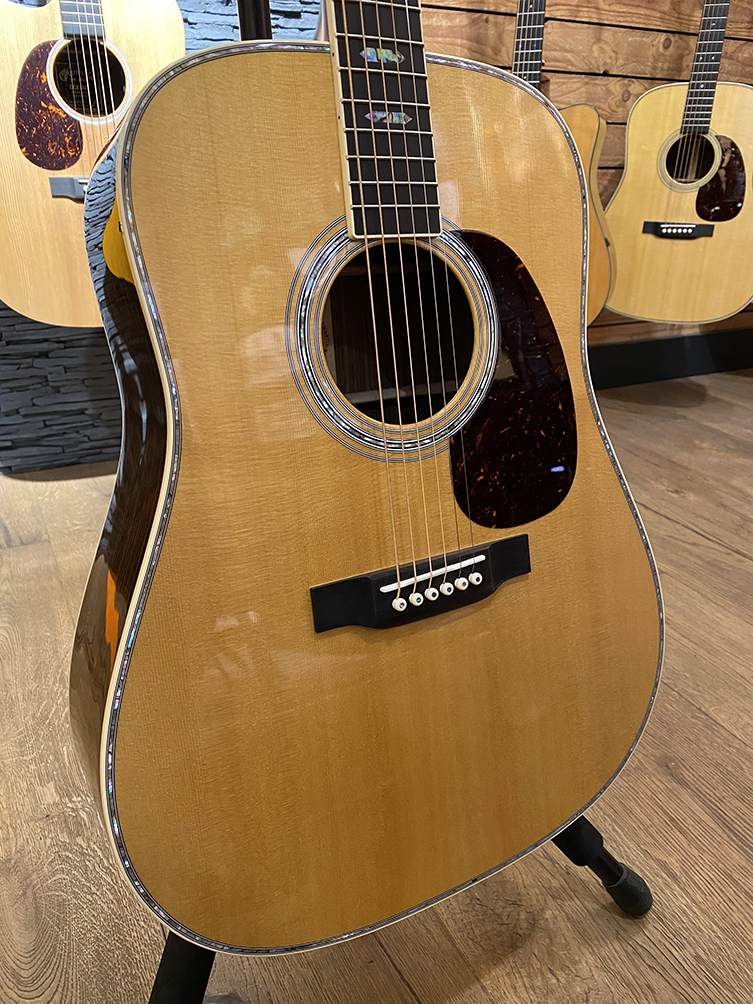 That means the abalone inlay work is completely done by hand, too. It's labour-intensive stuff: shaping the abalone, manually pressing each of the small pieces into the grooves in the guitar's body, breaking the bits off...it's painstaking stuff and can take a full 20 hours of work to complete for just one guitar! Less experienced artisans take longer, since it's a process that's expensive to mess up, to say the least!
The results speak for themselves, though. These guitars – the D41, D42 and D45 – are the jewels in Martin's crown. They are the ultimate goal for Martin guitar fans, whether they grew up watching Stephen Stills and Neil Young strumming one or not!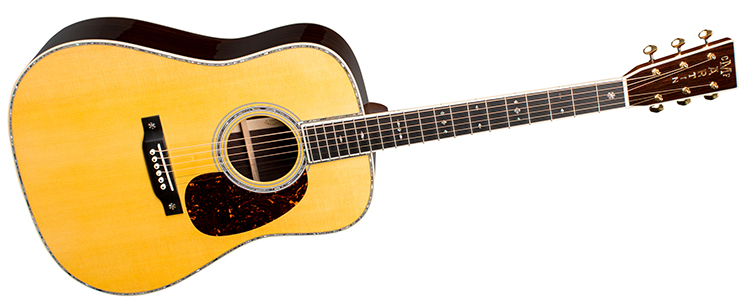 Premium Materials and Workmanship
The abalone is the main differential when discussing these Martin guitar models, but quality abounds across the board. These guitars use Martin's highest grade of Spruce and employ their finest hand-scalloped inner bracing. This ensures that each instrument resonates and projects sound extremely expressively and efficiently, resulting in a loud, strident, pretty much perfect dreadnought sound. They look like a million bucks and they sound like a million bucks.
Each of these three models is built using select Spruce and Indian Rosewood. That combination, more than any other, gives Martin fans the 'true' Martin Dreadnought tone. The attack, the clear top end, the slight mid scoop and the strong low end: it's all there, balanced beautifully and full of harmonic content.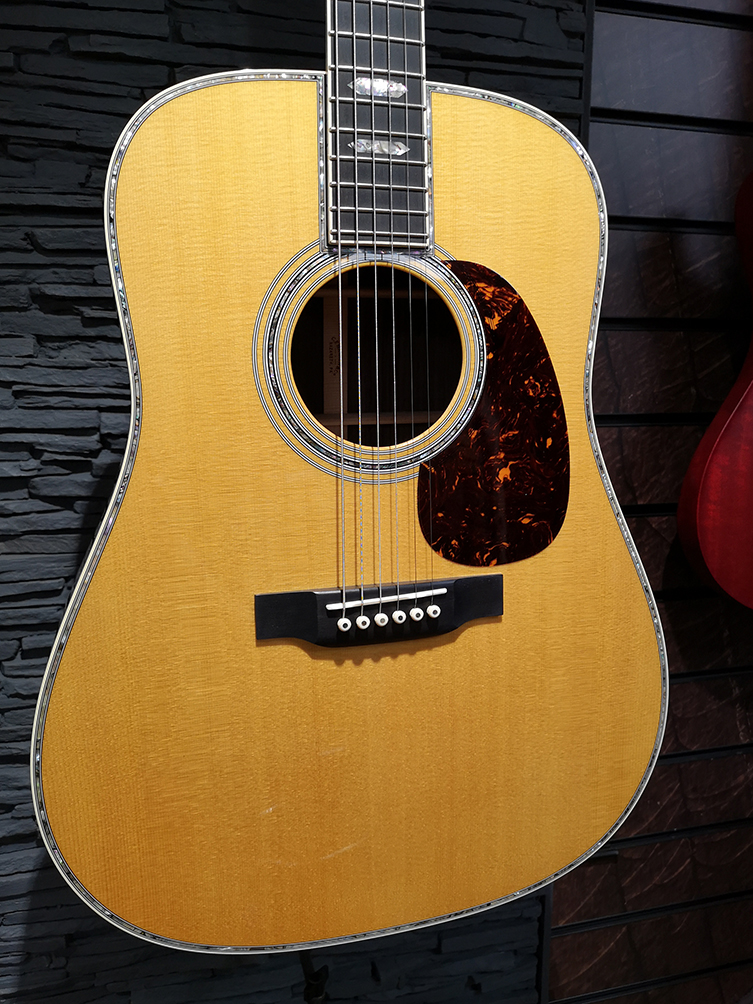 As mentioned, each model (as part of Martin's 'Reimagined' product line overhaul) uses forward shifted bracing, which is hand scalloped. This allows more volume, more projection and more focus in that strong low end. The sound tightens up, basically.
In terms of the abalone, the amount of detailed decorative work increases with each model: the D41 has less and the D45 has the most. The more abalone work involved, the longer it takes to make each guitar. They are all wonderful looking, and you will no doubt already have a favourite!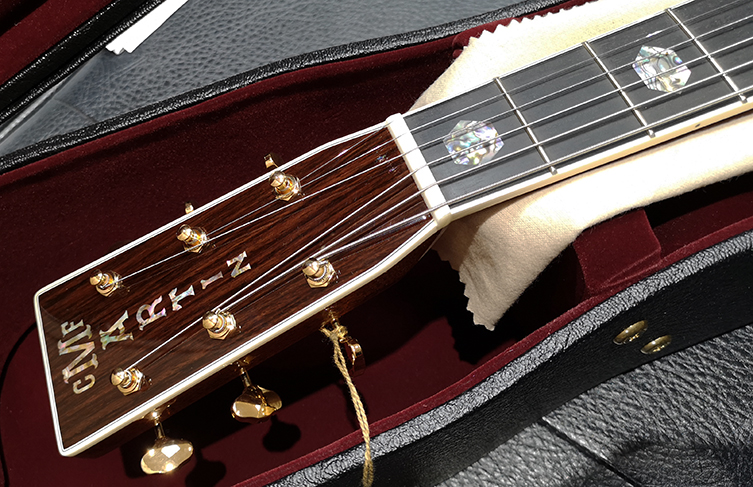 Martin Classics
These three 'Pearl' model Martins are undoubtedly classics. Whether you are a player or a collector, these instruments represent simply the best that Martin offer, with added beauty and showmanship. They give you the ultimate in tone, playability and style, and they are hand-crafted American made piece of art.
Click to View our Martin Acoustic Guitars