Alvarez 30 Series
Published on 16 March 2021
As you know, here at guitarguitar we hunt for all manner of guitar-shaped wonders. We love finding them and we love sharing them with you! Lots of these are incredible, top-end, limited edition specials that are notable for their exclusivity, not to mention cost. As players, we dream about owning such guitars, but we are just as passionate about the kinds of guitars that are down in the trenches, being grabbed and played on every day, bashed around and loved in a more off-hand manner.
It is with these more affordable instruments that much of the action happens. These are the types of guitars that hit songs and albums are written on. These are the ones that are patiently waiting close by when inspiration strikes. Affordable workhorses are the unsung heroes in the guitar world, we feel. Today we're going to look at one such gang of guitars.
Alvarez 30 Series
Alvarez are one of the most successful acoustic brands on the planet. They are not a household name like Martin or Gibson, but they sell a huge number of instruments worldwide, and that's because of their attitude. We'll see this attitude coming through in the Alvarez 30 Series today. We'll be checking out a dreadnought and a Folk guitar today, in both 'true acoustic' and as electro models with added pickup systems. But first, a little more on Alvarez's forward-thinking concepts.
Perpetual R&D
If Alvarez's attitude can be distilled into one catchy term, it would be 'perpetual R&D'. This means constant observation of best practice, improved materials and testing processes to ensure that maximum value and performance is achieved, whatever the price point. If a better method to build is found, Alvarez will take this on board and adopt in in their construction process. If better components are sourced, they will be subbed in and used in order to constantly improve the product.
Why? Simple. Alvarez understand that it's a crowded, competitive market out there, and mediocrity will sink very fast indeed. Instruments that deliver value and performance outwith their price bracket will garner more attention, better word-of-mouth recommendation and therefore more sales. How often have you raved about a fantastic guitar experience to your friends? How much more special is it when the instrument isn't a top dollar museum piece but an eminently affordable, humble workhorse that just happens to be excellent? Part of the joy is in the surprise.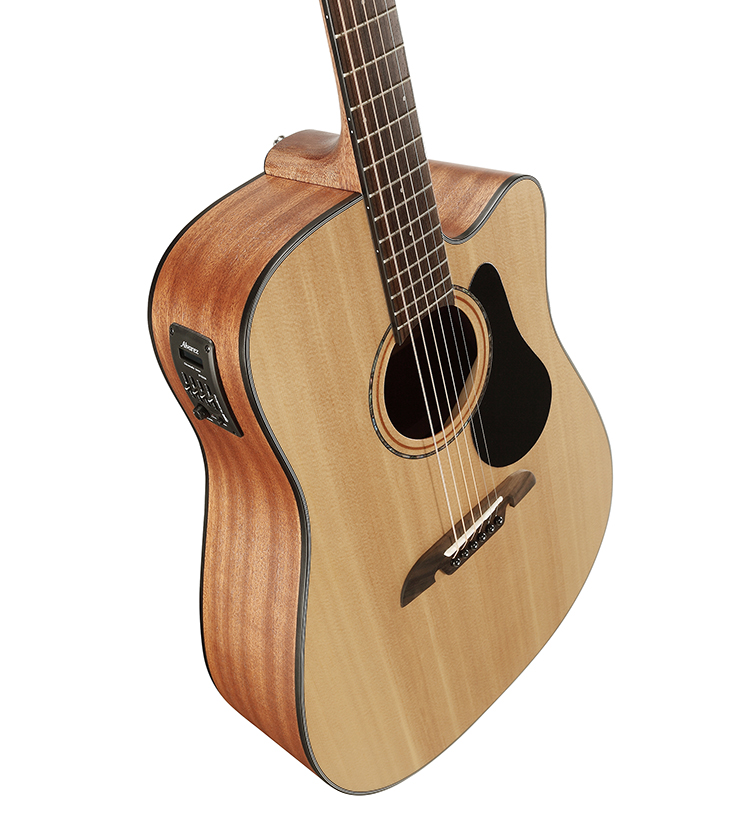 No 'House Style'
To this end, there is no 'House Style' at Alvarez in terms of things like bracing patterns and neck joins. Each model is judged on its own merits and adjusted accordingly. If a different bracing pattern, for example, makes a certain guitar more resonant, then it'll be used. This attitude keeps things fresh, lively and moving: Alvarez are not stuck in a certain received way of doings things.
The 30 Series
To the Alvarez 30 Series, then. This range is designed as a significant step up from a beginner's range, whilst staying very much in the affordable end of the market. So, what are we looking at? We have two models, the AF30 Folk guitar and the AD30 Dreadnought, complete with their market-standard 'CE' Cutaway electro sister models. Apart from the body shape, each guitar is built to the same spec, so we'll take them as a collective before observing the differences.
First off, we have Grade 'A' solid Spruce for each model's top. This is good news, as most of us may already know. Spruce is a bright sounding, strong tonewood that is stiff enough to be strong and resonant enough to vibrate freely and produce a pleasing tone. Solid timbers will always beat plywood in this regard, and whilst these models are not entirely made of solid wood (layered Mahogany is used for the back & sides), we wouldn't expect such at this price point. The solid Spruce is more than welcome on its own, and we'd note to less experienced players that solid timber tops like these will 'season' and improve sonically the more they are played. Incentive indeed, if it were needed, to play more and more!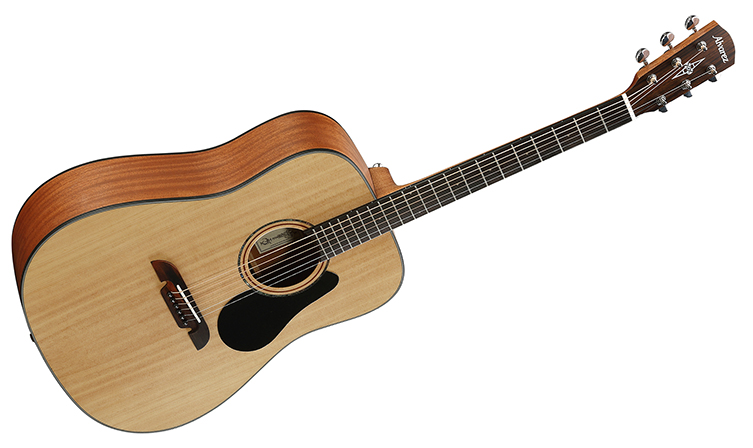 A good example of Alvarez's perpetual R&D bearing fruit is the innovative 'bi-level' bridge. This special design has the bridge pins sat significantly lower than the bridge itself in order to provide a greater break angle for the string. For us, the players, this means more spring tension over the bridge, which in turn gives us more projection, more dynamic response and just more tone! All 30 Series models have this.
Body Shapes
You'll see the body shapes from the phots that accompany the article. The larger, boxier shape is the Dreadnought, the world's favourite acoustic guitar design. A Dreadnought will provide you with a loud, resonant voice for strumming along and plenty of definition and presence for fingerpicked lines. It's a true all-rounder, and is often favoured by singer songwriters for it's appropriately percussive, large tone.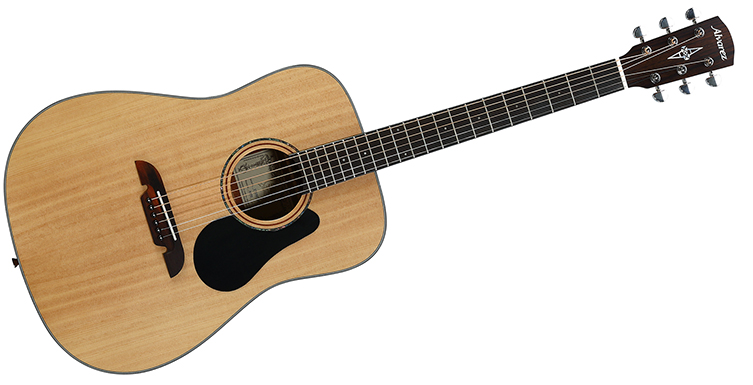 The Folk model is slightly smaller in the body as well as having a narrower waist. Some manufacturers refer to this style as 'orchestral' or OM, primarily due to the naming conventions of one certain acoustic guitar brand which we expect you can guess! Folk guitars are somewhat easier to handle compared to the larger dreadnought. Some people prefer this, others don't! Sonically, you get a little less from the bottom end of the guitar and more focus from the midrange, even though these models are all made from the same materials! This focus makes the Folk sized AF30 perfect for fingerpicking and melodic arpeggio playing. It's amazing what a difference the body dimensions make!

Cutaway Electro models
Both of these Alvarez 30 Series guitars are offered with lower bout cutaways in the body and electronic pickup systems. It's an ongoing trend with guitar makers to make their electro models with cutaways, for reasons that have never been mode adequately clear to us! It makes the models easy to discern, though, and players looking to take their note playing into the nose-bleed zone will be able to gain unfettered access by choosing the cutaway models, the AD30CE and the AF30CE.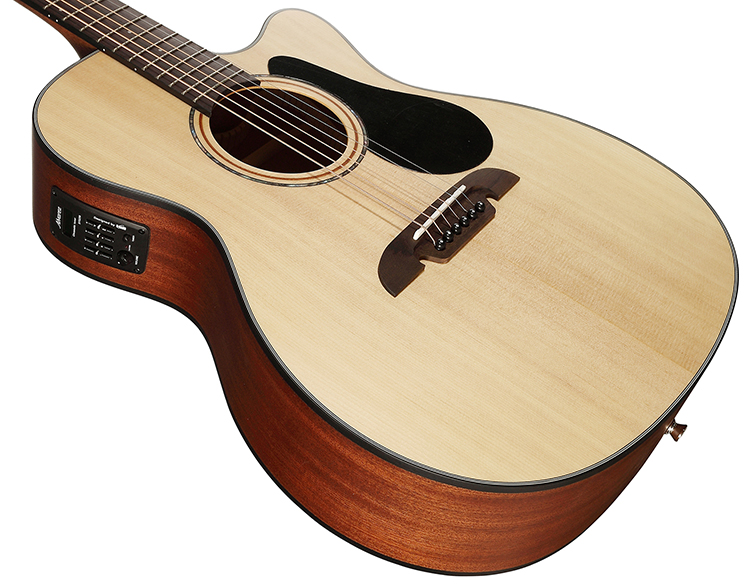 As for the pickup, Alvarez have developed their own Sys250 system, a solid and reliable set up with an onboard tuner and preamp. There's nothing startling about this, it's just good to have the option of a good 'live' sound built into your guitar, especially at the extremely reasonable prices these models come in at.
Which Will You Choose?
Are you moving on from your first acoustic and want something that jumps up in quality, if not price? Are you already a seasoned player and need a low-cost, good sounding guitar to write with and take to gigs? Whatever your requirements, if they include a solid top acoustic that feels great and costs about half as much as you'd expect, we think you'll strike gold with the Alvarez 30 series.
Click to View our Alvarez 30 Series Guitars