Jam Pedals: Handmade Artistry Inside & Out
Published on 18 March 2021
Do you need more colour in your sound?
Head to Athens!
Yes, it's not just incredible weather and classical history out there in Sunny Greece, there are also some of the most epic, gorgeous effects pedals erupting from there, too!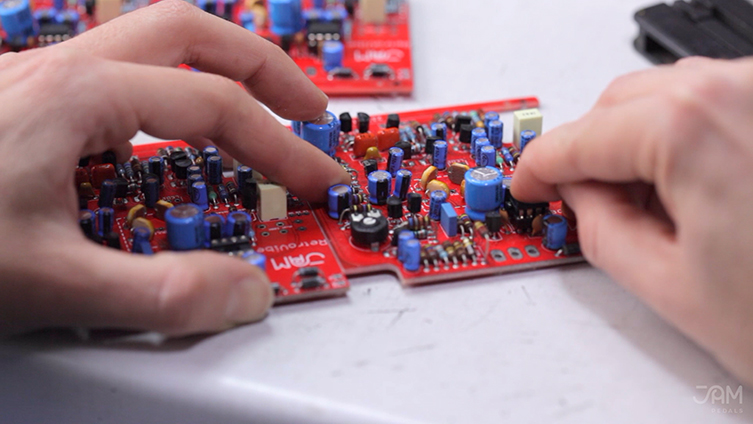 Let us introduce you to Jam Pedals, a company founded over ten years ago by Jannis Anastasakis. Since then, Jam pedals have found their way on to the pedalboards of players like Nile Rodgers, Richie Sambora and Bill Frissell. Now that is some good company to be rubbing shoulders with!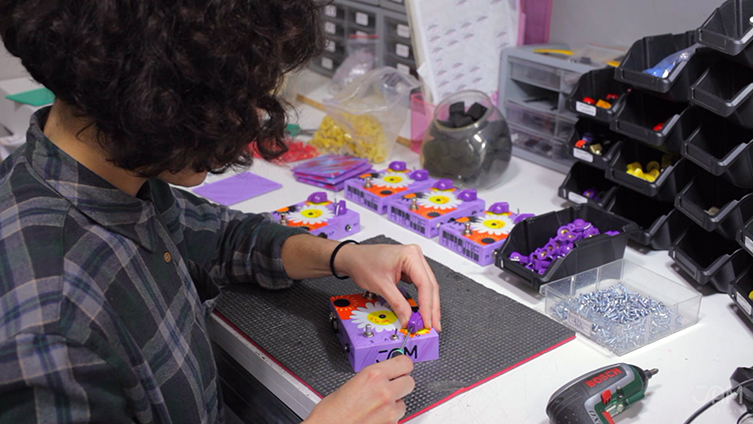 "Art for Your Ears" is the company motto, and they walk the walk like nobody else. As you'll see, their commitment to the creation of visually and sonically stunning effects is inspiring, not to mention encouraging!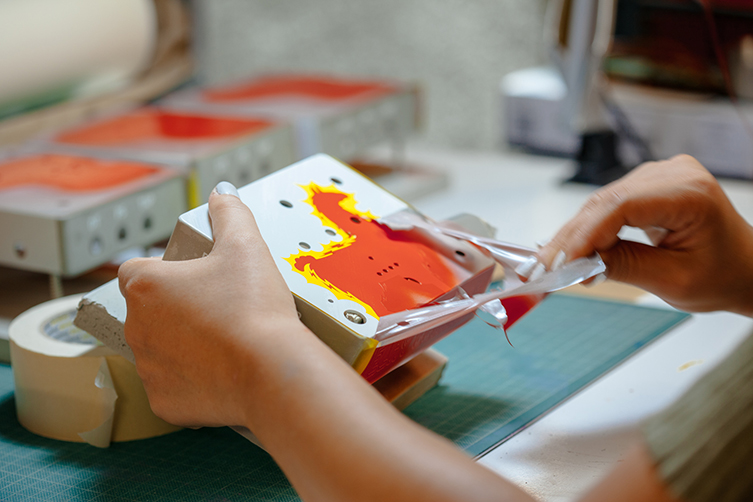 Hand-Made, Hand-Painted
Jam pedals are all about hand-wired construction, using the best quality NOS chips and transistors. Every pedal is built by hand, and then those glorious paint jobs are meticulously applied in the same Athens workshop, before being shipped out over the world. We love the ideas and creativity on display here!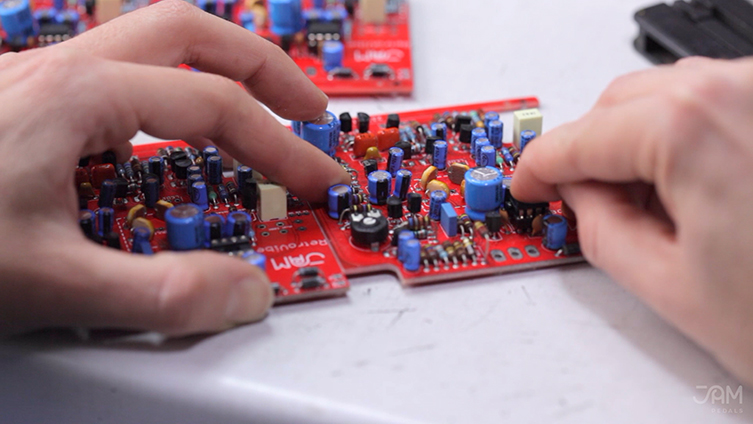 Teams of artists paint, spray, cut stencils and mask up colours in order to give Jam pedals their distinctively beautiful look. Paint brushes, spray booths and custom-mixed colours are all part of a day's work for the talented Greek artists. The end results are glorious and really help set Jam pedals apart.
In terms of the hand-made circuits, it seems to us that the overall ethos of Jam pedals is to reference classics effects (like the Big Muff and the Tubescreamer) but adapt them and modify them for today's player. This transformation can take place in a number of ways, from adding more tonal options, to building in greater extremes of dynamics or headroom, to a host of other variables. Classic pedals are the jumping off point for the imagination of Jam's designers, and the results are some of the best pedals we've ever seen. Wanna hear about some of our favourites?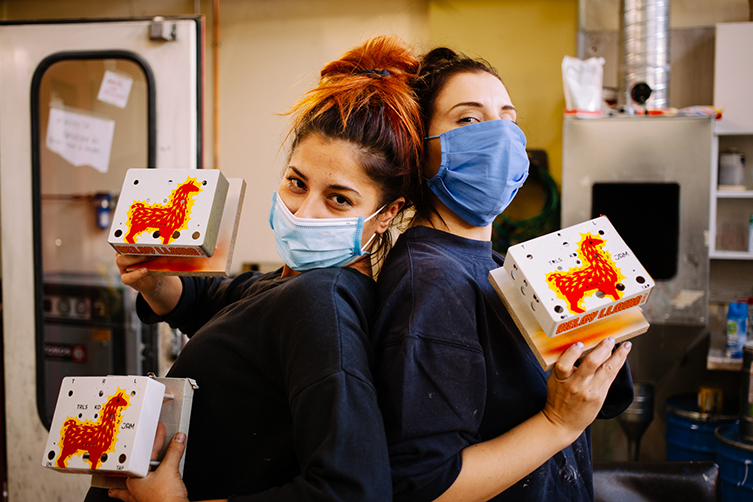 Ripply Fall Chorus/Vibrato + Phaser
This crazy pedal is awash (pun intended) with aqueous modulation effects, and there's a trick or two up its sleeve too...
The Jam Pedals Ripply Fall is made up of two already-existing Jam pedals: the Ripple Phaser and the Waterfall Chorus. Popular in their own right, it seems that many players enjoy blending the signals for ultimate modulation madness. Putting the two into one chassis is an inspired idea, we think. It's great fun to use varying touches of one effect within the context of the other! The Phaser is a 2-step style, so it's thick but subtle, The Chorus is gorgeous, with lots of range available in terms of depth and speed. Indeed, there's an input for an expression pedal too, so these parameters can be altered in real-time, too.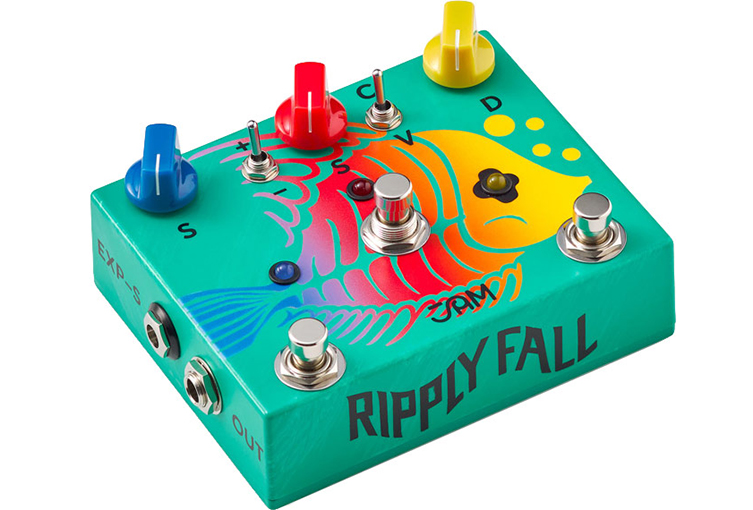 There's more, though! We mentioned a trick? Well, you'll notice three footswitches. Two of them engage each effect, and the third is for the 'Waterfall Speed Multiplier', a fun and creative feature that increases the speed of the Chorus/Vibrato effect by 3 times! Whatever the effect's set at, this will triple the speed, so you can get slightly mad tides of chorus or mad warbles of alien noise, depending on how you set the controls! We love it.
Whacko
The Jam Whacko may be the coolest looking Wah pedal we've ever seen. In a market that tend to cater more to moodiness and shades of stealthy grey, it's quite lovely to see such bursts of joyful colour splashed on these Jam pedals.

People don't buy pricey wahs for their graphics though, so it's a good job the Jam Pedals Whacko is also one of the best sounding, most versatile Wahs out there, too. The Whacko uses a red fasel conductor for its tone, and the huge rotary control allows you 6 variations of frequency sweep. A clever circuit allows impedance-sensitive pedals (and we're looking at you, every retro germanium fuzz ever) to be sonically safe when placed after the wah in a pedal chain. Great news! Hey, if this pedal is good enough for Nile Rodgers, it's good enough for us!
Tubedreamer
Every company does one, and this is Jam Pedals' TS-808 Tubescreamer clone. However, as you've hopefully come to expect, things are not quite so straightforward! Jam have added a third diode to the circuit of their Tubedreamer, which makes the pedal clip in an asymmetrical way (see our Guide to Overdrive for more on this), which alters the response. This way seems to give more dynamic response, so your pick attack will be more significant. Good news for expressive players!
Jam utilise the near-mythical JRC4558D chip here, and more significantly, they have built a great circuit around it, so it's not just boastful cork-sniffery! There's a toggle switch on there to introduce a higher gain stage, making the Jam Tubedreamer one of the most versatile and dynamic 808's out there!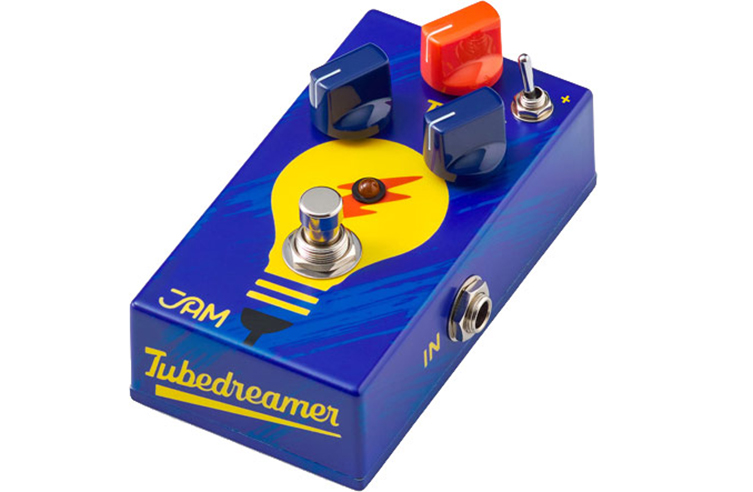 Now, some of you love tone-stacking, right? Well, if you like the sound of the Tubedreamer, you'll love this one...
The Jam Pedals Double Dreamer gives you two overdrives for stacking! You get the Tubedreamer plus Jam's sister model the Lucydreamer. The main difference with the Lucy is the ability to blend back in your clean, unaffected signal. It's a great thing actually, because you can win back a bunch of clarity and even low end by just nudging the clean sound back in a little. The drives already sound great, they stack well, and this extra feature just makes everything more useful and creative.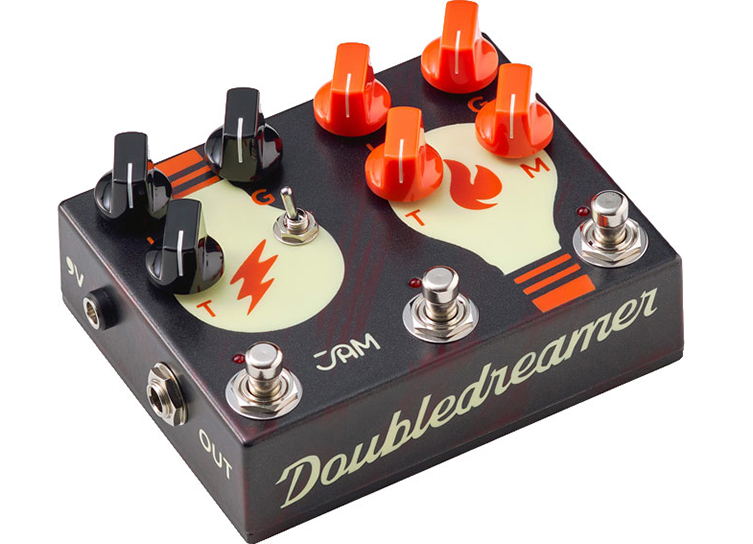 Rattler
Who doesn't like a huge dose of heavy distortion? No one reading this blog, we can safely assume. Take the first three letters of this pedal's name and you can ascertain where the Jam Pedals Rattler lies in terms of inspiration. It's a fat, angry gain with buckets of attitude and sustain.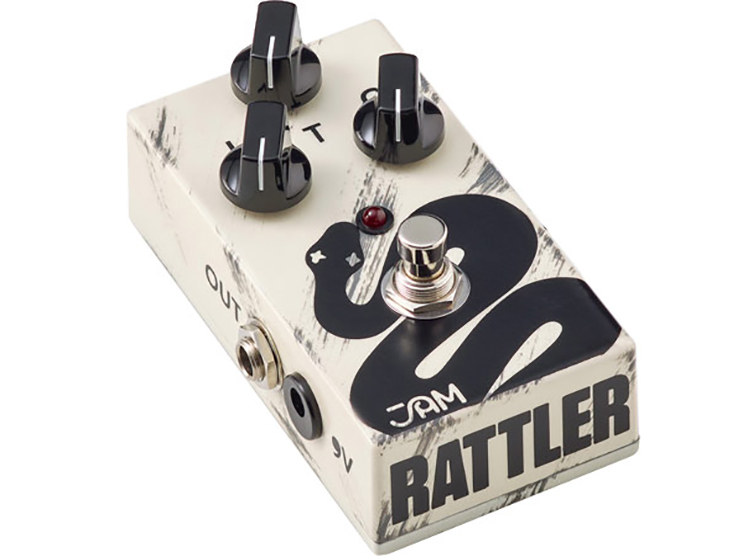 The Rattler delivers that child-like feeling of joy you get when you just stamp on a maxed-out gain pedal and instantly sound enormous. Like, 'Godzilla going postal on Tokyo' enormous. It's a real rush. We could mention how Jam Pedals have used an NOS LM308N chip here, and how it's still surprisingly responsive to your pick dynamics, but we already know you're going to buy this for its heroic filth levels instead. What else is a distortion pedal supposed to do? Set this thing to stun and get ready to accept an ASBO from your neighbours.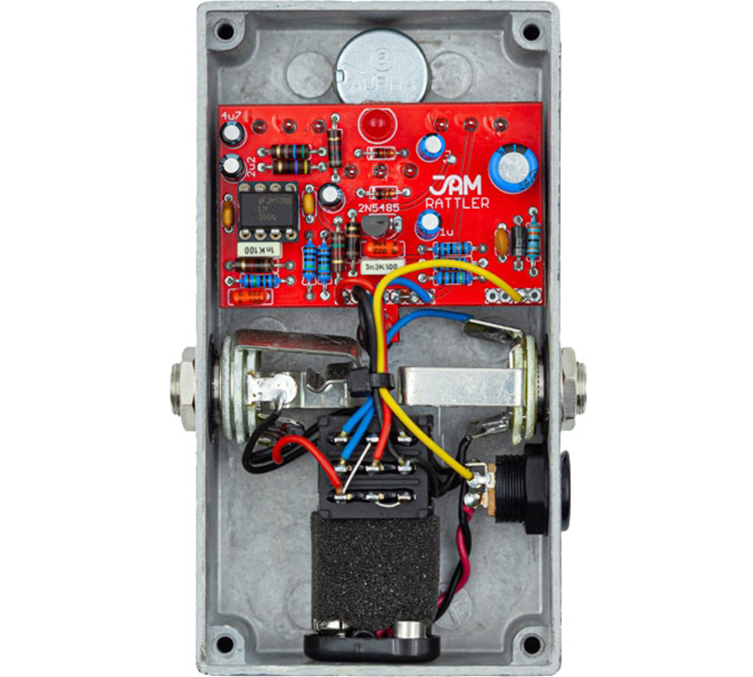 Eureka!
Like all boutique pedal makers worth their salt, Jam offer a number of fuzzes. Today, we'd briefly like to mention one that's based on the classic Big Muff sound.
Now, we are big old fans of the woolly, woofy Muff fuzz tone, without doubt. It's one of those instantly gratifying sounds and we always seem to find room on our boards for a Muff-type pedal of some description. One problem we do face, though, (and it's a famous one) is that midrange drop that occurs. You sound as mighty as Thor when you're playing alone in your house, but as soon as you're in rehearsals with the band, you step on your Muff and vanish into the background like a swatted wasp. It's not what you want, is it?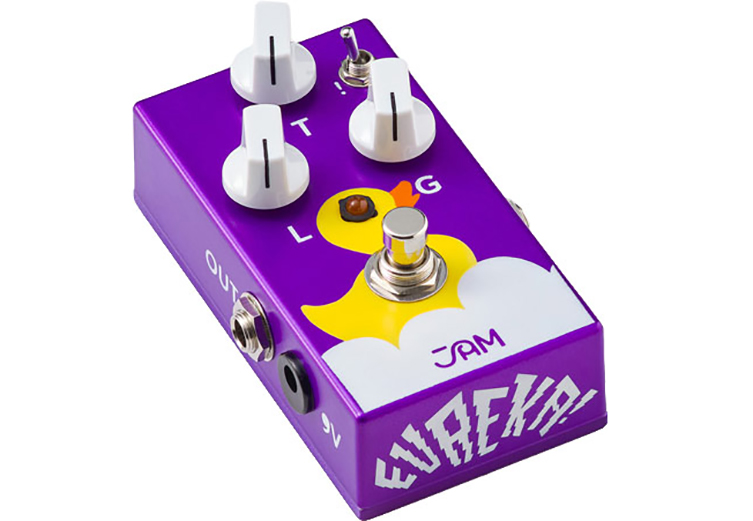 Luckily, the Jam Pedals Eureka solves this by blending a Muff-style circuit with the type of midrange thump you normally expect from a Germanium fuzz. There's even a switch for more low-end, if you decide that today is the day for bringing ultimate 'doom' to your tone. The 'inherited' mids work a treat and bring presence and power to a sound that kind of already has it and simultaneously doesn't. Fans of this particular effect will hopefully get what we mean here!
Art For Your Ears
It's obvious that the team at Jam Pedals really care about what they are making and sending out into the world. These are not anonymous stompboxes, but hand-made, hand painted and hand-finished pieces of art. You'll love gazing at them on your board as much as you'll love stomping on them and unleashing the blissfully crazy tones contained within!
Jam pedals are making the world a brighter and louder place!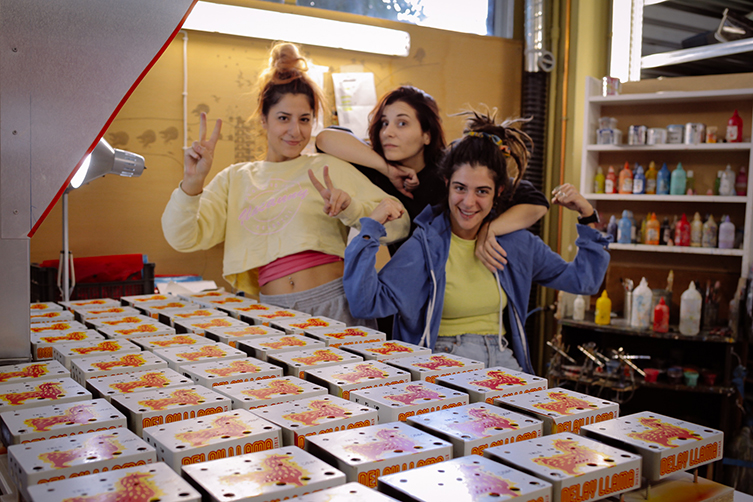 Click to View our Current Selection of Jam Pedals