Giacomo Turra: Instagram Star!
Published on 16 April 2021
How do you get over 140k followers on Instagram?
Do you have to be a world-famous artist? A household name with several sell-out tours under your belt?
Not according to Giacomo Turra.
The Italian guitarist has built a huge following from scratch, and he's happy to share some insights with you today!
Our staff members came across Turra's fluid, clean and tasteful playing online, and were suitably impressed! His approach to filmed cover songs with ingenious looping techniques and superlative playing definitely wowed us, so much so that we reached out for a chat. Giacomo was happy to oblige us, and via a series of emails, we had the following conversation about D'Angelo guitars, choosing the right song to cover, and about building a loyal (and large) fan base. He shares some excellent and practical advice on practising, and runs us through the live recording setup he uses for all of his social media videos. You'll learn about his favourite players, and his inspirations. He's a fantastic player, so make sure you give him a listen as you read through his perceptive answers...
Guitarguitar: Giacomo, what first inspired you to pick up the guitar?
Giacomo Turra: I was lucky enough to grow up in a house where music was never missing. Although none of my parents play an instrument, my mother is a dance teacher, and my father is an avid music listener. So, for as long as I can remember, every evening we used to sit in front of the stereo in the living room and listen to records together, from the jazz and the fusion music of Miles Davis and Weather Report to the funk of Stevie Wonder, from the delta blues of Muddy Waters to the classic rock of Led Zeppelin. I remember that it was mainly these last two artists that made me want to learn to play electric guitar. The opening slide riff that Muddy plays in "I Can't Be Satisfied" and the screaming Jimmy Page's solo in "Whole Lotta Love". I was obsessed with that sound, it was so intense and powerful and I just wanted to know more about it. I found out only later how much Muddy had been an inspiration for Led Zeppelin, so I'd say it all goes to him if I decided to start playing guitar.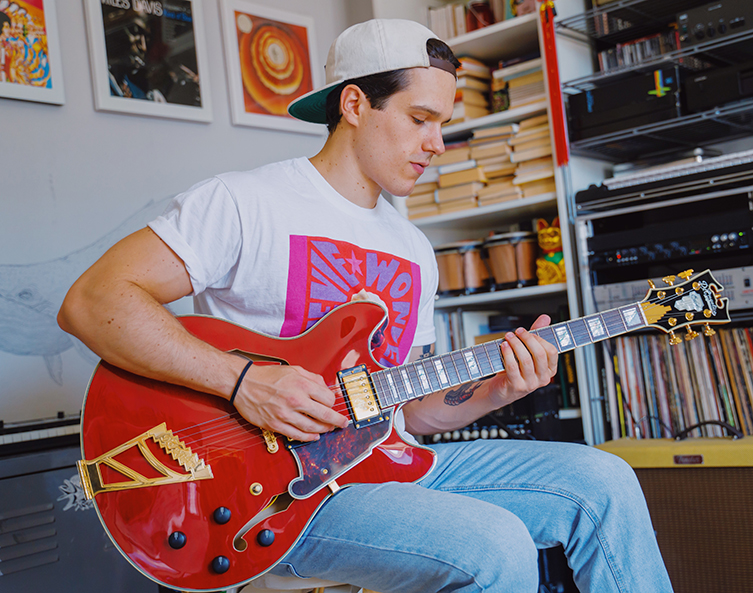 GG: In terms of your own style, which guitarists are your biggest influences, and what do you take from their styles?
GT: As I grew up and learned to play, I got closer and closer to R&B and Soul music. There's something unique about Soul music that makes it so rich and emotional, you can really feel it deep in your guts. Also, I believe there's no other genre that allows you to incorporate so many musical influences into it. It's just the perfect balance, and as a player you can vary from strong funky rhythms and energetic grooves to smooth and soothing atmospheres that are very close to Jazz. So today when I play guitar I still think about Muddy Waters and Jimmy Page to remember myself that my playing should be a bold statement, something that's effective, direct and meaningful.
When it comes to improvising, there are so many options possible and it's important to be aware of what you wanna express. This is why the blues for me is still very significant, as it reminds me to play less notes and make each one of them count. But at the same time, lately I like to mix that with a more "outside" approach, breaking outside the box and building phrasings that are harmonically distant from the tonal center of the song to create elements tension and surprise before going back "home". For this way of playing I look at artists like George Benson, Larry Carlton, John Scofield, Walter Becker and Robben Ford. Listening to these jazz and fusion guitarists also taught me to pay attention to the notes that spell out the chords in a song, using arpeggios to follow the outline of those chords and emphasize the changes.
But I don't only listen to guitarists to get inspired, I also love listening to horn and piano players when I go looking for lines and phrasing ideas (Maceo Parker, Miles Davis, Charlie Parker, Wayne Shorter, John Coltrane, Chick Korea, Herbie Hancock, Cory Henry...). It may seem strange, but because of its different physical structure, each instrument brings with it a different way of looking at the notes and composing a melody, so a change of perspective can be very helpful when you feel like you're always playing the same things.
GG: What kind of amps and pedals are you using to get those great tones we hear?
GT: Usually when I record my guitar at home I like going direct into the sound interface without any amp. When I'm playing rhythmic parts, I only add a compressor and a little bit room reverb, but I still like to keep my clean guitar pretty dry and upfront. For my lead parts, I mainly use the Michelangelo Overdrive by Dophix, an Italian company of handmade pedals with which I have been collaborating for a year. I never liked heavy distortions and this is a is a very warm, dynamic overdrive that recreates the sound of a vintage valve head. I love the fact that it comes with a mix knob so I can put it at 50% and have both my dry and wet signal together. It almost functions like a preamp or a booster for me. On some of my funkiest tracks, I also add an envelope filter to reduce the attack of my picking and give my guitar a more "synthy" sound.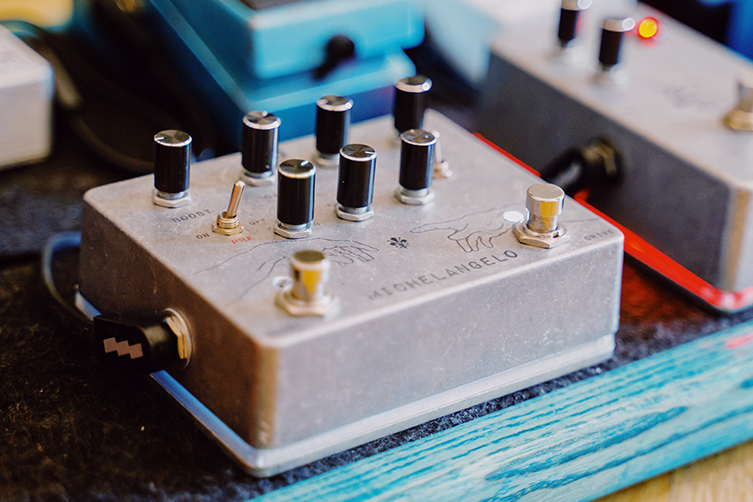 GG: You are an endorsee for D'Angelico guitars, is that correct? How did you get involved with them?
GT: I purchased a D'Angelico Deluxe Atlantic here in Italy in December 2018 after discovering it in a video by Isaiah Sharkey, an amazing R&B guitarist who has worked with artists like D'Angelo and John Mayer. When I opened my Instagram profile back in 2019, I was uploading videos with my Deluxe Atlantic and in the following months the official D'Angelico page started following me and reposting my videos. When my audience started to grow in 2020 and more and more people were commenting the videos asking what guitar I was playing, I got in contact with D'Angelico A&R and now I'm really proud to be one of their ambassadors and artists.
GG: What is your favourite D'Angelico guitar and why?
GT: My favourite D'Angelico will always remain my Deluxe Atlantic. Beyond its gorgeous aesthetic, with the gold hardware, the wonderfully detailed swamp ash grain and its elegant headstock designed by John D'Angelico in the 30s, I'm always impressed by the smooth feel of the slim satin-finished neck, it's so comfortable and fast! This guitar is very versatile as it features a pair of Seymour Duncan split-coil pickups, so you can have humbucker, single-coil or hybrid sounds and a wide range of tonal options, going from older darker voices to contemporary clarity.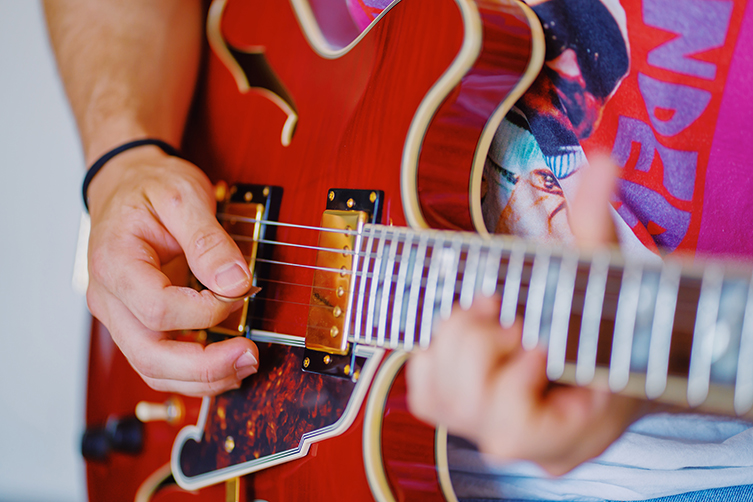 GG: Aside from D'Angelico, what other types of guitar do you like playing?
GT: Playing Funk and R&B, I've always been a fan of the bright quacky sound of a Stratocaster. However, I've never really been satisfied with the quality that Fender provides unless you get a Custom Shop model. For this reason, I've always preferred assembling my own Stratocasters to have better materials and pickups. In 2020 I became friend with a really talented Italian luthier called Felix Custom Guitars and he designed and hand-built a custom Stratocaster to my specs which sounds really amazing.
GG: What is your preference for strings and plectrums?
GT: Since I started playing guitar I've always used the regular string set of 10 to 46's and I never really tried to change it. It just felt like the right gauge for my bends, and I used to buy the Ernie Ball Regular Slinky. However, in the last year the guitars that D'Angelico sent me were strung with the D'Addario NY XL and I have to say that I'm really satisfied with how these strings stay in tune. They seem to be more resistant and have a better sustain.
I believe that a great sense of timing is the most important skill that a guitarist should develop. Many times, when you hear "fluid" playing it's because of the musician's timing accuracy and attention to putting accents in the right places.
For picks, I'm now endorsed by a California based company called Anatomy of Sound, which has developed some really unique 3D designs. I mainly use their Heartbeat Jazz medium picks. These picks are basically shaped like a heart and they are thicker than the picks I've used before, so I have to say I wasn't too sure about them at first, but now I could never go back to regular nylon picks. Thanks to their singular shape, curves and internal dimension, Anatomy of Sound picks allow a firm and comfortable grip and provide many different attack alternatives and stroke angles.
GG: You have a very fluid, smooth playing style, especially as you often use cleaner tones.
Can you share any tips for playing like that?
GT: This is something I've developed in the last couple of years, after listening to many jazz players. I'm more and more working on getting a smooth and clean sound without losing speed and power. As I said before, I think it's important to play less and be effective. I don't really like noodling and I believe that a great sense of timing is the most important skill that a guitarist should develop. Many times, when you hear "fluid" playing it's because of the musician's timing accuracy and attention to putting accents in the right places.
For this reason, I like practicing to a metronome with an acoustic guitar, cause the strings are harder to push and it's easier to hear your mistakes. If you wanna learn to play a scale or a lick smooth you should start very slow, so you can really pay attention to your finger pressure and your sound and your hand memorizes all the little movements that are necessary to play that line. I think it's also important to record yourself, cause many times while we're playing, we don't really listen carefully to what we're doing.
GG: You make excellent use of a looper pedal. What's your process for creating loops? Do you play to a click? How do you begin?
GT: For recording my loops I use the Boss RC-50 Loop Station. Usually, I start the loop with a drumbeat played on my MIDI keyboard, then I record the bass line (using a synth bass or the guitar with an octaver pedal), some chords on my guitar and then I play a solo. Most of the time I work the rhythmic arrangement first and then I try improvising a number of solos over it to get a feel of the chords and how I might approach the phrasing, so that by the time I do the final take that you hear, I have a rough idea of what the solo should sound like, I know what my opening line is and which notes I want to highlight during the song. Since my Instagram videos are only one minute long, I think it's very important to really try to be selective and accentuate the key parts and changes, paying attention to your entire performance to make it dynamic and build it up into a crescendo.
GG: You also use keyboards and other instruments in your performances. Is your guitar, your looper and everything else connected to a laptop/software setup?
GT: I love starting my loops with a groovy drumbeat which I play on my MIDI keyboard pads. I'm now looking for a vintage drum machine but they are not easy to find in Italy. Anyway, the MIDI keyboard is connected to my laptop on which I assign it the sounds that I want with a sampler software. I have some vintage drum samples taken from the LinnDrum, the Oberheim DX, the Roland TR-808 and also some sliced funky drum breaks from James Brown or Earth, Wind & Fire records. What I do next is take the headphone output of my computer and connect it to one of the jack inputs of my loop station through a mini-jack / jack cable.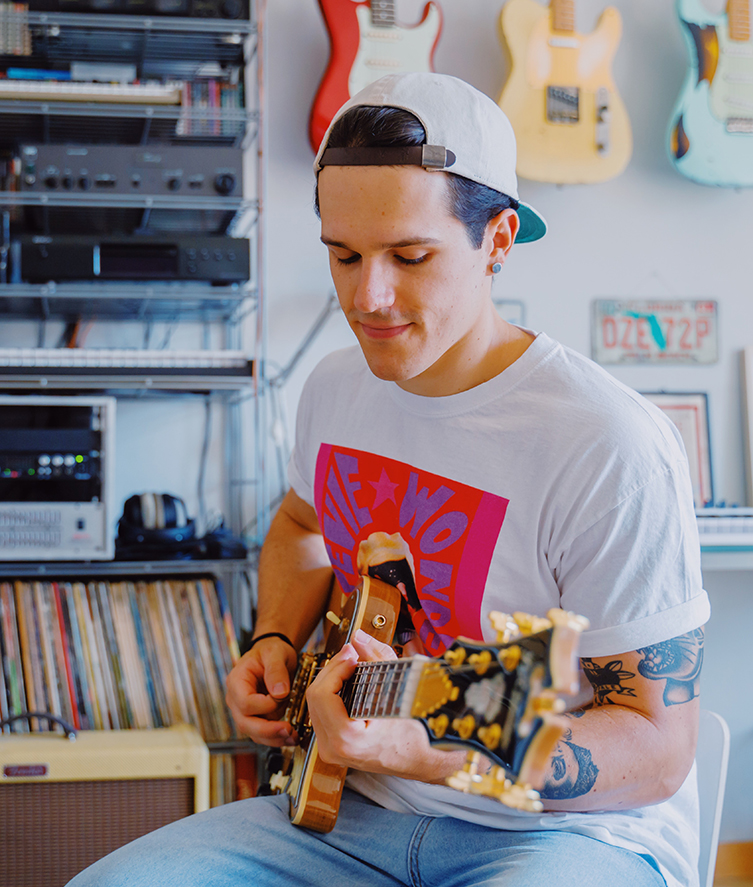 GG: Your Instagram account has 144k followers, congratulations! What are your secrets for building up followers?
GT: I believe it's all about consistency and originality. There are thousands of music videos being posted on Instagram every day, so it's very important to be consistent and post one video every week, interact with your followers and most importantly create a style that you are recognizable for.
GG: How do you go about choosing which songs to cover in your videos?
GT: I always try to cover songs that are meaningful to me, artists who have been important for my musical journey. Many times, they happen to be catchy and groovy instead of slow jams. I like to make people dance and smile with my videos, sending some good vibes during these harsh times.
GG: Are cover songs an important part in getting wider exposure on the social media channels?
GT: I think covers can help you connect with the right audience for your music. Whenever I ask my followers for song suggestions, I'm really happy to see that we share the same musical taste. With covers you can let people who don't know you understand what your influences are and still be able to express something original by reinterpreting them in your own way. After being initially attracted to my profile by my version of "Virtual Insanity" or "Boogie Wonderland", many people got interested in my original music and checked out my songs on Spotify and YouTube.
GG: When it is once again safe to do so, do you plan on touring and playing lots of live shows?
GT: Absolutely. Now that I have followers from all over the world, I would love to organize a tour and play with my band in front of those people in the States, Brazil, UK, Japan and many other countries. I have an album ready to be released, I'm just waiting for the situation to get better so my followers can actually hear those songs at live shows and not only on digital platforms.
GG: If you could collaborate with any other musician, alive or dead, who would it be?
GT: Stevie Wonder. There's probably no other artist that I worship as much in terms of songwriting and talent. He can play any instrument and he's an amazing producer.
Fantastic! Giacomo has a great attitude towards performing music, and he can't wait to hear his album when he's ready to release it. He made some very interesting points there about practising on acoustic with a metronome, which is something that's easy to look past in favour of the glory of distortion and volume! Giacomo's a great musician with rare taste, and is well worth checking out. Find his video on the Giacomo Turra Instagram page, and follow the Giacomo Turra YouTube channel. We'd like to thank Giacomo for accepting our invitation and for giving us such detailed answers!
Thanks to you for reading this interview! We have a great many more available over on our ever-expanding guitarguitar interviews page, so be sure to click through and read more!
Until next time
Ray McClelland