OUTRAGEOUS Guitar Graphic Finishes!
Published on 18 June 2021
There's more to life than Black, White and Sunburst, right?
As guitar players, we are already spoiled by the multitudes of choice we have when it comes to which models we like to play. Even though most designs focus on those classics from the 50s, just consider our unfortunate classical musician friends, whose cellos and violins look identical, and you'll see what we mean!
However, sometimes more is required. Sometimes it's not enough to have a nice tidy, tasteful brown sunburst finish on your guitar. Sometimes even a lovely translucent stain of aquatic blue or fiery red over a slice of deliciously figured maple won't do it. Sometimes, you just gotta get yourself something with a nice big, loud graphic painted all over it. You want to make a statement and that plain, single colour finish just aint gonna cut it anymore.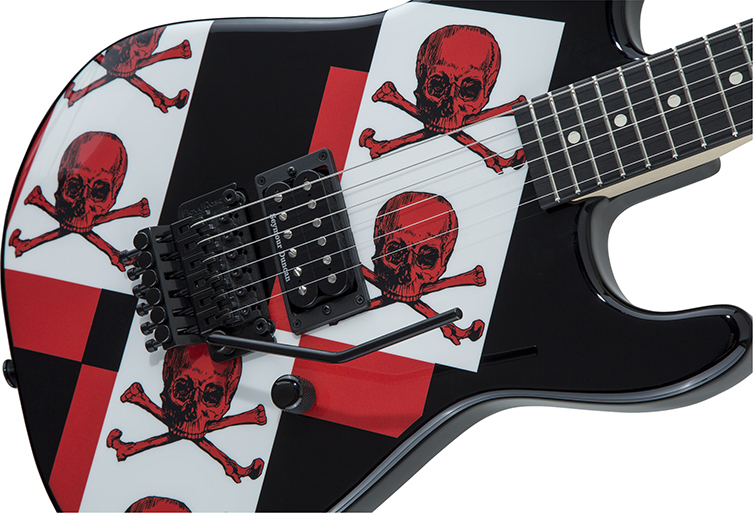 We hear you. When we saw Jackson's newest graphic finish for Iron Maiden axemeister Adrian Smith come into stock recently, it set us off. What other fantastic custom graphic guitars have we had through our collective doors in the past? There's gotta be a few crackers, for sure! Right enough, once we started looking, those wonderful graphic finish guitars just kept on coming and coming! Today, we've collected some (by no means all) of our favourite guitars that have graphic finishes, and we've put them all together for you. Some of these are flying solo, looking for kudos on their own merits, and others have been gathered together in loose street-gangs of attitude. You'll see what we mean.
What was the criteria? Well, apart from a basic understanding that the more over-the-top the finish was, the better, we decided that only guitars that had some sort of discernible graphic pattern or art on it would make the grade. This means that lovely sparkle finishes, for example, are not included. Pictures of skulls and snakes are. Comprende? Then let's do this!
The Instigator
Our inspiration for this article, as we mentioned, was this beast of metal from Jackson's Custom Shop. Iron Maiden fans will recognise the art on this limited edition (only 20 made!!!) Adrian Smith guitar as the cover art for the 2 Minutes to Midnight single. The guitar has been hand built by Dave 'Red' Nichols (we didn't ask about the nickname...) but the real prize here is the fact that the art has been hand-sprayed by artist Craig Fraser! Yes, this is not painted by computer or machine! It's a genuine work of art. '2 Minutes to Payday' is what you're really thinking, right?

The OG
Custom guitar finishes definitely existed before Eddie Van Halen got out the electrical tape and spray cans, but there's hardly a more famous guitar finish out there than this one! You only have to see the red, white and black stripes (or indeed the other two iterations) to know you are dealing with the mighty VH. The design appears on a ton of merch these days, as you'd expect, but it started off on Ed's Frankenstein creation. This is so much more than brand recognition, it's pretty much a contemporary cultural icon.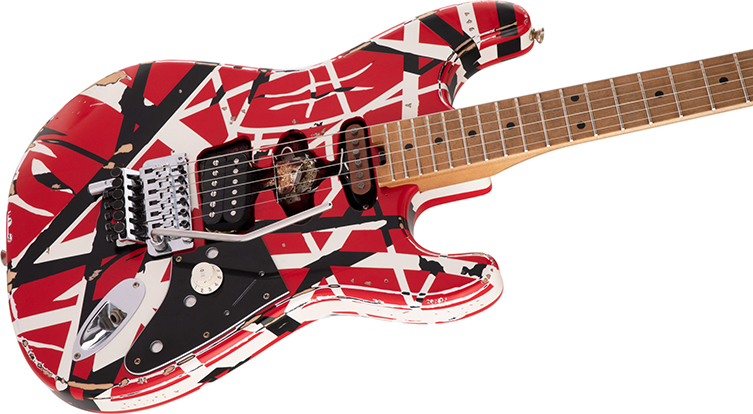 Charvel Skulls and Such
Staying in Southern California during the shred era (that's where you were too, right?), Charvel are one of the brands most associated with excessive graphic finishes. We've grabbed a few examples that we've had over the years, but really, there are loads. Skulls and snakes are a popular choice, for reasons that don't automatically suggest themselves. They look mean though, in a fun-lovin' way, and that's a pretty rock n roll way to be, we reckon. Keen-eyed guitar fans may spot a stray ESP in here! Relax, we included it because of its badass skull graphic, not the brand it belongs to.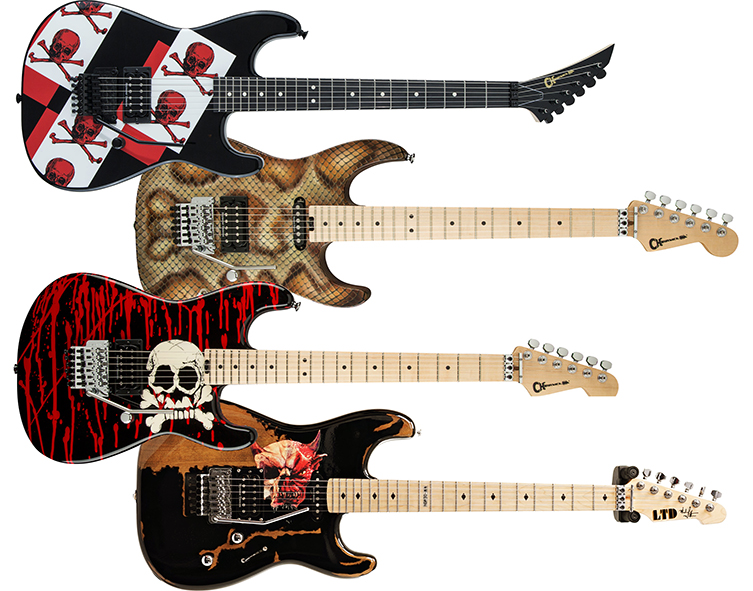 ESP George Lynch
Continuing our theme of 80 shred graphics (and it'll remain that way for some time yet), one of the worst offenders/greatest heroes (delete as appropriate) is Dokken's George Lynch. He's an animal of a player, and seems to be into having animal prints on many of his guitars (We'll see this theme copied many, many times). He also seems to have some sort of connection or fascination with World War II Japanese Kamikaze pilots, judging by a couple of his more questionable guitars. Anybody know why? We don't. Extra points are given for the serrated headstock in the middle!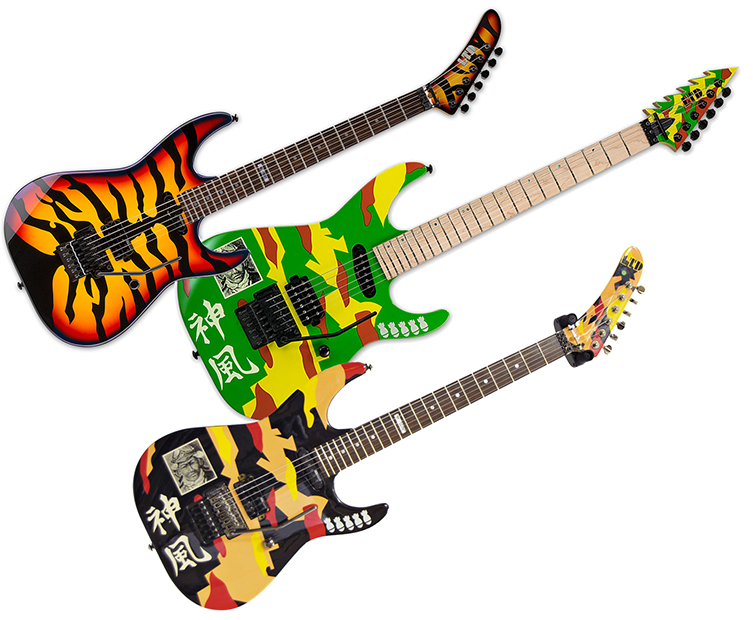 Kramer: Titan of the Graphic
Kramer were a big deal in the 80s because Mr Van Halen signed up with them for a spell. For a brief period, they were the hottest brand around, and landing as they did in the epicentre of the 'gunslinger' era, they have some delightfully gaudy graphics for us. Purple leopard, anyone?
We do have a soft spot for this gleefully 'extra' snake graphic, though. It reminds us of the skilful yet slightly 'uncanny' spraycan artwork applied to waltzers and ghost trains you come across whenever the 'shows' come into town, so maybe there's a connection? Funfairs and hard rock certainly bring a Lost Boys vibe to our minds, so there's a win in there somewhere.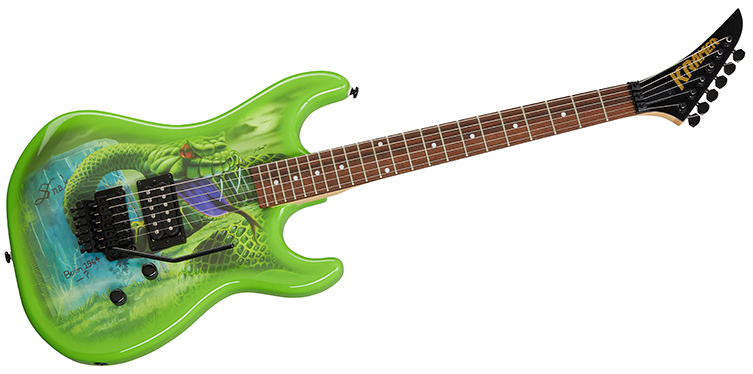 Misogynistic Creeps
Yes, we are glad to say that times are truly different now but even in the recent past, it seemed okay for some people to plaster graphics of 'hot girls' on guitars in a way that can only be described as 'objectifying'. Jackson presumably expected lots of people to want a King V with adult movie star Jenna Jameson on it, as we can see below, whilst G&L made a recreation of Jerry Cantrell's old 80s Rampage, complete with semi-naked lady. These are cultural hangovers from the days of Page 3 girls and swimwear models on beer cans. Searches for corresponding male 'beefcake' guitar graphics were unsurprisingly fruitless.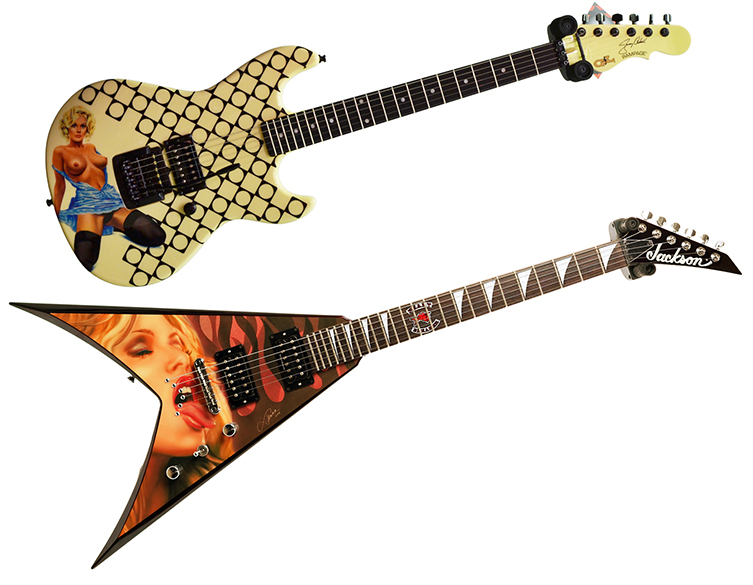 Kirk Hammett Loves Horror Films
Metallica's other guitarist (sorry mate) is no stranger to graphic finishes on his ESP guitars. His most famous is easily the 'Ouija' design, which is a recreation of the unwholesome occult-pestering board 'game' that kids should genuinely not play about with. Our Kirk doesn't stop there, though. He also has a 'Demonology' graphic, with genuine magick sigils taken from dodgy old grimoires (what does that man get up to in his downtime?) painted over it, which we can only hope doesn't activate some portal to hell or whatever. More striking still are his movie poster guitars, with appropriately creepy choices like Nosferatu and White Zombie (yes, that's where Rob got his old band name) emblazoned across his signature axe. Bandmate James also has a ton of cool graphic guitars, but Kirk wins this round!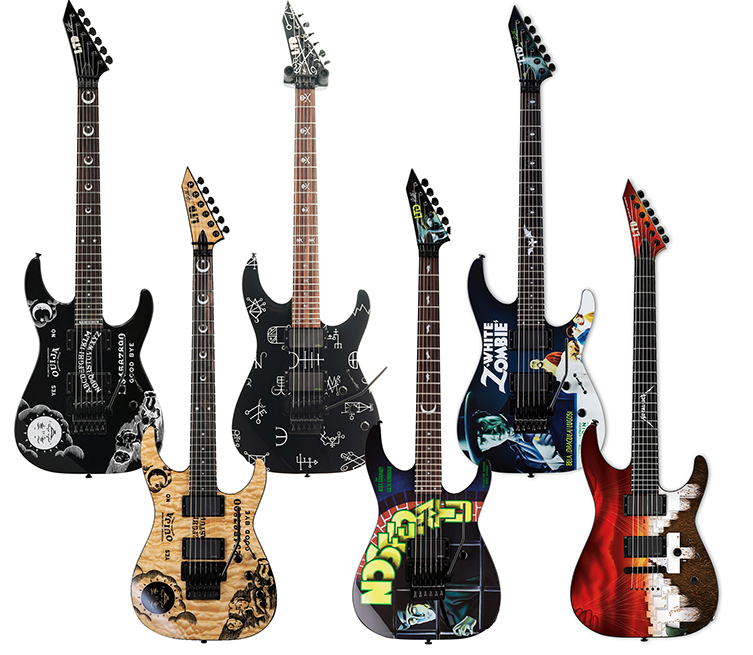 Joe Satriani's Sharpies
Shred-wizard Joe Satch has brought out a massive selection of Ibanez JS signature models over the years, and many of them are relatively subtle and low-key. Others aren't. Take this anniversary model for his stupendously popular Surfing with the Alien album. The comic art is recreated faithfully, but in case that wasn't quite enough, the Silver Surfer character is EMBOSSED. Yes, your eyes are not deceiving you.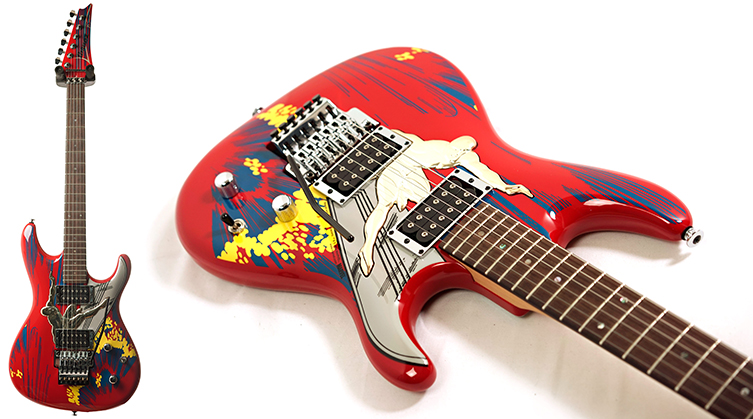 Joe is an artist in many ways, and Ibanez decided to showcase this by getting him to 'go for it' over a bunch of plain JS models with a set of Sharpies, for a limited-edition range of hand-drawn guitars. The Black Dog guitar is a replica of one of his own famous instruments, but the same can't really be said for this white one shown next to it. Somebody will love it.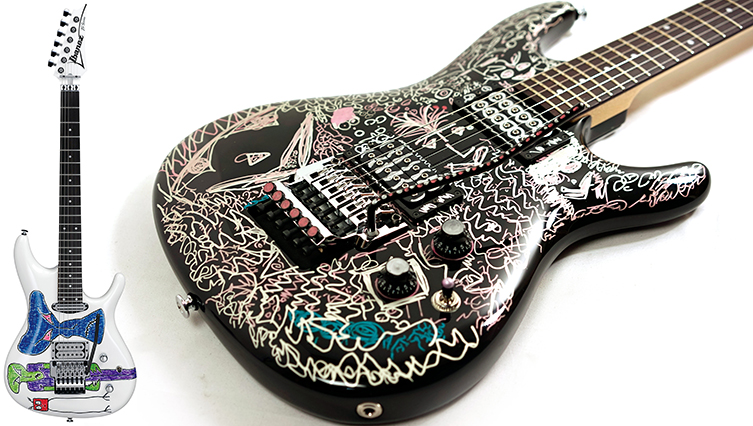 Steve Vai's Curtains
Shred Grand-Mage - and best buddy of Joe Satch - Steve Vai is also known for flamboyant guitar finishes. His JEM and Universe guitars are noted throughout the guitar community for being 'eccentric' to say the least, and this is fuelled partly by the outré graphic finishes on some models. Take the famous Swirl finishes of his Universes, with the multiple paint colours emptied into a tank before having the guitar body dipped in, so that each one of different. Or indeed the original 'Floral' JEM, whose wonderful flower graphic wasn't a graphic at all but a piece of material positioned underneath the guitar's polyurethane clearcoat. Was it Steve's actual curtains from his living room? That was certainly the story at the time! Simply thinking about that for more than three seconds dispels the myth somewhat, but let's not do that. There have been other Floral JEMs since, but those use paint. How boring!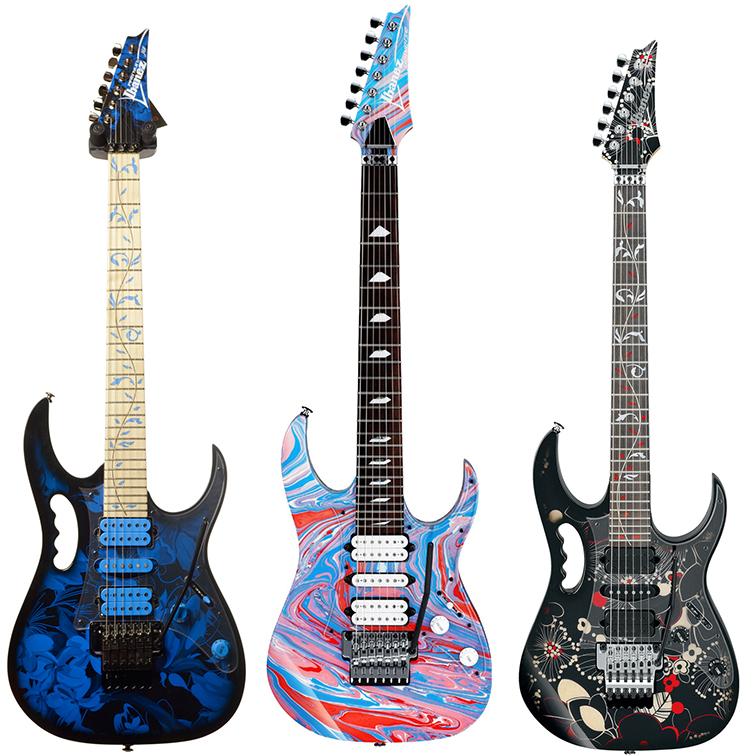 Dean, Dimebag and the Angel of Death
Dean guitars threw the boat out not only with graphics but with the guitar shapes themselves. The ML? The Razorback? You could certainly say that these were merely 'extrapolated' Gibson designs, but we have never seen anything coming out of Nashville with a 'Dimeslime' or 'Dimesplosion' finish, frankly. Pantera's immortal guitar legend Dimebag Darrell was of course the brain behind all of this loud, pointy madness, but he wasn't the only one.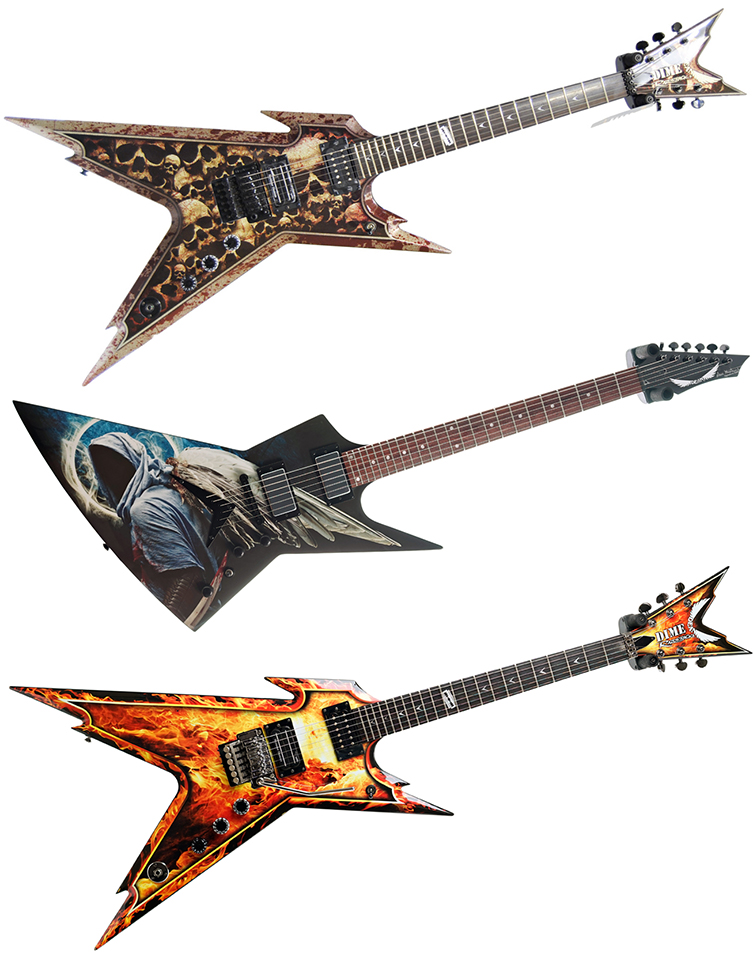 Megadeth supremo Dave Mustaine got in on the fun too, with a signature model bedecked in a portrait of the none-more-metal Angel of Death on it! Well, what else are you supposed to ask for when you get offered a special signature finish? We liked the work on this one so much we zoomed in on it, so you could have a better look. You're welcome!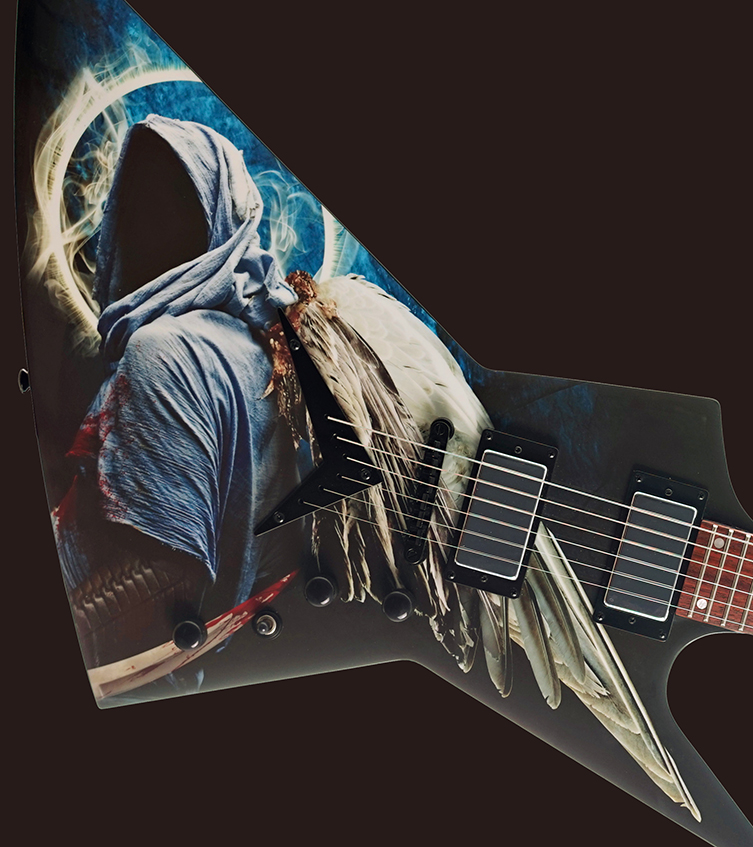 Fender George Harrison Rocky
It's not all 80s hard rockers, here. Even the Fab Four had their moments with customised guitar graphics. The quietest of the Beatles had maybe the loudest looking guitar, if this Custom Shop recreation of Harrison's famous Rocky Strat is anything to go by. It's a distinctly psychedelic affair, and we would certainly not offer any conjecture as to what Beatle George may have been ingesting when he painted his Strat originally, but this astounding Fender Custom Shop recreation is perfect in its depiction.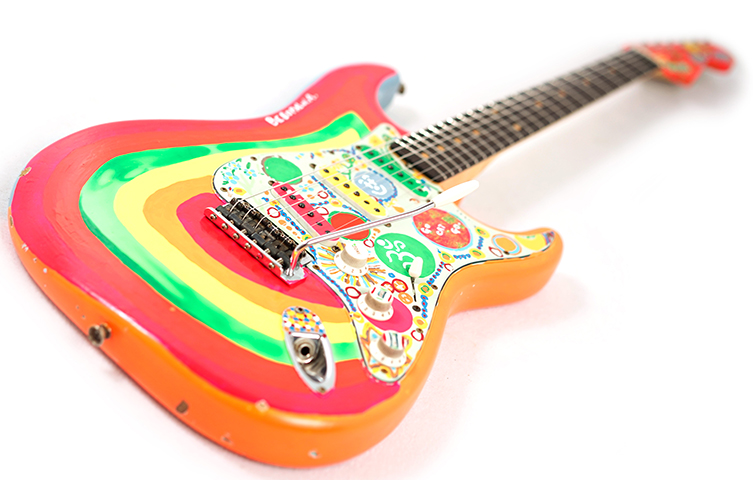 James Burton is Flames
Sticking with Fender for a sec, here's a somewhat surprising graphic for James Burton, the Country picker of no small repute. It's Paisley flames over black and gold, which we guess we've never considered before as a concept. If it works for a member of the illustrious Wrecking Crew, it works for us! Matching bowling shirt not included. (sigh)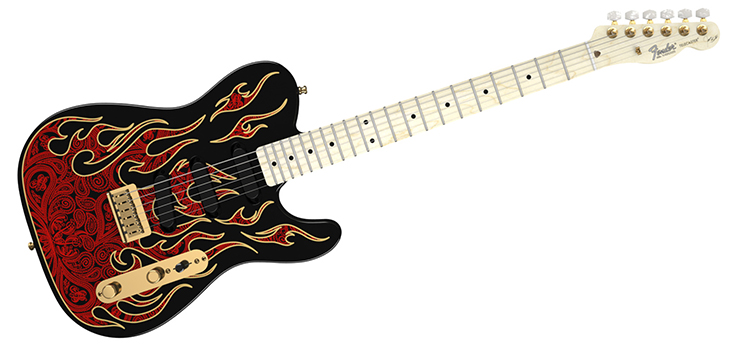 Balaguer Synthwave
We are entering Tron-land here, with the glowing neon vectors and retro-futuristic vibe of this stunning Balaguer Espada. It's a shame Daft Punk split up, because this looks like the perfect axe for those robots! Switch on your Atari, break out your computer hacking skills handbook and get yourself connected to the mainframe in style!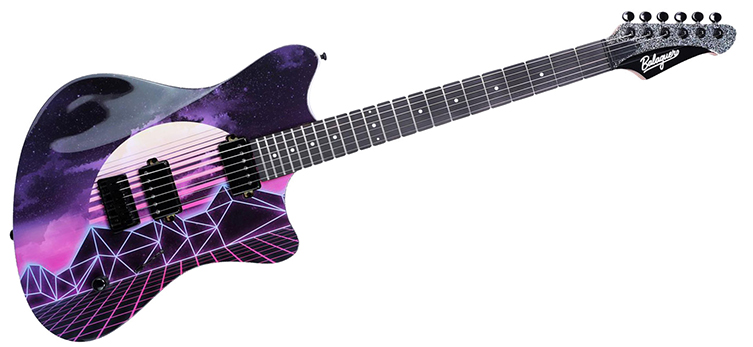 Gretsch Bomber
Heads turned and turned when this exquisite Gretsch showed up a few years back. This one is also hand-painted, and the back is so amazing, we just had to show you both views! We wonder why we don't see more graphic finishes on larger guitars: after all, there's more 'canvas' space to go nuts on! Well, until we see more, this WWII-inspired art is about as cool as it gets.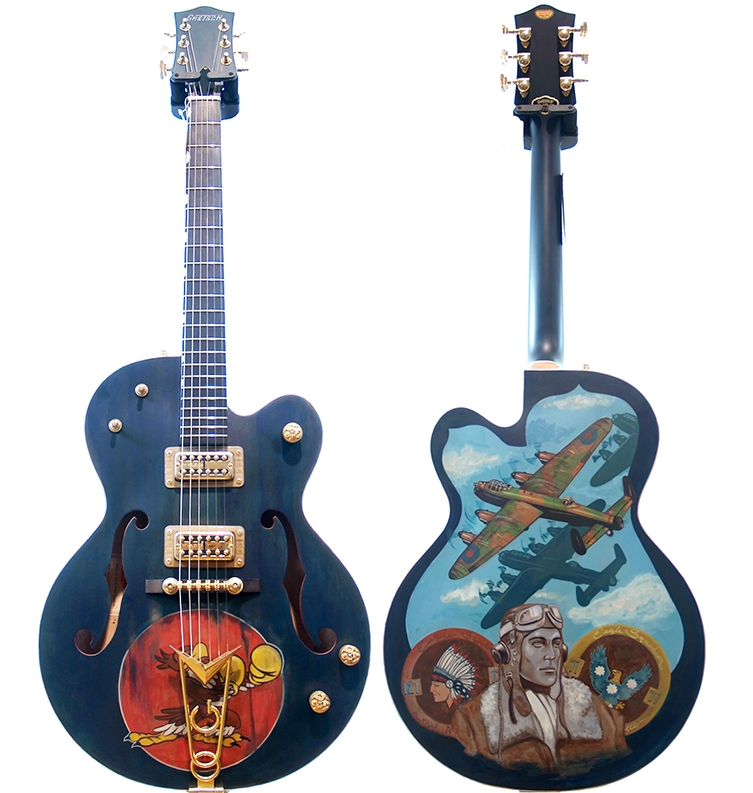 Acoustics
It's not just electric guitars that catch the eye of the renegade airbrush artist. Acoustics occasionally get the graphic treatment too, as evidenced by these two quite distinct examples. The Martin Woodstock guitar is not what we'd call subtle, but it does get its message of Peace, Love & Understanding across pretty clearly.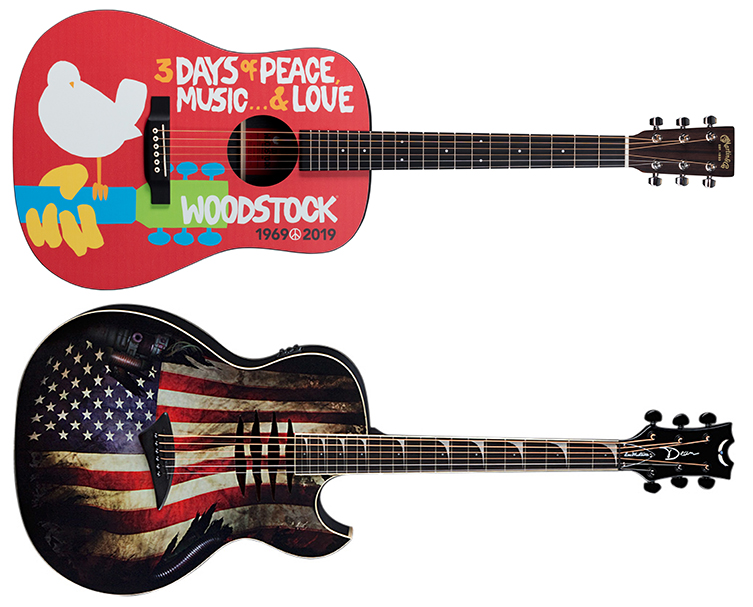 The message behind the Dean acoustic (another signature model for graphics-championing Dave Mustaine, it seems), however, is somewhat less clear. Better not to speculate. Instead, let's give ourselves a minute to take in that unusual soundhole situation and the inexplicable 'stuff' up above the flag. Is it a motorcycle handle? A lightsabre? We give up.
Graphics Are Great
In case you hadn't noticed, graphic finishes on guitars are awesome. They make you play faster, better and you look cooler whilst doing it.
Okay, we won't necessarily be backing up any of those three statements, but we do love a good graphic finish here at guitarguitar. We think they add fun, attitude and brightness to our lifestyle of guitar playing. Graphic finishes certainly aren't everyone's cup of tea, but we hope that the more flamboyant players out there continue to demand graphical greatness from their guitar finishes, so that we may see more supremely 'dressed up' axes on stages and screens for years to come.
Ray McClelland