PreSonus Eris: Your Next Monitor Set
Published on 25 October 2021
Is it time to promote your mixes from headphones?
Are you feeling like you want add some affordable, effective monitor speakers to your home studio?
If so, we recommend adding PreSonus' Eris range to your shortlist of potentials. Today, we'll take a look through the range and see which models suit which setups. Whatever your mixing needs, and whatever your budget, you'll find something here to incorporate into your studio!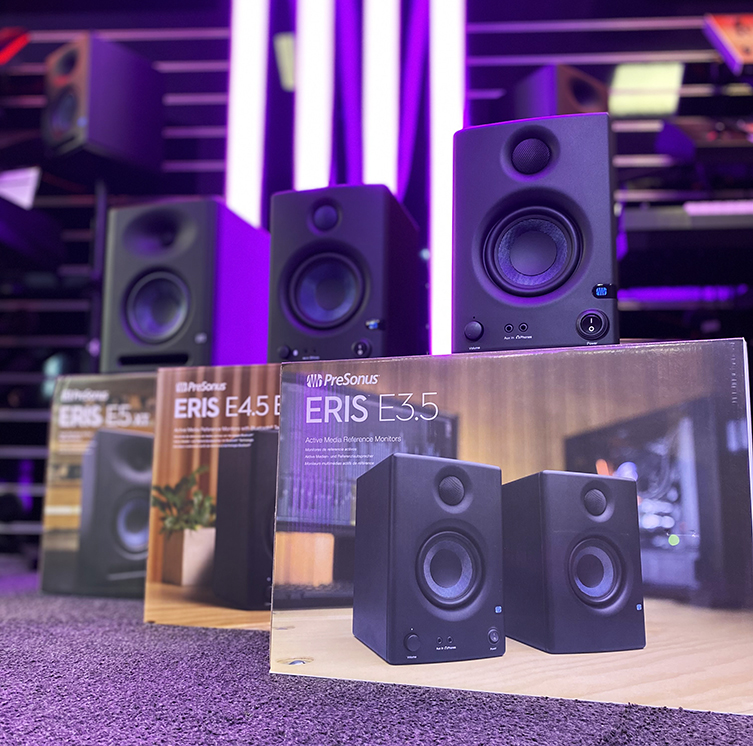 PreSonus: The Eris Range
PreSonus are well known for their studio gear. From innovative digital mixers to handy creations like the Faderport, PreSonus have been providing home studio musicians and professional engineers with quality solutions for years. It's a name we know and trust from personal experience, so when we recommend the Eris range as a great cost-effective option, it's because they've impressed us.
The Eris range spans four sizes of speaker. Two of these are available with or without Bluetooth connectivity, and these two (the smaller 3.5 and 4.5 models) are sold in pairs as a complete set. The larger models – the E5 XT and E7 XT models, are active units and are sold separately.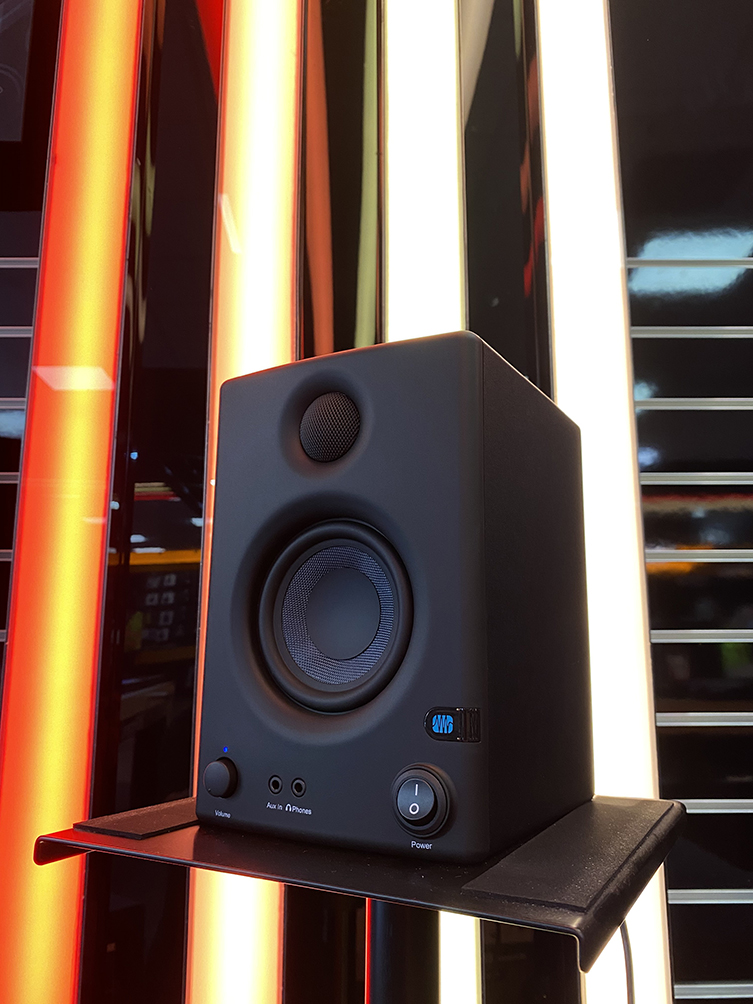 The whole range features Kevlar woofers, and the size of each woofer is hinted at by the model name, so the Eris 3.5 speakers have 3.5" Kevlar woofers, for example. Kevlar is a good choice of material due to its robust strength. The woofer will be handling a large number of frequencies, including the lower ones, and so needs to be resilient to motion. Too much movement with the cone results in distortion, and too little stops the frequencies from projecting properly. Kevlar, therefore, is an excellent choice!
Broadly speaking, the small Eris models are similar to each other, as are the larger two, so we'll look at each 'pair' together, pointing out any differences as we go along.
Eris 3.5 and 4.5
Beginning with the smaller Eris models, you'll find that these come packaged together in a set of two, complete with red/black connecting wire and a figure-8 cable for power. These units are more aimed towards the 'all-purpose' section of the market, given that there are a couple of minijack inputs for both headphones and an auxiliary in. These are located on the front panel of one of the speaker pair, presumably for easy access.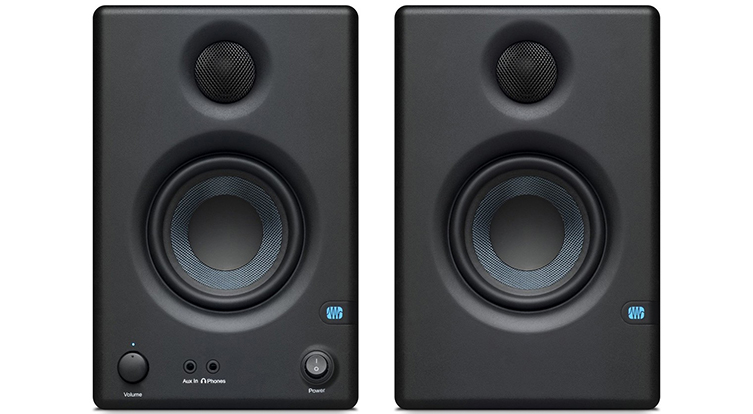 Speakers like these are handy for smaller spaces, where bigger speakers may have to wrestle with other prized bits of gear for desktop real estate. As general purpose speakers, these are great, and there are Bluetooth equipped models of each available too: just make sure you opt for the Eris 3.5 BT or Eris 4.5 BT if you want that feature, since the standard models don't have it.
Sound-wise, as we've mentioned, there are Kevlar woofers in use here, which put this a good few steps above the sort of 'PC gaming speakers' you'd get in Argos or wherever. The Eris 3.5 models boast a frequency response of 80hz-20Khz, which is reasonable in the low end and excellent in the top end. The slightly larger Eris 4.5 speakers allow for more at the bottom: they measure 70hz, so that could be a deciding factor when you're weighing your options. Both sets feature an adjustable two-band EQ on the back, via a pair of simple control knobs.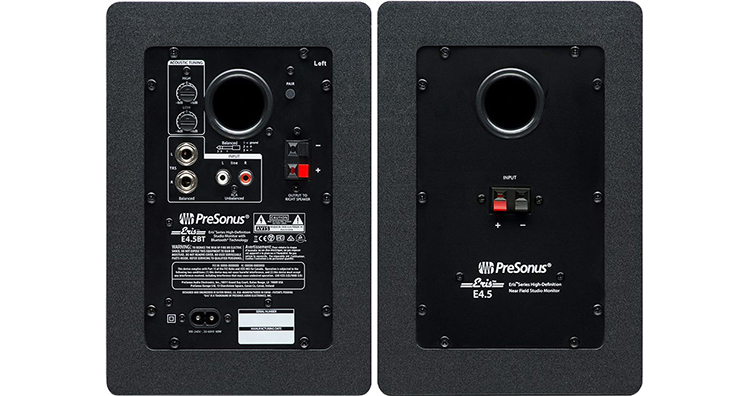 These smaller Eris monitors provide a simple and effective all-in-one solution for mixing, listening to music and generally having sounds in your home, all without taking up much space or incurring much of a cost. If you need monitors that double up for listening to tunes in a bedroom studio or other small space, we'd suggest giving these a trial run.
Eris E5 XT and E7 XT
The larger Eris speakers, the E5 XT and E7 XT, are active models and so each require to be plugged into the mains in order to be brought to life. These XT models are certainly more in line with the type of pro-level speakers you'd find in commercial studios.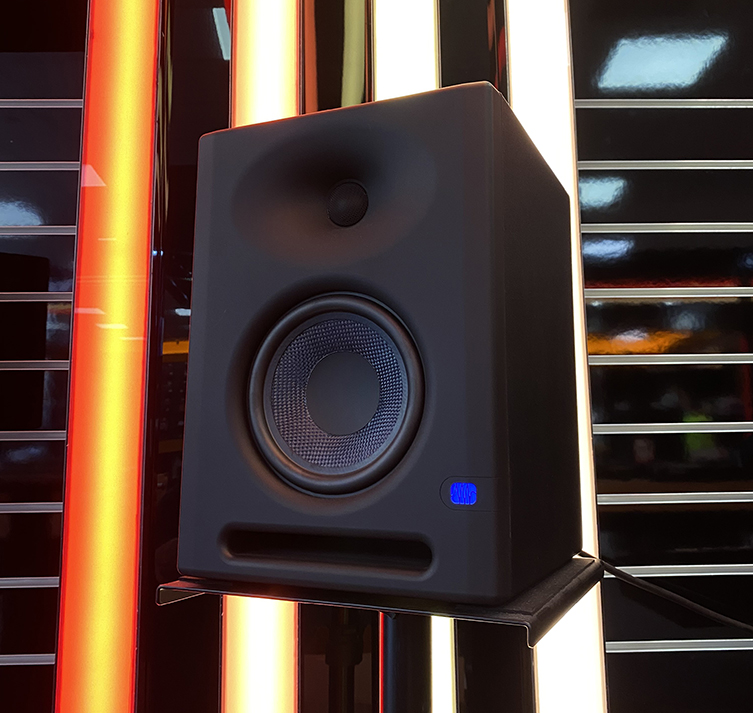 Again, the name denotes the size of woofer, so the Eris E5 has a 5" Kevlar speaker, and the E7 has a 7" one. The larger the speaker size, the more physical space is available for frequencies to exist – it's entirely a physical thing – so generally speaking, larger monitor speakers allow you to be more detailed and precise in your mixing. In terms of frequency response, the trend continues from before, with each successive unit boasting lower (i.e. better) bottom end values and the same 20kHz high end value. The E5 XT reaches to 48hz with a crossover at 3kHz. Crossover is simply the point where the speaker divides the signal between the tweeter and the woofer, so in this case, everything above 3kHz comes out of the tweeter, and everything below from the woofer.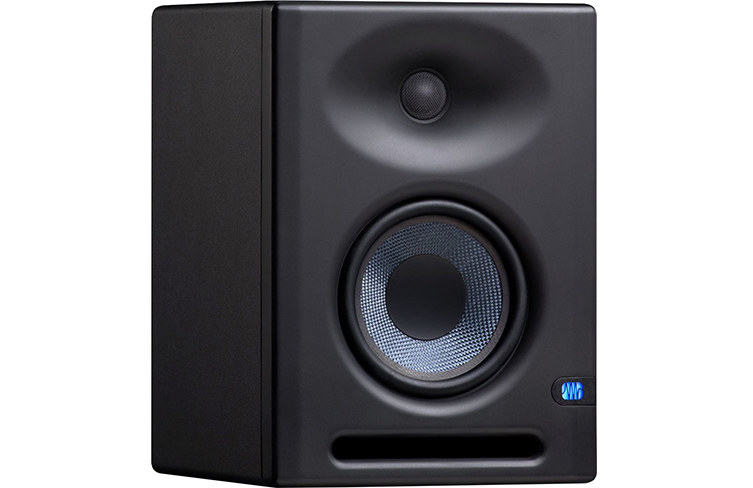 By comparison, the larger Eris E7 XT handles frequencies as low as 42hz, making this the model with the widest range. The crossover here occurs at 2.5kHz, so the woofer is slightly more dedicated to the low end. Does this make it better? Not necessarily, because it will depend on how your ears assess the resulting signal. Try both out with the same music and see what resonates (literally) better with you.
These two monitors have some excellent features that you won't find on the smaller Eris models. First up, there is a 3-knob EQ and gain system (named 'Acoustic Tuning') which works alongside a handy diagram on the back panel showing just which frequencies make up their permutations of 'middle' and 'high' ranges. This is super-handy when using things like 'shelving' techniques in your mixes, because the guesswork has been taken out of it. You'll be able to ascertain which mids are being affected by EQ plugins, and how much gain is from compression versus the inner-working of the speaker. We like this level of control!
There's more: two sliders for 'Low Cut' and 'Acoustic Space' let you roll off the bottom end (flat, 80Hz and 100Hz) and the overall level (0dB, -2dB and -4dB) respectively. You'll also find a full complement of professional level inputs: XLR, TRS and unbalanced RCA. However you want to integrate these speakers into your studio, you're sorted for connections!
Free Software
Presonus are one of those holistic hi-tech brands, so they produce quality software as well as hardware. Haven't tried their Studio One DAW? Well, you're in luck: each of these monitors is bundled with over £1000 worth of free software apps and plugins, as well as Studio One itself. Not bad!
Treat Your Mixes Right
If you've been slaving over your mixes using headphones only, you're sure to have noticed disparities in sound when you hear your work through other speakers, be they your laptop, car or whatever else. You can certainly have a good stab at getting a great mix on headphones, but monitoring your work on purpose-built speakers helps level the playing field for your critical listening. You can make more informed decisions and take away much of the guesswork involved in mixing and mastering. Even a very affordable set like the Eris 3.5 speakers allow you to hear your mix in actual 3D space, which is pretty essential. The larger Eris monitors are a solid choice for the focal point of your studio, and also for additional/alternative monitor systems for those who already own other monitor speakers. We all know how dramatically songs can change when heard in different contexts, so hearing your mix on several set s of speakers is a very worthwhile move to make.
Whatever your needs and whichever direction you decide to go in, make sure you include PreSonus Eris monitors in your search: you won't be disappointed.
Click to View our PreSonus Monitors
Ray McClelland