Fender Custom Shop Showcase
Published on 28 October 2021
You folks like Fender Custom Shop guitars, right?
When writing these blog articles, we generally try to usher together a theme or relevant point into whatever the subject is, so there's an overall message to tie the piece together. Today, though, we don't have any particular message other than 'Check These Out!' We just wanted to showcase some of our favourite Fender Custom Shop guitars from our current stock across all of the guitarguitar stores. There's no theme other than the brand, and no qualifications other than a simple 'we really like these'. Simple! You'll see some familiar sights, and some less orthodox takes on the classics, like this Artisan P90 Tele below, with its eye-catching Maple Burl top.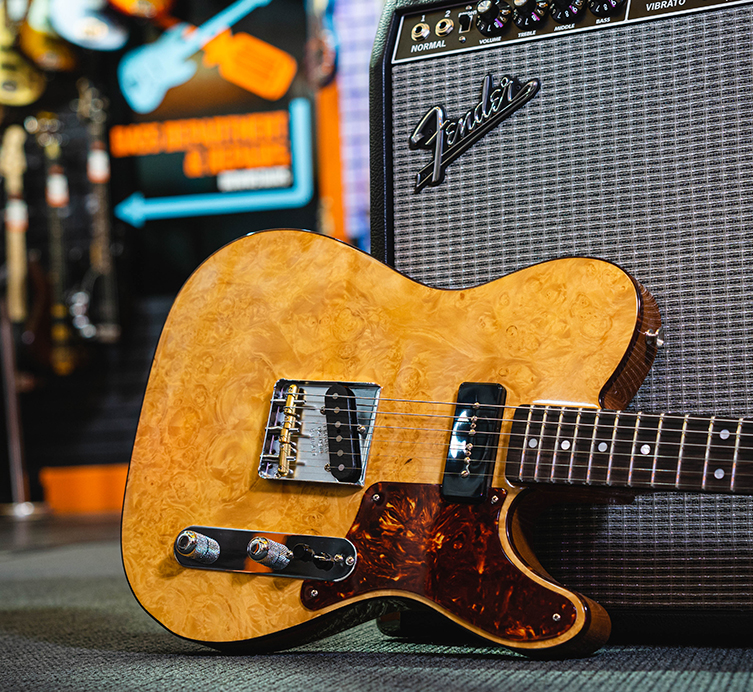 Whether you prefer relics, non-relics, historical pieces or slightly more esoteric choices, we think you'll have a blast checking out this guitarguitar Fender Custom Shop showcase!
Violinmaster Tele Relic, Master Built by Yuriy Shishkov
First up is definitely the least 'normal' of our choices, even though it is paradoxically the most traditional! Now, it seems that we have already broken our simple rule of having all of today's choices in stock since we've yet to get our hands on this one, but it's too amazing not to include here!

So, the story behind this one involves Fender Custom Shop Master Builder Yuriy Shishkov studying, intently, in person, a glorious Stradivarius violin from 1713. All of this intense studying was then transferred across and poured into the lovingly crafted 'Violinmaster' Relic Telecaster model that you see here. There are only 60 in the world, and they are spectacular!
Check out the scaled-up f-holes, cut into the carved Spruce top! We love the AAAA Bosnian Flame Maple neck, complete with an appropriate ebony fingerboard for that vintage violin vibe. We really love the hand-polished finish with some extremely sympathetic relic work to simulate the patina of centuries.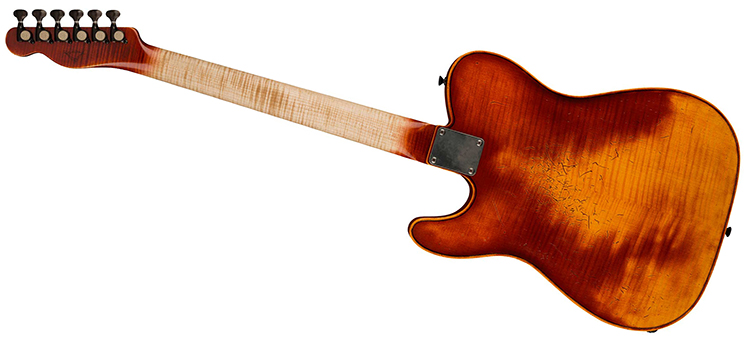 But what we absolutely love the most is the combination of 3 passive piezo pickups (there are two TV Jones Thunder'Blades on here for top-tier 'normal' sounds, as it were) and a custom wooden bridge with a set of interchangeable saddles! The saddles, all made with different woods, are kept in a custom mini violin case, too! So cool, and it means of course that this guitar will sound unlike any other in the world, since no other guitars share this entirely unique design! We love it!
This is such an elegant instrument. It's a great concept, and, perhaps more significantly, it has been executed magnificently. One day, one of these will be hanging in the Louvre, but for now, we have one Violinmaster coming to us. Keep an eye out!
1960 Super Heavy Relic Stratocaster Ocean Turquoise
This lovely Ocean Turquoise Strat is a great example of what many guitar fans perhaps think of when the term 'relic strat' is uttered. Period – correct colour, the right headstock shape and logo, all of the expected attention to detail...and then everything is thoroughly savaged. Paint scraped through to the bare wood, dents, nicks, chips, rust... there is a masterclass in deconstruction going on here! This is a Super Heavy Relic, where the level of distress is taken to artfully extreme proportions.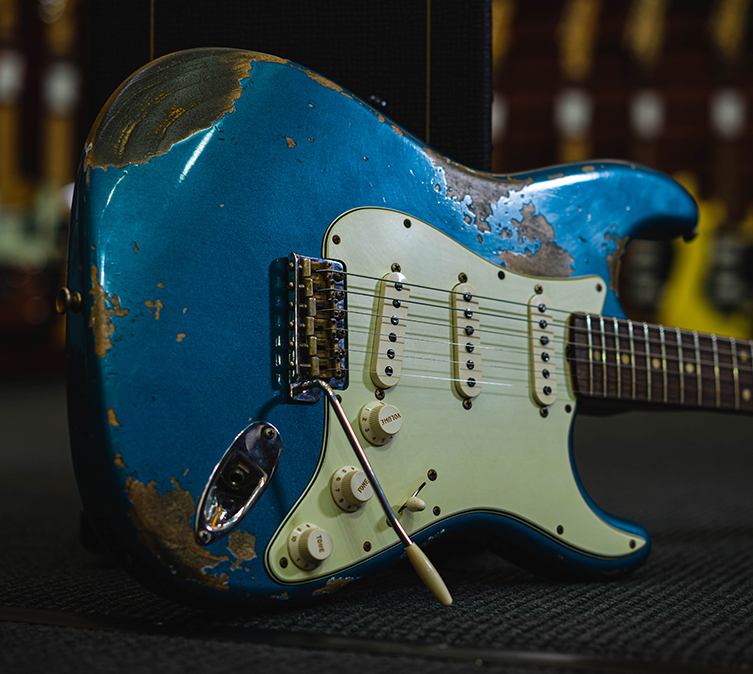 The relic debate will wage ever onwards, but we personally love the vibe of this battle-scarred beauty! Since Fender developed the notion of pre-beaten guitars some 25 or so years back, many other companies have tried their hand at creating a similar illusion. The results have generally ranged from convincing to embarrassing, but the work done by the Fender Custom Shop has always impressed, mainly due to them basing their endeavours (at least partly) on real-life wear and tear.
This 1960 model adds luxurious touches like a 9mm thick fingerboard made from AAA Rosewood, and a set of 'Ancho Pablano' pickups, individually calibrated for each position in the guitar and handwound for a hotter tone.

1960 Telecaster Custom, Black over 3 Tone Sunburst
Sticking to the same 'virtual' year, this 1960 Telecaster brings us another cool visual invention: the overpainted finish. Now, there seems to be varying opinions on whether Fender really did this back in the day, but legend has it that all Fender guitars in the late 50s and early 60s were automatically painted Sunburst at the factory. When a custom order request came through for a different colour, the builders would simply grab a sunburst guitar and respray it according to the order. True? Maybe. The jury is out on that one, but it does make a cool opportunity to create amazing guitars like this Tele!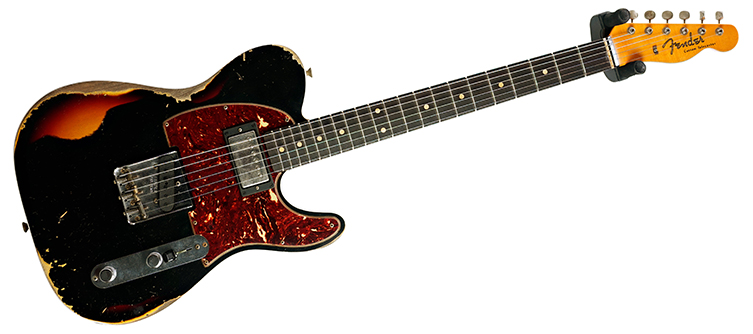 Displaying some choice relic work on the nitro finish, Fender have allowed areas of the 'original' sunburst to show through, adding some appealing faux-history to what is, let's not forget, a brand new guitar! Brass saddles add to the guitar's strident clarity, enabled by a fine set of pickups made by both Fender's Custom Shop and Seymour Duncan. This black 1960 Telecaster Custom is full of attitude.

NOS Stratocaster Stained Cherry, Master Built by Jason Smith
It's unusual to see a Fender Strat without a pickguard, but Master Builder Jason Smith reckons this lovely Stained Cherry Strat doesn't need one! He's gone for a hot-rodded vibe here, with a rock-tastic bridge position EVH humbucker making the most of the beautiful Fijian Mahogany body. Talk about tone!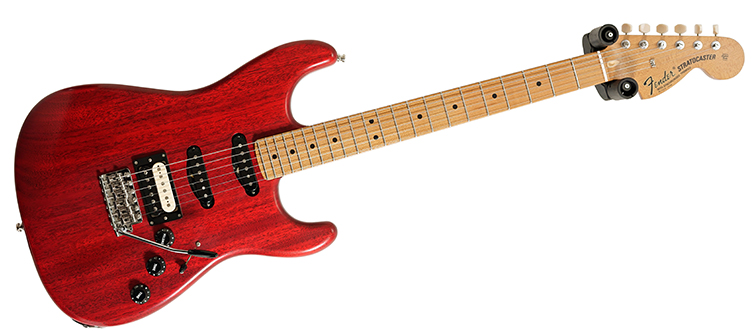 The performance vibe continues on the roasted maple neck, where you'll find a compound radius that's more pronounced than most: this one goes from full vintage (7.25") to a much flatter 12", making this a great axe for both comfy chording and face-melting leads. A 70s-style large headstock finishes this unique and very cool Strat. No relic work either!
Brent Mason Telecaster, Master Built by Kyle McMillin
It may be the guitar of a Country session legend, but the Custom Shop Brent Mason Telecaster looks like something that has survived a nuclear Armageddon! Featured on literally hundreds of famous Nashville hits, Mason's trusty Tele has been recreated from the ground up with exhaustive levels of attention to detail. Those are proper grease and oil marks on the Primer Grey body (can Brent Mason fix cars with his Tele, too?), which has also had a B-Bender fitted into it. Industrial Country, anyone?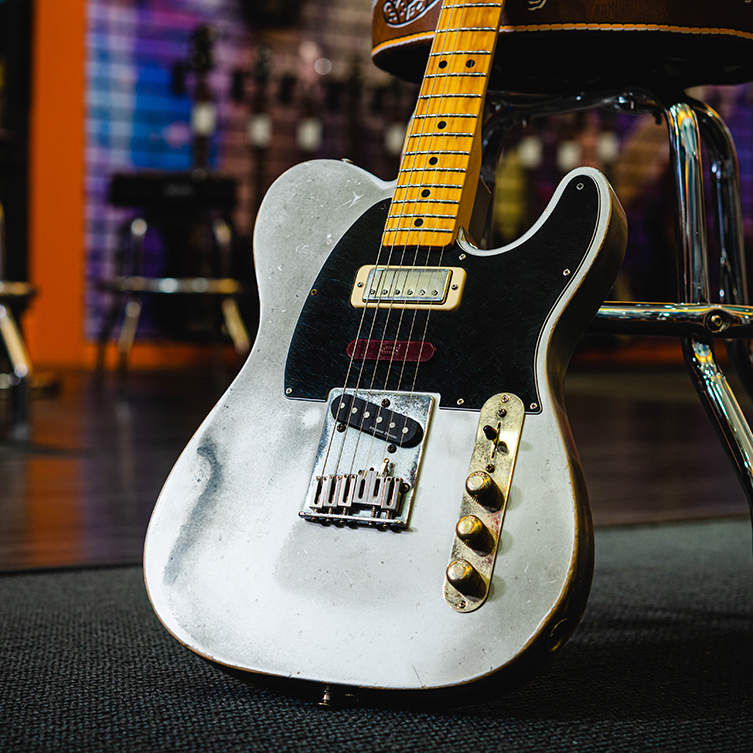 This remarkable guitar has been hand built by Master Builder Kyle McMillin, and features the same trio of Seymour Duncan pickups used by Mason, including a mini humbucker in the neck and pair of different 'stacked' single coils for clear, hum-free performance. This guitar has so much character and is literally the sound of a legend.

So Many More Beautiful Guitars
This brief blog is just a taster menu of the 5-star meal you can have at guitarguitar. We have a wonderful selection of Fender Custom Shop guitars, including all of these examples and many more. Blonde Teles? Can do! How much relic'ing do you want? Strats? We have an excellent collection of Strats, from all of the major production years, and with all manner of finishing and hardware options. We love Fender Custom Shop guitars, and feel like our current stockholding really shows off that love.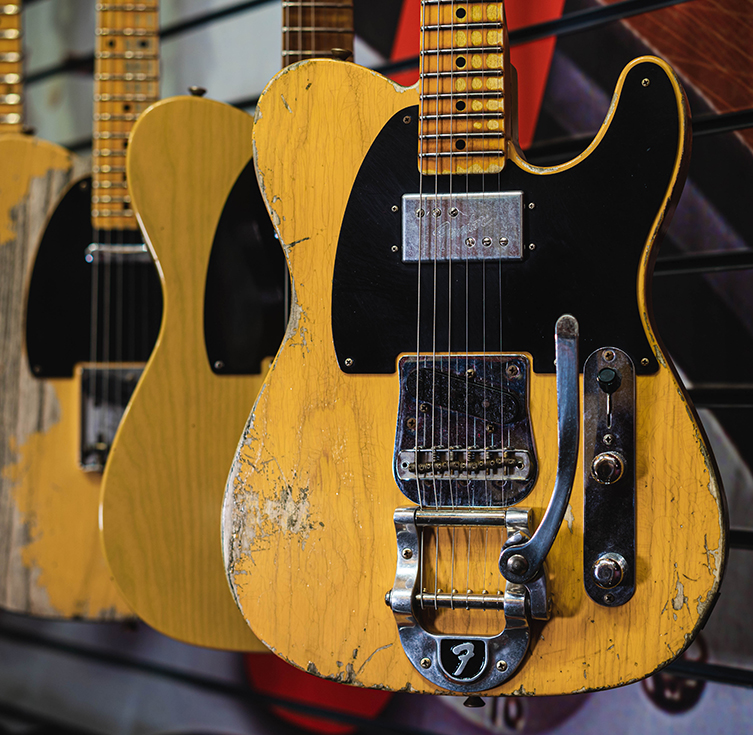 Why not come and see some of these for yourself? Each guitar's location is noted in the instrument's online listing, so you'll know what your local store has in stock in real-time. Our staff are dedicated to finding the perfect guitar for YOU, and nobody knows Fender Custom Shop as well as they do. Talk to the people who live and breathe all of the fine details that elevate these guitars into works of art.
Nobody makes Strats or Teles like Fender Custom Shop. Visit us, try a few, connect, and you'll know the difference for yourself.
Click to View our Fender Custom Shop Selection
Ray McClelland