PJD Guitars: York's Finest Boutique Brand!
Published on 25 November 2021
When we think of the term 'handmade guitars', our thoughts often move directly towards the US boutique market. That makes sense, given the proliferation of small custom builders operating out of America. But there's more to custom electric guitars than those well-known US boutique companies. Indeed, the UK hosts some of the finest guitar makers on the planet, with designs and ideas of their own. One such maker is PJD guitars.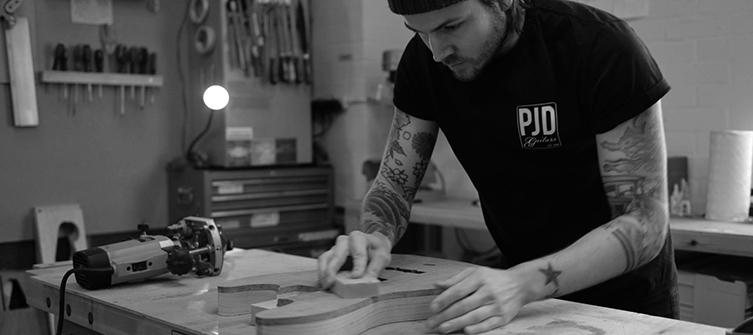 Formerly of London but now operating from York, PJD guitars are the brainchild of Leigh Dovey. Dovey has steadily built his business from a literal shed filled with hand tools at the bottom of his parents' garden to a large, dedicated workshop with staff, CNC machines and ventilated spray booths. A love of guitars and a respect for the work of his late theatrical prop maker father (PJD is named after him, Philip John Dovey) is at the epicentre of the PJD story, along with one man's ambition to follow his dreams whilst staying true to the memory of his dad.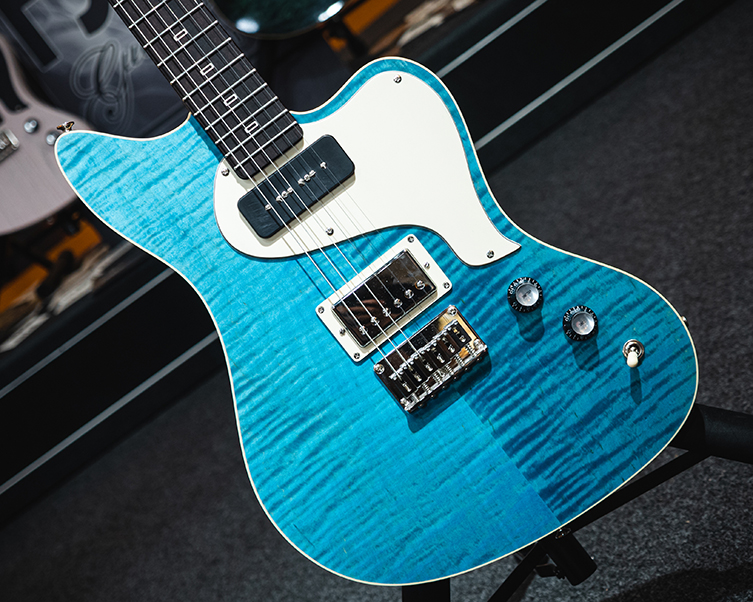 We've recently taken a few beautiful PJD guitars into stock here at guitarguitar, and we can't wait to tell you about them! There are some genuinely interesting features to the brand in general, and we thought we'd discuss them today by way of introduction. Whilst we have a couple of different designs in stock right now – the St John and the Carey – the points highlighted in today's blog apply mostly to the brand as a whole. As you'll read through you'll realise there is more to the build of these instruments than meets the eye...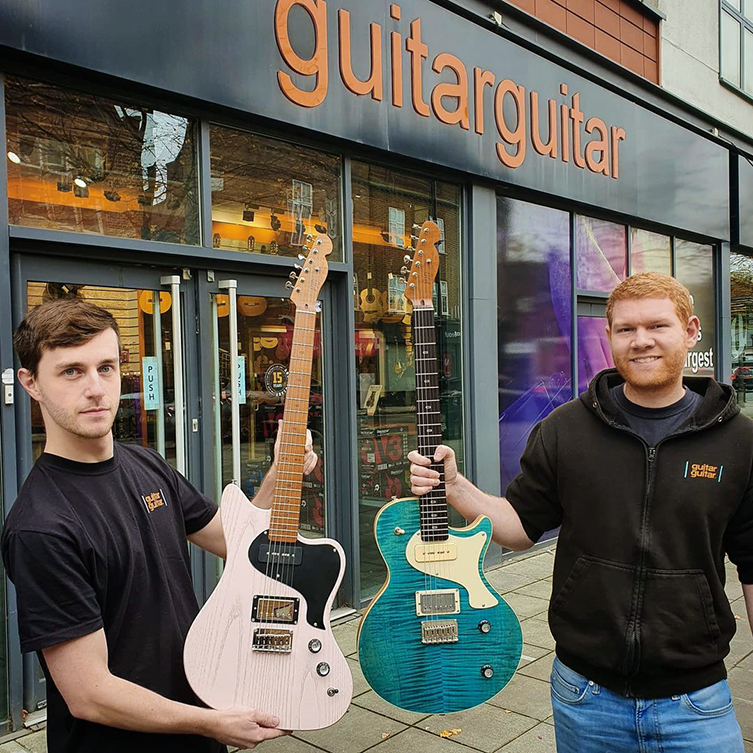 Innovations in the Neck Department
All PJD guitars have bolted-on necks. They are joined to the body via a very strong, direct method of inserting bolt threads into the body and then attaching the neck via proper industrial bolts. This method is extremely strong, stable and 'true' in terms of the fit, especially given the exactness of luthiery involved here. Standard bolt-on situations involve wood screws and a backplate, as we know from Fender onwards through history. PJD maintains their way keeps more tone and sustain in the instrument.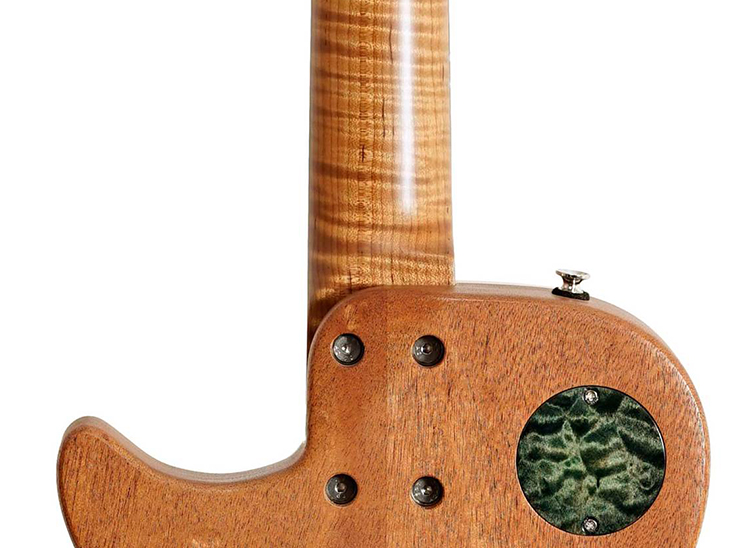 Some of the necks are quartersawn and all are roasted. What do these terms mean? Firstly, quartersawn is when the initial log is sawn at an angle going across the timber's grain rather than 'with' it, which is how logs are normally harvested. Cutting like this offers a much stronger piece of wood (more resistant to temperature changes and warping etc) but, due to the waste involved, it's a more expensive choice, too.
These player benefits are furthered by the roasting process, which, as most of you will know, refers to a process called 'torrefaction'. The wood is placed in a moisture-free environment of extremely high temperature until all of the moisture is removed, leaving a stronger, more resonant timber behind. The drying process makes the wood more resilient to the environmental factors that can normally play havoc with an instrument's structural integrity. A pleasing 'caramel' colouring happens, too, but the real benefits are stability and weight reduction.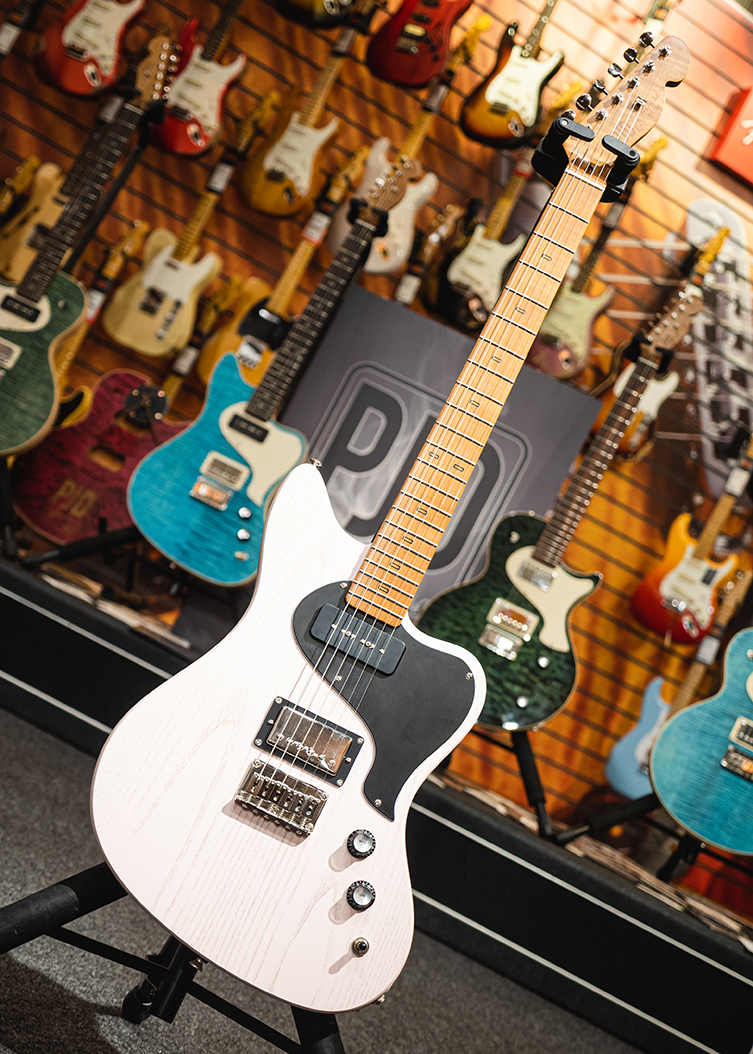 PJD necks have all of these plus points, along with compound radius fingerboards, which flatten out the higher up they go for comfy chording and choke-free soloing.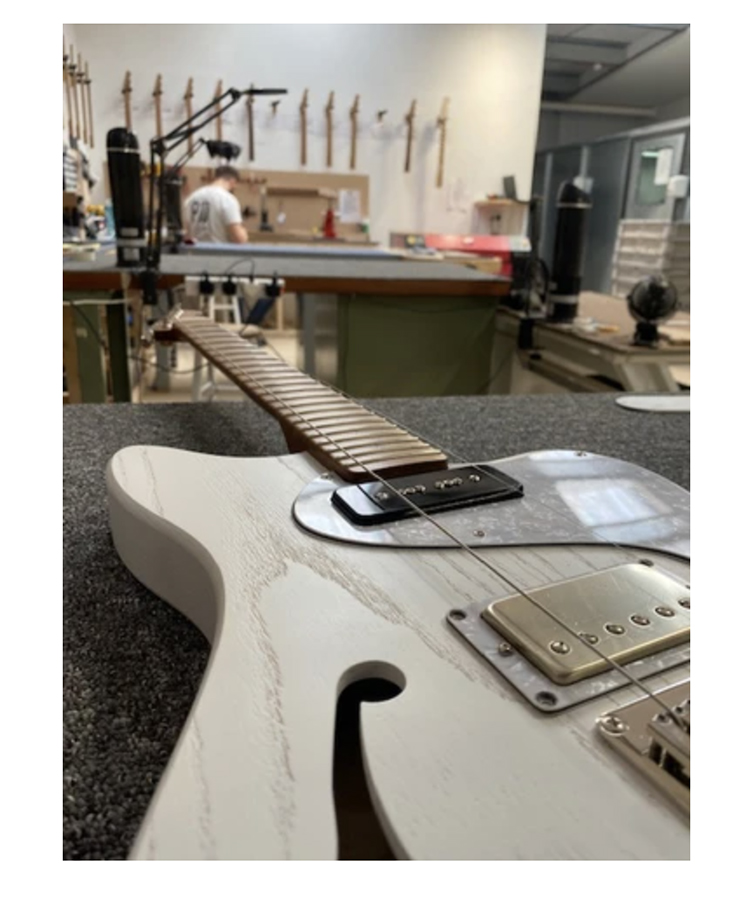 The fretwork is spectacular, with each fret placed into a carefully routed space in order to bypass 'sprouting' issues other brands can have when frets are hammered into insufficiently-sized spaces on the fingerboard. Humidity problems can make frets 'sprout' out from the edge of the fingerboard, resulting in a playing surface that can drive you crazy! PJD's routing stops this issue occurring. We love it: why do more companies not do this? The frets themselves are finished with semi-hemispherical, rounded ends. These are sometimes called 'hot dog frets' and you'll see why when you look close! This is definitely a comfortable, smooth and classy way to finish the fretting, and it pays off handsomely in contributing to each guitar's masterful feel.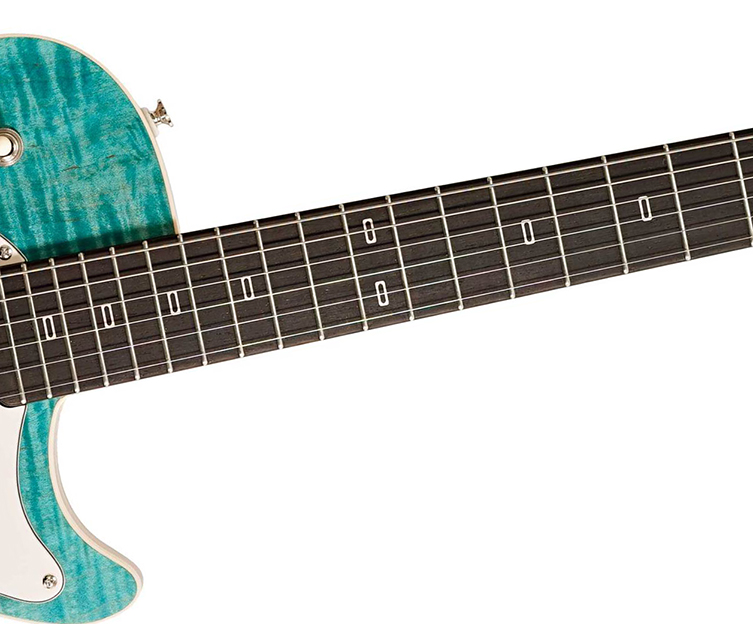 Extra Details
PJD are good for details, as we've seen, and this is reflected in the more cosmetic decisions, too. For instance, the pickup rings are made from the same material as the pickguards, which is not only responsible, it's sensible and stylish too. This attitude continues for the back plate material: turn any PJD guitar around and your see the control cavity cover is made from the same wood as the guitar's top! Now, that is a cool feature! These design details brings the whole aesthetic together very pleasingly: you know you're holding something quite special.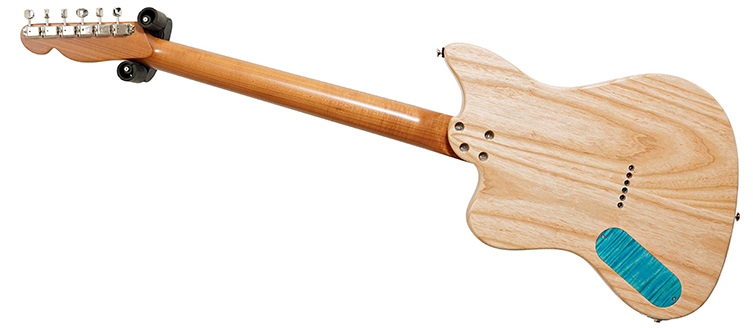 Top Quality Hardware
PJD exclusively use, for the moment at least, handwound pickups by top companies Bare Knuckle and Cream T. You may already be aware of Bare Knuckle as the connoisseur's choice for top tone, but Cream T are equally impressive, citing players like Billy Gibbons within their ranks of notable users. In fact, the humbucker model on today's Cream T-sporting guitars is the Eliminator, a vintage output PAF-style unit with obvious connotations!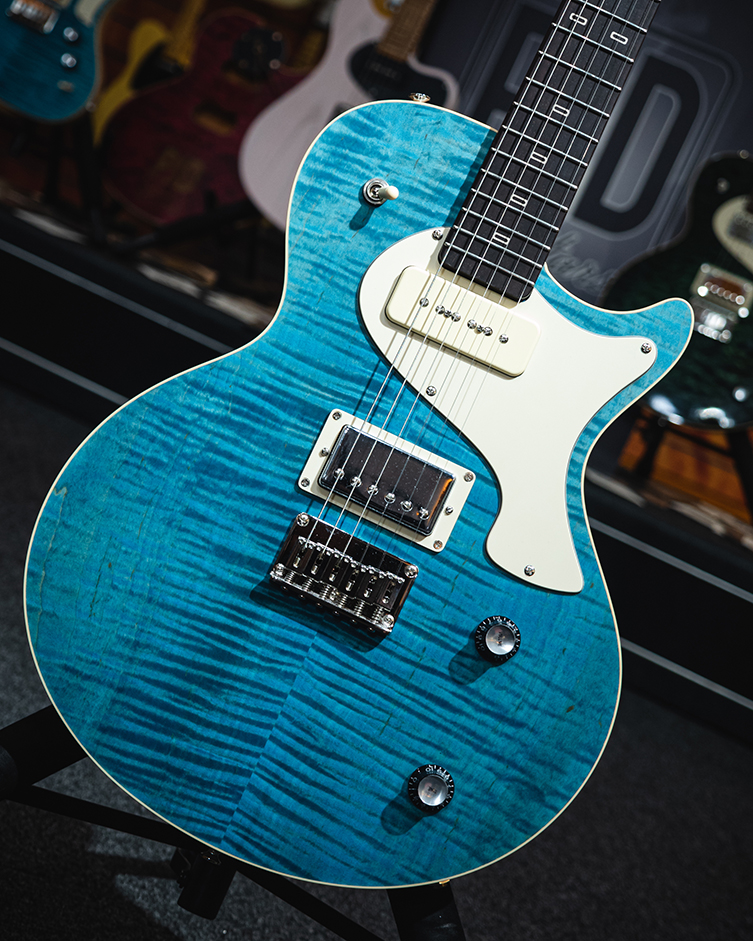 The guitars we have in stock right now include models with hybrid pickup selections: bridge humbuckers paired with neck position P90s. This is a long-standing 'alternative' setup that has more than proved its worth over the years. What can't you achieve with such a selection of tones available on one instrument?
PJD St John Standard and Elite
We currently have two different body shapes available: the St John and the Carey. First off, let's show the St John. It's a very 'of the moment' design given how popular offset styles are just now. This model will fit into most genre situations without looking out of place, and has a distinctive enough silhouette to mark it as unique from the pack. We have two versions here, a St John Standard and a St John Elite.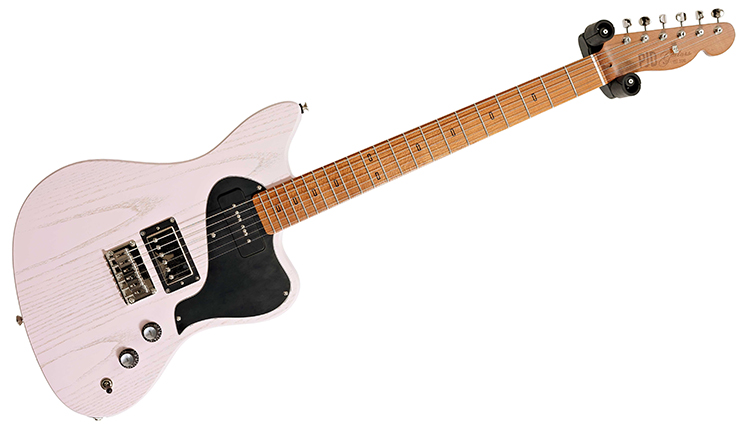 As with all PJD guitars, there is no tremolo here. Instead, a top class Gotoh string-through-body hardtail bridge is used on all of our examples. Is doesn't get higher quality than Gotoh, and PJD obviously concur, since they've used Gotoh for the tuners, too!

The main difference between the St John Standard and the St John Elite is the addition of a spectacular flamed maple top. Both have an Ash body and those Cream T pickups.
PJD Carey
The other shape we currently have is the Carey, PJD's lovely singlecut style. They've opted to keep their same headstock style here, rather than following the usual trend of sticking on a 3-a-side variety for this body style. Kudos! It looks pretty different and we love that. Again, it's Gotoh hardware, but instead of a 'standard' model, we have a Carey Custom and a Carey Elite model. The Elite shares the spec of the St John equivalent, with the flame top and Cream T humbucker/P90 combo. It's shown here in that same gorgeous Sea Blue finish.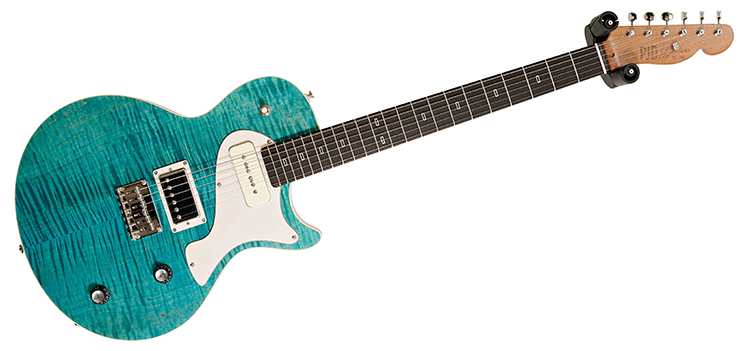 The PJD Carey Custom, on the other hand, gets serious with two Bare Knuckle Old Guard humbuckers. These are low output units from their Boot Camp series, and deliver sweet PAF tones for days. These are exactly the right choices for players looking to plug one of these guitars into a quality amp and listen to their tone purr! They cover similar ground to the Cream T Eliminator we just saw, but with their own distinct flavour.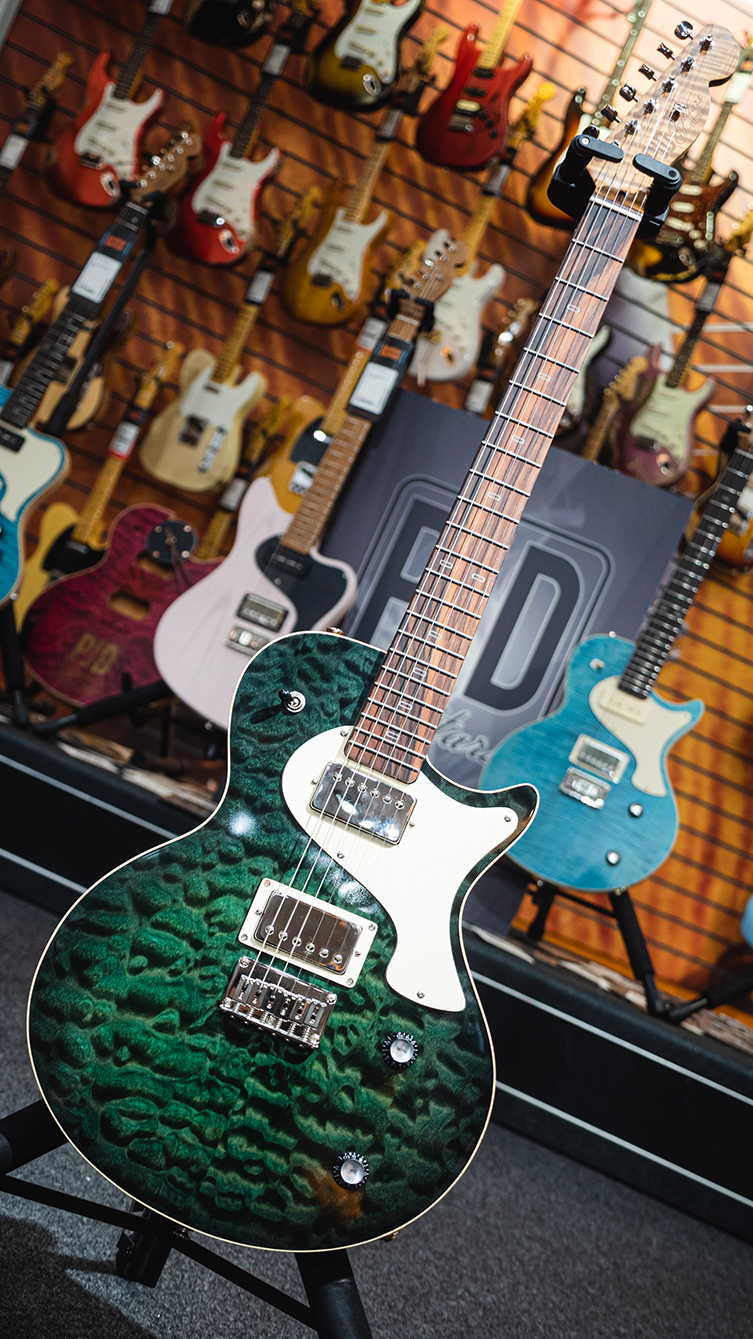 What else is different about the Carey Custom? Apart from the pickups, it's the wood, and when we say wood, we really mean some of the very choicest pieces of timber available anywhere! The body is made from Brazilian Mahogany (with a quilted maple top, of course) and the neck is made with flamed maple, quartersawn and roasted like we mentioned earlier. This is top of the pile stuff all round, and PJD have transformed these precious timbers into a quite magnificent instrument, handmade in the UK, and still retailing for a very reasonable price indeed. Here is where the smart money goes!

From York With Love
This is our first venture with PJD guitars, and we are mightily impressed. We hope you are too, because we do want British luthiers to succeed and compete with the big boys from over in the States. On the merits of this small batch of guitars alone, there's no reason why Leigh Dovey won't one day be a recognisable a name as his guitar making hero, Paul Reed Smith. Time will tell, but in the meantime, these are some fantastic guitars! Make sure you get involved!
Ray McClelland