Screamadelica 30th Anniversary
Published on 24 November 2021
30 years ago, Primal Scream blended the worlds of indie-rock music and electronic dance culture, changing them both forever.
Screamadelica, released on 23rd September 1991, was all about having a good time and finding common ground through music. The band obviously had quite a wide-ranging taste in tunes, since the resulting record is quite the kaleidoscope of hedonism, groove and texture. Famed house producer Andrew Weatherall was enlisted to add his electronic touch to the sessions, blending those influences further until Screamadelica was an album quite unlike anything else of its - or any other - time.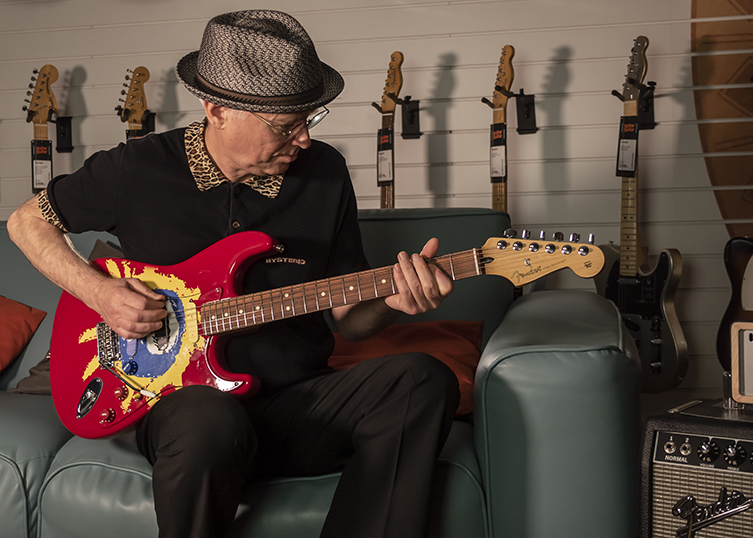 The intervening three decades have proven to be kind to Screamadelica, revealing it to be something of an evergreen listening experience. Though both indie-rock and house music have changed numerous times since, Primal Scream's most famous album remains fresh and invigorating 30 years later. This is cause for celebration, and we enlisted our friends from Fender and Jim Dunlop to do just that! We have three limited edition items available at the moment, all emblazoned with that unmistakable Screamadelica cover art.
Fender 30th Anniversary Screamadelica Stratocaster
We just love how these Strats have turned out! The Screamadelica 30th Anniversary Strat had to have Paul Cannell's iconic art on the body: that was obvious. What we never imagined working so well, though, was the incorporation of the control knobs and pickup covers into the design and colour scheme! Wow, in a word! Fender really went to town to make the Screamadelica Strat a special celebration, and the effort has paid off handsomely.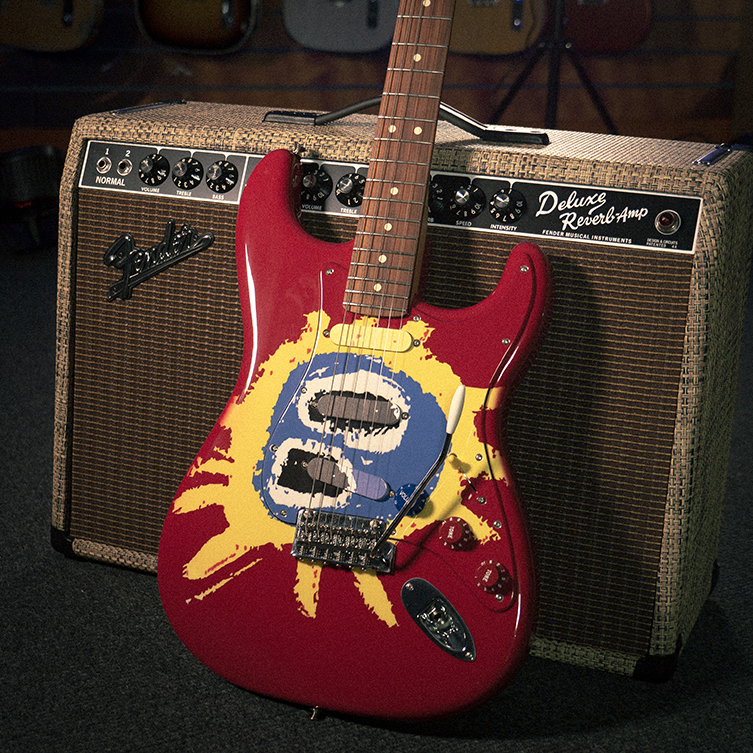 Yes, it's one attractive instrument, but it's not only looks that this guitar has going for it, it sounds lovely too, thanks to a trio of specially wound 60s-style pickups for a more crunch-friendly tone. The neck has a modern C profile and has 22 medium jumbo frets, so tight rhythm work and choice leads are all easily brought forth.

This wonderful Anniversary instrument is available in a strictly limited edition, with over half of the units available having been sold already! Get yours while you can: they are collector's items and will not last long! And remember: these are exclusive to guitarguitar in Europe!
Dunlop Screamadelica Fuzz Face
Every psychedelia-inspired musician needs a good fuzz pedal under their feet, and what better than a Fuzz Face?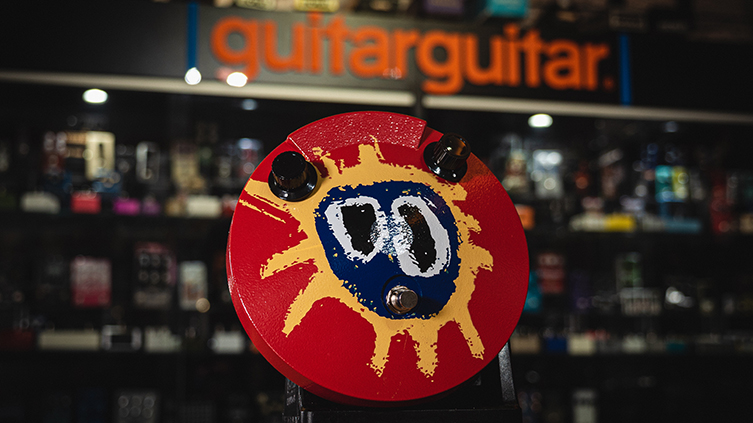 For years now, Jim Dunlop have made the best reissue models of the Dallas-Arbiter Fuzz Face, including a faithful Jimi Hendrix model. Underneath the custom Screamadelica artwork on this 30th Anniversary Fuzz Face lies that same Hendrix circuit, ensuring only the tastiest of thick, vintage fuzz-tones.
Jam along to your favourite Screamadelica songs with the world's most famous fuzz pedal, and brighten up your pedal board considerably as you do so!
Screamadelica Tortex Pick Tin
Our final Primal Scream-related item today is the perfect small gift for that guitar playing indie fan in your life: the Dunlop Screamadelica Pick Tin! Inside the handy slide-top tin, you'll find half a dozen tortex picks, all emblazoned with the album's signature artwork. Interestingly, there are two gauges of pick inside - 1mm and 1.14mm - so you can change things up with your playing without losing that classic art!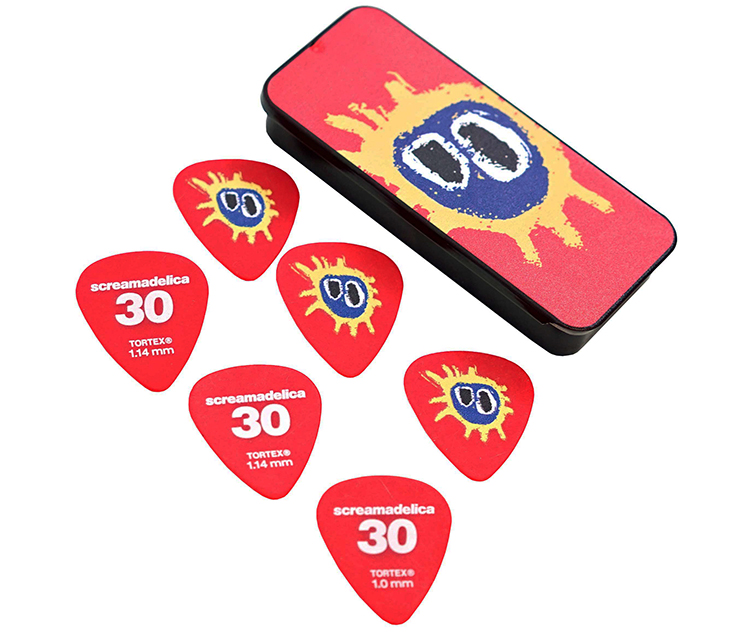 Movin' On Up
We cannot guarantee that any of these items will bring you a million-selling record, but we can at least help you pledge allegiance to one of the most influential counter-culture albums of the 90s in some style! All of these are available for a limited period only, so don your bucket hat and head to your nearest guitarguitar!
Click to View the Fender Screamadelica Stratocaster
Ray McClelland