The Best Ibanez Guitars for Your Playing Style
Published on 08 March 2022
What comes to mind when you think 'Ibanez guitars'?
Sleek shred machines? Pointy metal axes? Elegant hollowbody jazzers?
In truth, all of these are valid. Ibanez, pretty much the world's third biggest guitar brand, have a very diverse range of guitars in their ever-changing catalogue. Interestingly, they are highly regarded in each of those areas we mentioned, where most brands tend to excel in one particular style.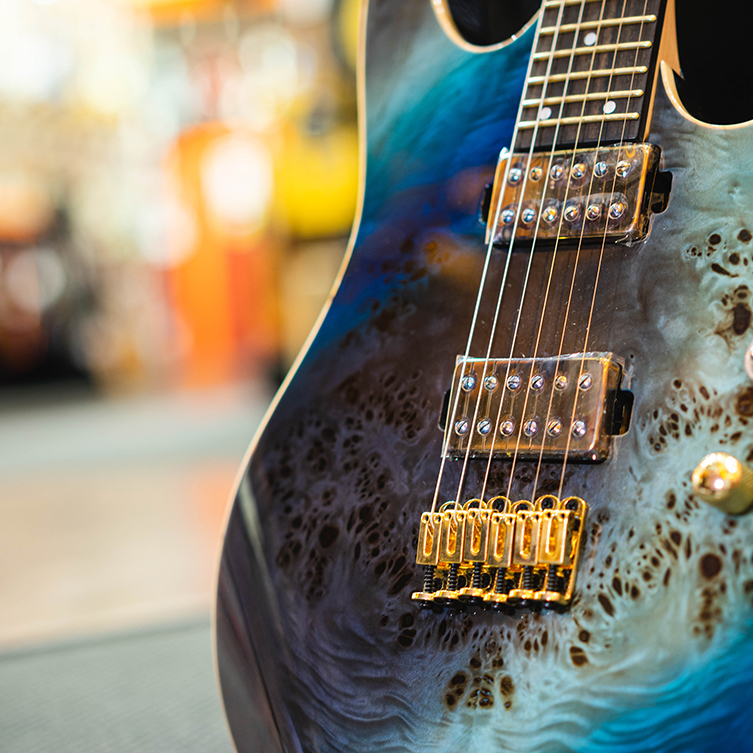 Definitely modernistic in their approach, Ibanez have cut a quite singular path through the market since the 80s, when their original designs took precedence in the minds of a new generation of guitar player. Certainly, the 'gunslinging' connotations will be ever present for a brand who've retained Vai, Satch and Gilbert as endorsees for decades, but even a cursory glance at other Ibanez artists reveals a much greater truth: they are loved by musicians from all quarters.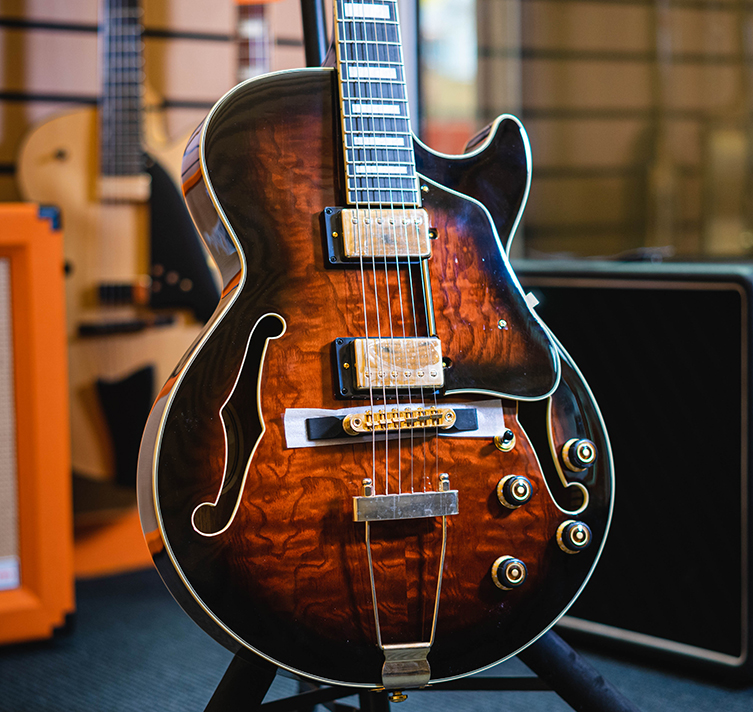 Which Ibanez for Which Style?
Today, we'll take a stroll through some of Ibanez's cornucopia of delicious guitars and pick out models that we feel are great choices for different styles. Which Ibanez guitar is best for Blues? Which Ibanez would we pick for Metal? Indeed, what type of metal would that be? We'll address all of these questions and more, whilst offering tips and opinions to help you select the correct Ibanez guitar for the music you play. Sound good? Let's go!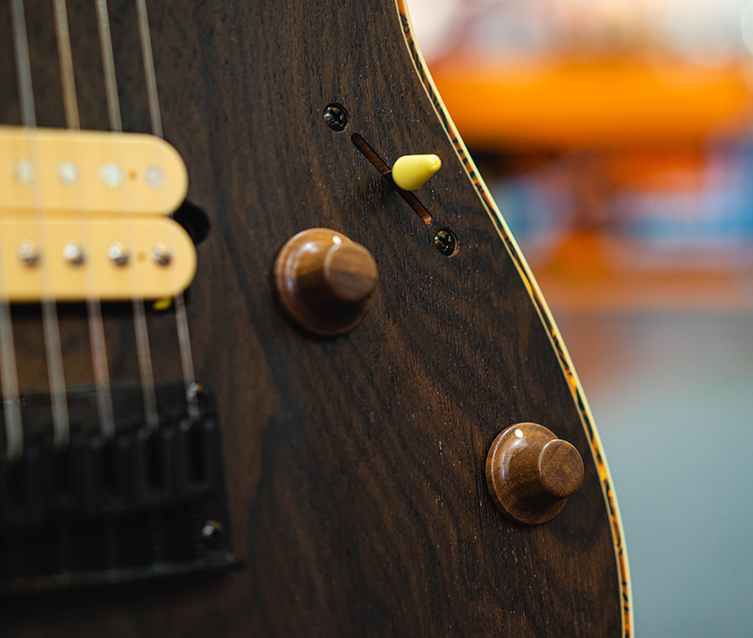 Best Ibanez Guitar for Rock
Why not begin with Ibanez' 'hometown' of rock music? Now, there are endless permutations of just what 'rock' is, so we'll diversify and suggest examples as we go. To begin with, let's look at an Ibanez that will suit most styles of rock, both classic and contemporary.
Classy but still hard rockin', the Ibanez AZ47P1QM is a fantastically versatile guitar with tones to match the looks! This is from the Ibanez Premium line, which is a cut above standard models but just below the high end Prestige instruments. Premium guitars are built in a select Indonesian factory to high standards and feature special attention to the treatment of the fret edges, ensuring that your hand is always met with a comfortable playing surface.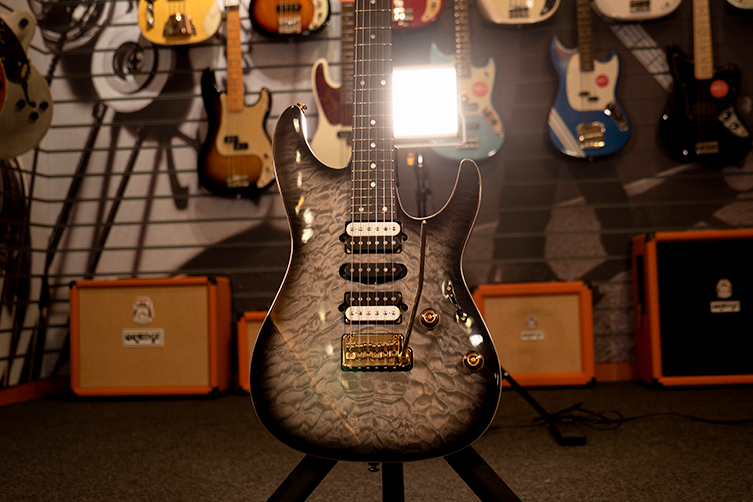 The Ibanez AZ4P1QM is a classy looking beast. We love the quilted maple top and Black Ice Burst finish here, and feel that it would look at home in any rock setting, as well as that on any 'session' situation, where a classy, professional vibe is required in addition to a diverse palette of tones.
This Ibanez scores well here, with an HSH pickup layout composed of top-drawer DiMarzio units delivering everything from funk 'quack' to galactically heavy riffs. DiMarzio and Ibanez are like strawberries and cream, and this tasty package is made even sweeter by the addition of Gotoh hardware, well known as one of the most reliable brands on the market. The tremolo unit will behave well under duress, even though it's a non-locking unit. This is something today's guitarists seem to want and it's good to see Ibanez offering them.

Another welcome design choice here lies in the quite beautiful neck. Ibanez have opted for an Oval C profile, so this is not a skinny shred neck at all. This decision puts the guitar firmly into the hands of a great many more players, especially when you then consider that the neck itself is made of roasted maple, and that it features stainless steel frets on an ebony fingerboard! The spec on this guitar could not possibly be better! If you need one quality instrument to cover all of your rock bases, it will be a tough and thankless task to find a better choice than this.
Best Ibanez Guitar for Blues
If there's one defining image of a blues guitar, it's a Cherry red semi–acoustic. Fat humbucker tones, sweetened by the hollow sections of the body, are what's needed for authentic blues rhythms and solos. Is there an Ibanez model that can supply such tones, in a package that looks the part?
Sure is! Let us present the Ibanez AS93 in Trans Cherry Red. From the characteristic silhouette to the gold hardware on Cherry colour scheme, this thing has the soul of the Delta within its gorgeous curves!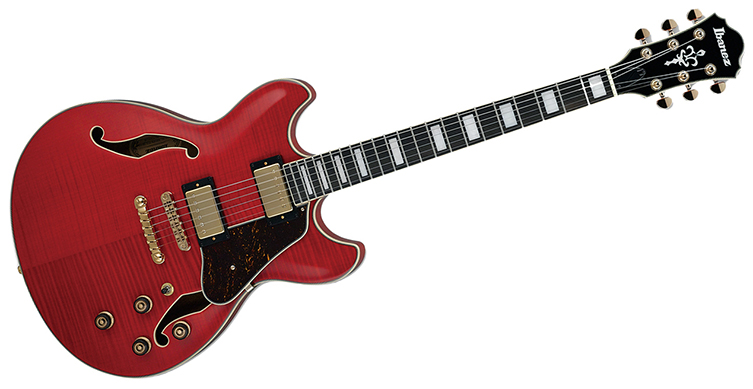 Rather than offer an outright copy of its famous inspiration, Ibanez have decided to 'quote' elements from various historical models and blend them together within the parameters of their own style. In other words, it evokes the blues in its own characteristic manner: there are block inlays and f-holes, but there is also a flamed maple veneer on the top and a relocated input jack (amazing idea) as well as lots of other details.
PAF-style pickups are what every self-respecting blues mystic requires, and Ibanez's Super 58 pickups supply that magic convincingly, whilst an 'Expressionist' neck carve means that this will feel like an old friend from the moment you first hold it.
Are you searching for a partner in crime for your blues journey? Look no more.
Best Ibanez Guitar for Metal & Djent
Contemporary metal has a whole different language and set of requirements compared with metal of, say, the 80s. Today's cutting edge player likes a highly tuned instrument with a particular aesthetic. Oftentimes, they'll be tuned lower than standard, and so the proliferation of baritone 7 and 8 string guitars is a normal occurrence.
Given that Ibanez were the creators of the first mass-produced 7 string electric guitar, you'd expect them to be on top of this new breed of heavy players. Indeed they are, with a huge number of standard, Premium, Prestige and Iron Label instruments to suit players of a more power-hungry persuasion.

Our choice today reflects many of the features such guitarists in this world are looking for. We've opted for the Ibanez Prestige RGDR4427FX. The Prestige range is the top of the tree for production level Ibanez guitars, so this is absolutely the best you can buy before reaching the nosebleed heights of the fabled J Custom instruments.
This tasty Prestige RGD model has a slightly longer neck in order to more happily accommodate that 7th string. It therefore has a 26.5" scale length, an inch longer than standard, but it doesn't feel particularly longer at all, and the neck profile is a Wizard 7, so it's still built for speed! We see a set of lovely DiMarzio humbuckers on this model too: a pair of Fusion Edge 7s, which are versatile units, yes, but can entirely bring about armageddon too. As most current Metal and Prog players tend to prefer a hard tail over a whammy bar, this RGD is equipped with a Mono Rail bridge, befitting the simple and elegant design work shown elsewhere on this instrument.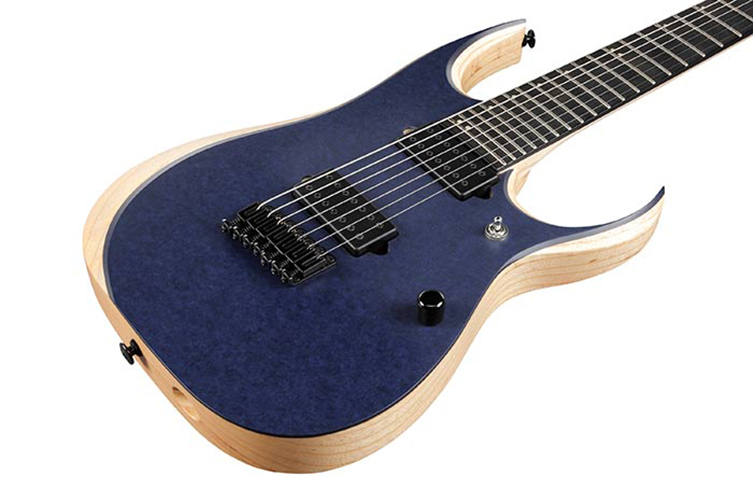 Truly, this is an area in which Ibanez excels, so there's a huge amount of choice available. If this guitar is close to meeting your requirements but you need something else (active pickups, tremolo, fanned frets, a different finish etc), just explore our other available guitars from Ibanez's exhaustive catalogue: you're sure to find a guitar that hits the brutal bullseye for you!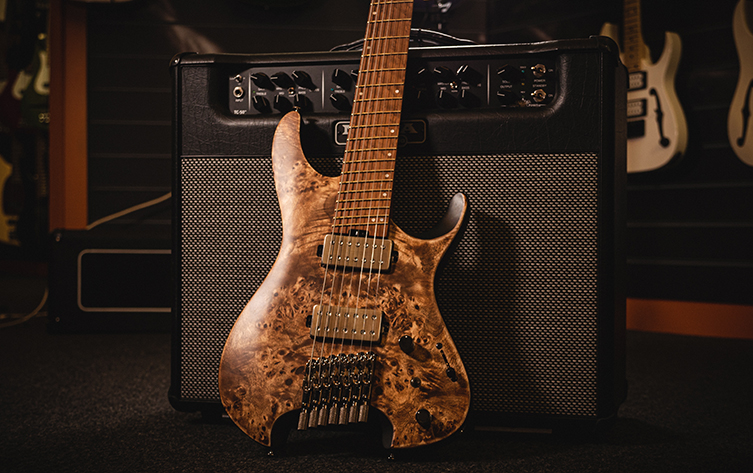 Best Ibanez Guitar for Jazz
It's back to Ibanez's other speciality now. As mentioned before, there are not many companies out there as equally revered for their hollow bodies as they are for their high octane rock monsters, but Ibanez straddles the two worlds with remarkable confidence. This next choice is ample proof.
There's always something mesmerising about a grand hollow body guitar and this Ibanez George Benson GB10SEFM signature is no exception. As one of the greatest living Jazz practitioners, Benson's choice in guitar says a lot, so his long-time endorsement of Ibanez speaks volumes to their quality. It increases their reputation, certainly, but only because the instruments themselves are deemed good enough to use by world-class musicians such as Benson.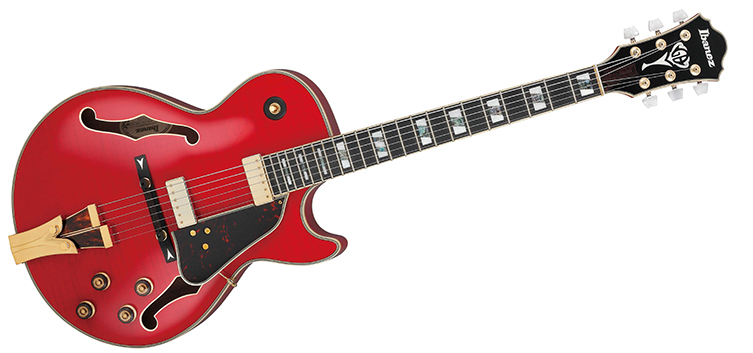 The Ibanez GB10SEFM is a stunning proposition, with its flame maple top,back and sides. The body is fully hollow, as you'd expect for a 'proper' jazzer, and there are some lovely details to enjoy on this particular model. Check out that tailpiece for a start: it's designed to aid tuning and intonation, but it doesn't hurt that it ups the beauty quotient, too! Then glance at the nut and you'll see it's made out of a very innovative (and uncommon) combination of half bone and half brass, perfect for both tone and sustain.
Talking of tone, George has his own GB Special pickups supplied with this guitar. They both 'float', in the sense that they sit above the body itself, which helps to eliminate feedback. The pickup themselves are warm and expressive, delivering a luxurious selection of prime jazz tones. That luxury extends to the fingerboard, which is a lovely slice of bound ebony, inlaid with acrylic and abalone blocks. For smooth jazz and other more adventurous trips around the fretboard, why not follow the example of one of the greats and choose an Ibanez George Benson model?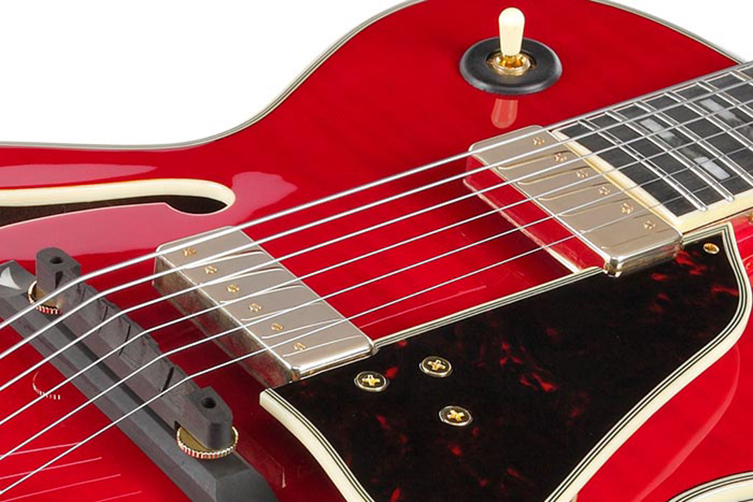 Best Ibanez Guitar for Shred
Now, this last sub genre is one which could be filled with a great many Ibanez guitars! This is real home turf stuff for them: they are undoubtedly leaders of the high-performance shred-style guitars, and so correspondingly offer an enormous range of instruments.
Since we've already seen modern, cutting edge performance guitars already, let us return to the source, as it were, for this shred choice. Ibanez's artist roster contains a number of the most loved and respected guitar virtuosos in existence, including the one who arguably put Ibanez on the map for gunslingers: Steve Vai.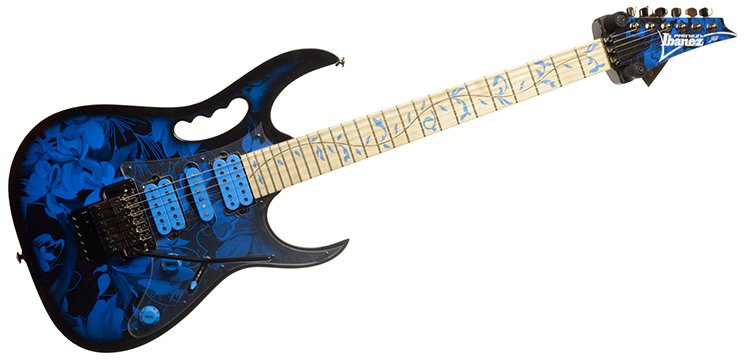 Steve's JEM is now a classic, of course, and inspired the phenomenally popular RG range (yes, the JEM came first) along the way. Therefore, it seems to us only correct to have one of his game-changing JEM guitars represented here as the ultimate Ibanez Shred guitar. There's always a nice selection of JEMs (yes, it needs to be in capitals) available from Ibanez, so we've picked this stunning blue Floral JEM77P model for inclusion today. Why?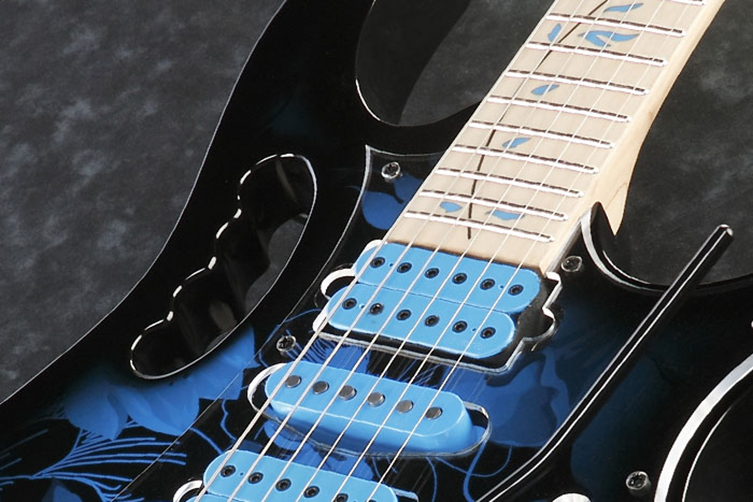 Well, the whole 'floral JEM' idea is a 'thing' in itself: there have been a few different floral JEMs since the late 80s, and original examples are now tear-inducingly expensive, so there's something of the magical talisman about them. This blue one pays tribute to an earlier model but uses a fresh floral pattern (original examples used actual curtain material, believe it or not) and updates the pickups to a pair of DiMarzio Gravity Storm humbuckers (less overpoweringly 'on' than the Evolutions) and the customary single coil from the Evolution set. This is another Ibanez Premium guitar, so the build quality is impressive and the fretwork is excellent. Moreover, this is a guitar designed, assigned and built for incredible level sof technique, so it'll handle everything you could possibly hope to throw at it. Plus, there's the fun elements - the monkey grip, the Lion's Claw body routing, the Tree of Life inlay etc - that make this guitar both an eccentric classic and a powerhouse performer.
An Ibanez for Every Player
The examples we've used today all represent what we believe are high watermarks in each genre of instrument. We believe that if you buy any of these for their intended purpose, you enjoy a stellar guitar that performs to an excellently high standard. In truth, Ibanez offers a wealth of comparable instruments that match the quality, sound and performance, so please take our recommendations as a prime starting point for your own research, applying personal taste and requirements when necessary.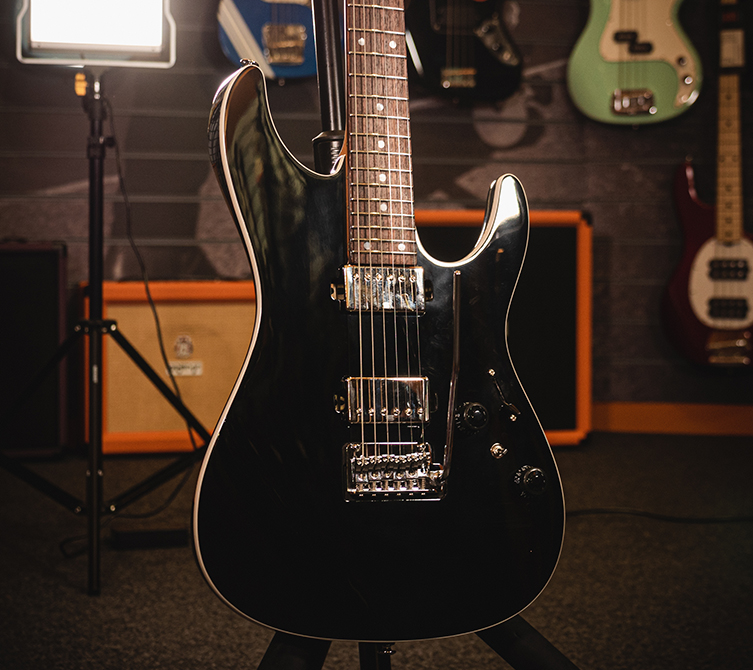 What's beyond obvious, though, is that Ibanez are easily able to offer world class guitars that meet the needs of a very diverse range of players. Their 'house style', then, is one of quality and consistency (along with a good sense of adventure) over any particular aesthetic adherence. Whatever styles you like to play, having Ibanez on your headstock is an assurance that your music is in good hands.
Click to View our Ibanez Guitars
Ray McClelland