5 Best Semi Hollow Guitars of 2022
Published on 14 March 2022
Disclaimer: The information in this article is provided by the guest blogger and does not necessarily reflect the views and opinions of guitarguitar.
Want to discover the best semi hollow guitars that have an open and crispy sound without any unwanted feedback and a really deep body? You've come to the right place!
Since 1958 these bluesy-toned guitars have been favoured by many, BB King and Dave Grohl to name a few. And what's the best thing?
Nowadays we can find semi hollow guitars for every budget and skill level. No matter if you're a BB King level blues master or a beginner who is just taking their first guitar lessons.
In this guide, we look at the 5 best semi hollow body guitars available in 2022. Let's go!
Best Budget - EastCoast G35 Semi Hollow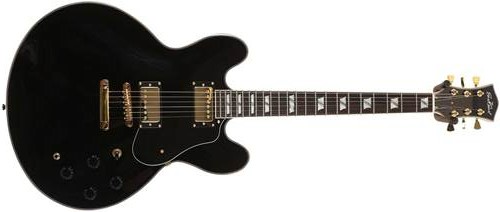 I know what you're thinking: "Can an affordable semi hollow guitar be any good?" Well, no guitar is perfect, but this EastCoast guitar has something very good going on, let's check it out.
First, the stunning looks. Black with gold hardware is a match that for me, can't be beaten. It's an instant classic.
When we pair this with basswood ply and 2 covered humbuckers, we have a cool guitar in our hands. This guitar can provide warm, thick, and balanced tones that fit blues, country, and even rock really well.
Plus, you get separate volume and tone control for both pickups, so you have good control over your tone.
The lack of sound holes changes the tone especially when played unplugged, but for this price, I can't really complain.
Overall, the EastCoast G35 Semi Hollow is a good option for a beginner who is looking for affordable semi hollow body guitars or players with a budget.
Best Value - Epiphone Inspired by Gibson ES-335

This Epiphone pack's amazing value for this price and it's an ideal semi hollow guitar for rock.
Let's start with the Grover tuners… Grovers have been used in Gibsons and Martins for years. These tuners are stable, durable, and the tuning process itself is smooth. It's great that we can get this kind of tuner quality with budget Epiphone guitars.
The Graph Tech NuBone nut doesn't dampen your tone like plastic typically would. It especially improves your sustain (how long your note plays).
Lastly, Alnico Pro Classic Humbuckers. These pups offer a really good sound for classic rock and rock in general. And with cleans, you can dial in some bluesy and jazzy tones too. Crisp and clear. Also, it's hard to get unwanted feedback with this semi hollow.
All-in-all, this Epiphone Inspired by Gibson ES-335 is a great option for players wanting a budget semi hollow guitar that offers really great bang for the buck and sweet classic rock tones.
Best Pickups Under £600 - D'Angelico Premier SS

Again, value-packed guitar, but this D'Angelico guitar offers different features than its close competitor Epiphone.
We have Grovers Rotomatic tuners, just with different looks. For this price, the tuning stability passes with flying grades.
But, the nut… it's PPS plastic. This drives me a bit nuts, but given how affordable these semi hollow body guitars are, they still offer tremendous value. It's important to note that this choice can decrease your overall tone and sustain a little bit though. However, it's also super easy to upgrade the plastic nut for a different material that doesn't use plastic like Corian or Bone.
When we move to the pickups, I'll stop complaining. Seymour Duncan Designed HB-102 Neck, HB-101 Bridge churn out fantastic rock tones. I don't want to hype too much, but what semi hollow guitars are to me tonally, this is what I want. Pure crispy rock tones.
Duncan Designed HB pickups cut out feedback and are able to provide clear tones even when distortion is used. This ensures pure and crispy rock tones.
One thing I have to mention is the cutaway: it does offer you a bit of a better soloing experience, but the high frets are still a bit hard to reach because the body of this guitar is deeper than with many other semi hollow guitars.
Overall, the awesome pickups and overall sound make this guitar a great choice. The D'Angelico Premier SS is an awesome option for players looking for a reasonably priced rock semi hollow guitar.
Best Under £2k - D'Angelico Limited Edition Deluxe 175

Now, we're getting into a bit more of the high end side of the scale but, is D'Angelico worth it? Let's look at what the Limited Edition Deluxe 175 has to offer.
Again, Grover Rotomatics. But these are Super Rotomatic Locking tuners. This is a great choice by D'Angelico. Even the hard use of the tremolo arm doesn't make this bad boy out of tune.
Then, we have the TUSQ nut. This is a bit harder material than nuBone, so it's more durable and should provide a slightly brighter tone (really hard to spot). So, solid sustain… Check!
A thing worth mentioning is a flat 16" fretboard. This ensures easy access to every corner of the fretboard and makes soloing really comfortable.
When we look at the pickups, 2 TV Jones DA-Tron's, oh boy. This is definitely one of the nicest cleans you can get out of a guitar for under £2k. Sparkling, crisp, and clear. I love it.
Of course, this can handle some distortion too, but I see this guitar tilting to the rockabilly and blues side of things when it comes to sound.
Also, unplugged tones are bright and clear thanks to the maple body. When it comes to familiar and comfortable playability, you're sure to find it with the C-shaped neck.
If you're looking for a clean and clear-sounding guitar to accompany your blues, rockabilly, and classic rock jams, the D'Angelico Limited Edition Deluxe 175 is one of the best options at this price.
Best Premium - Gibson ES-335 Sixties

Is paying a premium for a Gibson guitar worth it? Let's find out!
Let's stack what you get with Gibson ES-335 Sixties:
Calibrated T-Type Humbuckers. Neck dialled for rhythm playing, a bridge for leads
Handwired electronics
500k potentiometer (you get closer to the natural pure signal with 500k than with 250k pot)
Premium build quality and playing feel
3 Ply body (3 layers: Maple, Poplar, Maple)
Vintage Deluxe Tuners with Keystone Buttons
So you get a carefully built guitar that resembles the 60's ES-335, and everything with it is fine-tuned, from pickups to finish. To me, you absolutely get what you pay for.
The thing I love the most are the pickups. In my opinion, these are perfect for 60's rock n' roll - a crisp sound that can handle some old-school distortion, but can also be tamed to offer gentle cleans.
Who is the Gibson ES-335 Sixties Cherry for? If you're looking for a premium guitar that is built to offer 60's rock sound, offering an overall high-quality playing experience, pay attention to this Gibson.
Conclusion
There you have it! The best semi hollow guitars in 2022. 5 great options with different features and prices. Which one do you like the most? Comment down below!
Check out our range of semi hollow guitars here
Author: Teemu Suomala
Teemu has been playing guitar for over 13 years and has been part of Guitaristnextdoor.com's guitar geek team for over 2 years. He is mostly jamming with electric guitars, although plays acoustics too.