A Life On The Open Mic
Published on 30 June 2022
Disclaimer: The information in this article is provided by the guest blogger and does not necessarily reflect the views and opinions of guitarguitar.
So, I've spent the last few weeks getting out to open mics and jam sessions in my local area. As someone who has played music for some years, but never as a solo performer, I saw it as a chance to try something new by getting out and playing in front of others. But what are open mics all about?
What is an Open Mic Night?
For those new to open mic nights, these are basically sessions in small to medium sized venues or spaces where a small PA system and microphone are set up for people to sing and play songs. These aren't hard to track down and you can usually find one most nights. But what are open mics all about?
An open mic is where a venue or bar arranges for an evening of music or comedy to take place, as a way of providing evening entertainment. A host is hired to organise equipment such as guitar amplifiers or keyboards, and often a house guitar. It's an opportunity for people to come along and try out material, whether original or covers, and a place for performers to 'have a go' whether they have been playing for years, or are completely new to performing.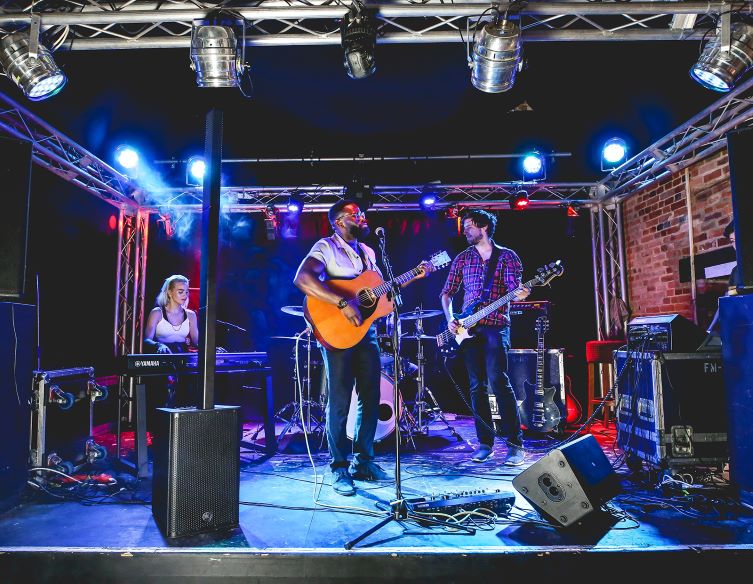 The Benefits of Open Mic Work:
Performing at an open mic night offers the opportunity to take your endless bedroom practising to the place where music really comes to life: the stage. There's a different dynamic to playing live and you lose the safety net of the bedroom once a few eyes are on you, even if the crowd is very small. Yes, nerves will arrive and gnaw away at you but the more you play in front of people, the more you'll learn to control your nerves. It's as simple as that.
The emphasis of open mic tends to be on playing covers, which can be a positive: audiences like hearing songs they know, and when you're starting out, it's potentially safer ground than playing original material (more on that later).
The audiences are usually made up of people with similar ambitions, so generally, it's a safe, supportive environment and you get a chance to network with other musicians, see what they are doing, and soak up some fresh influences.
It gets you out of the house, and you usually get a free drink! How can you not love that?
Things to Watch Out For:
In some quarters, it's thought to be a cheap way of getting entertainment into a bar, without paying the artists. I largely disagree with that view, and see it as a place for fledgling musicians to hone their craft. You rarely get a seasoned musician at this type of session, it's mainly people working up a set of songs, or trying out material.
There may be a perception that open mics are heavily geared towards the singer/songwriter. Although there is some truth in that, there is often scope to add in a keyboard, include a bass player, or link into a mobile phone so someone can use a backing track. Some open mics even boast of providing a full back line! If you're not sure, head along to one as a member of the audience and get a feel for the vibe before you start busting out face melting solos through cranked amps.
As someone who plays mainly original material I find that I have some anxieties over whether my material is as good as the covers. But it only takes one person to ask you, 'who's that one by?' to give you some self belief. All too often, the doubts are only in your head and as I mentioned, open mic crowds are far from hostile!
Due to the variety of performers, there is often limited opportunity to shape your sound, and as a result, the onstage sound sometimes isn't great. It's a get up, plug in and play session. I know of other musicians who dislike open mics mainly for this reason. Personally, I see it as a challenge to try and perform in such circumstances and develop a level of adaptability. It's all character building stuff! If you can get a room full of people on their feet with a basic set up, think of what you could do with your full rig...
You generally only get about 10 to 12 minutes, roughly the equivalent to 3 songs, so there usually isn't scope to play a full set. However, if the list of participants is short, you can add in a couple more, if the host permits it. Often they will ask you to carry on in those circumstances. Personally, I think polishing up a 3 song set is a great starting place for any budding performer.
My Experience
Here's an account of how things went when I attended an open mic at a small micropub, Bradey's Bar, Nottingham, on 23rd June 2022.
I arrived at the start of the session, and Stephen, the host, was setting up. It's a cosy venue with a well lit performance space immediately inside the entrance. The performance space was separated from the seating area by a waist high partition, which was part of the seating area construction. I wondered if this might feel a bit boxed in, but if nothing else, it defined the performance space emphatically. The Berlin Wall of open mics.
I got a drink and sat down, and chatted about music with one of the regulars and a member of the bar staff. All good humoured, relaxed and chilled.
The subject of Jimi Hendrix came up, and when Stephen kicked off proceedings, he opened with 'All Along The Watchtower', which amplified the Berlin Wall imagery for me.
The rig was basic. A small mixing desk linked to a Roland Street Cube and a microphone, although he also had a Zoom pedal linked in. He'd loaded up a lot of reverb, which sounded great for his guitar and singing, and played a few more songs.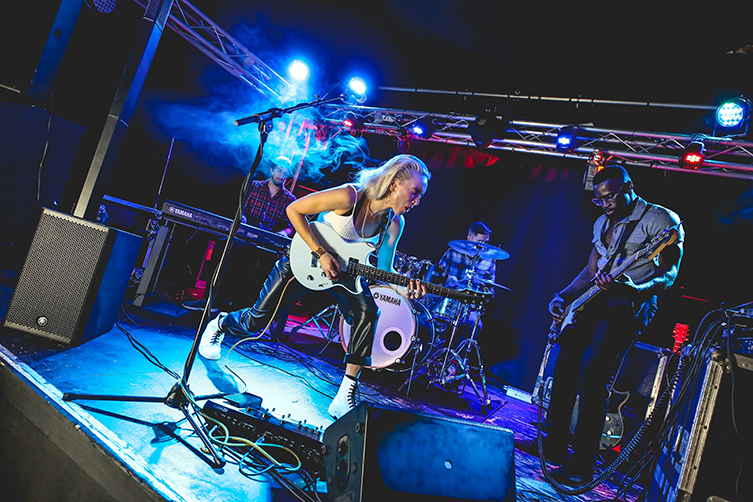 Playing Original Material
I was next up, and plugged in my semi acoustic guitar. And this is where it can become problematic. Using my own amp at home, which is a Vox Cambridge modelling amp, I like to use either a Fender Deluxe sound, or the d option, maybe with just a small amount of gain to add a touch of beef. I couldn't get anywhere near that with Stephen's set up, so after making some adjustments, I played my set.
I must admit, not having my preferred sound did put me off a bit, but it's all a learning curve and guitar man has to adapt when roaming the open mics. I played 5 songs: 'I'm Not Superman', 'Floating with Butterflies', 'Party Time', 'I Could be a Train Driver' and 'Love Can Blow Your Mind'. All originals, apart from 'Train Driver' which is a very obscure cover by one of my old bands, The Iranian Teaspoons.
There's still room for improvement in lots of ways, but I came away with one big positive: my singing seems to have stabilised and I don't remember any sections where I drifted off key. Also, I felt my original material stood up well next to the covers being played.
One or two more participants got up to play, and we saw some diverse contributions. It was a bit like having a jam in someone's living room. There was a real community vibe in there that night and I enjoyed being part of it.
To conclude, my recent adventures at open mics have altered my perspective on playing live in many ways:
My admiration for solo artists and singer songwriters has gone up. When it's just you and your guitar there is no hiding place. If you make a mistake, it's in plain sight. But, audiences don't seem to mind and if you can navigate through it then it's all cool. However, the emphasis has to be on practice, practice, practice!
Open mics are great for networking! You get to know a few people over time, and you never know what could come from that.
You get to hear a wide range of styles and see what other people are doing. It's always good to soak up fresh influences, or to get inspired by killer technique.
That's life on the open mics.
Author: Andy Szpuk
Bio: Andy is the lead guitarist in recently reformed legendary punk band Spotty Boys, and is also carving out a career as a solo artist to showcase his own compositions - see 'A Life on the Open Mic'.