6 Best Affordable Gibson Alternatives
Published on 13 December 2021
Disclaimer: The information in this article is provided by the guest blogger and does not necessarily reflect the views and opinions of guitarguitar.
If you're looking for a more affordable alternative to your favourite Gibson body styles that will almost fill your Gibson needs until you're ready to purchase the real deal, then you're in the right place. But first, a little history lesson.
Gibson has managed to forge an undeniable name in the music world and is now known worldwide for their high-quality instruments. They are the dream guitar for many guitar players. They're the kind of guitar that tempts you to skip rent in order to buy.
Ask me how I know…
Orville Gibson founded the company in 1902. The Kalamazoo, Michigan instrument maker quickly made a name for himself and his company.
His instruments have graced stages all over the world and have been responsible for the signature sounds of artists such as Joe Perry (Aerosmith), Jimmy Page (Led Zeppelin), and blues legend Robert Johnson among countless others.
Just like anything else, Gibson guitars often command a premium price tag even for their most entry-level guitars. This can put them out of reach for many guitarists who are on a budget (trust me, I've been there).
However, you don't have to give up hope! There are some great alternatives to Gibson guitars that are more affordable and still embody the legacy that Gibson instruments are known for.
Here are six of the best Gibson alternatives for some of their most iconic models.
Best SG-Style Alternative – Epiphone SG Standard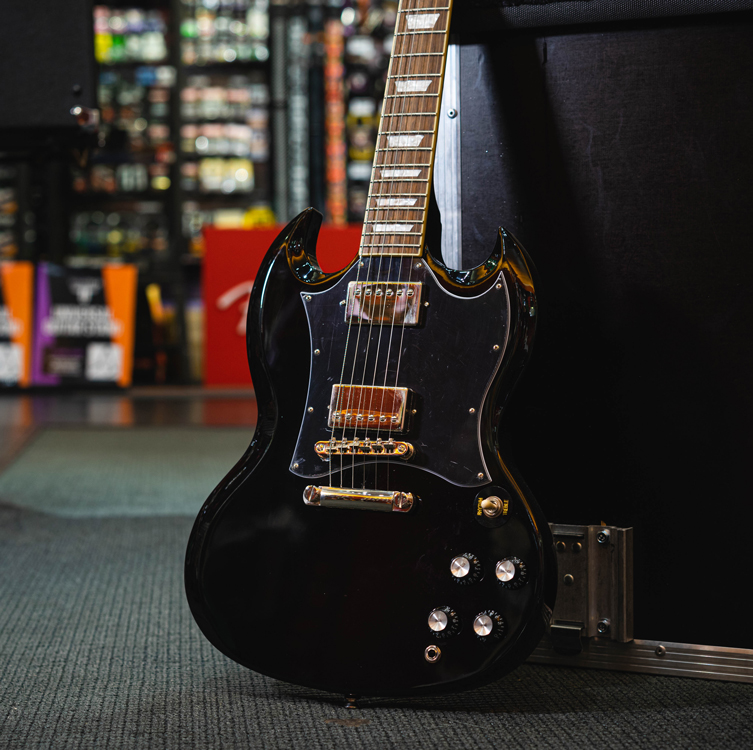 The SG body style is perhaps one of Gibson's most recognisable models. It's aggressive looks still somehow manage to maintain some serious class.
Epiphone is a Gibson-owned company, so it is sufficient to say that the quality of the Epiphone SG Standard is pretty amazing.
Players get a mahogany body and neck, nickel plated hardware (including the vintage-style tuners), a stop-bar tailpiece with a Gibson-inspired Tune-o-matic bridge, and a gorgeous gloss finish. On top of all of that, players also get pearloid trapezoid inlays on the Indian Laurel fretboard and period-specific electronics.
A 3-way toggle switch and 4-pot controls give players a seemingly endless amount of tonal control. The signal is provided by Epiphone's Classic PRO Alnico Humbuckers for a thick, rich tone with plenty of low-end backbone.
It plays incredibly comfortably up the 60's tapered neck, and the cutaway body gives you plenty of access to play some screamin' leads on the higher frets.
I definitely recommend the Epiphone SG Standard to those who are looking for the iconic SG body style. As far as Gibson SG alternatives go, this is as good as it gets to an affordable alternative.
Best Les Paul Alternative – Epiphone Les Paul Standard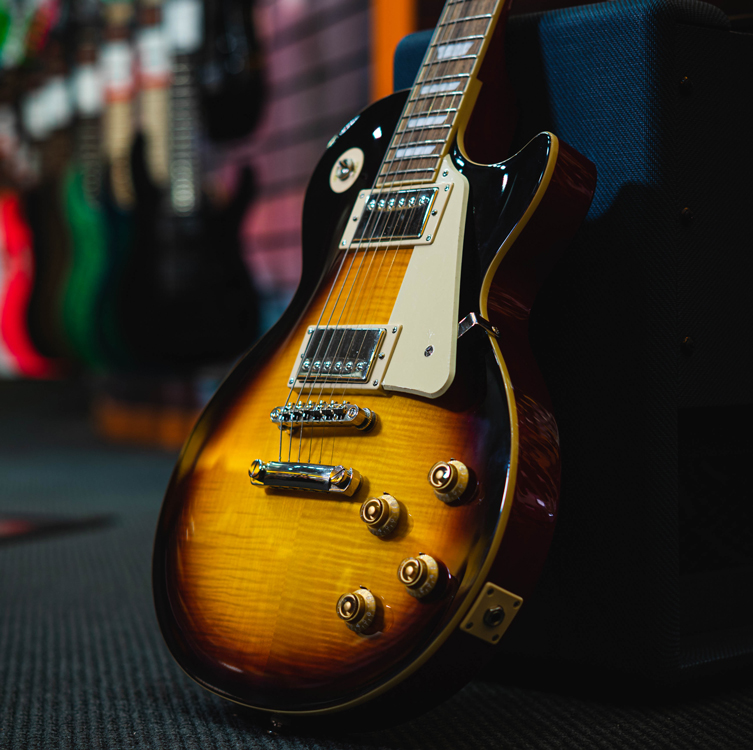 The Les Paul is the most iconic Gibson design on the planet. It is only natural for them to make an Epiphone version to bring this legendary beast to the masses.
Luckily, the Epiphone Les Paul Standard comes in a wide variety of styles, finishes, and even left-handed models.
Players get the instantly recognisable arch top Les Paul body style. While each model incorporates its own visual appointments, they all share the same trapezoid pearloid inlays, a three-way toggle switch, four-way controls, and two beefy humbuckers.
There is nothing "standard" about the Epiphone Les Paul Standard other than the example it sets for all other guitars in its class. It's the standard weapon of choice for many of the world's greatest players (ever heard of Slash?).
Best Flying V Alternative – Jackson JS32 King V
While Jackson is not a Gibson-owned company, they sure do like to put their own spin on the iconic Gibson Flying V body style.
Often found slung around the shoulders of hard rock and metal guitarists, the Jackson JS32 King V gives fans of the iconic body style a lot of guitar for the money.
Players will enjoy the slim, easy to play neck profile that is perfect for face-shredding riffs. The classic Gibson Flying V style body has been trimmed up to sport two very dangerous looking points.
Throw in a Jackson Floyd Rose bridge, three-way toggle, and some seriously high output humbuckers and you have a recipe for some sinister, heavy tones.
Between the aggressive looks, amazing balance, and quality parts, the Jackson JS32 King V is a force to be reckoned with – all while providing you with an incredibly easy to play instrument that gives a nod to the classic Gibson Flying V.
If you're a metalhead, this should be your guitar of choice.
Best Semi-Hollow Body Alternative – D'Angelico Premier DC Stop Bar
D'Angelico is another brand on the list that is not owned by Gibson. However, the D'Angelico Premier DC Stop Bar is certainly inspired by the legendary Gibson ES-335 semi-hollow body.
If you got the Gibson blues, then wail them out on this guy…
The D'Angelico Premier DC Stop Bar has the classic semi-hollow body design that blues and jazz players love to grab. The body and neck are constructed of maple for a brighter tone while the faux tortoise pickguard adds some serious vintage styling.
Throw in two Seymour Duncan Humbuckers, a three-way toggle with four-way controls, and you have a showstopping guitar that is incredibly smooth with a brilliant tonal balance.
I highly recommend that Gibson ES-335 fans take the D'Angelico Premier DC Stop Bar for a spin. With all of the hardware, electronics, and design appointments, this guitar will give you everything you need to bend the blues or jam some jazz.
Best Jumbo Acoustic Alternative – Sigma GJA-SG200-AN
If you're a country-western fanatic, then you have probably recognised the Gibson Jumbo acoustic. These behemoths are just like their namesake implies: they're jumbo.
The Sigma GJA-SG200-AN is nearly a mirror image of its legendary Gibson brethren. The oversized, round-shouldered body is made of maple with a solid Sitka spruce top. This adds tonal balance to the deep, resonant sound of the deep body by brightening it up a little.
Players also get a solid maple neck, Micarta fingerboard, gold Grover tuners, and the familiar mustache bridge that you just can't ignore.
If you're wanting to plug this bad boy in, Sigma has you covered with the Fishman Sonitone electronics.
I recommend the Sigma GJA-SG200-AN because of the high-quality construction and styling that is straight-up Gibson-inspired.
Best Dreadnought-Style Acoustic Alternative – Epiphone Hummingbird
I suppose that "dreadnought style" should be taken lightly here. The Gibson Hummingbird is a much more familiar looking guitar to many because it does resemble the Martin dreadnought body. The difference is in the shoulders – Gibson acoustics are more rounded than squared off.
In any case, the Epiphone Hummingbird Studio is an incredible acoustic in every sense. Players not only get a solid spruce top and select mahogany back and sides, but they also get the pearloid parallelogram inlays and that unforgettable pickguard with hummingbird artwork.
All looks aside, Epiphone added a Fishman Sonicore active pickup system to this singing bird so you can plug it in and get amped.
I definitely recommend the Epiphone Hummingbird Studio as a Gibson Hummingbird alternative because it hits every mark on the checklist of a Gibson acoustics fan: great playing, tonally balanced, and absolutely gorgeous to look at. It's hard to argue with a company that offers inspired Gibson alternatives for the budget-minded guitarist.
Conclusion
There you have it folks: Six affordable alternatives to classic Gibson guitars. While you save up for your dream guitar, it doesn't hurt to pick up an affordable version beforehand.
The impression that Gibson has left on the music world will forever be memorialised by other companies taking their classic shapes and making their own respectable versions. Gibson has earned their prices by consistently producing original, well-built, and genre-defining instruments.
This doesn't mean that you should settle for less if you're on a budget. Grab one of these models up and start jamming!
Author: DL Shepherd
Darren has been playing guitar for over 23 years and is currently part of Guitaristnextdoor.com's guitar geek team. When he is not writing helpful articles, creating researched guides about guitars, or testing out gear, he can be found riding his Harley through the mountains of Virginia.