Vintage Vault: The Rhinestone Strat
Published on 21 April 2022
If you've seen one Strat, you've seen them all, right?
Well… we beg to differ!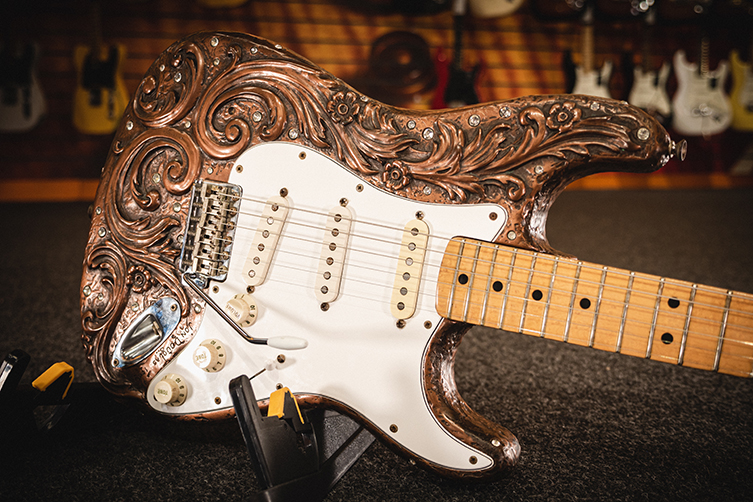 Check out this incredible piece of art! Talk about a rare finish for a Fender? This goes quite a bit further, as you can no doubt see! The beauty here is not just skin deep on this most distinctive and scarce instrument! It's the 'Rhinestone Strat', and if you already know about these, you'll gasp at the rarity and good fortune of having one available (at time of writing) for sale! If you don't already know about these, however, then please join us as we tell the tale of the Rhinestone Strat, accompanied by pictures of this very special instrument.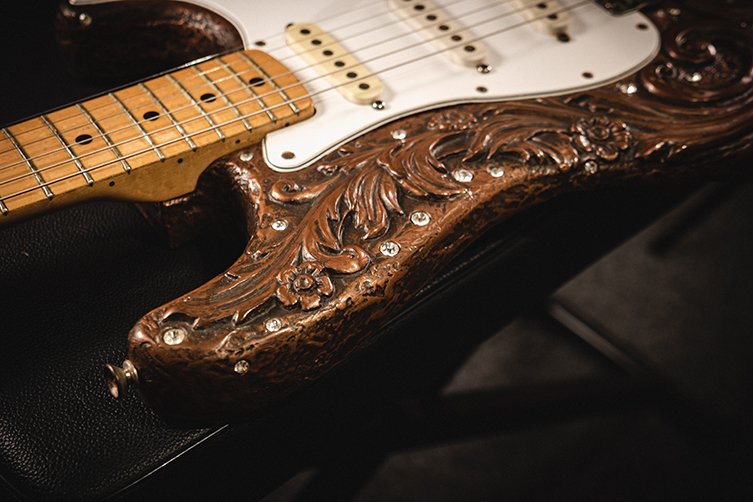 1974
The story begins in 1974, with sculptor Jon Douglas visiting Ivor Arbiter's Sound City instrument store in Soho and feeling distinctly unimpressed with what he saw on the walls. Challenged to 'do better' by Arbiter (whose name Fender fans will know as the UK distributor of Fender instruments back then), Douglas took to his task of livelying up the basic Stratocaster design. Keeping the overall silhouette and 'operative areas' (i.e. the pickguard loaded with controls and pickups) intact, Douglas set about drawing up a highly detailed, heavily sculpted body which lay somewhere between Art Nouveau and the Wild West. Jon Douglas' main artistic discipline was in bronze-casting, and so he applied what he knew to this project, creating a pioneering cast of a strat-like body of cold-cast bronze over fibreglass. Cold-cast bronze is basically a mix of polyester resin and copper powder, which is poured into a cast and sets solidly. This method kept the guitar's weight at a manageable level, and allowed Jon to incorporate all of his signature floral sculpts and flourishes.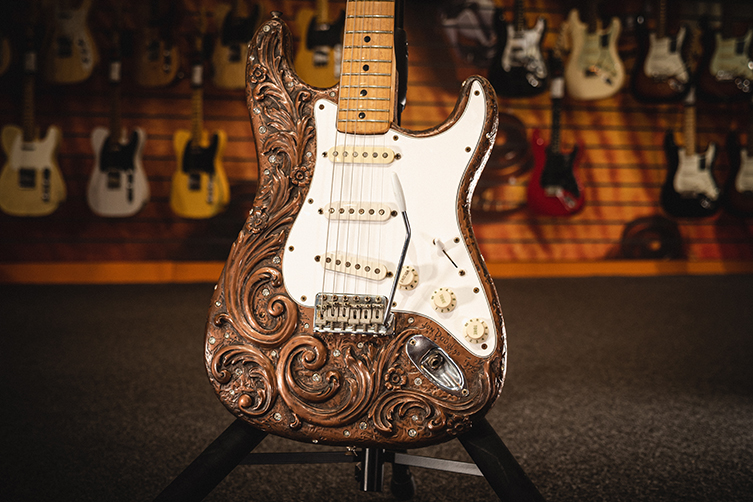 After casting the body and adding a set of then-contemporary mid 70s Strat parts, Jon took his creation back to Ivor for an opinion. He loved it, but suggested the body could do with a few rhinestones (somehow it wasn't quite fancy enough yet) to finish the look. Jon agreed, added the stones, and earned the guitar its nickname in the process.
1st Run
The design was a success, and Jon promptly put together a total of 6 Rhinestone Strats to sell in the recently opened Fender Soundhouse store on London's Tottenham Court Road. Not long after these guitars went on sale, drama struck as the building itself caught fire and was completely destroyed. Four of Douglas' creations were taken in the conflagration, though two escaped a similar fate by being sold prior to the blaze. So it went for the Rhinestone Strat, until nearly 14 years later.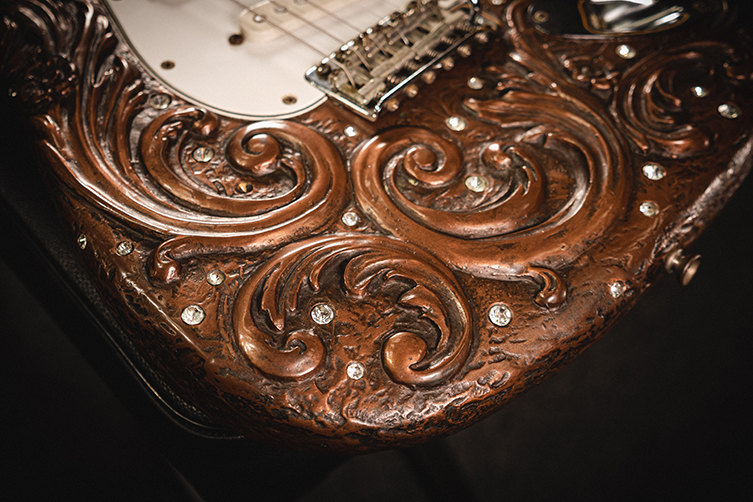 2nd Run
We now time-hop to the late 80s, when Jon was contacted by a collector about the possibility of him building another Rhinestone Strat. Since the expense of the project was mainly taken up by the initial mould, Jon decided to make a limited run of 50 instruments plus prototypes.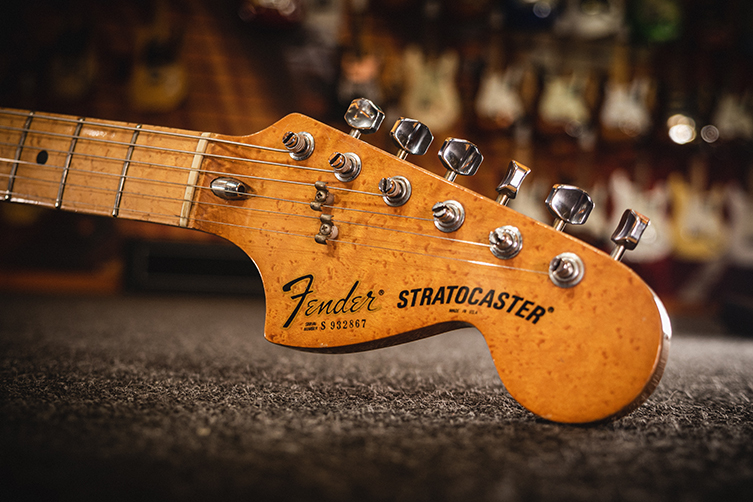 Each instrument made during this second run used Fender Strat parts either from the 70s or from 70s reissue guitars. All of the bodies were made to accept this style of neck and hardware, so all had the three-bolt neck join and so on, but each guitar was also a little different as a result of using what was available. You may see slightly different pickguard colours or fingerboard woods, for example, since Fender used both Maple and Rosewood for their 70s boards.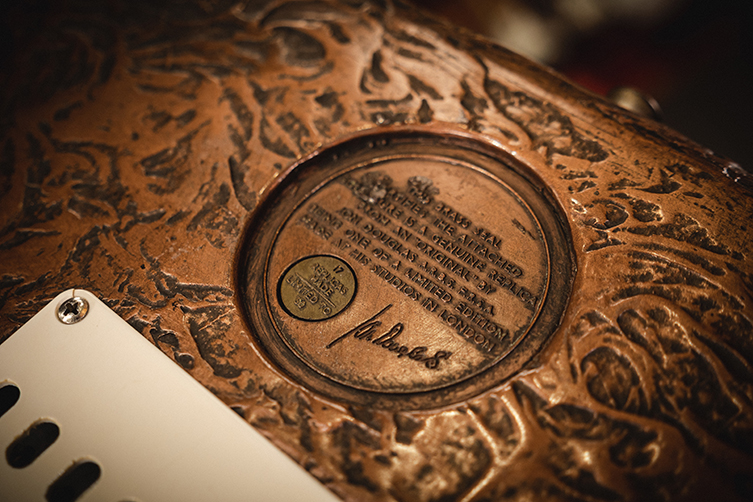 This second run of Rhinestone Strats is distinctive due to the 'seal' incorporated into the back of the body. The circular area reveals which of the run of 50 instruments each particular guitar is (the one we are looking at today is number 17). You'll also find Jon's etched signature on the guitar's front, not far from the input jack.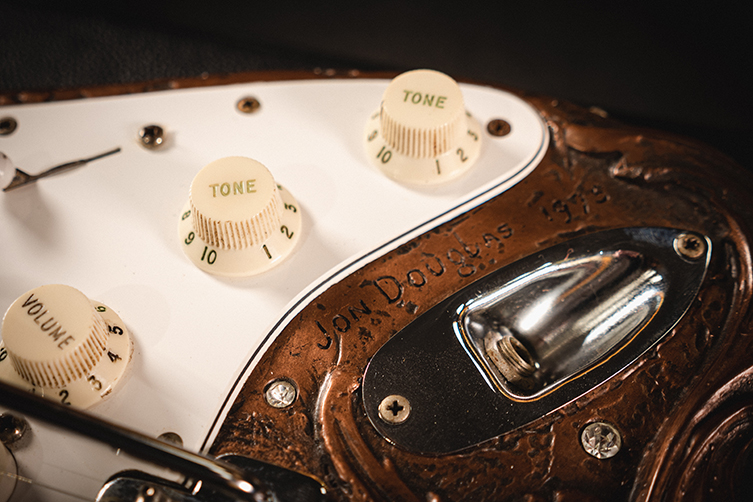 Although the plan was to build 50 Rhinestone Strats, Jon only managed to build 25 or so (exact numbers are difficult to ascertain due to the existence of prototypes) before passing away in 1998. Therefore, the '17 of 50' legend on the seal is actually something of a misnomer: this example is really 17 of 25!
This Rhinestone Strat
The Strat you see in the photos here (and which is, as time of writing, available to buy) has parts taken from a 1979 Fender Stratocaster. Although this is from the second run, the Fender parts date from not too far after the original 1975 guitars were made (and mostly destroyed, let's not forget) so this particular guitar is perhaps as close as it's possible to get to one of those illustrious first run instruments. You'll notice that the neck is made from a lovely piece of Birdseye Maple too, which only adds to the beauty of this rare and quite magnificent guitar.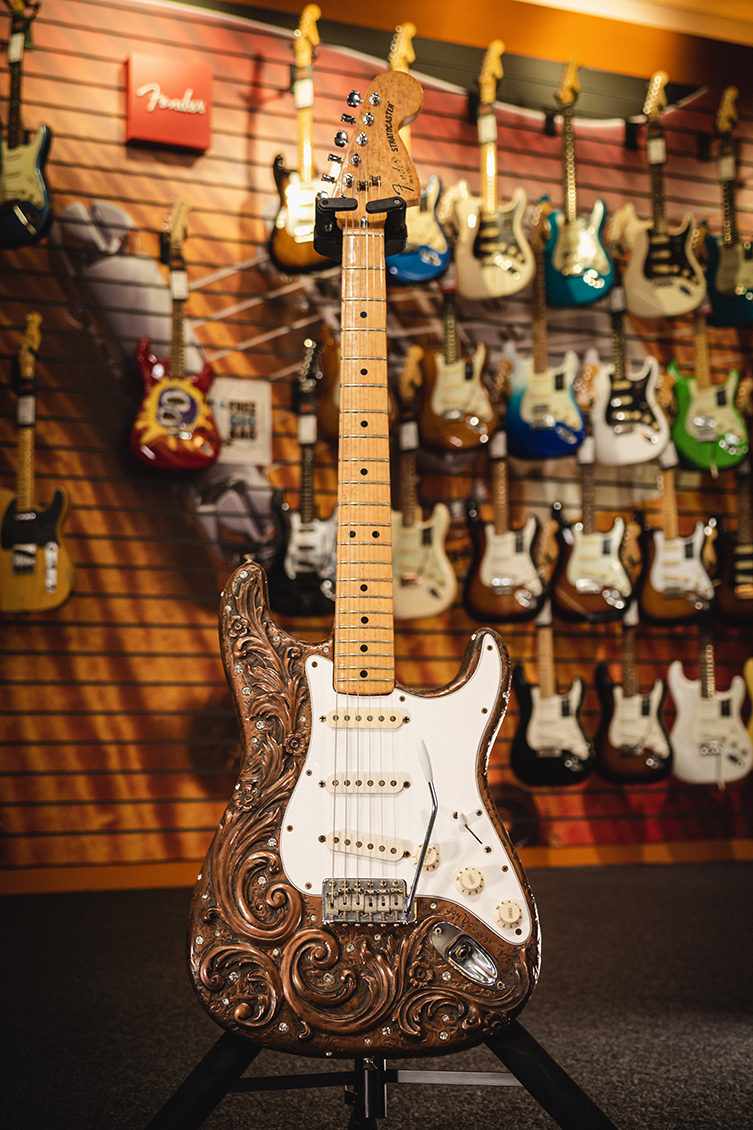 We think that guitars are as much pieces of art as they are functional instruments anyway, but this one has a body crafted by a bonafide British sculptor. Jon Douglas' bronze work is revered in its own right, and his famous, legendary Rhinestone Strats are a wonderful addition to the story of what is probably the most well known guitar on the planet.
Click to view the Fender Jon Douglas Rhinestone Strat
Ray McClelland