The Legacy of the Les Paul Custom
Published on 22 July 2022
What's your favourite Les Paul?
The correct answer, of course, is the Les Paul Custom. Easily one of the best looking guitars in history, Gibson's handsomest child is very nearly 70 years young, having debuted in 1953, a mere year after the original P90 pickup-equipped Goldtop.
We recently took delivery of a bevy of these beauties, straight from Gibson's Custom Shop in Nashville, and seeing them all has inspired us to look back over this hallowed model. We'll take in a little bit of the Les Paul Custom's history, check out who has played them over the years, and of course, we'll share a bunch of pictures with you too!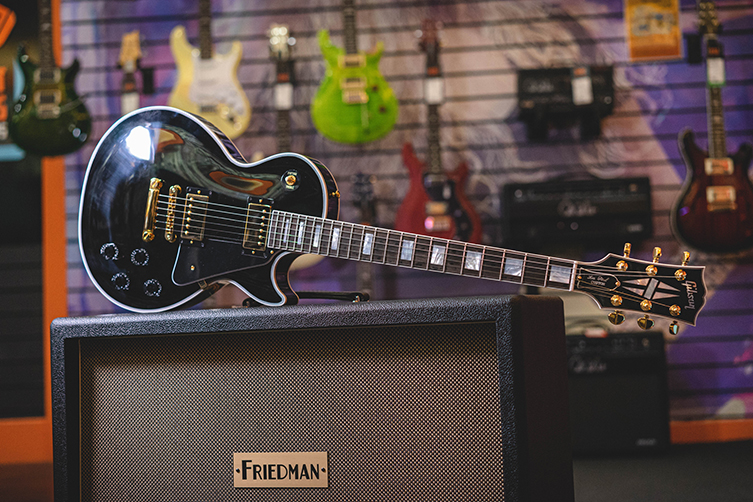 The Tuxedo or The Fretless Wonder (a Little Les Paul History)
It all starts with Lester Polsfuss, doesn't it? Les was an inventor, visionary and star musician as well as a well-known TV personality alongside his wife, Mary Ford. All Gibson Les Pauls are of course his signature model guitars, something that's often glossed over in Gibson's marketing these days. Anyway, his initial guitar was the aforementioned gold Les Paul from 1952, and it wasn't until a year later that he hankered for something more overtly decorative for his TV appearances.
The problem, you see, was that lots of guitars didn't show up particularly well on the old black and white TV sets of the 1950s. Les Paul, ever the showman, figured that increasing the layers of binding on the guitar's body (and adding it to the headstock and back of the body as well) would increase the guitar's visibility in an age where musicians tended to wear black tuxedos. Indeed, the 'tuxedo' was what Paul called his idea of the black and gold Custom, which first appeared in 1953.

This first Les Paul Custom is perhaps a little different from how you know it. Most of the elements you love are there - the block inlays, extra binding and split-diamond headstock inlay (borrowed from the Gibson Super 400 archtop) - but the notable difference is in the pickups. At this point, we are still a good 4 years away from the invention of the humbucker pickup! Seth Lover, the PAF-inventing genius, also made the P90 pickups on this Custom, one of which is the relatively unusual 'staple' P90 pickup.
The Staple P90 is an alnico magnet pickup with rectangular pole pieces, giving the neck position a very slightly different tone to a more traditional P90. This, Doors fans, is the guitar Robbie Krieger used for almost all of his band's studio sessions. Yes indeed, you are not in fact listening to an SG at all!
The 'Fretless Wonder' headlines that appeared on advertising was based on the fact that the guitar had low, flat frets. This was in an age of huge flatwound strings (Super Slinkys were not a thing at this point), when 'low playing action' was a concept at best. The adverts for these new Les Paul Customs loudly boasted of the easiest playing experience yet, and though that seems quaint nowadays, it was a significant factor in the fifties.
"Les Paul said it best himself: 'Audiences listen with their eyes'"
The Les Paul Custom as we know it appeared in 1957, along with the arrival of the PAF humbucker. Interestingly, the vast majority of these guitars were of the 3-pickup variety: only a tiny number of '57 Customs had two pickups! We suppose, as this was Gibson's luxury model, three pickups is somewhat more luxurious than a mere two, right? It's certainly more ostentatious, and the 3-pickup 'Black Beauty' (a term that's thankfully no longer widely used) Les Paul remains a popular and distinctive option in Gibson's Custom Shop catalogue.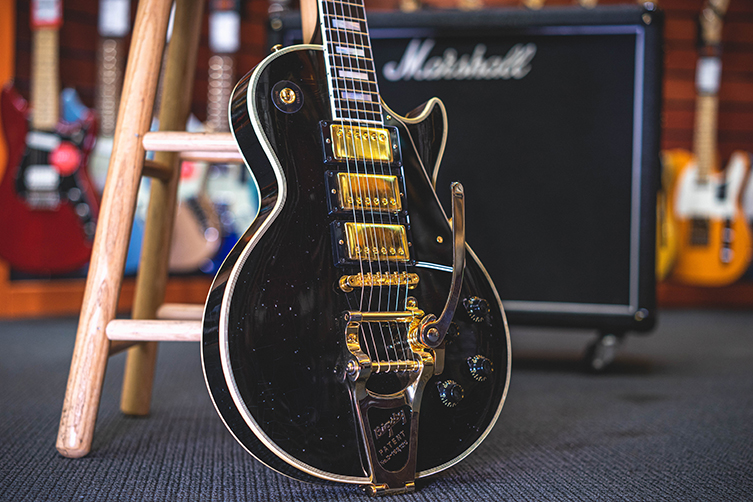 Jimmy Page was one such fan. His three pickup Custom (also equipped with a Bigsby trem for ultimate bling) was a treasured early-career guitar for him until it was stolen on tour back in the 70s. A short FIFTY years later, he's been re-acquainted with it, which is quite a wait, even for one of the instrument's most iconic players! We're sure he had others to play in the meantime, but still…
The End of an Era
As you may know, guitarists in the late fifties were either too broke to afford Les Pauls or they just had terrible taste, because sales of the guitar - Standards and Customs alike - were so poor that the Les Paul was discontinued in 1960. Imagine! Ironically, the period right before this is of course when the most treasured and valuable Standards were made, but that's another matter.
Les Paul (the person) received a new double cutaway model for his signature axe, to replace the now-defunct Les Paul guitar he'd helped create. An instant non-fan of the updated design, Paul put up with it until his contract with Gibson ended in 1963, when he then promptly left the company's payroll and went back to using his Les Pauls. Gibson kept the newer model going, but renamed it the 'SG Custom'. This is why those awesome cream coloured three pickup SG Customs from the early 60s say 'Les Paul Custom' on them!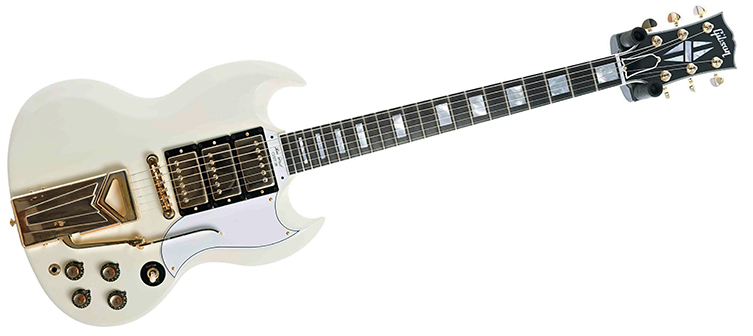 The Return
After almost eight years, whatever it was that had made the guitar world take leave of their collective senses had moved on, leaving the world to enjoy the return of the Les Paul! The British Invasion had made Les Pauls the guitar to have, and Gibson took note. This meant the return of the Les Paul Custom, and it is this late 60s model that is the effective blueprint for all subsequent LP Customs. All of the recognisable appointments are included on this model, including subtle stuff like a larger headstock (easy to miss until you look close), a longer tenon travelling through the inside of the body from the neck, and an altered headstock pitch angle. In other words, it's the classic instrument we know and love today.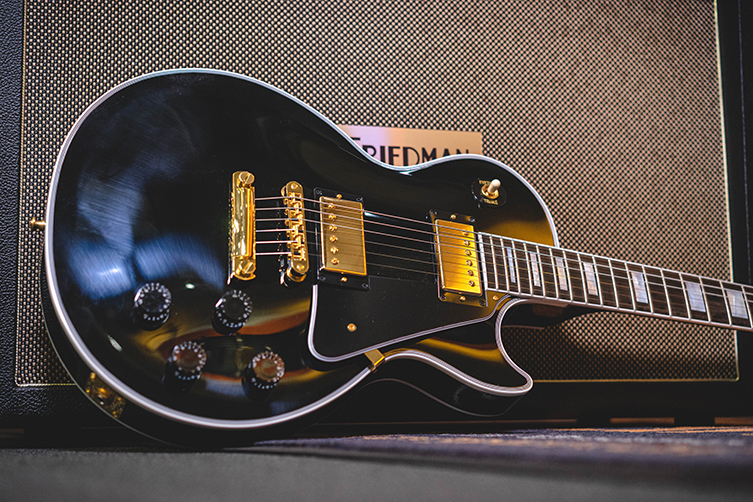 A few years on, the late 60s and early 70s brought around 'Sandwich' bodies, which had a filling of maple in between two slices of mahogany. These are often snubbed by aficionados, but one person who didn't mind/care was Randy Rhoads, whose opinion is most definitely being paid attention to! He played a sandwich-bodied LP Custom before Grover Jackson collaborated with him on one of the greatest spiky guitar designs in history. Again, another story for another day!
Mick Ronson's famous Ziggy-era Les Paul Custom was a 1968 model, so it was probably made just prior to the sandwich bodied guitars. He, of course, sanded the finish from the guitar's top to create a pretty fantastic looking natural LP Custom! Why? Well, he'd heard that by removing the finish, we'd get more tone and top end. We can't say for sure if it worked, but he did end up with one of the most awesome looking Customs ever. Why on earth is this not a standard option on all of today's Les Paul Customs? Talking of finishes…
New Colours
1975 saw the first Cream and Alpine White Les Paul Customs being made. To be honest, the actual shade of white has changed a fair bit over the years, and back then, smoke-filled rooms did plenty to darken the colour of any guitar bearing a nitrocellulose top coat. This may be why Randy's Custom looked cream, and indeed The Edge's famous Custom, which is a 1975 model. Then again, Cream was an option from the factory, so it's the stuff on internet forums as to who had what colour. We'd say both are equally awesome.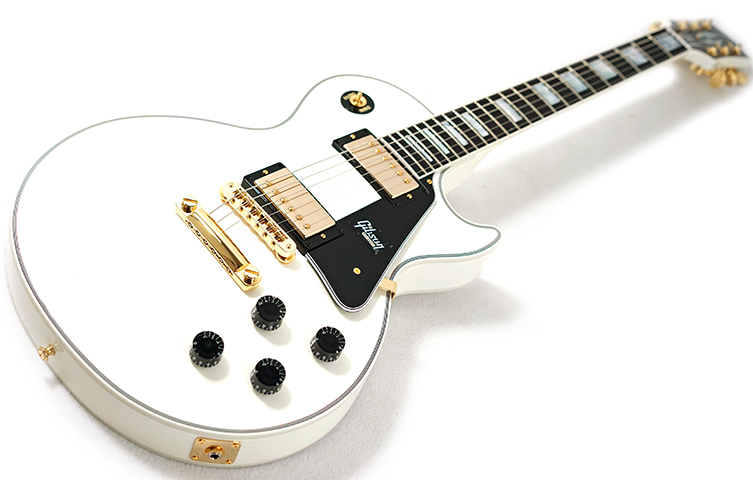 Cherry Red (and Wine Red, which is the same but darker) has been a relatively standard colour for Les Paul Customs these last few decades, but vintage examples are almost impossible to find. We've read reports about six red LP Customs being made in 1969, and other unverifiable things like that. Suffice to say, they are out there, and they look great, but they are a little more elusive than they maybe should be.
One colour which gets' LP Custom fanatics hot under the collar is Silverburst. Again, reports vary on this one, but most experts agree that the Silverburst finish, which ages to a rather lovely greenburst (nice dodge there, Gibson), was available for only a few years in the late 70s. Reissues have of course occurred since then, and it's a pretty normal colour elsewhere, but there's most definitely a mystique around the Silverbust Les Paul Custom. Just ask Tool guitarist Adam Jones, who uses practically nothing else!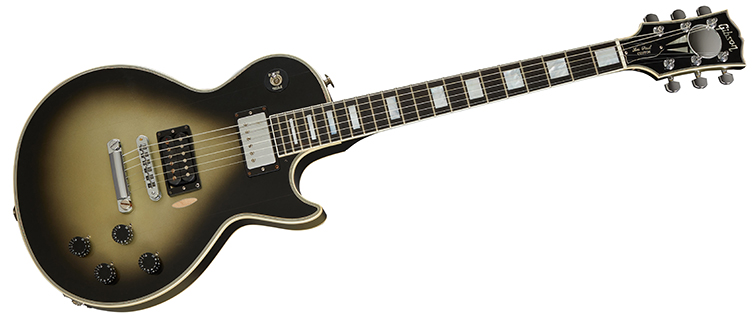 Bursts have been available too, and whilst not necessarily 'rare', they just don't get spoken about as much. It's a shame, too, because look how incredible a Vintage Sunburst finish takes to a Les Paul Custom!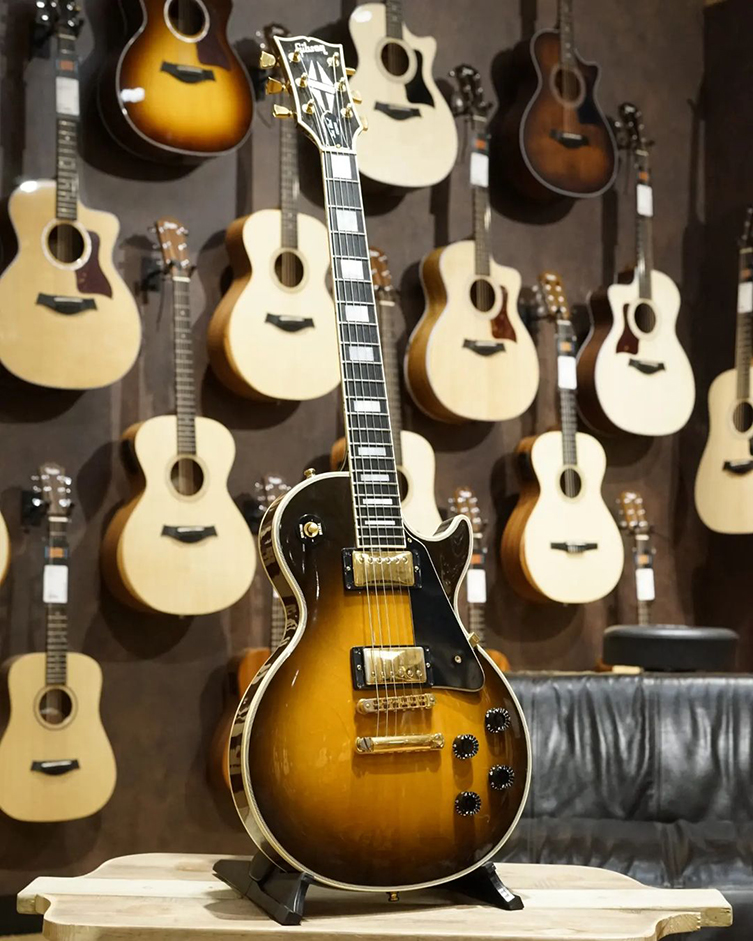 Top Les Paul Custom Players
We've mentioned more than a few notable Les Paul Custom users in this article already, but here's a quick, non-exhaustive list of players who are notable for their use of the model:
Jimmy Page

Adam Jones (Tool)

The Edge

Randy Rhoads

Robert Fripp

Kirk Hammett

Peter Frampton

James Dean Bradfield (Manic Street Preachers)

Justin Hawkins (The Darkness)

Ace (Skunk Anansie)

Joey Santiago (The Pixies)

Robbie Krieger (The Doors)

Ace Frehley

Bill Kelliher (Mastodon)

Steve Jones (Sex Pistols)
Today's Les Paul Customs
You read through the blog, you've gazed at the pictures, and you have decided that you just have to have a Les Paul Custom. You need to join its illustrious heritage, and be a part of that select crowd who know, feel and (clearly) see the difference.
But which Les Paul Custom to buy?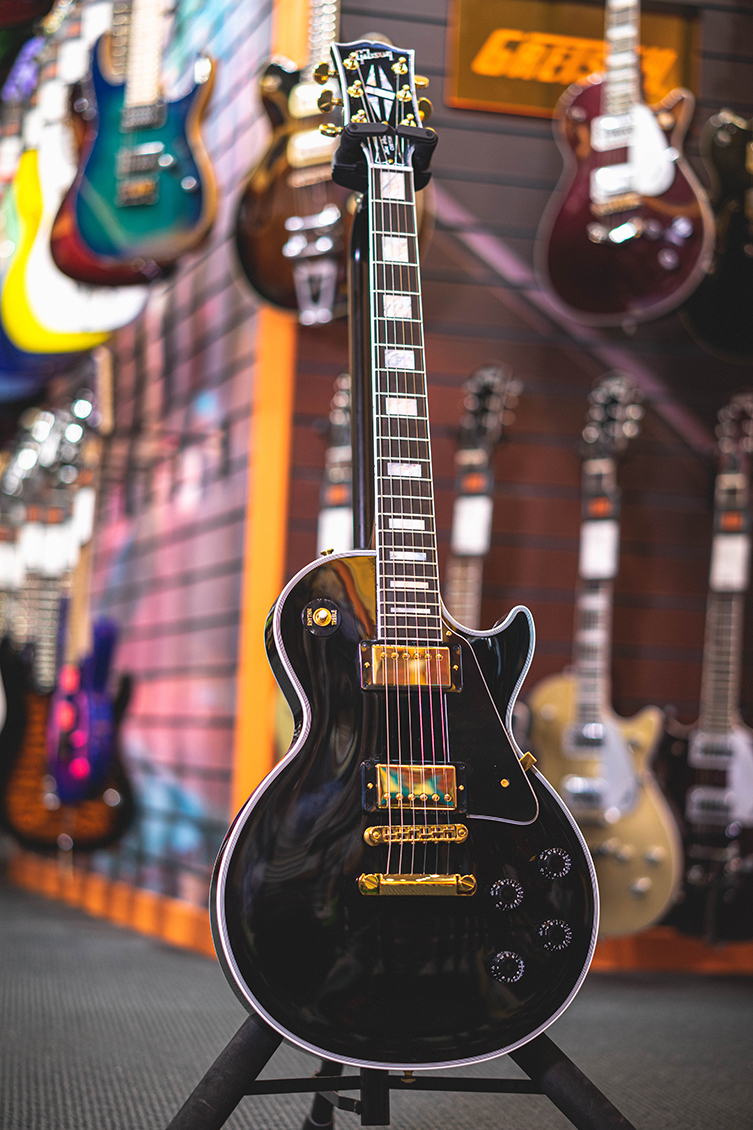 Well, it's actually a pretty easy decision. All Les Paul Customs are made by Gibson's Custom Shop in Nashville. If you want the current real-deal model, simply go for the Gibson Les Paul Custom in Ebony. It's the latest 'living' example of the archetype, and it's a beauty. Gone are the Richlite fingerboards and back is the Ebony, along with the correct 490R & 498T pickups that have served the Custom for so long. You get a one-piece mahogany body with a 2 piece maple top, and a neck that has a 42.85cm nut width (this is important for the feel) and a 12' fingerboard radius. You get medium jumbo frets these days, which actually give a much better playing experience than those crazy 'fretless wonder' situations from back in the day. Really, this guitar is the first - and for many, the last - stop on this journey. It's epic, it's authentic and it's currently available.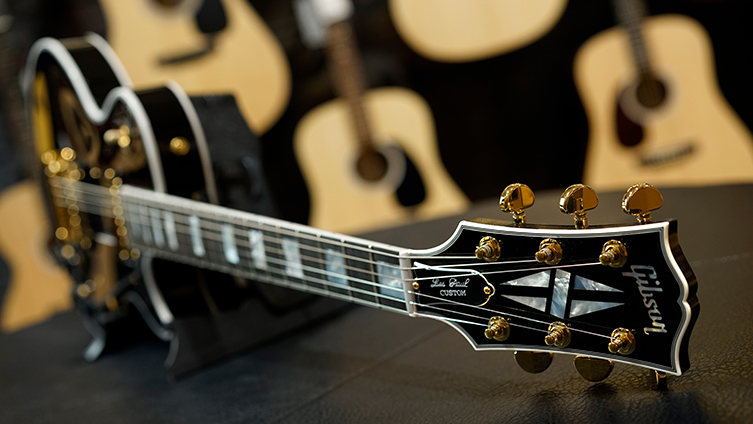 Murphy Lab Models
You may, however, have tastes that run to the slightly more historic, authentic or plain esoteric. If so, you'll be interested in the superb Murphy Lab creations that are currently available. A subdivision of the Gibson Custom Shop, their premise is to offer a Gibson CS instrument - with all of the correct period details for any given model - and then masterfully age it to give the patina of a lovingly worn road warrior of a guitar.
You can determine how light or heavy you want the ageing, and there's a wonderful selection of instruments available from those ultra-early 'staple' pickup Customs from 1953 and 54, through the classic '57 PAF models with either two or three pickups and more! Customs with Bigsbies are available, too! There's a whole catalogue of Gibson models available, of course, all sympathetically distressed and dinged up to look like genuine vintage replicas.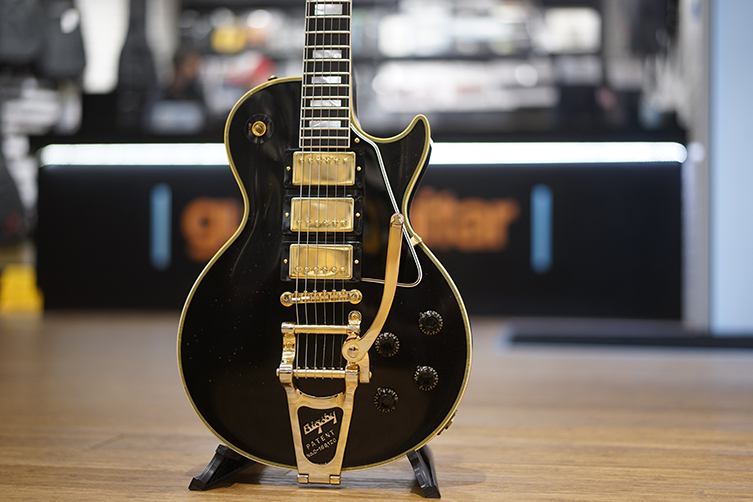 Why You Need a Les Paul Custom
So, you appreciate the Les Paul Custom but have never owned one. Should you? Well, here are a few reasons why every player should own one…
Les Paul in general, and Custom models in particular, are far more versatile than their sonically brutish reputation may suggest. Yes, they are perfect for hard rock and metal, but they were made as jazz guitars, let's not forget! They have lovely clean tones that are admittedly nothing like Fender clean sounds, but why does that have to be the only clean sound you use? Plug into a rich old valve combo with plenty of headroom and you'll get a complex clean tone with sustain and development in the notes, in ways that Strats and Teles just don't have access to. This is particularly true with PAF humbuckers and P90s, since there is less output from the pickups in the first place. Distorted sounds take care of themselves, but the true riches are found in the clean and low-gain settings you play through. That's when those secret frequencies start speaking up.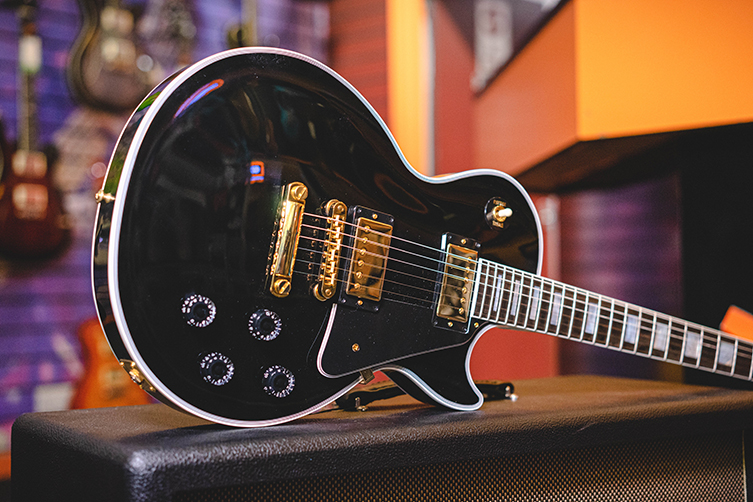 Do you play live? If so, we know of no other guitar model that fills up space in a live mix - and sits perfectly within it - like a Les Paul Custom. Dial in a sound with plenty of top end bite, and you'll find you can cover a massive spectrum of live sound without interfering with either lead vocals or bass. When you play with other musicians, midrange is the only territory you can really own as a player, and the Les Paul Custom has easily the richest and most prominent midrange out there.
Lastly, and this may seem a somewhat flippant reason, but here it is anyway. Les Paul Customs and absolutely beautiful looking. Les Paul said it best himself: 'Audiences listen with their eyes', and never a truer statement was made. Why spend thousands of hours becoming a wonderful player, only to use an instrument that looks like a loaf of bread? Consider how much stage presence this guitar gives to its users, and think about how incredible it must feel putting one on and unleashing your greatest performances. It's a serious guitar for sure, and it takes no prisoners, but what it demands from the player is given back tenfold.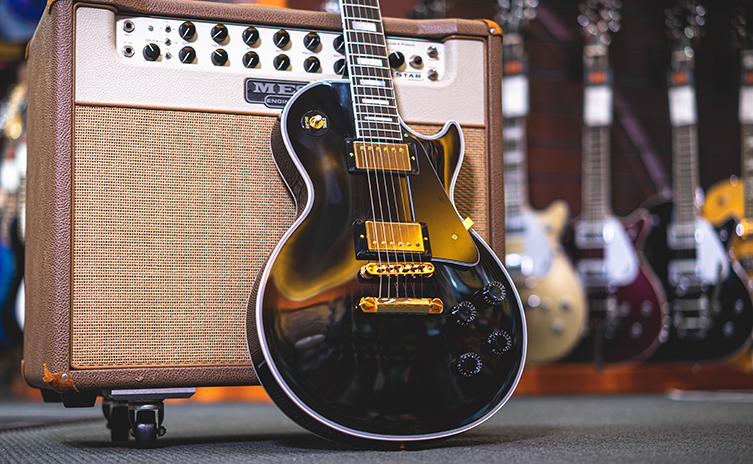 We know you already know all this, but it does bear repeating! Also, if you already have a Strat and/or a Telecaster (odds are that you do), then the Les Paul Custom offers the most different sound, fel and playing experience to those models that a solid body guitar can, without going into 'shape' territory such as Explorers and Flying Vs. It's a legitimate alternative to the standard fare that we all know and use.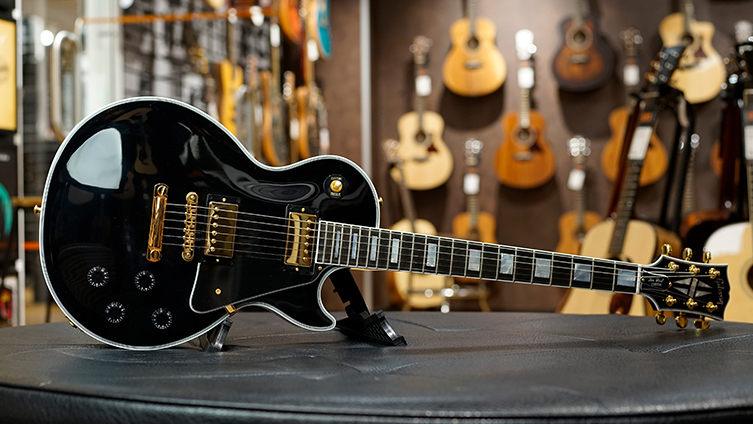 The Les Paul Custom. It's a guitar, it's a look, it's a sound and it's like no other instrument. It's the most powerful sounding and most beautiful looking of them all. It's a legend.