The BEST Squier Guitars of 2022!
Published on 25 July 2022
Guitar players of the world: if there's one brand out there that almost all of us have experienced, it must be Squier, right? Fender's official younger sibling has, since the dawn of time itself, been the go-to choice for both beginners and seasoned players on a budget. Squier guitars have the correct shapes (including headstock shapes, which seems to matter a great deal more than many people at first realised), they offer a wide range of models, specs and finishes, and, significantly, offer a quality level that is often above the price point. If you're not sensitive/snobby about the logo on your guitar, Squier has very often been the value choice for guitarists everywhere.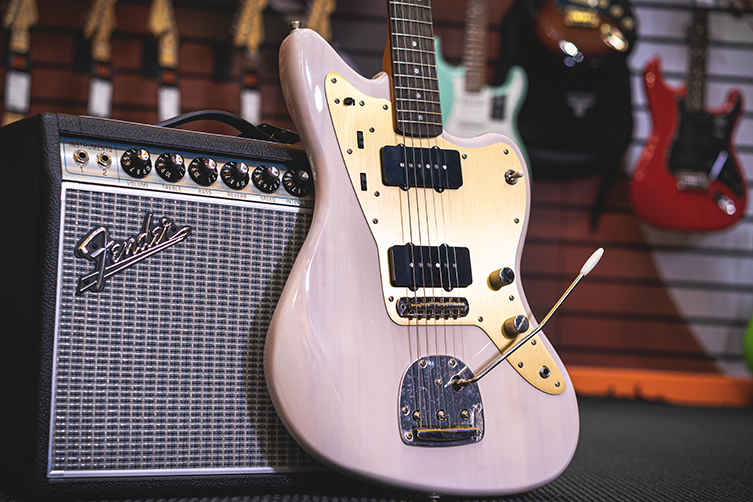 40 Years of Squier
Squier are officially 40 years old, having launched their first guitars in 1982 to buck the trend of Far Eastern important copycats flooding the market that Fender wanted to dominate. Instead of getting mad, the company got even, using the Squier name (taken from a much older company actually, making Squier even older than Fender, if we're being fussy) to create an official line of replicas built for the affordable market. The idea was that if they got the quality to price ratio right, the shabby copycat market would fizzle out.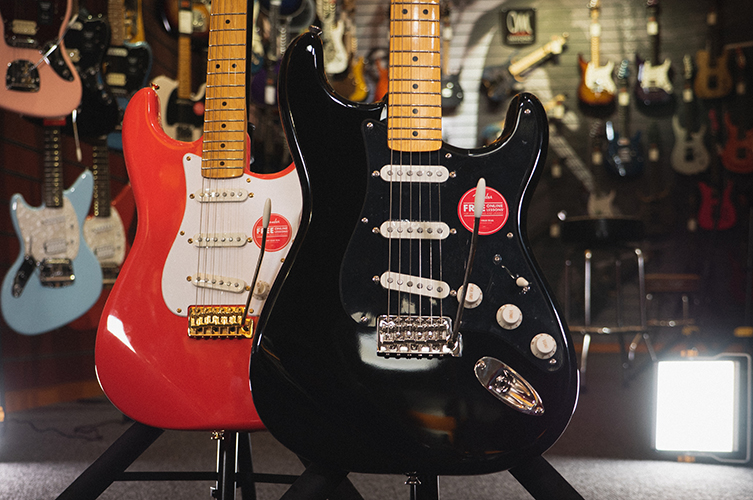 The plan worked, since Squier has been a fondly-regarded byword in low-cost, high-value guitars ever since. Early Squiers are held in almost as high regard as some Japanese and even American Fenders, so there's a justified fanbase out there who loves the guitars for what they are, more than what they represent in terms of status.
The Best Squier Guitars of 2022
Now, today's blog serves a couple of purposes. Squier nowadays have a lot of sub brands, and so choosing an instrument from their catalogue is more complicated than before. With that in mind, we've scoured the entire Squier range to bring out and highlight a small number of instruments that we believe are among the best available. We've taken our picks from a variety of the main sub brands, so as you read through, you'll learn about the Affinity range, Classic Vibe, Contemporary and Anniversary models. We've been selective rather than exhaustive, so make sure you have a good browse of our full Squier range when you're done here.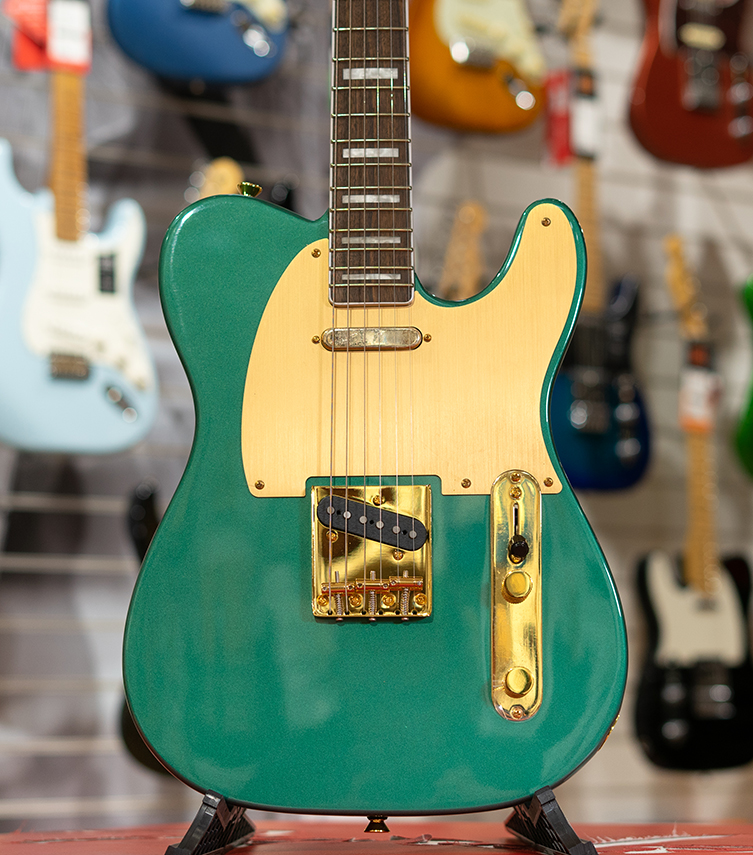 Squier Affinity Telecaster
Our first choice is a no-brainer. Blonde Telecasters are incredibly iconic instruments, played by stadium straddlers such as Bruce Springsteen and Keith Richards. Ok, those guys play super expensive Fender Custom Shop models, but squint your eyes and this extremely modestly priced Squier Affinity Telecaster looks the part and then some!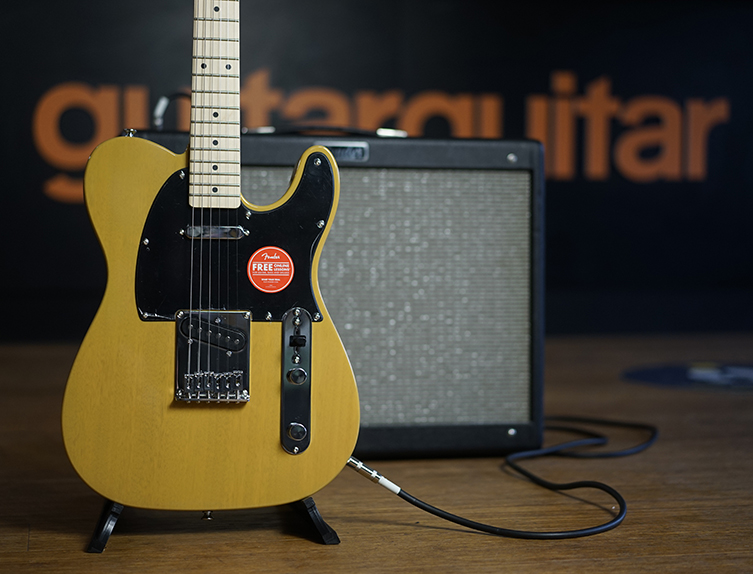 The Affinity range is the equivalent of a Squier 'standard' series. Such a thing once existed for Squier but presumably 'Affinity' is easier to Google, so the Squier Standard range is no more. It matters not, since the Affinity range presents us with guitars that simply cannot be complained about, especially for the humble outlay required to snag one.
In earlier times, a Squier Strat was the first electric guitar many people bought, if they were able to stretch above the likes of 'Argos jobs' and their kin. Today, there is a lot more choice, and we think it very clever of Fender to offer up their most well-loved Telecaster look to players just beginning their journey. As Les Paul once famously said, 'Audiences listen with their eyes', and that's true of guitarists too. If the guitar reminds us of those heroic arena headliners, we feel better about approaching the instrument and picking it up. So it is with this Tele.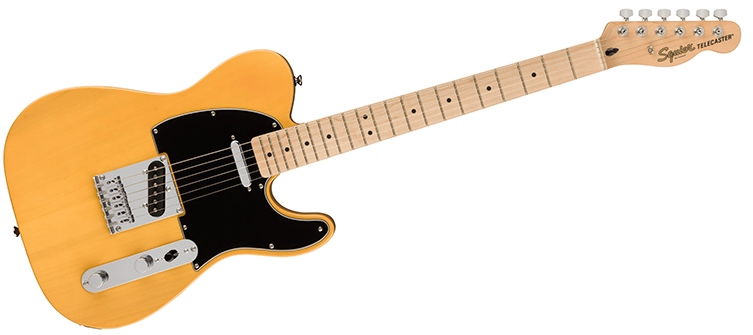 It's simple and effective - the hallmark of the design - and has a good slim C-shaped neck that everyone can get on with. It sounds bright and powerful, and there's a good solid overall feel that inspires confidence. We think the Telecaster is a supreme choice for the early-doors guitarist, because things like tremolos and so on can cause initial bouts of tuning grief that are better avoided until further down the road. This Squier Affinity Telecaster is a good quality, dependable choice and it looks much more 'correct' than equivalent guitars of the past. It's a great first choice, basically.
Squier Affinity Stratocaster H HT
The Affinity range is full of great choices, though, and this one in particular caught our eye. Bearing more than a passing resemblance to the old Blink 182 signature Strat, this Squier Affinity Stratocaster H HT wins tons of cool points with its non-standard (but fully on-brand) spec and finish!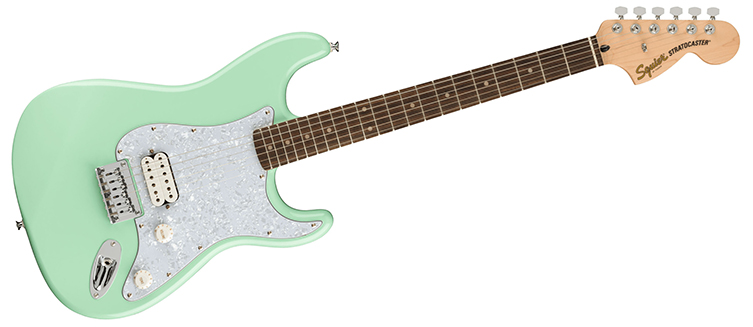 We love the boldness of choosing one bridge humbucker only, and clearing away the tremolo in favour of a hardtail bridge! It's screaming 'Punk Rock!' at us in a very antisocial tone of voice, frankly. This is the type of thing that lots of Strat owners do as modifications after they buy one: Strats are so 'modular' that things like pickguards (and everything attached to them) are very easy to swap in and out.
This Strat is not trying to be all things to all people, and that confidence is infectious! One of the tone controls has been ditched, as has the 22nd fret, but that's not something we always get on Strats, to be fair. On this guitar, the emphasis is on heads down chordal rock riffing, so we think most players attracted to this will not miss that last fret! What an exciting guitar at such a reasonable price!
Kudos to Squier for bringing out models like this that prove they are paying attention to what people are asking for. And that Surf Green finish? It gets a big ol' chef's kiss from us!
Squier Classic Vibe 60s Thinline Tele
Squier's Classic Vibe sub brand is where you'll find instruments directly related to golden era decades of guitar manufacture like the 50s, 60s and (nowadays) the 70s. Guitars in the Classic Vibe family all display features and styles from corresponding Fenders of any given decade. Thus, a Classic Vibe 70s Strat will undoubtedly have a larger headstock (this actually started in 1965, but guitar historians tend to ignore that) and may well have a bridge humbucker, since this was a popular modification back in the day. A 60s Tele will have double body binding and a 70s Jag (which we'll see in just a second) will display block inlays.
It's a way of buying into Fender's fabled history without having to commit too much, particularly since things like neck dimensions are still more 'today' than 'back then' in terms of profiles and radii.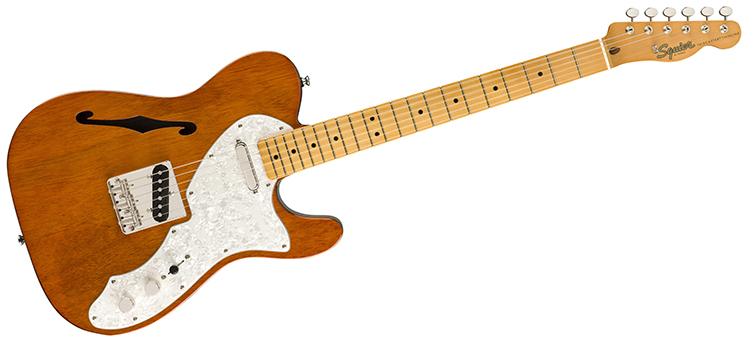 The Squier Classic Vibe 60s Thinline Telecaster is an elegant and timeless take on this popular alternative Tele. The semi hollow body, made from Nato, certainly allows a different type of note to swell from it, compared with a solid body model. There is more percussion, less sustain, and a nice 'bloom' to notes that make this guitar a legitimate additional sound for your collection.
Easy on the back and easy on the eye, it's a Tele that doesn't really sound too much like a Tele. Alnico pickups, used throughout most of the Classic Vibe range, impart the proper amount of chime, aided here by the extra woodiness of that f-holed body. From Indie to Country to Alternative Rock, this is a fantastic extra colour to add to your palette.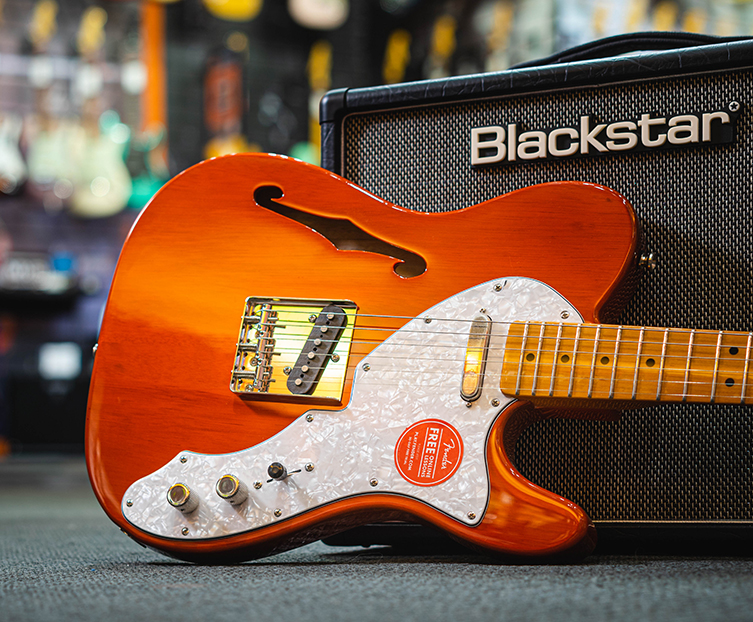 Squier Classic Vibe 70s Jaguar
It's too cool for school and it's perhaps the most idiosyncratic guitar model that Fender offers. It's the Jaguar and this version of it is most impressive! The Squier Classic Vibe 70s Jaguar brings with it all of the multi-circuited, many-switched madness that makes Jags so indispensable to those who love them.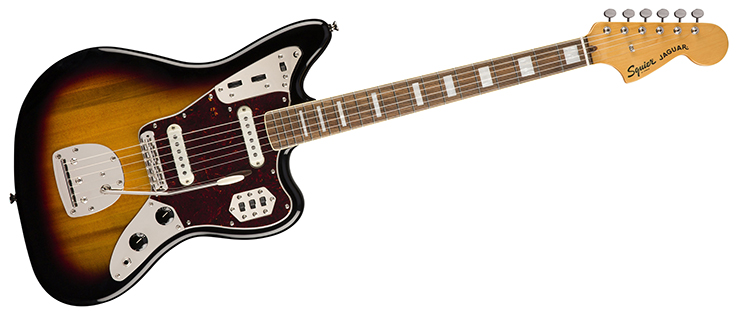 This Squier Jag gives us the short 24" scale length, the shoegaze-friendly tremolo and the fabled 'strangle switch', which is really just a high pass filter. Jaguars are, as you might expect, not similar to Strats or Teles in how they play and operate, and once again, that's the whole point. Rather like the Thinline Tele we just saw, these wonderful Squier models are excellent excuses to indulge in something a little different from what your main guitars may be. The Jag is a very inspiring instrument in the right hands, though we expect those looking to enter shred Valhalla may want to consider another instrument! For noisenicks, feedback fans and cultural aficionados, though, this 70s-soaked Jag is a must have.
Squier Contemporary Strat Special
Wow! We did a double take when the Squier Contemporary Strat Special was first announced to us. It's not only unbelievably cool and different, it also has that vibe of being a potential future classic, like a few 80s and 90s Squiers that have gone before it.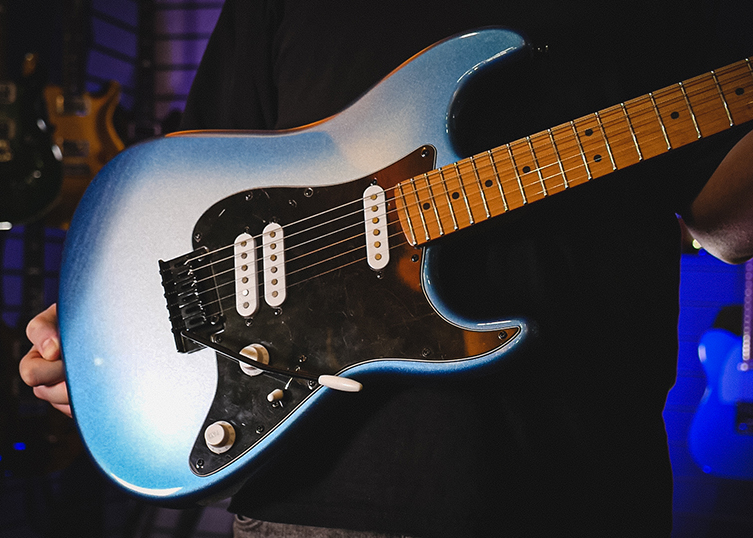 What an incredible guitar, especially for the money! This thing looks more like some Custom Shop one-off than a super affordable production line Squier! The first thing we see is that unreal Sky Burst Metallic finish, which is something that both Squier and its parent company need to do more with. Next, it's the slanted pickups, which just makes so much sense to us: the treble strings are closer to the bridge and the bass end is further away, making the most of each string. Also, that's not a humbucker at the bridge, it's three single coil pickups, with the middle unit shifted along closer to the bridge pickup in order to get a good humbucker tone when selected. We love that simple idea!
There's more though! The neck is roasted maple, something that, even a few short years ago, bumped the price of a guitar ludicrously. Roasted necks have no moisture in them, so the timber is as tough as a Greek warship. This is a great thing for a gigging guitar, which may go through all manner of temperatures from place to place. The fingerboard is flatter than usual (12" compared with the standard 9.5"), so extravagant playing is positively encouraged. Finally, one of the tone controls is dumped (just like the single pickup Affinity Strat we saw earlier) and the input jack is moved to the side of the body, away from the top. We love this guitar and see it being particularly difficult to beat in its division in the marketplace.
Did we mention that colour?
Squier 40th Anniversary Jazzmaster
Anniversary guitars are a great excuse to put out some bold and unusual models. Squier really went for it this time, with two completely different ranges of 40th Anniversary guitars being released (Gold Edition and Vintage Edition), each with a number of models and finishes.
They are all so beautiful and interesting, we think Squier should just make them part of the catalogue, to be honest. However, today is about snapshots and highlights, so we'll recommend you have a gaze through all of the Squier 40th Anniversary guitars, and then we'll highlight our favourite one. It's this one!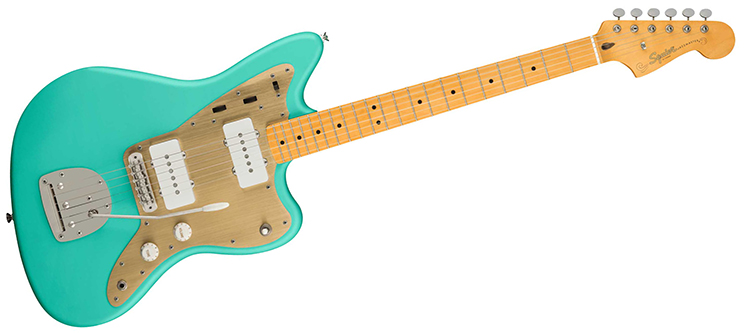 Talk about matching a guitar to a colourway? Wow! Seriously: at this point in the blog, are you not quite impressed by the guitars you're seeing here? They are a long, long way from the singular Squier Strat in a choice of Black or Red, aren't they?
Jazzmasters have been the most popular non-Strat-or-Tele Fender models for ages now, so it's befitting that they are now established as a primary design as opposed to an alternative. This Seafoam Green 40th Anniversary Jazzmaster shows the style off to its best advantage, ably abetted by an anodized gold pickguard. Again, these are the types of decorative options that you normally only ever get on high priced US-made models, so it's a heavy skelp of the baseball into home run territory for guitars like this one.
Alnico V pickups give you a good grasp on those 'twangy yet somehow beefy' Jazzmaster tones, and the proper Jazzmaster dual circuit is, like the Jaguar we looked at, recreated here accurately. It's a very fashionable guitar to have (if that matters to you) but it's also excellent, and in this colour, it's strikingly gorgeous, too. Celebrate that Squier 40th birthday in style!
THE Guitar Brand of 2022?
It seems pretty straightforward to us. If you like Fender's timeless guitar designs, and fancy trying some out with either classic or unusual combinations of specs and finishes, Squier is your brand. The quality is there, most importantly, so these are legitimate studio and gig tools that do not cost a suitcase full of cash to obtain.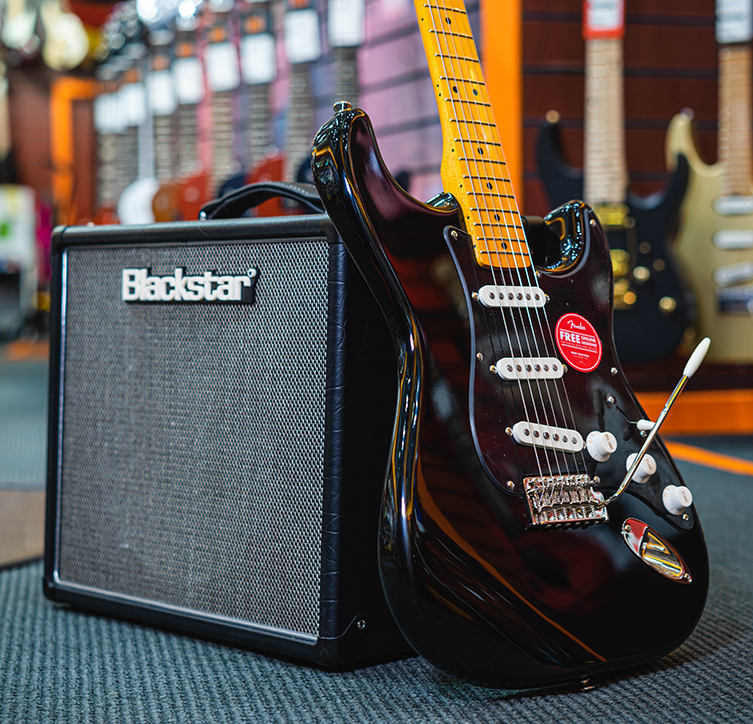 It seems that the tide that was turning in favour of Squier has become a large wave of approval. No longer are guitarists looked down at by the pub bores for not playing a US-made guitar. No longer is Squier a compromise for those who can't stretch to something of supposedly higher status. Pros are using them (Mike Rutherford was using a Squier Bullet Strat, which is the cheapest guitar Squier do, on the recent Genesis Gigan-tour, so there's your proof) and that invisible gap between Squier and Fender is all but closed these days.
We definitely recommend snapping up some of these fine instruments whilst the prices are so good. There is almost certainly a model that will work for you, and you won't have to cancel next year's holiday to pay for it. Check out all of today's models - and the rest of the Squier range - online by clicking below, or visit us to try your favourites in person.
Click to View our Entire Range of Squier Instruments