Why Should I Choose Epiphone?
Published on 11 November 2022
You're looking for a new electric guitar.
We know you are because you're just like us: no matter how happy you are with what you've got, there's always that next one waiting somewhere ahead of you in your timeline: an instrument with a different sound and fresh feel, a guitar for a particular task, a great back-up guitar…the list of reasons are never-ending, and we know this because we are exactly the same! We all have our preferences when it comes to our favourite guitars, but we probably also all agree that certain guitars are just better at certain sounds, and so a small collection of models is a great way to satisfy every song and style that comes into your playing life.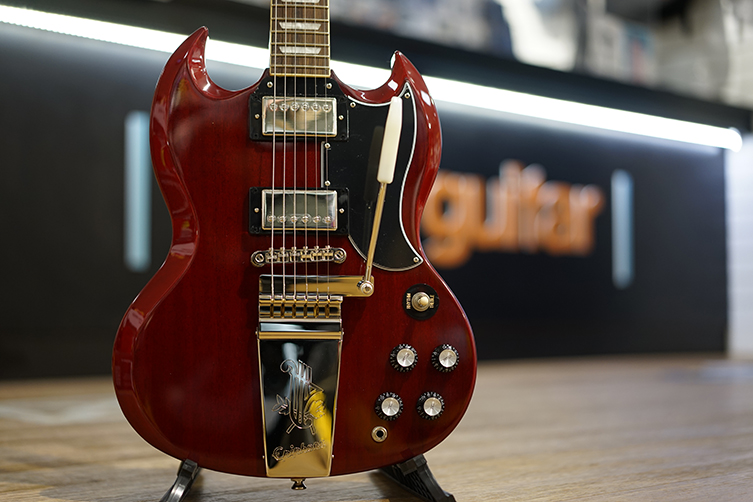 Today, we're going to look at Epiphone and discuss a few reasons why we think they'd make a great addition to your arsenal…
Iconic Designs
Most of us, regardless of our playing niche, have a deep love and appreciation for the classic electric guitars of the 1950s and 60s. You are all guitar fans, so whether your first love is a Les Paul, Telecaster, SG, Strat or Explorer, it's very likely that you're on board with most or indeed all of these immortal designs.
Now, when it comes to choosing guitars for yourself, it's hardly realistic to be able to own actual vintage instruments from this period, given the cost and scarcity. Each of the big brands (Gibson, Fender, Gretsch etc) all offer new guitars based on these holy relics, but so do almost every other brand in existence!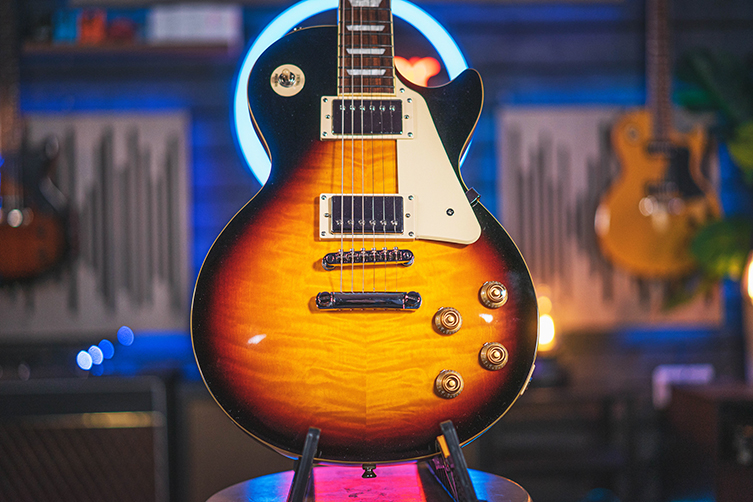 The big difference, therefore, is in authenticity. Lots of today's new guitars resemble the classics, but are obliged through copyright to alter a few angles and details to avoid plagiarism. This, to our ever-attentive eyes, can sometimes work, but all too often, these third party guitars stumble into the malign area of the uncanny valley: they look like what they are, which is unlicensed copies. No matter how good they might be as guitars, they still scream 'phoney' at your audience and bandmates. Not a great vibe.
Epiphone are owned by Gibson. Epiphone make official licensed replicas of Gibson guitars at an affordable price. The outlines are on point, the curves are the correct curves and everything (save for the headstock, which is slightly changed to differentiate the brand from US-Gibsons) just looks right. These, in other words, are not copies. This is true of Les Paul models, SGs, Explorers, Vs and all the rest.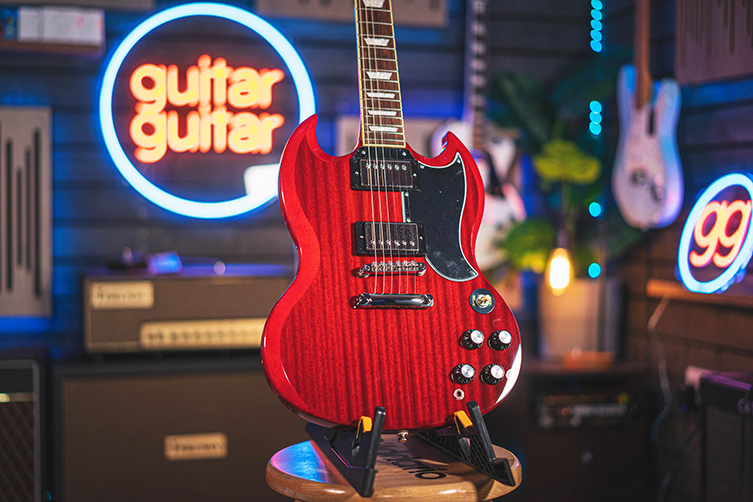 Take the 60s SG for example: Epiphone have modelled theirs on an actual 1961, with a neck profile and width that closely follows that of the original. Other period details (pickguard size, horn shape etc) are recreated accurately too, for an instrument that is proud of its heritage.
Incredible Heritage
Talking of heritage, Epiphone has not only one of the best due to their association with Gibson, but they have an equally incredible heritage of their own.
Until the 1960s, Epiphone were actually one of Gibson's biggest rivals. Beginning over 140 years ago in Greece, the family business that became Epiphone were known for mandolins and strings. Anastasios Stathopoulo and his family emigrated to New York City, where their instrument business took off amongst the jazz-loving locals and immigrants and early 20th century America.

The youngest son of the family, Epimanondas 'Epi' Stathopoulo took over the family business at age 22 when his father died, and quickly expanded the company (now called 'Epiphone' - Epi's voice) to include big bodied hollowbody guitars. Epiphone owned the jazz age of pre-war America, but fortunes faltered after Epi tragically died at the age of 50, leaving his squabbling brothers unable to live up to his leadership example.
Famous jazz player and inventor Les Paul (whom you may have heard of) had a close relationship with the brand, and advised Gibson to buy Epiphone in 1957, which they duly did.
When you play an Epiphone guitar, you're not just playing an affordable replica of a classic Gibson guitar, you're holding in your hands over 140 years of pioneering creativity and jazz-age charisma. It's a brand to be proud of, for sure.
Professional Quality
Epiphone guitars are built for the studio and the stage, the rehearsal room and the bedroom. Their inherent value does not deny their capability at all. You just have to look at how many famous big name payers use the brand on worldwide tours for adequate proof. We recently wrote a blog entirely on this subject, so please click through to our Top Epiphone Guitar Players blog for more details, but basically, if The Beatles and U2 are playing Epiphone, it says all you need to know, right?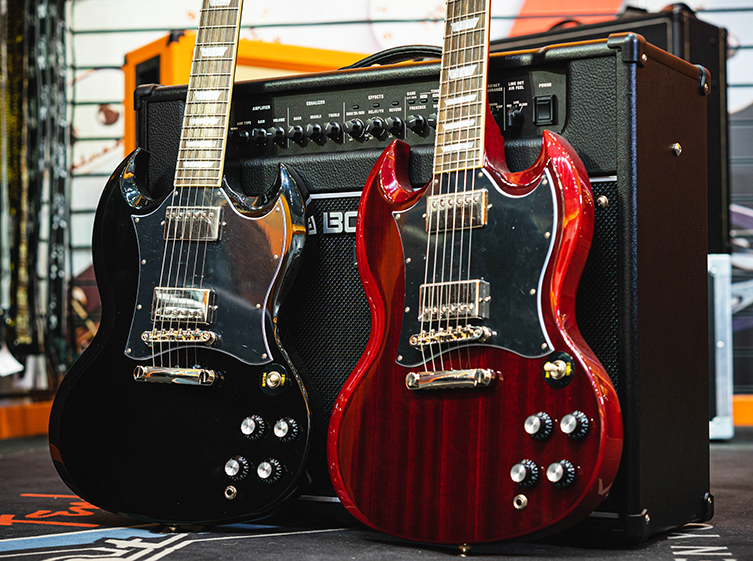 Take the Epiphone Les Paul Standards, for instance. Thick mahogany bodies, carved maple tops, set mahogany necks with a choice of neck carve (slightly heftier for a 50s, slightly thinner for a 60s), specially wound alnico humbuckers and a choice of classic finishes all add up to make these an essential guitar for rock, blues, indie and jazz. Epiphone Les Pauls have always been a solid choice for the busy guitarist on a budget, but now they are legitimate contenders for anyone's serious consideration.
Amazing Value
It's a fact that quality costs, but in the guitar world, it's possible to pay a sensible amount and still receive an instrument of excellent quality. Country of manufacture plays a big part in the relative cost of an instrument, but it matters less and less in terms of associated quality. Indeed, the main Far Eastern guitar building centres of the world - South Korea, Indonesia and China - are producing some of the most consistently high quality guitars we've seen in decades.
With a very few exceptions, Epiphone guitars are built in their own factory in Qingdao, China. The guitars are build with the same types of wood as tradition dictates, so mahogany for the SGs and Les Pauls, and maple plies for the semi acoustics such as the ES335. This is the same story as with US-made Gibsons. We understand that not all mahogany is of the same exact quality, but it's still a relative situation and a very encouraging sign for Epiphone.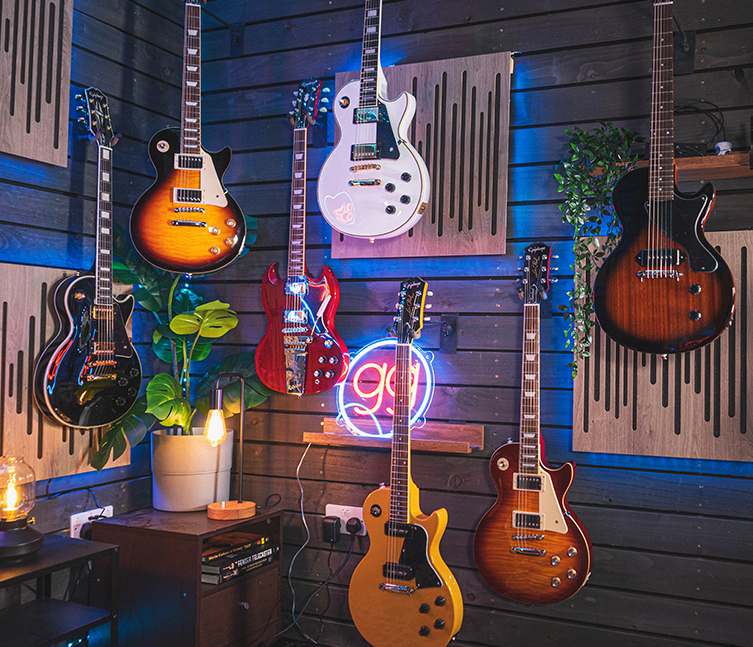 The same is true of hardware: Epiphone often look to Gibson originals for inspiration and specification when creating their own pickups. This is why you'll see many models adopting alnico humbuckers, to approximate those classic early-era PAF tones.
Being able to tour and record with a guitar that comes in well, well under a grand is a fantastic proposition for any serious player. The price point that Epiphone mainly works to is one of the most hotly competed in the industry, so every manufacturer has to work harder to exist. Epiphone bring top value and famous associations, but the actual quality (not implied quality from these other factors) is what makes them shine. They are simply really good guitars.
Unequalled Range
We've talked about the authenticity of Epiphone's designs, and how an Epiphone Les Paul Standard is a 'real' Les Paul and not a copy. Well, that applies to their SG, ES models and many more. On top of that, Epiphone's own original designs -such as the Riviera, the Sheraton, Wildkat and many more - offer classy instruments with tons of heritage and traditional built in, too.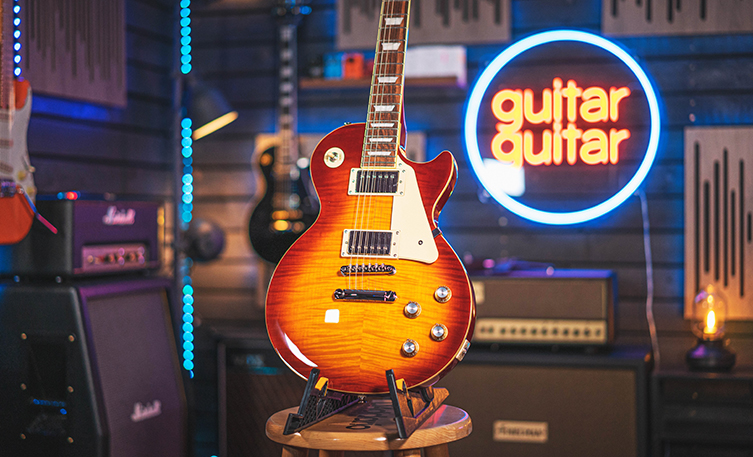 Let's go a little deeper. Take the Les Paul as an example, since it's so universally well known. Epiphone offer the Les Paul Standard in both 50s and 60s iterations, as we've mentioned already, but there's far more available in the range. First off, you have the Studio, with its utilitarian look stripped of binding and ready to rock.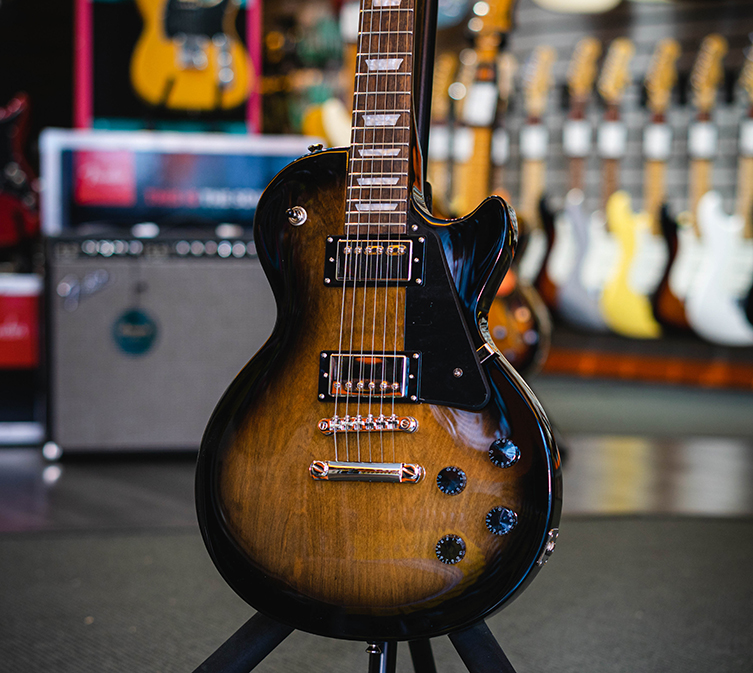 Equally rocking but the opposite in terms of decoration would be the Epiphone Les Paul Custom, a best-selling model that displays all of the multi-ply binding and block inlay glory of the famous Gibson model.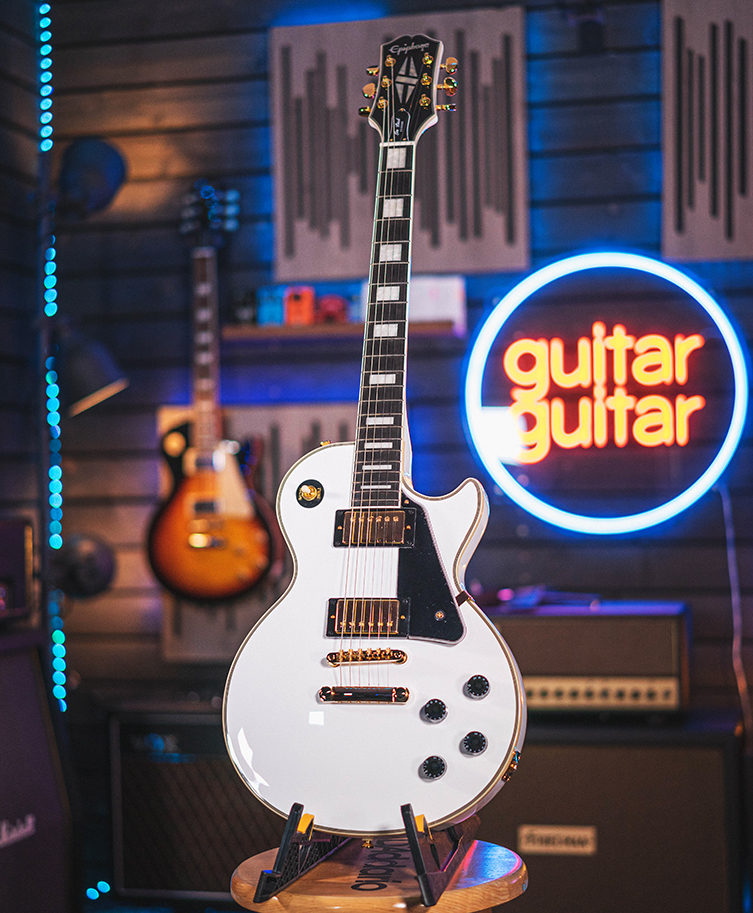 There's also the Specials and Juniors, which bring that chunky necked, P90-ed glory to a great value price point. The Les Paul has many faces, and Epiphone supplies us guitarists with excellent replicas of them all.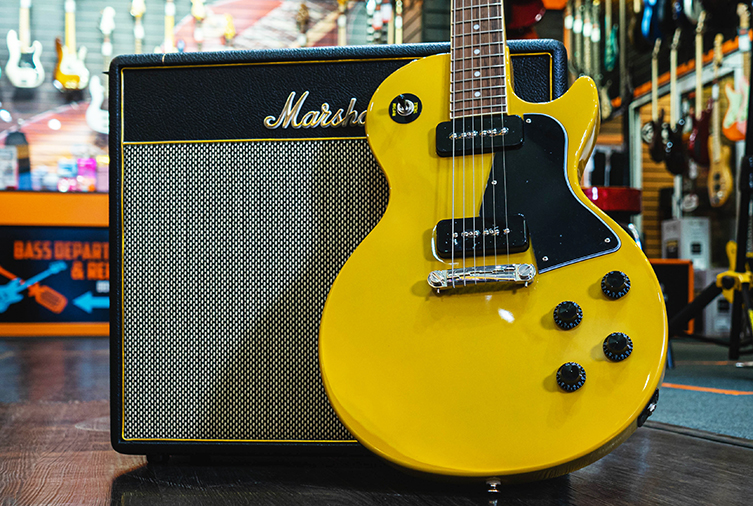 The SG is available in many of its most famous guises, not least the Standard, the 1961 and the excellent SG Custom, amongst others. You can choose models with Maestro tremolos and P90 pickups, too. For range, Epiphone is unbeatable, and again, the models are close cousins of famous historical guitars.
Epiphone: Available in Every guitarguitar Store
From day one, we've been a committed Epiphone dealer. We've specialised in the brand, bringing you the widest selection, all available in stock to try out in our stores. We believe that Epiphone are an excellent choice for a huge cross section of the guitar buying public, and that's right across the board.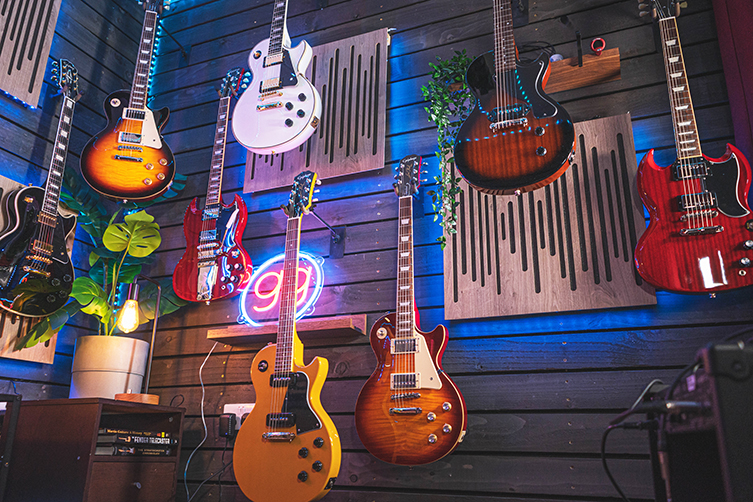 We've seen how many big names play them, we've seen how they are official replicas of legendary Gibson guitars, and we've learned how the quality on offer today is better than it ever was before. On top of all of that, the value for money is notable, which is just icing on a very tasty cake.
We love Epiphone. You love Epiphone. Click below to browse our entire range and see just how many appeal to you.
Click to View our Epiphone Electric Guitars