Best Telecaster Guitars of 2023
Published on 21 February 2023
The Telecaster is one of those guitar designs that has never been out of fashion and never looked out of place once in its 73 years of being alive. Designed with a utilitarian eye for simplicity and effectiveness by Leo Fender, it has since gone on to be one of the most often-used guitars on the planet.
We can talk about the 'Telecaster sound' - and by that we mean a strong, sharp tone that's tougher than a stratocaster but 'skinnier' than a Les Paul - but in objective reality, there are many teles to choose from and many corresponding sounds. The original design is still the main go-to for players of all genres, but the innate adaptability of the Tele has allowed for endless design changes, spec and hardware options over the years. The result can be that a Telecaster (or, 'T-style' for brands who are not attached to Fender) can remain so in shape only, whilst sounding, looking and feeling really quite different.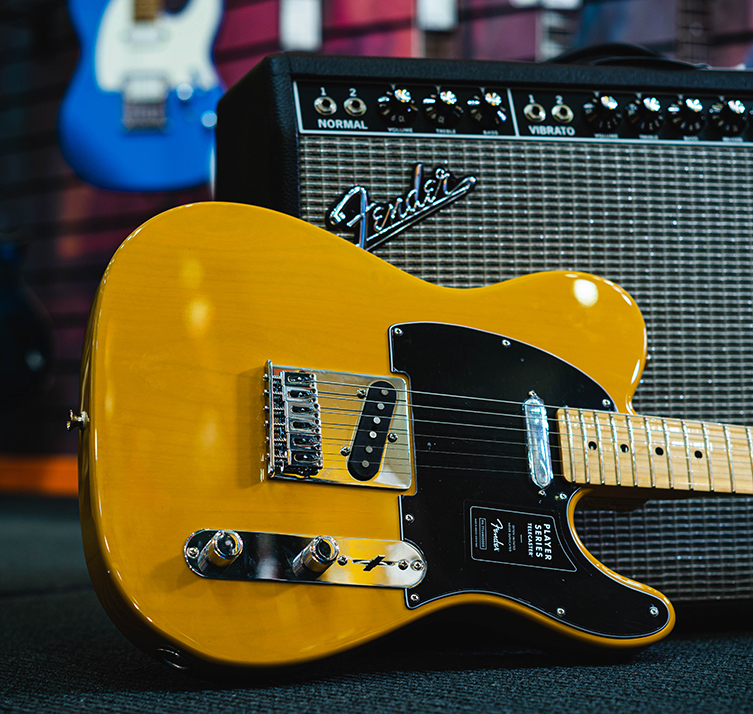 Today, we're interested in looking at some of the varieties out there, and gathering them together for you in one place. You'll see the retro models, you come across more contemporary takes and you'll also find a few T-styles that veer quite far from Leo's original path. All of them are great, and all of them owe a large debt to that first, golden design from 1950. Ready? Let's start with a real favourite…
Fender Player Telecaster
Our first choice today is somewhat obvious, but why not? It's the best-selling Fender Player Telecaster, and there is a lot to love in this affordable entry to Fender-branded guitars. The Player series replaced the Mexican-made 'Standard' Series around four years ago, and proved to be a stellar hit straight away. Why? Well, because they were quite an immediate upgrade, with much better alnico pickups giving more authentic tones, a 22nd fret for modernity, and small details like clay-coloured dot inlays and classic 'spaghetti' style headstock logos. It was a generous move for Fender, who often upcharge for little vintage tweaks, and it seems to have been a good idea, since that generosity scored them massive sales.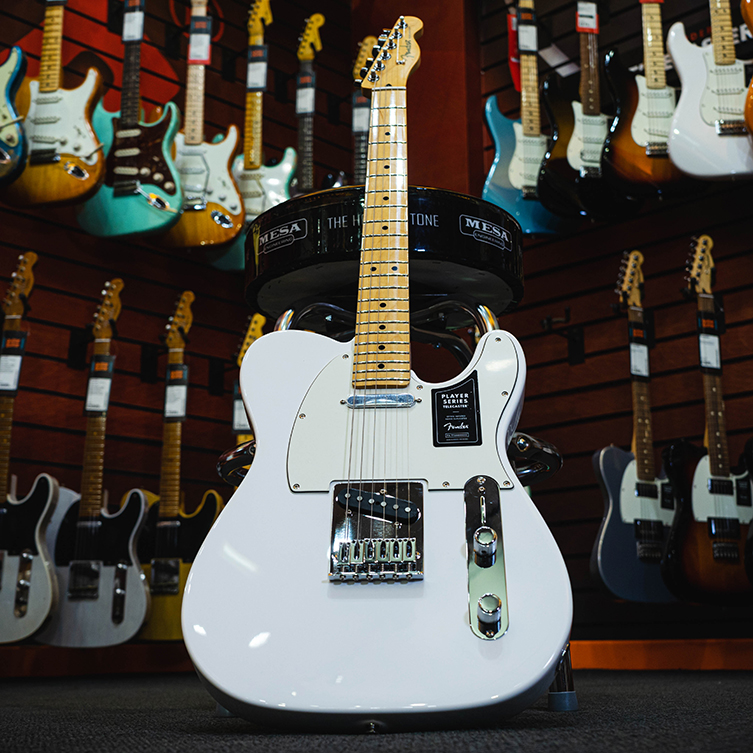 The Player Tele is an excellent 'base model' Telecaster: it's classic in almost all the correct ways, and it offers a lot of bang for the buck. Choose from a range of finishes and go for either a maple or pau ferro fingerboard. Instant Fender authenticity comes built in.

Fender American Pro II Telecaster
Fender have split their manufacturing between Mexico and California for decades now, with the more expensive models coming from the US. Our second choice today is one such guitar, and it's considered the current modern 'blueprint' for official Telecasters.
The Fender American Pro II Telecaster is a best-of-both-worlds guitar that marries vintage and modern features. Players looking for more of one aesthetic over another can look to Fender's other ranges (check out the American Vintage II and American Elite ranges for your vintage & modern needs respectively) but the American Pro II range is aimed squarely in the middle, to attract professional and dedicated players.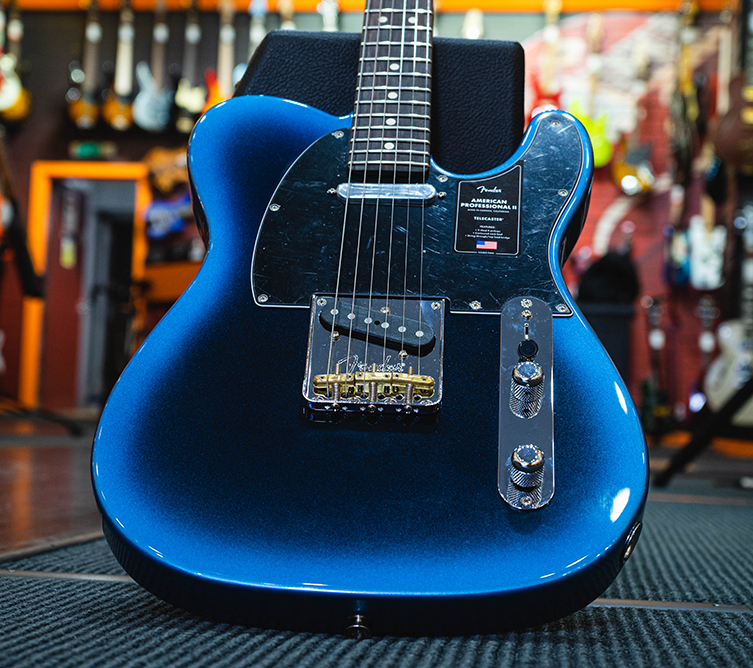 Apart from the US build location and included hard case, what's different about these particular Teles? Well, apart from some very cool finishes (we are never getting sick of the Dark Night finish), there are some very cool player-centric features onboard. The pickups are specially designed V-Mod units, and there's a push-pull feature to bring in the neck pickup regardless of where the 3-way pickup selector's set. This means quasi humbucker tones are available without giving up anything intrinsically 'tele' in order to achieve this.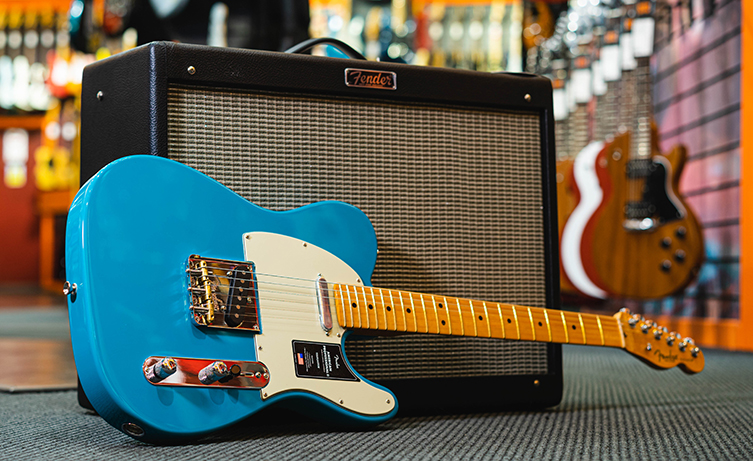 Also, there's a very cool addition to the bridge, which we'd love to see more of: it's built so that you can string the guitar either through the body (as normal) or as a 'top load', which definitely changes the feel of the instrument. We hardly ever see this addition, and given that that's how Telecaster master Jeff Buckley strung his 1980s Tele, we'd say there's definitely some wisdom in trying it out!
A deep C neck profile gives a great hand feel, and the overall quality of build is excellent. Best 'standard' tele ever? Could well be!
Squier Classic Vibe Telecaster Deluxe 70s
Not all great Telecasters are Fenders, and not all vintage-themed Teles go to the early 1950s for their inspiration. Take this standout from the Squier stable, for example. The Squier Classic Vibe Telecaster Deluxe 70s takes its design notes from the era when Fender wanted to directly compete with the Gibson Les Paul. Whilst keeping the famous Telecaster silhouette and basic construction ideas, this model changes the hardware for a more powerful sound. Instead of twin single coils and a single volume & tone knob, the Deluxe model goes for double humbuckers and a volume & tone pair of knobs for each pickup, as well as a three way selector on the upper bout of the body. Sound familiar?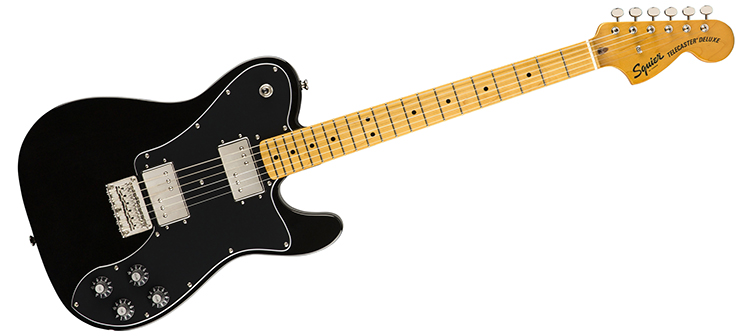 Squier, whom you'll know as Fender's more affordable far-eastern sister brand, have done a great job of making this guitar look, feel and sound great. It's very hard to fault, and if you're not bothered about the logo on the headstock, you'll be getting an excellent guitar for a great price.
Charvel Joe Duplantier Pro-Mod San Dimas Style 2
Gojira's main man obviously requires a guitar that can deliver some heft and grind, and so for his signature model, he has teamed up with one of the original 'mod shops', from the days of players hot-rodding their stock guitars for more power. The Charvel Joe Duplantier San Dimas is a simple and effective weapon indeed.
Charvel are best known for their brightly finished, Floyd Rose-equipped Superstrats, but this t-style is cut from a different cloth altogether. Like the Squier we just looked at, this keeps the outline of the Telecaster (Charvel are owned by Fender these days, so the lines and curves are all licensed to be correct) but offers a much heavier sound.

Two Duncan Designed humbuckers are used here (Seymour Duncan designs, made in an overseas factory rather than the US) and the bridge is a 'TOM'-style like you'd see on a Gibson. In addition, the neck is oiled mahogany with graphite reinforcement, and the 12-16" compound radius fingerboard (it flattens out from the lower to higher frets) is made from ebony. The quality is clearly here, and the straightforward design means that this guitar can be used in a variety of genres, not just crushing metal. Also, the Gojira 'branding' is limited to an insignia on the back of the headstock, so you needn't be a paid-up member of the Gojira fan club to love what Duplantier's signature guitar has to offer.
Schecter Sun Valley Super Shredder PT
From another brand that has its roots in the Californian mod-shop world comes this entirely iconoclastic t-style! Schecter are a brand famous for trying out unorthodox designs, so for them, this is actually a pretty 'sensible' guitar, but it's way beyond traditional in our opinion!

The Schecter Sun Valley Super Shredder PT seems to be designed entirely for unleashing creative sonic havoc. In addition to the 24 fret skinny shred neck, this PT model (initialled for Pete Townshend, an early 1980s adopter of the style but nothing to do with him now) comes armed to the teeth with features. First off, there is a double locking Floyd Rose tremolo, perfect for expressive/extreme note bending. Then, there is also a Sustainiac, a device for creating infinite sustain that is also highly controllable. It sits in place of a neck pickup and is powered by a battery, so bear that in mind when you're plugging in: don't leave that cable in when you're done or you'll run down the batteries in hours!
If you are interested in pushing boundaries with your sound, but still want a guitar that's recognisably similar to a classic shape, then this Schecter has your name all over it.
ESP LTD TE-1000 ETFM
This gorgeous T-style from metal masters ESP packs some punch! Hailing from their more affordable LTD banner, the LTD TE-1000 ETFM offers upmarket looks and cutting edge tone with some very up to date hardware. The main focus here is the Evertune bridge, a device that contemporary players have been going crazy for these last few years. The Evertune bridge uses a relatively complex system of springs and weights in order to keep a constant tension to each string, in short making it almost impossible to go out of tune. Good news indeed, and whilst the initial setting up of the Evertune is something of a fiddly hassle, the payoff afterwards is pretty amazing.

This ESP also packs in an excellent set of EMG 66TW+57TW pickups, active units that offer single coil tones in addition to the expected high output chunk the brand is known for. Even the heaviest of today's players demands a good clean sound to contrast with their distorted tones, so these pickups are an excellent choice for this attractive, contemporary T-style.
Fender Jason Isbell Signature Telecaster
It's back to classic territory now, with both design and brand. This wonderful model is the Fender Jason Isbell Signature Telecaster, and it's a fantastic all-rounder. This one is made in Mexico and has a great road 'worn finish' (Fender don't say 'Relic' for non-US made guitars), which really brings out the special Chocolate Burst colour and bound edges of the body. What a good looking guitar!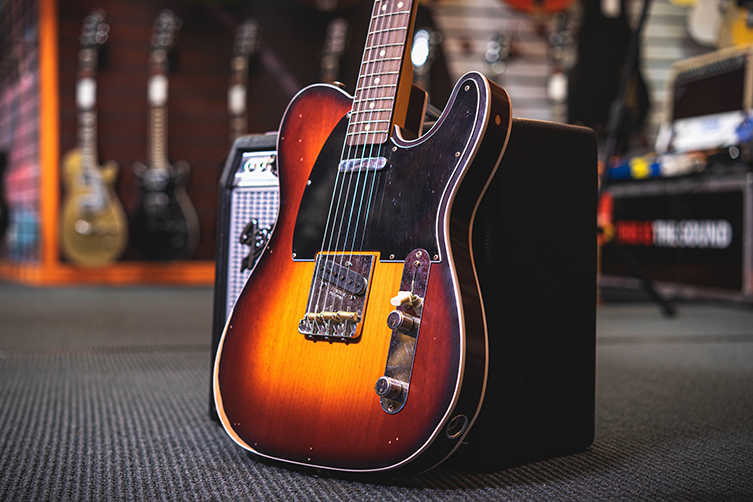 It's not just classic looks here, though: this Tele is a beautiful thing to play, too. As per Jason's preference, the neck has a 'mid 60s C' profile, which is neither skinny nor fat, and there are brass saddles in the bridge for extra sustain and zing. Best of all, those especially voiced pickups are excellent, with the neck unit in particular delivering a sound that's almost Strat-like to our ears!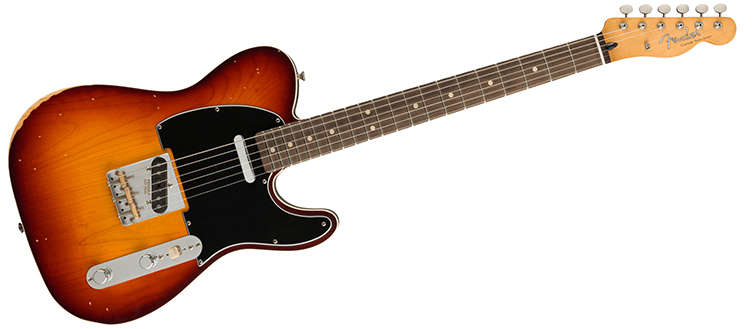 For gigging players who want lots of classic hands-on tones from one versatile instrument, we think this great Tele is an inspired choice.
Suhr Alt-T Seafoam
John Suhr and his team of boutique builders make some of the best guitars we've ever set hands on. As one half of the legendary Pensa-Suhr brand, and a one-time Fender Custom Shop builder, there are few in the business with as much experience.
That experience shows in every instrument we receive from California. Having a new favourite Suhr is pretty much a monthly hobby, but since we're talking T-types today, we want to talk about the beautiful Suhr Alt-T in Seafoam. This is a masterful take on the famous Fender Thinline Telecaster, with other elements from elsewhere added in alongside Suhr's own design nous and build preferences.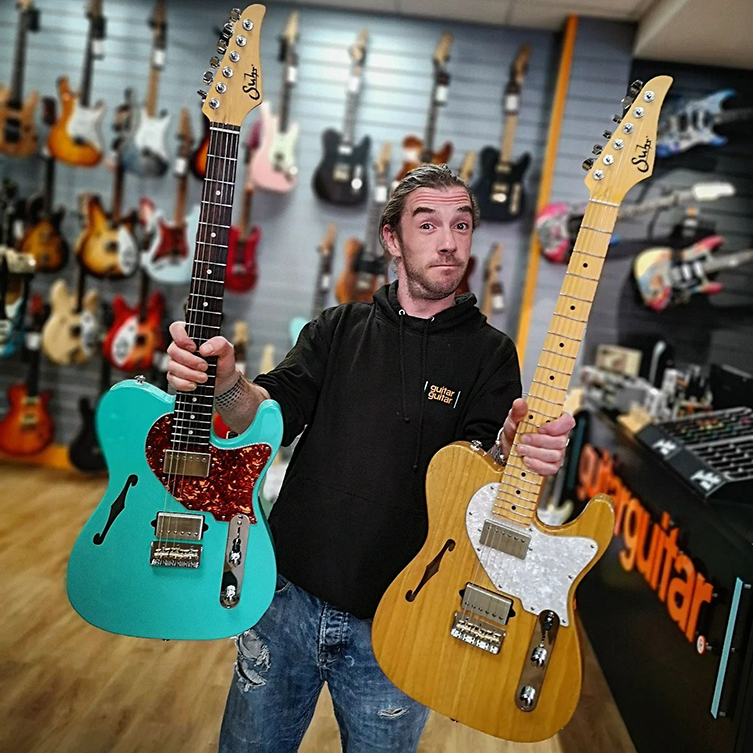 The first thing you notice - after that quite superb Seafoam Green finish - is just how comfortable and ready-to-play the neck is. Described by Suhr as a '60s C Vintage Medium', it's a perfect hand-hold for sure. There's a lovely tint to the maple, plus a compound radius fingerboard on top to bring out the best of both low-down chords and high-up leads. This is one of those guitars that you can happily vanish into for hours and hours, where everything sounds and feels great. You're inspired to play, and that's the whole point really, isn't it?

Suhr make their own pickups in-house, and this Alt-T sports a pair of raw nickel-covered SSV humbuckers, perfect for that sweet and dynamic vintage tone so beloved of connoisseurs. That chambering in the alder body definitely adds some lovely overtones and space to the tone, not to mention some handy weight relief! This Suhr is for people who are on a mission for a modern guitar, built to perfection and displaying a good mix of classic design work with modern day improvements.
LSL Bad Bone 290 Paisley
Staying in California, it's over to Los Angeles now for another great T-style axe. This time, it's veteran builder Lance Lerman's LSL brand, and this Bad Bone 290 is one of the coolest guitars we've seen in months.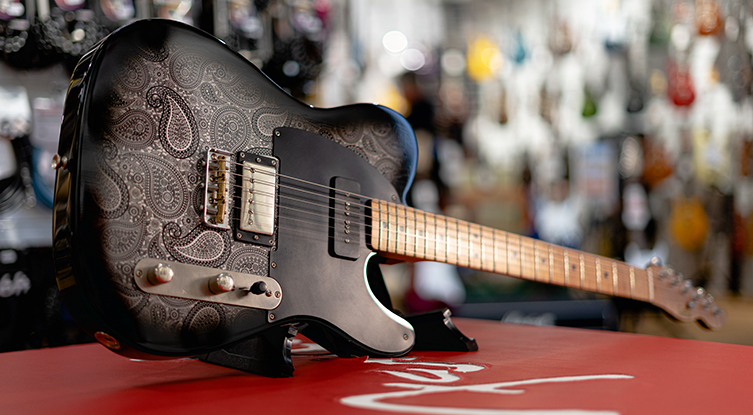 Paisley is something of a classic look for T-style guitars. Traditionally, builders use an actual sheet of Paisley patterned wallpaper and glue it straight on to the body, spraying the edges with a few coats of paint to hide the paper edge. This is exactly what LsL have done here, and they've gone for a classy black edge for a very cool look. A clear coat of nitrocellulose seals the finish beautifully, with that authentic touch and patina that vintage guitar fans love.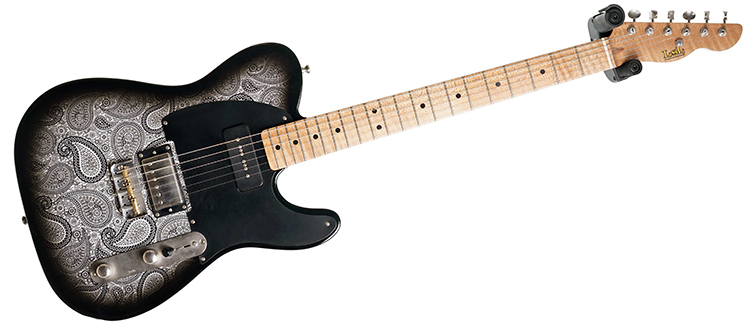 The hand-building continues through to the hardware too: the bridge is cut in-house and the pickups are hand wound on the premises too. Impressive! This particular Bad Bone combines a PAF-voiced humbucker at the bridge with a P90 in the neck position. This combo capably brings the rock whilst also opening up the guitar's voice for more restrained tones, all with an impressive level of touch sensitivity.
Fender Custom Shop 52 Relic Nocaster
Our final choice today is a hand made masterpiece from Fender's dreamhouse itself, the Custom Shop. We've opted for a guitar that heavily references the classic 'Blackguard' Teles of the early 50s, to the point that it uses the 'Nocaster' name too.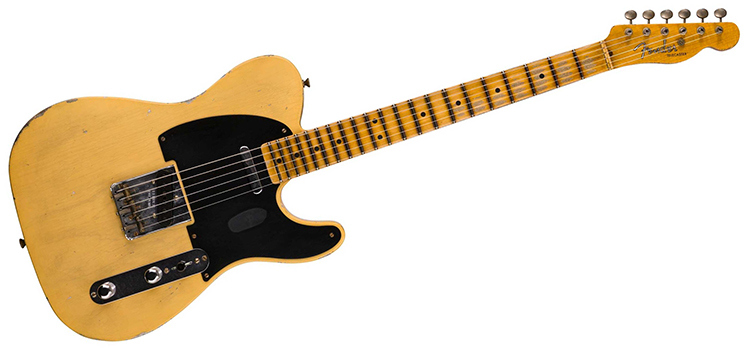 What's a Nocaster? Well, back in the dawn of time, Fender's first mass-made guitar was actually named the Broadcaster. Gretsch objected to this since they already had a drum kit in their product catalogues called the BroadKaster, so Fender were obliged to change the name of their new guitar. This actually took a while to come about, so for a while, their once-Broadcasters went out with no name at all, before being renamed the Telecaster. These in-between models have subsequently been referred to as 'Nocasters', and that's what this guitar refers to.
The Fender Custom Shop 52 Relic Nocaster is not, however, a slavishly exact replica. Changes have been made to acknowledge the 70 years of developments that have occurred since the guitar's inception in 1950. Most obvious is the compound radius fingerboard, which begins at the nut with a rounded 7.25" radius, and flattens somewhat to 9.5" further up the neck.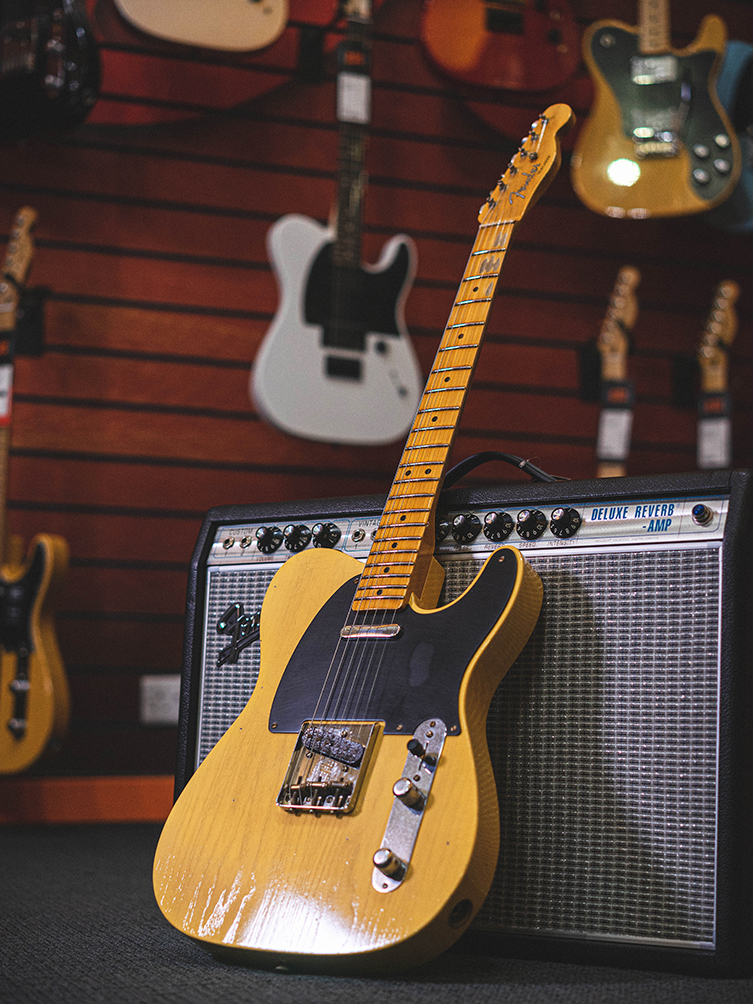 That said, much of this Tele's design is pure retro class: hand wound '50 and '51 Blackguard pickups (Blackguard is just Fender-speak for early 50s Teles that bore black pickguards), a soft V shaped neck profile and a bridge with brass saddles. You get an Ash body and some realistically sympathetic relic work on the finish for instant vibes.
Telecasters don't really come much better than this! Actual vintage examples can cost the same as a house, so if you want a new, reliable and top-class guitar with pedigree and authenticity built in, this is where you should be looking.
Teles for all Players
We think that the above selection of T-style guitars proves just how adaptable and versatile the design is. From guitars that are virtually unchanged from their 1952 forebears, to examples that are utterly different in every way apart from the shape, the Telecaster proves it can kick it on any stage, in the hands of any player. After all, if you consider the famous Telecaster players out there, the list is as diverse as our guitar lineup today: Roy Buchanan, Bruce Springsteen, John 5, Keith Richards, Jonny Greenwood, Andy Summers…the Telecaster has no 'house style'! That's maybe the real reason for its popularity: it's a very stylish blank canvas.
Whichever T-style you choose to adopt for your art, you'll most definitely be in some exceptional company.
Browse all of our T-style guitars here