Michael Paget - Bullet For My Valentine Signing at guitarguitar Newcastle
Published on 23 February 2023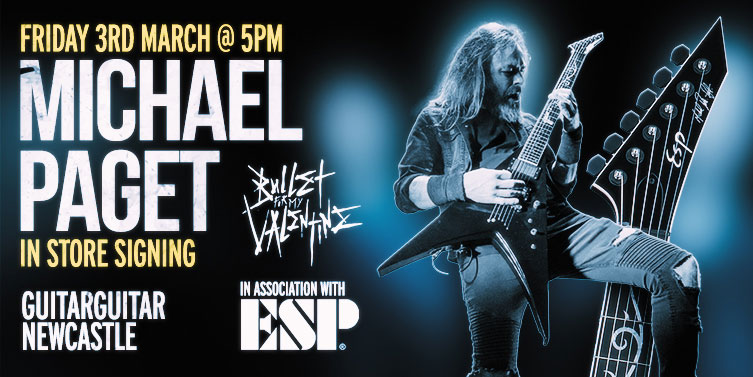 Are you ready to Scream, Aim and...sign?
Welsh metal royalty, Bullet for my Valentine, have been carving their own path through metal history for over 2 decades now and they show no signs of slowing down.
If you're a fan of their guitar playing, you can start Raising Hell because we've got something special for you… BFMV's lead guitarist, ESP axe-wielding Michael Paget, has agreed to stop by our Newcastle store to meet a few lucky chosen guitarguitar customers!
The Details
Michael Paget is going to make an appearance at guitarguitar Newcastle on the 3rd of March at 5:00 PM, right before their O2 show.
Keep your Fever under control for this is going to be a race against time: tickets will be free with limited availability. Please note only one ticket is available per person.
Once you score yourself a pass, all you need to do is show up at 5:00 pm sharp. We'll be giving out photos for Michael to sign for you (courtesy of ESP) but if you prefer, you're welcome to reach for an album from your BFMV record collection, favourite poster, or even a guitar. Memories for a lifetime guaranteed!