Martin Acoustic Weekend at guitarguitar Newcastle
Published on 19 June 2023
Acoustic guitar lovers, July is off to a flying start for you!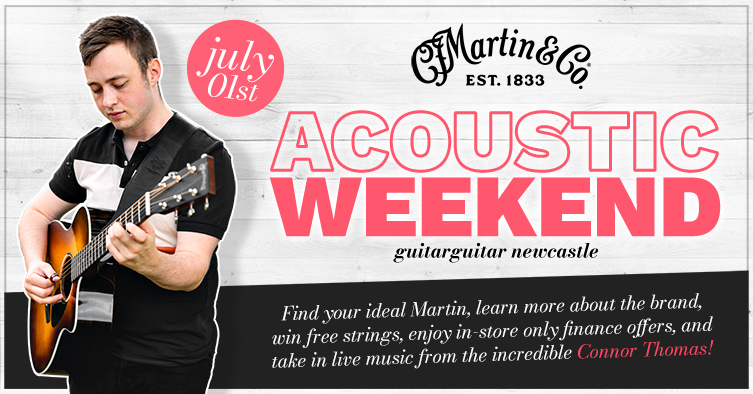 Are you a Martin brand enthusiast, always looking to expand your knowledge on their history, model range and trivia?
Or perhaps you've wondered what is the tonal difference between D18 and D28 and want to hear them played side by side?
Is Custom Shop your dream Martin but you want to spread the costs rather than dish out a chunk of your savings on one?
If the answer to these questions is YES, then this is the sign you've been waiting for:
we've teamed up with the superb Martin Guitars to deliver a weekend full of acoustic goodness at guitarguitar Newcastle!
The Details
On Saturday the 1st July, Martin Guitar expert, Tommy McGinley, accompanied by tremendous acoustic guitarist, Connor Thomas, will treat you to an in-depth talk about the brand's history, answer any questions you may have and help you find the Martin that is a perfect fit for you.
Connor, who is a distinguished acoustic fingerstyle guitar player admired for his impressive 'one-man band' performances, will play 2 sessions, demonstrating the beautiful versatility of Martin Guitars models.
The first session will start at 12:00 pm and the second session at 3:00 pm so make sure you stick around the shop for Connor's performance!
Tommy and Connor will be doing a giveaway of Martin Lifespan strings on the day (limited number!) so come round early to bag yourself a 3-pack of sweet lifetime strings.
But that's not all… We're also doing an in-store only special offer on all USA-made Martins over £1999 - get your dream acoustic on a 24-month interest free finance with a 10% deposit!
How To Book
No booking required! Our Martin Guitars event will run during the store's opening hours, 10:00 am - 5:30 pm on Saturday and 11:00 - 5:00 pm on a Sunday. So simply pop over to see us and enjoy the greatest selection of Martin guitars in the UK! Maybe a new one will come home with you… :)