Gibson Custom Shop Roadshow at guitarguitar!
Published on 22 September 2023
Gibson guitars lovers, stop what you're doing and check this out:
The ultimate Gibson Custom Shop Roadshow is coming to guitarguitar!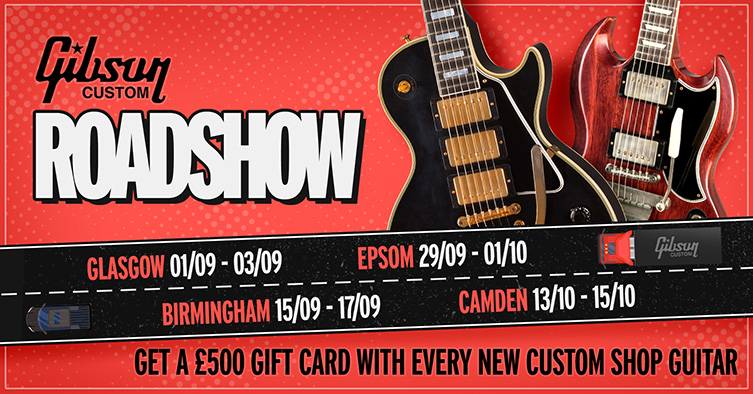 We are throwing a true Gibson guitars experience with a plethora of unique Custom Shop models brought together to three guitarguitar locations: Glasgow, Birmingham and Epsom.
Update: due to the popularity of our Roadshow events, we've added an EXTRA date and location: Camden!
Throughout September and October - for one weekend only - you'll have a chance to see the biggest collection of Custom Shop Gibson guitars in the UK! Browse amongst our beautiful, expertly crafted instruments from VOS (Vintage Original Spec) and Artist Series, through Made 2 Measure to authentically aged, sophisticated Murphy Lab works of art. Immerse yourself in the flamiest of maple tops, compare the necks of most iconic 50s and 60s Les Pauls, hear the resonance of the highest grade mahogany bodies and lose yourself in the beauty of the burst… Be a part of one of a kind event with our fantastic guitar community, try anything you've ever dreamt of (nothing's off limits!), bag yourself some sweet free Gibson swag and enjoy all-round rockin' vibes!
We'll be offering fantastic deals in store only for the weekends! You'll get £500 Gift Card when you buy any brand new Custom Shop Gibson guitar during our Roadshow event and you will receive Gibson branded merch for FREE.
Gibson reps will be on site with us each Saturday offering expert advice and some superb insider talks - learn more about the history of the brand, get to know spicy trivia, in-depth specs comparison and more! You can ask them anything your Gibson-heart desires to know.
So.. excited yet? Then save the date!
The Details
Join us for a one of a kind Gibson Custom Shop Roadshow in the following guitarguitar locations & dates:
There's no need to book, just pop in on your chosen day during your local store's opening hours.
We'll see you there.