Jared James Nichols Meet & Greet at guitarguitar!
Published on 04 October 2023
Blues rockers, behold: the ultimate Les Paul slinger, Jared James Nichols, is coming back to the UK with his intoxicating BLUES POWER and guitarguitar is thrilled to host him for an exclusive meet & greet!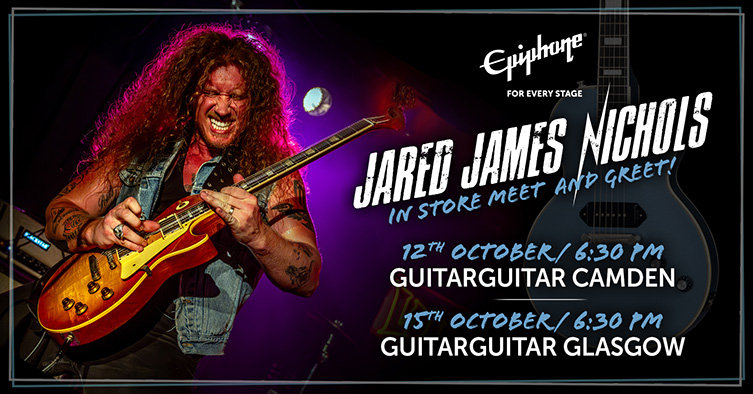 Currently touring Europe with his self-named album, Jared needs no introduction. His electrifying larger-than-life rockstar persona and contemporary blues licks have won him the hearts of even the most stubborn traditionalists.
Jared will grace the UK blues scene with a run of shows across the country in October and we are excited to have him stop by guitarguitar again - courtesy of the superb Epiphone UK and Gibson UK team. The last few times we hosted Jared in our stores, we had the best fun filled with laughs, chatting about music all while being mesmerised by Jared's intricate guitar playing.
This time, we'll have a little bit more personal treat for all Jared's fans: a one-to-one meet and greet in our Glasgow and Camden stores! On top of that, Nichols will have his brand new Epiphone 'Blues Power' model with him as well as his absolute number 1: the original 1952 Goldtop "Dorothy"! If you're lucky, you may get a photo taken with not just one but 2 legends in one evening. And better yet, all attendees will get first dibs on getting their orders in for Jared's brand new Epiphone!
The Details
Jared James Nichols meet and greet will take place in two guitarguitar locations:
Camden - 12th October (Thursday)
Glasgow - 15th October (Sunday)
Each meet and greet event will begin at 6:30 pm and last a duration of 45 minutes.
There are limited spaces at each location so be sure you act quick to secure your FREE ticket to meet the legend of modern blues!
BOOK MEET & GREET AT GUITARGUITAR CAMDEN
BOOK MEET & GREET AT GUITARGUITAR GLASGOW